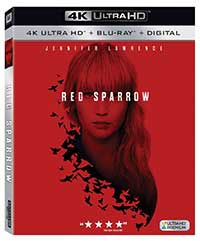 Director Francis Lawrence, who, before he was known for The Hunger Games movies was known mainly as a music video director, steps out of the YA category to once again direct Jennifer Lawrence in what one supposes is meant to be the director's attempt at more adult fare with Red Sparrow.
This spy thriller, based upon the novel by Jason Matthews, finds Jennifer Lawrence playing Russian ballerina Dominika Egorova – and putting on her worst Russian accent. After having her career in ballet derailed by a pair of conniving colleagues of hers at the vaunted Bolshoi who set her up to fall and break her leg, Dominika is recruited by her sleazy uncle Vanya Egorov (Matthias Schoenaerts) who works for Russian intelligence. He sets her up to seduce a Russian oligarch they want information on in exchange for the promise he will pay for her sick mother's medical expenses and continue to pay for her apartment. Little does Dominika know that the oligarch will rape her, and it was all a setup to get her into a covert spy school known as the "Sparrow" where people ae taught to use their bodies to seduce people to gain information, or in the parlance "kompromat".
Dominka begrudgingly makes her way through the sparrow school and is chosen to target American CIA agent Nate Nash (Joel Edgerton) for information on a mole in Russian intelligence that has fed him information. Things start to go sideways, however, when Nate begins to have feelings for Dominka and she for him – or does she? She's been trained to seduce and use sex as a weapon, so what's really going on? Can Nate and his intelligence colleagues really trust Dominka or is it all one big long game?
There's a lot of potential in Red Sparrow that goes to waste on bad Russian accents and a convoluted plot that director Francis Lawrence often loses sight of. By the end of the film, you'll be scratching your head, even though much of what is to come has long been telegraphed. There's a major "twist" at the finale, but before that we get a dénouement — involving Dominka being "uncovered" by her uncle as being turned by the Americans and being sent back to work with Nate, but only now, supposedly again on the side of Russian intelligence — that is so obvious it doesn't feel like a thriller it feels like camp right out of the Paul Verhoeven playbook.
There are only a couple of redeeming factors to this spy "thriller" and that is Jennifer Lawrence absolutely exudes sensuality and sex appeal despite the silly accent that drops in and out and Francis Lawrence has captured a superb amount of on-screen glamour with his lens. Outside of these, Red Sparrow is flying with clipped wings.
The Video
This film was shot in the anamorphic format at 2.39:1 aspect ratio on the Arri Alexa Mini and Arri Alexa XT Plus with, Panavision C-, E-, and T-Series lenses at 2.8K and 3.4K resolution respectively. A 4K DI (Digital Intermediate) was used in post-postprocessing and Dolby Vision HDR was applied. The movie comes to Blu-ray with its original aspect ratio in a HEVC 2160p (4K) encodement and HDR10 high dynamic range. The image is fairly clean and crisp. I only spotted some mild banding in the azure sky in a very earl scene with Jennifer Lawrence crossing a street in the morning in the first act of the film that appeared to be an in-camera issue. The highlights on this disc look breathtaking thanks to the HDR, with lots of 'pop' in things like headlights (see the scene in the park at night with Joel Edgerton trying to save his CIA asset from the police). Colors also look gorgeous. Lawrence's red ballerina costume in the beginning scenes or her red sequined evening gown 'pop' with a vermilion vibrancy that is lacking on the Blu-ray, which is saying a lot, because the Blu-ray looks good too, even as it lacks some of the finer details the 4K Ultra HD disc has.
The Audio
Red Sparrow gets what I feel is an underwhelming Dolby Atmos mix on 4K Ultra HD – the Blu-ray comes with an equally boring English DTS-HD Master Audio 7.1 mix. It's not that it's subtle, it's that it is so dry and motionless most of the time, one wonders why Atmos or anything beyond 5.1 is even needed. The height channels to offer the classical music in the ballet sequences a lovely sense of spaciousness and there's no denying that the dialogue sounds full and clean. One very quick moment during a water torture sequence where some heavy metal is briefly blasted livens up the mix.
The Supplements
There are an excellent set of deleted scenes and behind-the-scenes featurettes included on the Blu-ray as well as a director commentary. While the disc isn't packed with hours of features, these "making ofs" are in depth and worth going through.
Movies Anywhere – Watch the film digitally with the provider of your choice (iTunes, Vudu, Amazon Prime Video, Google Play, Fandango Now, and the Moves Anywhere app)
Blu-ray with main feature in HD and special features as listed below
Director commentary by Francis Lawrence
A New Cold War: Origination & Adaptation (1.78:1; 1080p/24; 00:12:42)
Agents Provocateurs: The Ensemble Cast (1.78:1; 1080p/24; 00:15:21)
Tradecraft: Visual Authenticity (1.78:1; 1080p/24; 00:13:28)
Heart of the Tempest: On Location (1.78:1; 1080p/24; 00:10:56)
Welcome to Sparrow School: Ballet & Stunts (1.78:1; 1080p/24; 00:12:12)
A Puzzle of Need: Post-Production (1.78:1; 1080p/24; 00:14:08)
Deleted Scenes w/ optional commentary by Francis Lawrence (2.40:1; 1080p/24; 00:12:20)
The Final Assessment
Red Sparrow looks luscious, but the underlying plot, angled screenplay, and silly accents make it more like a B-grade thriller with a side of camp than anything really memorable. There's something worthwhile in a story about using sex as a weapon, but everything here is so on the nose and telegraphed, it's instantly forgettable.
Red Sparrow is out on 4K Ultra HD Combo Pack May 22, 2018 from Fox
R (for strong violence, torture, sexual content, language and some graphic nudity)
Rating Certificate
Chernin Entertainment | Film Rites | Soundtrack New York
Studios & Distributors
Justin Haythe (screenplay by) | Jason Matthews (based upon the book by)
Writer
$39.99
MSRP
HEVC (H.265) 2160p (4K) | AVC 1080p (Blu-ray)
Video
1000 Nits
Maximum Luminance
0.005 Nits
Minimum Luminance
English Dolby Atmos
Primary Audio
English DTS-HD MA 7.1 (Blu-ray Only) | English Descriptive Audio 5.1 | Spanish DD 5.1 | French DD 5.1
Secondary Audio
English SDH | Spanish | French | English Commentary | Spanish Commentary | French Commentary
Subtitles
HDR Effect (If Applicable)
Summary
Jennifer Lawrence plays Dominika Egorova, a Russian ballerina recruited into the "sparrow" spy school where she is required to use her body as weapon in this lackluster cold war thriller that, in spite of serious star power, gets killed in action by a simply awful script.
What people say... Login to rate
Be the first to leave a review.
Show more