Mouse-over Cover Art for Details
Click thumbnails for high-resolution 1920X1080p screen captures
(The below TheaterByte screen captures were taken directly from the Blu-ray Disc and losslessly compressed in the PNG format. There should be no loss of picture quality with this format. All screen captures should be regarded only as an approximation of the full capabilities of the Blu-ray format.
The Series
[Rating:3.5/5]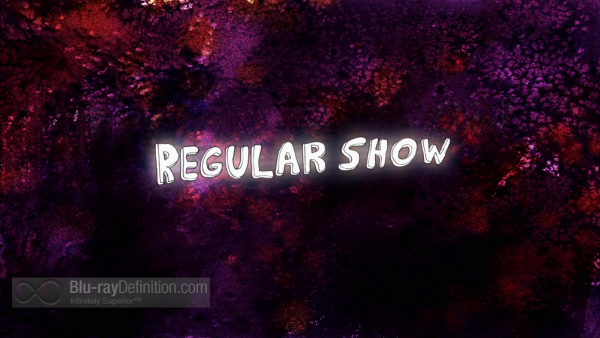 Regular Show is the quirky animated series from creator J.G. Quintel that, along with Adventure Time, anchors Cartoon Network's powerful Monday lineup. Putting the network back on the map, the series follows the adventures and misadventures of two best friends and park groundskeepers Mordecai, a blue jay and Rigby, a raccoon. The pair's only motivation seems to be their relentless pursuit of avoiding work at all costs, so much so that it often leads to extreme and fantastical outcomes. In one particular episode, the two find themselves on the moon when they wish themselves away with a magical keyboard. In another episode, Mordecai and Rigby can't keep from slacking off long enough to simply setup some folding chairs and end up releasing a world destroying video game. The world constructed around these two characters is as wild and whacky as the characters themselves. One such character, Benson, the park manager, is a living gumball machine, and there's also Pops Maellard, an elderly and absent minded lollipop-man.
The series, at least over the course of these two seasons, can become somewhat repetitive, as it seems to follow the same basic story in each of its roughly 11-minute episodes. Mordecai and Rigby avoid work, something crazy happens, there is some form of violence (the two play "punchies", a time alien zaps them away, etc., etc.), then it somehow wraps up. Of course, you can just allow yourself to be lost in the silliness, the inventive animation, and turn your brain off for just a little while.
Video Quality
[Rating:5/5]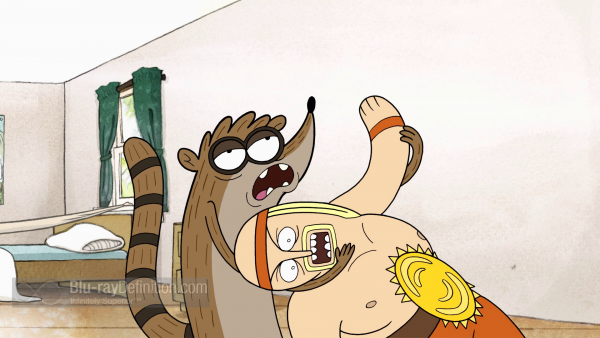 Regular Show appears on Blu-ray in a fine VC-1 1080p encodement that has sharp detail, vivid color saturation, and no instances of color banding or aliasing. It's a flawless presentation that is sure to please fans.
Audio Quality
[Rating:2.5/5]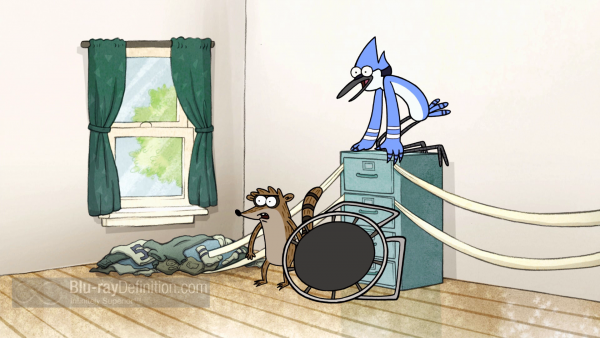 We only get a lossy Dolby Digital 2.0 stereo track with both seasons for this release. It is neither great nor terrible, it simply gets the job done with clear dialogue and sound effects that fall just short of sounding as airy and natural as they could have.
Supplemental Materials
[Rating:3/5]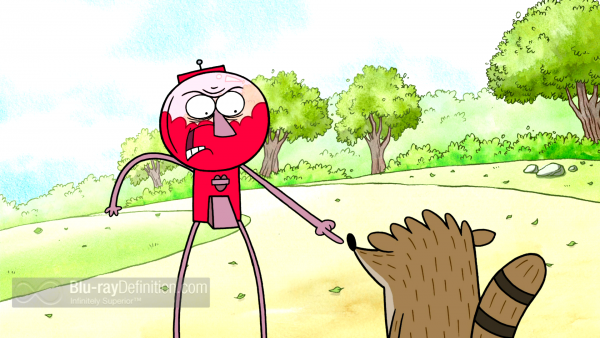 This sure looks like a large amount of supplements, but the bulk are the welcome audio commentaries for all 40 episodes, some of them having two commentaries for an episode. Outside of the unaired Pilot a strange. Almost surreal music video, and a "pitch" for episode one by show creator by JG Quintel and in interview, the rest are all brief rough sketches and animatics mixed with promos and a student film. They don't amount to much and are only curiosities.
The supplements:
Audio commentaries for all season one episodes
The Unaired Regular Show Pilot (1.78:1; 1080p/24; 00:07:58)
Animatic for the Unaired Pilot (1.78:1; 1080p/24; 00:07:33)
Original Pencil Tests from Saerom (1.78:1; 1080p/24; 00:00:38)
The Animatic for "The Power" (1.78:1; 1080p/24; 00:11:15)
CG Test for Hodgepodge Monster (1.78:1; 1080p/24; 00:00:04)
2010 Comic-Con Teaser Trailer (1.78:1; 1080p/24; 00:02:35)
"The Naïve Man from Lolliland" Student Short – A Film by J.G. Quintel (1.78:1; 1080p/24; 00:04:08)
Party Tonight Music Video (1.78:1; 1080i/60; 00:02:06)
JG Pitches "The Power" (1.78:1; 1080p/24; 00:16:32)
Original Regular Show Commercials (1.78:1; 1080i/60; 00:00:48)
Season Two:
Audio commentaries on all episodes
Interview with J.G. Quintel (1.78:1; 1080i/60; 00:05:06)
Sam Sings Mystery Karaoke (1.78:1; 1080i/60; 00:02:00)
The Definitive Word
Overall:
[Rating:3.5/5]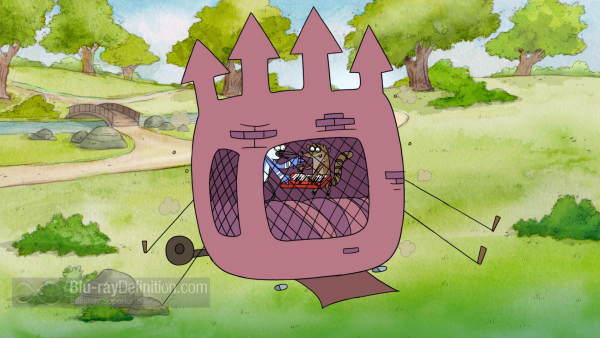 With Regular Show, Cartoon Network continues the trend of surreal and inventive animation with a wry and at times cynical sense of humor that can really take a while to sink in at times. The inventive animation, colorful worlds and weird characters help overcome the sometimes repetitive stories for an enjoyable and fun series.
Additional Screen Captures
[amazon-product]B00BUAJZGY[/amazon-product]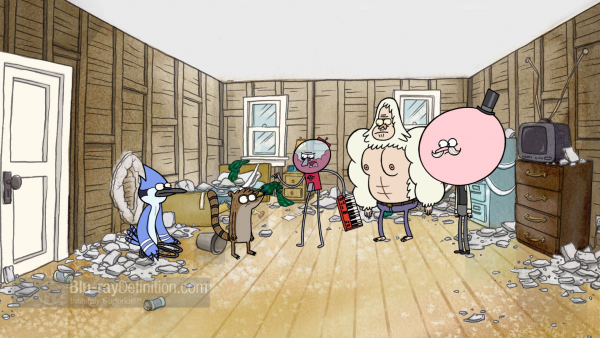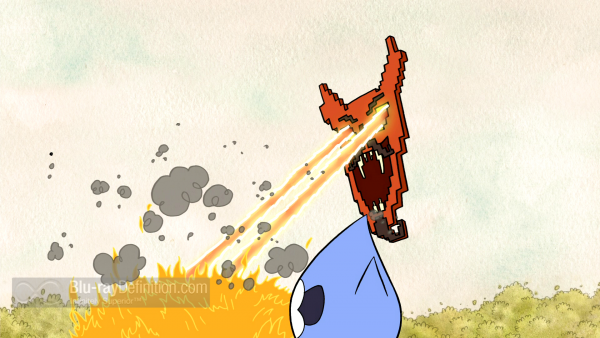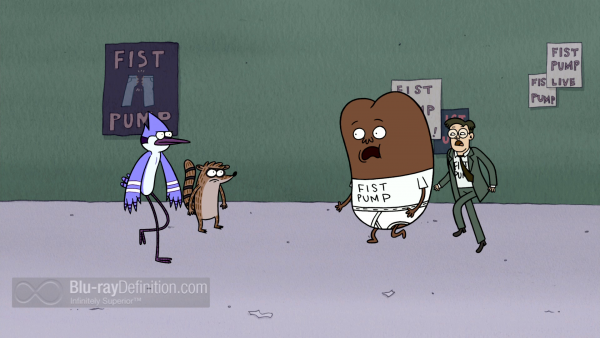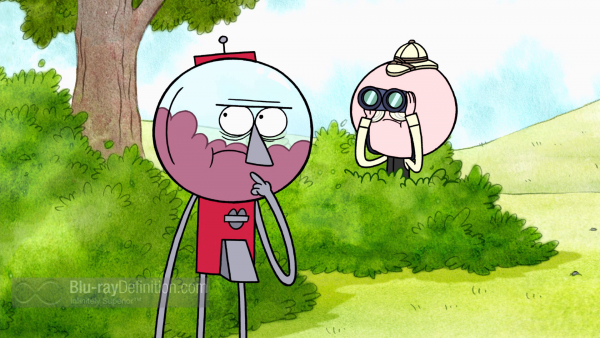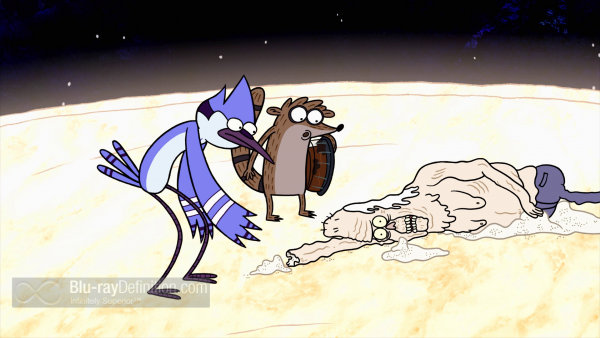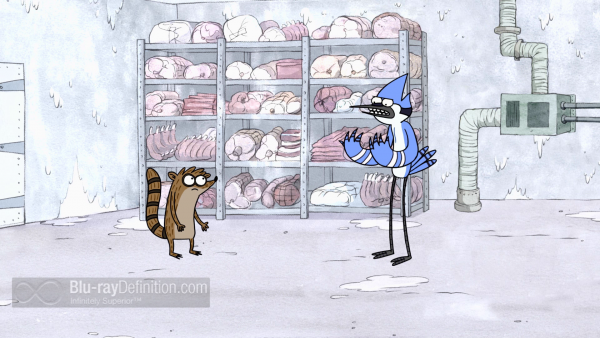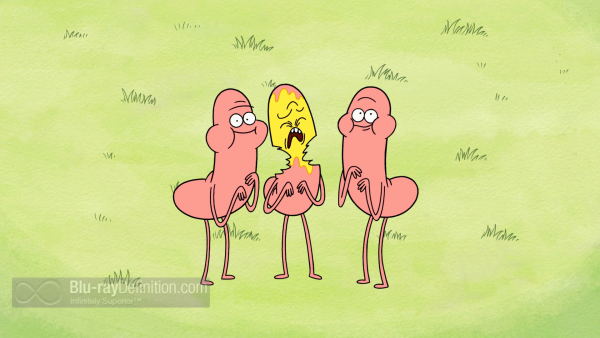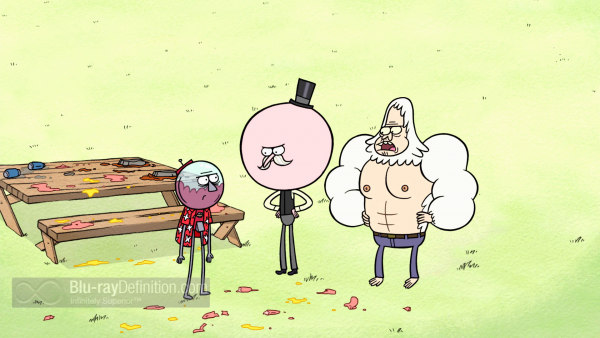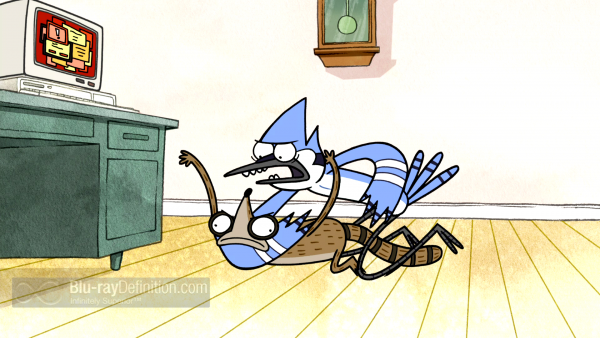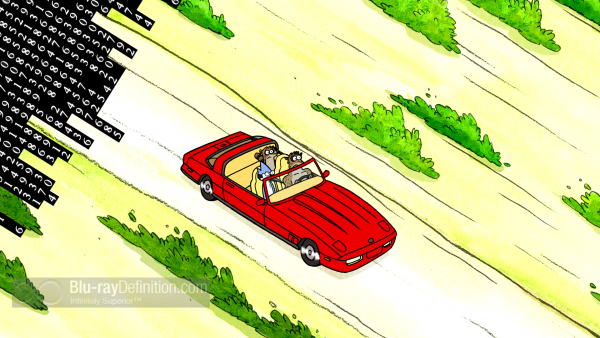 [amazon-product]B00BUAJZGY[/amazon-product]