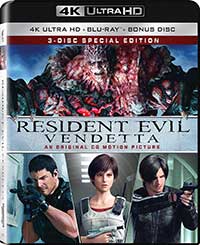 There have long been two strains when it comes to feature length films for the popular video game franchise from Capcom. The live action movies from Sony starring Mila Jovovich and the CG movies handled directly by Capcom. The latter have always been my preferred versions merely because they seem to stick close to the game world, offer a dark sci-fi zombie vision, and can go where live action still finds it difficult to go without feeling comical. The last Resident Evil starring Jovovich, The Final Chapter, was so plagued with jittery camera work, ADD editing, and an incomprehensible screenplay that one hopes it truly was the final chapter. In comparison, Resident Evil: Vendetta, while it surely isn't any kind of Shakespearean tragedy, does what you want this sort of film to do – put together a feature length video game cut scene that you don't get bored watching after ten minutes and isn't so stupid you're either laughing or crying on the inside while sitting through it.
Vendetta brings together franchise favorites Leon S. Kennedy and (voiced my Matthew Mercer) and Chris Redfield (voiced by Kevin Dorman) and features the film debut of Rebecca Chambers (voiced by Erin Cahill). The three come together to stop bio-weapons trader Glenn Arias (voiced by John DeMita) who is planning to release a deadly virus in New York City as vengeance for the government killing is wife and all of his family and friends on his wedding day.
The movie effortlessly switches between the feeling of a big budget action film and the prerequisite FPS scenes that place you right in the action and remind you of its video game roots. And what would any Resident Evil film be without the battle with "the boss" character right at the end. You may think its Arias, but it isn't.
The action throughout is quick-paced, intense, and bloody. The zombies seem to take just a little bit of a backseat in this film to human-on-human violence, but it's okay. One particularly exhilarating scene involves a race through Manhattan on a Ducati while being chased by zombified attack dogs. Great stuff for anyone who loves this ongoing franchise. And the motion capture 3DCG looks really good – almost live action in a lot of spots. If you didn't watch the lips and the eyes, you could almost be fooled.
The Video
Resident Evil: Vendetta gets an HEVC 2160p encodement framed at 1.78:1 and mastered in Dolby Vision (compatible with HDR10) on 4K Ultra HD. The movie is taken from a digital source, obviously, and a 2K DI, therefore upscaled to its 4K version. That said, it does look crisper in the 4K Dolby Vision version than it does on Blu-ray, at least the added "grain" does. On Blu-ray it looks more like the usual video noise, but on the Ultra HD, it looks sharper, grittier, more fitting for the movie actually. Not that the Blu-ray looks bad at all. The Blu-ray looks clean and detailed. The 4K disc takes it to another level. One barely has to get past the opening scene to see the staggering difference in dynamic range. The flashlights on the soldiers' guns pierce through inky shadows and practically hurt your eyes, looking like real LED lights on the 4K disc. On the Blu-ray, while there is good nuance and no issues with banding or crush (nor are there any on the 4K), the image is much flatter and gamma seems raised, there's less range between the bright flashlights, the shadows, and the lights being cast into corners and so forth. This pretty much continues throughout the film, which has many dark scenes and a few daylight ones as well. Colors look excellent in this Dolby Vision version and I'd say the combination of the Dolby Vision and Wide Color Gamut can almost fool one into thinking this motion capture production is live action. The technology as come a long way and so has home video.
The Audio
The Ultra HD disc is provided with an immersive Atmos sound mix that is one of the best for both an animated release and a direct-to-video release (in the U.S., one day limited theatrical run notwithstanding), I have heard to date. They've spared nothing with this. Composer Kawai Kenji's (Sadako 3D, Ghost in the Shell) score reverberates through the soundfield with balance and the various foley effects are placed very effectively. This is an action franchise after all, so we get a lot explosions, rumbling Ducati engines, overhead helicopters and growling zombies of course. Early on in the film as the Special Forces search the abandoned mansion, a grandfather clock gongs – and it comes from directly overhead, or maybe in your head. Low end is big and deep and rumbly while dialogue remains full and clear.
The Supplements
We get an excellent slate of behind-the-scenes and "making of" extras on disc, including a bonus Blu-ray with a brief featurette on the production design of the film, a faux mission briefing on the film's main protagonist, and a look at the 2016 Tokyo Game Show. What this set is curiously missing is any sort of Digital HD copy, which is disappointing this day and age.
Audio commentary with director Takanori Tsujimoto, executive producer Takashi Shimizu, and writer Makoto Fukami
CGI to Reality (1.78:1; 1080p/24; 00:24:05; Japanese w/ subtitles):

The Creature
Designing Vendetta

Motion Capture Set Tour with Dante Carver (1.78:1; 1080p/24; 00:11:03)
Stills Gallery
Theatrical Trailer (1.78:1; 1080p/24; English DD 5.1; 00:01:38)
Teaser Trailer (1.78:1; 1080p/24; English DD 5.1; 00:01:40)
Blu-ray Bonus Disc:
BSAA Mission Briefing: Combat Arias (1.78:1; 1080p/24; 00:05:06)
Designing the World of Resident Evil: Vendetta (1.78:1; 1080p/24; 00:03:31)
Tokyo Game Show Footage 2016 (1.78:1; 1080p/24; 00:13:06)
The Final Assessment
Visceral action and stunning 3DCG motion capture animation with an immersive audio track – this franchise should just stay in the animated realm from now on, because this is where it has always been the best, no disrespect to Ms. Jovovich.
[amazon_auto_links id="102825"]
R (for bloody violence throughout)
Rating Certificate
Capcom Company | Marza Animation Planet | Sony Pictures Home Entertainment
Studios & Distributors
Tsujimoto Takanori
Director
Fukami Makoto (screenplay) | Joe McClean (adaptation & dialogue)
Writer
$34.99
MSRP
HEVC (H.265) 2160p | AVC 1080p (Blu-ray)
Video
Dolby Vision (HDR10 Compatible)
HDR Format
English Dolby Atmos (Dolby TrueHD 7.1 Compatible)
Primary Audio
English DTS-HD MA 5.1 | French DD 5.1 | Portuguese DD 5.1 | Spanish (Castilian) DTS-HD MA 5.1 | Spanish (Latino) DD 5.1 | Thai DD 5.1
Secondary Audio
English DTS-HD MA 5.1 | French DD 5.1 | Portuguese DD 5.1 | Spanish (Castilian) DTS-HD MA 5.1 | Spanish (Latino) DD 5.1 | Thai DD 5.1
Subtitles
HDR Effect (If Applicable)
Summary
Popular characters from the Resident Evil franchise are united to save New York City when an evil bio-weapons dealer out for vengeance wants to release a deadly virus in the city in this visceral, stunningly animated 3DCG production. The 4K Ultra HD disc w/ Dolby Vision is pure reference for Home Theater enthusiasts.
What people say... Login to rate
Be the first to leave a review.
Show more