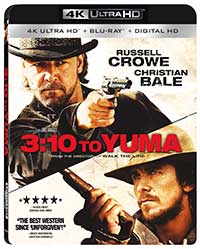 My opinion of this 2007 remake of the 1957 film 3:10 to Yuma has changed somewhat over the years. James Mangold directed this '07 take on the Elmore Leonard short story and it stars Russell Crowe as the morally ambiguous outlaw Ben Wade whose posse, led by his subordinate Charlie Prince (Ben Foster), stages a violent ambush to break him out of custody after he is caught by the authorities. Christian Bale plays one-legged Civil War veteran turned farmer Dan Evans who joins the group of deputized men hired by Pinkerton official Grayson Butterfield (Dallas Roberts) to make sure Wade is kept in custody and put on the 3:10 train out of Contention to Yuma where he will be tried and, eventually, hanged, for his crimes against the railroad.
The weaknesses of 3:10 to Yuma are in some of the confounding choices made by its characters. The ending, in particular, seems incredibly far-fetched, after a build up of how terrible and violent Wade is and how he would stop at nothing to be free, it seems like he makes a choice to suddenly stop resisting Dan, who in the end becomes his sole captor, and resigns himself to his certain fate of hanging by the neck.
Putting that aside, one can read this film as an examination of characters and the characters that are overriding in prominence are Wade and Evans. Dan Evans is a farmer who is down and out, on the verge of losing his farm due to drought, an unscrupulous rich landowner who has damned his stream, blocking Dan from being able to get water for his cattle, and thereby driving him to sign up for the dangerous task of escorting the infamous Ben Wade for a $200 payout. Dan also wants to be seen as a hero in the eyes of his eldest son William (Logan Lerman). The battle of morals is the main feature, and we are drawn into the story wondering if Wade's moral turpitude will rub off on Dan or if it will be the other way around.
Mangold's film is a throwback to older westerns, not necessarily the golden age westerns, but the early days of deconstructed westerns, so these morally dubious characters fit right into that. This 3:10 to Yuma is only slightly updated for the 2000s with a bit of an action bent, especially in the final act where the believability of the film begins to break down, but looking at it anew, ten years later, I have developed a new respect for what Mangold was trying to accomplish with this film and for the acting within. Peter Fonda has an outstanding performance as a grizzled railroad lawman, and Ben Foster is a perfectly unhinged outlaw. The two main leads, Crowe and Bale play off of each other perfectly.
The Video
3:10 to Yuma was originally shot on Fuji Eterna 250T 8553, Eterna 250D 8563, and Eterna 500T 8573 film stock in the Super 35 format anamorphically. It has always been a gritty looking film and this new 4K Ultra HD HEVC 2160p encodement with HDR10 High Dynamic Range maintains that grittiness. It was mastered with a maximum peak brightness of 1000 nits and minimum of 0, not that any displays could really utilize that maximum to the fullest. The wide color gamut looks brilliant in many of the scenes. One wouldn't expect a western to really 'pop', but the HDR brings out a lot of nuance in the sky and the terracotta colored cliffs that just isn't there in the included Blu-ray. Campfires also flare with a lot more brilliance as does the spark of belt buckles or the sheen of Ben Wade's cross on his gun handle.
The Audio
3:10 to Yuma has always been one of the better sounding releases from the early days of the Blu-ray format. Lionsgate originally released it with a 16-bit LPCM 7.1 track. This new Utra HD disc comes with a DTS:X "immersive" mix that, while not the best I have heard for a catalogue title remix to one of the new audio formats (that still goes to the Harry Potter films), does kick an already solid and immersive mix up a notch. The "X" channels add a level of dimension and realism, so now when the horses are galloping and the gunplay begins in earnest, sounds are coming from overhead, from way off to the sides, and, well, just everywhere. And when that 3:10 finally rolls in, it sounds thunderous, thanks to pretty good use of the LFE.
The Supplements
The set is rounded out nicely with a slate of HD extras and an audio commentary from the director. These cover the production and behind the scenes, a look at the historical facts and fiction, the antique guns used in the film and more.
Digital HD UltraViolet
Audio commentary with director James Mangold
Destination: Yuma (1.78:1; 1080p/24; 00:20:59)
Outlaws, Gangs, & Posses (1.78:1; 1080p/24; 00:13:00) – The myths versus the truth of outlaws in the old American West.
An Epic Explored (1.78:1; 1080p/24; 00:06:23)
3:10 to Score (1.78:1; 1080p/24; 00:07:40)
From Sea to Shining Sea (1.78:1; 1080p/24; 00:19:39) – A look at how the Trans-Continental railroad united the country in the post-Civil War United States.
A Conversation with Elmore Leonard (1.78:1; 1080p/24; 00:05:25)
The Guns of Yuma (1.78:1; 1080p/24; 00:06:19)
Deleted Scenes (2.35:1; 1080p/24; 00:07:51)
The Final Assessment
While this latter-day western doesn't live up to something like the gritty The Unforgiven or slow-burning Appaloosa, it has held up well after ten years. This Ultra HD release breathes new life into the film as well.
[amazon_auto_links id="99944"]
R (for violence and some language)
Rating Certificate
Lionsgate | Tree Line Film | Relativity Media | Yuma
Studios & Distributors
Halsted Welles | Michael Brandt | Derek Haas | Elmore Leonard (short story)
Writer
$22.99
MSRP
HEVC (H.265) 2160p (UHD) | AVC 1080p (BD)
Video
English DTS:X (DTS-HD MA 7.1 Compatible)
Audio
English | English SDH | Spanish
Subtitles
English DD 2.0 Optimized for Late Night Listening | French DD 2.0 | Spanish DD 5.1
Secondary Audio
Summary
A throwback to the early western deconstructions with a 2000s sensibility, this James Mangold remake of the classic Elmore Leonard-based western 3:10 to Yuma has aged well and is marked by strong lead performances. The new Ultra HD reviewed here breathes new life into the film.
What people say... Login to rate
Be the first to leave a review.
Show more