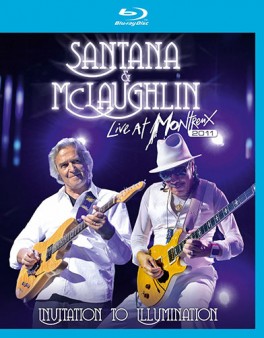 –
The Performance
[Rating:4/5]
A coming together of two giants of the music world, both supreme masters of their guitars, happens once every 40 years which just happens to be the last time, Carlos Santana and John McLaughlin jammed live on the same stage. Much of the following playlist included tracks from their 1973 joint effort, "Love Devotion Surrender," a successful fusion album that was inspired by the teachings of Sri Chinnoy and dedicated to the memory of sax legend John Coltrane.  As the playlist notes, there are compositions by some of the musical legends of the times, including
Echoes of Angels (D. Van Dyke/V. Farnsworth)
The Life Divine (John McLaughlin)
Medley: Peace on Earth/A Hard Rain's A-Gonna Fall/Stairway to Heaven/Our Prayer/SOCC (John Coltrane/Bob Dylan/Jimmy Page/Robert Plant/Albert Ayler/Carlos Santana)
Right Off (Miles Davis)
Vuelta Abajo (Tony Williams)
Vashkar (Carla Bley)
The Creator Has A Master Plan (Pharoah Sanders/L. Thomas)
Naima (John Coltrane)
Lotus Land Op. 47, No.1 (Cyril Scott)
Downstairs (Elvin Lee Jones)
Venus/Upper Egypt (Pharoah Sanders/L. Thomas)
Let Us Go Into The House Of The Lord (Carlos Santana/John McLaughlin)
Black Satin (Miles Davis/Teo Macero)
Cindy Blackman Santana Drum Solo
A Love Supreme (John Coltrane)
Shake It Up And Go (John Lee Hooker)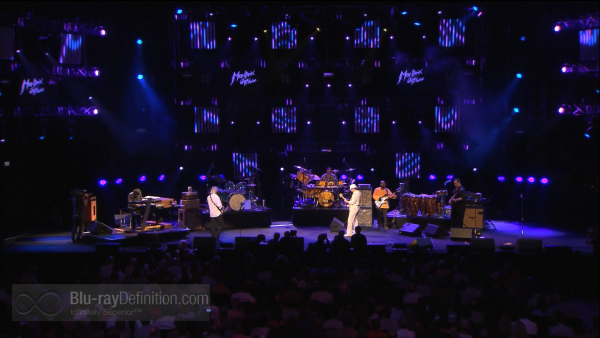 Although McLaughlin was pushing 70 and Santana, 64 years of age, neither player makes any concession to age for this concert's generous running time of more than two hours.  Rather than playing individually with each of their bands, these two stars, alternating at lead guitar,  combined their respective players on stage, resulting in one super band.
Video Quality
[Rating:4/5]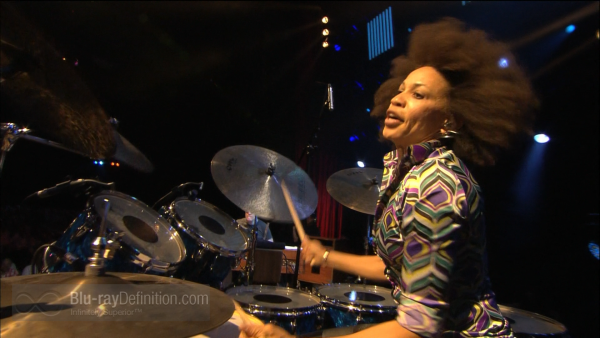 Typical of most of the "Live at Montreux" programs that I have seen, there is purplish overcast to the color palette. However, as both McLaughlin and Santana are garbed in white apparel, this did not interfere with their respective colors.  Detail is decent, particularly in the close ups of faces, hands and instruments.
Audio Quality
[Rating:4/5]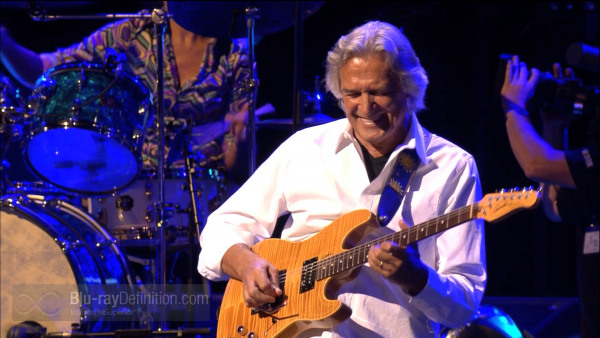 The DTS-HD Master Audio 5.1 soundtrack at 96kHz/24-bit gives listeners a huge wall of sound, the trademark of both of these artists. My expectations of "killer" sonics were a bit let down by the lack of articulation in the copious bass lines of these selections. This improved when fewer musicians were involved as in "Vashkar" when drummer Santana, guitarist McLaughlin, and organist David Matthews perform a swinging trio.  The 2-channel version, also with the same sampling frequency and word length, is pretty decent if not as well focused.
Supplemental Materials
[Rating:1/5]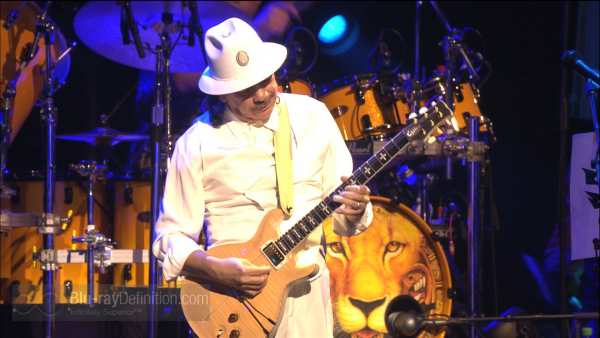 We get a program booklet that provides background on the musical selections
The Definitive Word
Overall:
[Rating:4/5]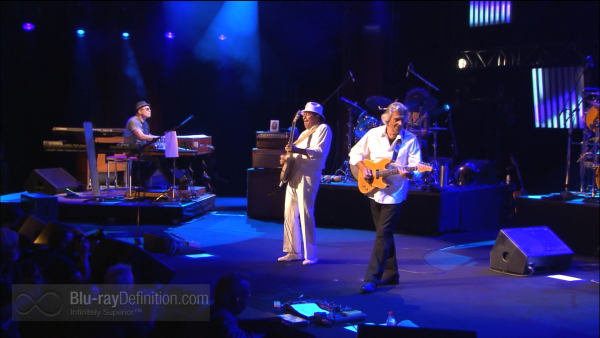 Sets like Santana & McLaughlin: Live At Montreux 2011: Invitation to Illumination are really one continuing string of highlights with a program that is varied in mood, style, and rhythm. Listening to these two legends, together in a guitars-only duet of the Pharaoh Sanders little masterpiece Naima and Cyril Scott's Lotus Land is like getting a brief glimpse of music heaven.  The virtuosity in this track is breath-taking and surely must have thrilled those in attendance.  I would be remiss if I did not acknowledge Cindy Blackman's (Mrs. Carlos Santana) virtuosic drum solo as well. Finally, the two leads even coax Montreux founder and harmonica specialist Claude Nobs back on stage to jam in the finale. While we had to wait for four decades for this reunion, those of us with long musical memories will agree that the wait was most definitely worth it.  Bass definition issues aside, possibly an anomaly of the performance venue, this is one to go out and get while it is still hot.
Additional Screen Captures
[amazon-product]B00DPH7V98[/amazon-product]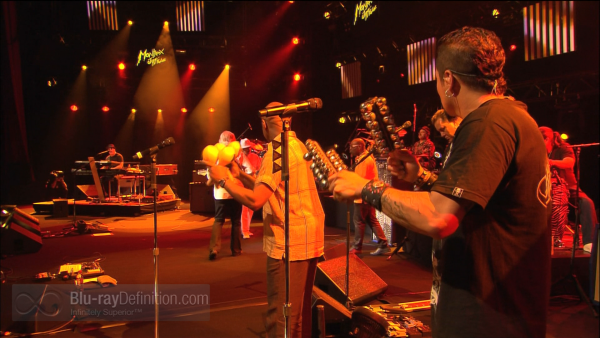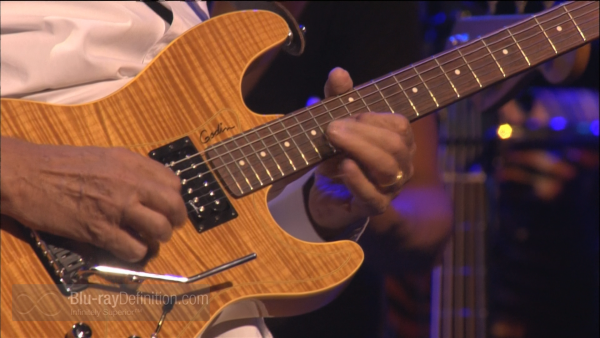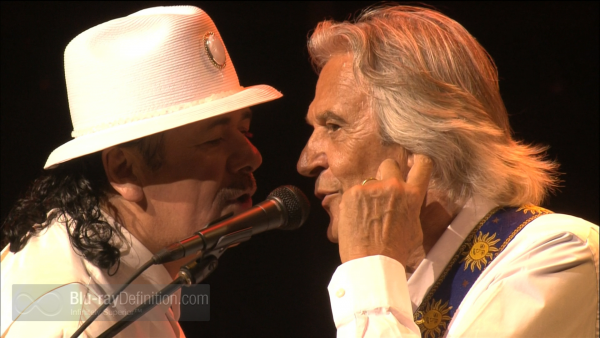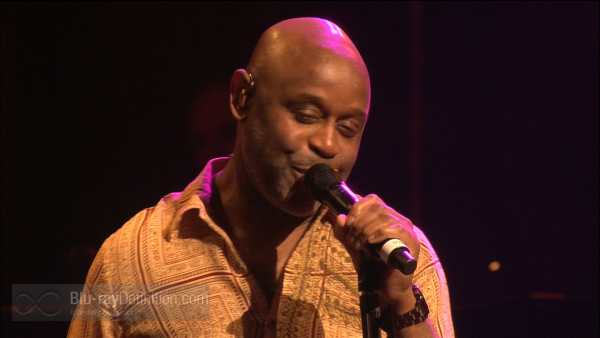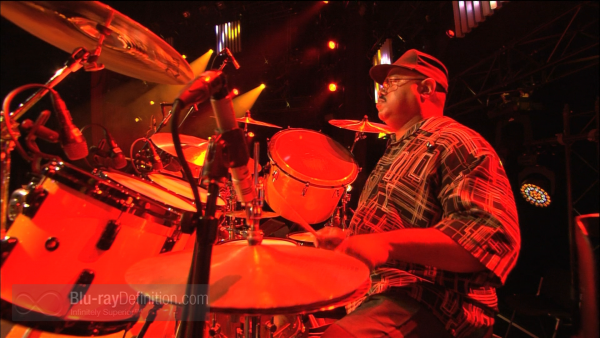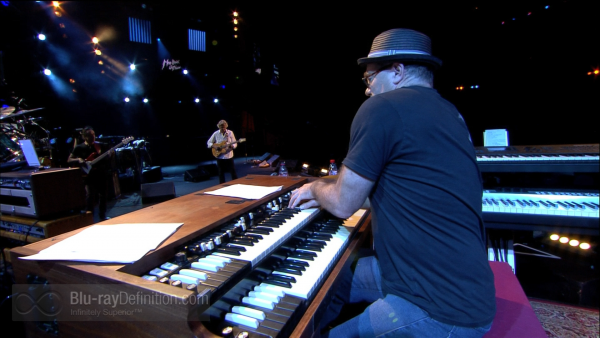 [amazon-product]B00DPH7V98[/amazon-product]