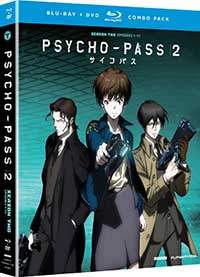 From Production I.G., the same people who gave us Ghost in the Shell, and writer Urobuchi Gen (Fate/Zero; Black Lagoon) comes this fantastic piece of cyberpunk that, for all practical purposes might as well be an update to Ghost in the Shell.
Incorporating many of the same elements as that groundbreaking piece of work such as cybernetics, powerful computer networking, philosophy, and an underlying crime drama, Psycho-Pass (サイコパス) is set in a dystopian future, 2113 to be exact. Japan has become an isolationist nation and is completely controlled by a powerful computer network known as Sybil System. People rely on this system to tell them everything, from what career path they should choose to when they should seek mental health assistance. The network is capable of instantaneously assessing people's mental states, personalities, and the probability of them committing a crime in the future. Everyone must carry what is called a "Psycho-Pass" with them at all times, and the Sybil System, with monitors all over the country, assesses one's "hue" or crime coefficient. If it gets too "cloudy" or rises too high, then one is labeled a latent criminal beyond treatment and can be executed.
In season 1, the story focused in on Tsunemori Akane, who was then a newly recruited Inspector for the Public Safety Bureau tasked to hunt down these latent criminals alongside a special team of police called Enforcers. The Enforcers are all latent criminals with special dispensation from the Public Safety Bureau to act in an official capacity, but they must be accompanied by Inspectors at all times, or risk being "judged" by the very deadly weapons they carry, the Dominator. The Dominators are electronically controlled guns with different modes of operation that are tapped into the Sybil System. When pointed at a target, they instantly judge if that target can be shot or not, paralyzed only, or destroyed completely.
In this second season, Tsunemori has now learned the true nature of the Sybil system in what was a stunning and, perhaps even a far-fetched, to put it mildly, revelation, but the stalwart law enforcement agent has chosen to remain true to the Sybil system nonetheless and uphold the status quo. She is still unaffected by stress and crime, her hue barely rising above a mark of high 20s or low 30s, and this still remains unexplained for the most part. It's one of the more vexing aspects of Psycho-Pass.
Still, the second season is a fantastic one that grows the characters, especially Tsunemori, who has become a sort of new Kusanagi in a series that very much alludes to Ghost in the Shell or even Minority Report. The story arc here involves a new, mysterious villain who seems to be able to exist outside of the authority of the Sybil system, committing heinous crimes without his hue being affected, so, obviously, the Enforcers cannot detain him or use their Dominators against him. He also seems to be able to pass this ability on to others, so his very existence threatens the stability of society and the Sybil system.
And the between right and wrong and right blur ever more in what is perhaps an even darker season of this already dark series. The bad guys lurk amongst the good and the good guys have a crisis of conscience. One of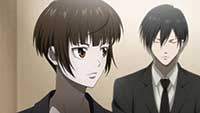 Tsunemori's own colleagues struggles with serving Sybil and also fear of her hue changing as she is deceived by a bad person. It's one of the strengths of Psycho-Pass, in fact, its constant questioning of whether humanity can or should create a utopian society around technology to wipe out all wrongdoing and crime, and what the effects of such a thing might be.
The animation for season 2 remains breathtaking. There's a cool aesthetic that plays up the technological aspects of the future dystopia while paying very close attention not only to the background details, but also to the details in the character designs. Tsunemori's features continue to standout as well, a sort of hybrid between moe and a more realistic style, with her big round eyes but elongated face and impish shot hair.
The Video
This is a beautiful looking series with a high quality of animation and this AVC 1080p transfer from FUNimation delivers the goods with a clean and detailed image that only has some minor issues with color banding. There is some artistic softness in the "lighting" that sometimes obscures the overall sharpness, but that is not the fault of the transfer. Colors also look good, although this is not a series with a candy-colored palette. This one lingers in cooler and metallic tones. This second season looks a lot better to my eyes than the first season of Pyscho-Pass did.
The Audio
I've been more impressed lately than I usually am with the audio tracks on FUNimation's releases because they don't seem to be as dynamically squeezed as they used to be. The Dolby TrueHD tracks on Psycho-Pass 2 don't seem to have quite as wide a dynamic range as Terror in Resonance, but they sound better than many of the audio tracks the older FUNimation titles used to have. There's more breathing room. The Japanese Dolby TrueHD 2.0 stereo mix is my favorite here simply because the voice cast is so much more enjoyable to me. They really nail the drama, but the English Dolby TrueHD 5.1 mix has good balance and atmospherics that works well with this sort of material, so take your pick.
The Supplements
FUNimation includes two audio and one video commentary plus the usual textless opening and closings and trailers. It's a good bundle of extras for this series, especially the commentaries which bring a different way to watch when you've already seen the series once or twice.
2 DVDs of the series
Episode 04 Commentary
Episode 08 Commentary
Episode 10 Video Commentary
Textless Opening Song "Enigmatic Feeling"
Textless Closing Song "Fallen"
S. Trailer (1.78:1; 1080p/24; 00:01:37)
FUNimation Trailers
The Final Assessment
Psycho-Pass 2 continues to impress and proves itself one of the great cyberpunk franchises even as it borrows from a number of works that came before it. It is always involving, thrilling, and thoughtful. The animation is top-notch and the story is tight and dares to go into the darker places.
Psycho-Pass 2: Season 2 (TheaterByte Blu-ray Review)
Production I.G/FUNimation Entertainment
Studios & Distributors
Shiotani Naoyoshi, Suzuki Kiyotaka
Director
Japanese Dolby TrueHD 2.0 (English Subs.) | English Dolby TrueHD 5.1
Audio
What people say... Login to rate
Be the first to leave a review.
Show more