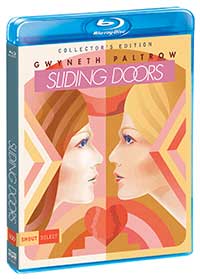 David Howitt, a British actor and sometimes director of mostly TV movies, wrote and directed Sliding Doors in 1998 taking a cue from films such as It's A Wonderful Life, only his film's take on the "what if" question is a bit messier. The plot breaks into two storylines as it follows Helen (Gwyneth Paltrow), an executive at a London PR firm whom loses her job, then is mugged on the street by a purse-snatcher, only to arrive home early where she finds her boyfriend Gerry (John Lynch)  in flagrante delicto with his American mistress Lydia (Jeanne Tripplehorn). But the story detours into a second narrative. Wat if Helen hadn't missed her train earlier and got on before the sliding doors closed? The other Helen doesn't get fired, doesn't catch her boyfriend in the act, and doesn't meet the new man (John Hannah) that will change her life.
Howitt goes back and forth between the two worlds often confusingly using the gimmick of a bandage on one Helen's forehead to help us distinguish between the two timelines. When even the writer/director cannot explain what's going on too clearly — as is evidenced by the audio commentary contained on the very disc being reviewed here as he admits himself – then you know something has gone awry.
While this narrative device is actually not a bad one – and Howitt uses a number of tricks to interweave the two, such as 'sliding' the camera left to one timeline and 'sliding' it back right into the other – in less than careful hands it can become hard to follow and with a script that is a little light on life and overindulgent on romance, it can feel more like gimmickry than a necessary, introspective tool into the consequences of choices and split-second decisions.
Sliding Doors has managed to maintain a certain level of cult status and did spark a trendy hairdo thanks to Paltrow's short cut in the film and her admittedly flawless acting between both timelines portrayed.
The Video
Sliding Doors comes with a 1.78:1 AVC 1080p encodement of its 35mm source. There's no mention of this being a completely new restoration and it doesn't appear to be, but it still looks quite good with a clean overall picture, natural grain structure and good colors. There is some film softness, but for the most part, there is good detail in the closeups and midrange shots especially.
The Audio
Sliding Doors is provided with an English DTS-HD Master Audio 5.1 mix and a stereo DTS-HD Master Audio 2.0 mix. I used the 5.1 mix as my main reference and sampled the stereo mix on and off. We get clear dialogue and a good spread of stereo effects in both mixes, but the 5.1 mix offers minimal surround effects with only some low-level atmospherics.
The Supplements
The new HD featurettes with director Peter Howitt offering a look at the locations from and the making of the film are excellent as is the easy to listen to, casual yet detailed audio commentary.
Audio commentary with writer/director Peter Howitt
The Sliding Doors Moments: The Making of Sliding Doors (1080i)
A Stroll Through Sliding Doors London with Peter Howitt (1080i)
Theatrical Trailer
TV Spot – Trains
TV Spot – Unique
TV Spot – Sparks
TV Spot – Home Video
The Final Assessment
Sliding Doors is a pleasant if not wholly realized attempt at examining what would happen if one made different choices in their lives or if fate, as it were, turned out differently. While it's imperfect, it's certainly not an awful film and it does look good in this new Shout Select Collector's Edition.
Sliding Doors (Collector's Edition) is out on Blu-ray January 21, 2020 from Shout! Factory
---
The Creative Content: 3.0/5
The Video: 4.0/5
The Audio: 3.5/5
The Supplements: 3.0/5
Rating Certificate: PG-13
Studios & Distributors: Intermedia Films | Mirage Enterprises | Miramax | Paramount Pictures | Shout! Factory
Director: Peter Howitt
Writer: Peter Howitt
Run Time: 99 Mins.
Original MSRP: $27.99
Street Date: 21 January 2020
Aspect Ratio: 1.78:1
Video Format: AVC 1080p
Primary Audio: English DTS-HD MA 5.1
Secondary Audio: English DTS-HD MA 2.0 Stereo
Subtitles: English SDH