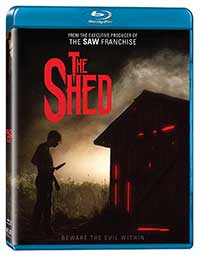 The Shed is only the second feature film from director Frank Sabatella (Blood Night: The Legend of Mary Hatchet). This gory horror film from the executive producer of the Saw franchise follows two high school buddies, Stan (Jay Jay Warren) and Dommer (Cody Kostro) who have been dealing with bullies their entire lives.
Stan, an orphan who now lives with his abusive grandfather, is reclusive and into listening to his music. It seems his only outlets are his put-upon best friend Dommer and daydreaming about high school dream girl Roxy (Sofia Happonen) – that is until Stan makes a terrifying and gruesome discovery one day. Stan finds there is a murderous vampire living in his shed. When the vampire kills Stan's dog and then his grandfather, Stan is left in a bind. He tries to keep the vampire a secret, boarding it up inside the shed, for fear that the blame for his grandfather's loss will be put on himself. But secrets never stay secret for long.
Dommer ends up in an altercation with high school bully Marble (Chris Petrovski) defending the honor of Roxy and this all leads to a terrible showdown on Stan's property. Dommer, meanwhile, who is the only one that Stan has let in on the secret of the vampire, has other plans about what to do about the creature. It all leads to a chaotic night of terror.
There is a lot of good in The Shed. Firstly, there is something undeniably scary about an unknown terror hiding in the shadows of a dilapidated old shed. Secondly, the creatures are gruesome, bone-chillingly terrifying in their appearance. But that is where the good tends to end.
Sabatella burdens the film with far too many cumbersome jump-scares that are obviously placed. Secondly, there is a slow buildup from the first half of the film that is laden with teen angst and lip service that is given to bullying and the consequences of that, to a second half that is guts, blood, and more typical monster film fare with plenty of kill shots and vermillion splashes. The divide between these two halves of the film feels odd.
Still, for a second outing with a low budget horror flick, Sabatella does a decent job providing some good scares, horrifying creatures, and pulling good performances out of his young cast.
[envira-album id="121909″]
The Video
The Shed comes with a 2.40:1 AVC 1080p encodement of its digital source. It has solid picture quality with good color reproduction, little in the way of noise and no artifacts.
The Audio
The Shed only gets an English DTS-HD Master Audio 5.1 mix on Blu-ray, but it's an excellent mix with lots of activity. This is the sort of mix you want for a horror film – lots of atmospherics, deep low end, and a lot of solid sound effects that pan through the surround channels following the action. The dialogue and sound effects also come through clean and clear.
The Supplements
There are no bonus features on this release.
The Final Assessment
Low budget monster horror with some weaknesses could have done more with its unique setup but is a watchable time waster. This Blu-ray release looks and sounds great but is barebones.
The Shed is out on Blu-ray 7 January 2020 from RLJE Films
---
The Creative Content: 2.5/5
The Video: 4.5/5
The Audio: 4.5/5
The Supplements: 0/5
Rating Certificate: Not Rated
Studios & Distributors: A Bigger Boat | Sideshow Pictures | RLJE Films
Director: Frank Sabatella
Writers: Jason Rice (story by) | Frank Sabatella
Run Time: 97 Mins.
Street Date: 7 January 2020
Aspect Ratio: 2.40:1
Video Format: AVC 1080p
Primary Audio: English DTS-HD MA 5.1
Subtitles: English SDH | Spanish | French