–
The Film
[Rating:4/5]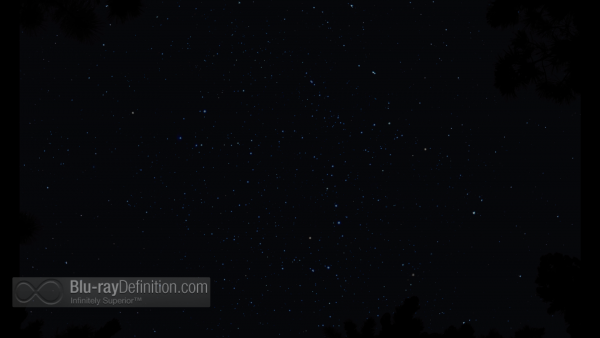 Writer/director John Maclean brings us this postmodern western staring Kodi Smit-McPhee and Michael Fassbender. Shot in New Zealand, the story follows a young Scottish upper class teenage boy Jay Cavendish (Smit-McPhee) who comes to the American frontier searching for the woman he loves. He comes across the enigmatic and slightly dangerous Silas Selleck (Fassbender), who offers to be his guide on his dangerous journey across the American frontier. Together the two face a number of ruthless characters who are out for their own gain, the worst being outlaw Payne (Ben Mendelsohn). But little does Jay know that Silas has his own ulterior motive for helping him as well.

Slow West navigates between the violence of the old west in a gritty, up to date style, and a dreamlike, surreal world that is heightened by the strangely unfamiliar territory of New Zealand sitting in for the American West. Sometimes quiet and romantic, sometimes terrifying, Slow West does dissect the archetypes of the western, giving us what we expect, like the grizzled gunslinger (Fassbender), the pie-eyed youth (Ben Mendelsohn), his strong frontier woman love (Caren Pistorious) and even a man in black while arriving at something wholly new and modern. There hasn't been a western so fresh since Eastwood gave us the deconstructed Unforgiven (1992).

Video Quality
[Rating:4.5/5]
Slow West was shot in HD on the Arri Alexa with Panavision PVintage, Ultra Speed Z, and Frazier lenses and arrives on Blu-ray in an AVC 1080p encodement from Lionsgate. The imagery is of a reference quality, with clear, extended depth of field, strong detail and textural information, and beautiful colors. Shadows are nuanced without crushing or noise and flesh tones are very natural.

Audio Quality
[Rating:4/5]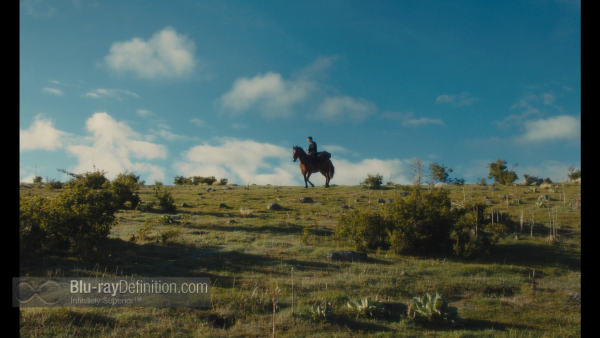 The English DTS-HD Master Audio 5.1 track is a very quiet one that carries a limited amount of atmospherics in the surrounds, but does have clean, clipping-free dialogue and just enough low end to boost the gunshots for the climactic gunfight in the final act. While discrete sounds do not really populate the surround channels, the final act, again, offers up a lot of solid effects in the form of gunshots that ring through the soundfield from all angles.

Supplemental Materials
[Rating:3.5/5]
Introduction by Director John Maclean (1.78:1; 1080i/50; 00:04:02)
Deleted Scenes:

Hunter's Cabin (1.66:1; 1080p/24; 00:04:36)
Am Bata Uaine Performed by Ali "Beag" (1.33:1; 1080p/24; 00:04:10)
Pitch Black Heist (2.35:1; 1080i/50; black and white; 00:13:40) – Short film
Railroad and the Moon (1.33:1; 1080i/50; 00:04:15) – Short film
On Strange Land: Making Slow West (1.78:1; 1080p/24; 00:07:20)

Interviews:

Michael Fassbender (1.78:1; 1080p/24; 00:03:58)
Kodi Smit-McPhee (1.78:1; 1080p/24; 00:04:37)
Q&A with John Maclean (1.78:1; 1080i/50; 00:26:32)

Slow West in Super Eight (1.33:1; 1080i/50; 00:05:13) – Behind the scenes footage of the production shot on Super 8.
Trailer (1.66:1; 1080p/24; 00:01:59)

The Definitive Word
Overall:
[Rating:4/5]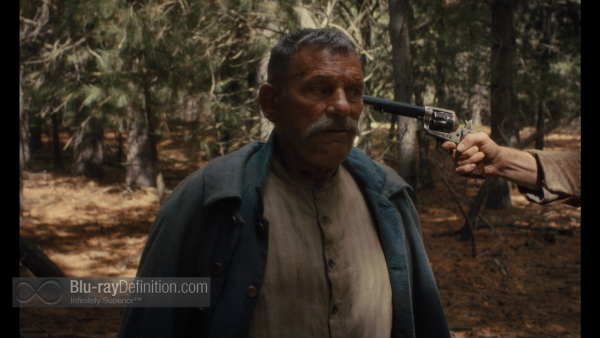 Slow West is an excellent reworking of the western genre, one that has the potential to point the way for the new, postmodern western going into the future. With powerful performances from Michael Fassbender and Kodi Smit-McPhee, and its gorgeous cinematography, this is one that fans of the genre should love.

Additional Screen Captures