–
The Series
[Rating:4.5/5]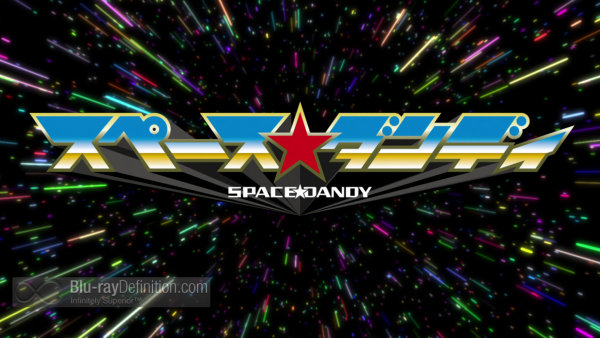 If you're looking for something strange, funny, and gorgeous to look at, then you've found it in the anime series Space Dandy (スペース☆ダンディ). Colorful and groundbreaking animation not dissimilar from the Madhouse production Redline from a few years ago (Space Dandy is produced by the production house Bones), the series is an OVA (Original Video Animation) that follows the misadventures of a guy named Dandy, a "dandy guy in space", who, along with his robotic assistant QT and a cat-like companion named Meow attempts to capture rare alien species for a bounty. Unbeknownst to Dandy, he is also being pursued by Dr. Gel of the Gogol Empire, which is at war with the Jaicro Empire for control of the universe.
This second season of the series follows the same formula that made the first season so successful and enjoyable to watch, which is to say, it plays with nonlinear storytelling, metaphysics, and philosophical theory, but all wrapped in the weird, wild, wacky, and comedic. The season starts off with Dandy, Meow, and QT journeying through parallel universes where they meet, in every world, different versions of themselves. Finally, all of these versions of Dandy and crew end up in the original universe where, because of their presence, the universe begins to collapse. In another episode, an attack is launched by invaders from a two-dimensional universe into their three-dimensional universe, all over a woman from a four-dimensional universe that Dandy was involved with. The season wraps up with typical bombast and Dandy, of course, at the center of it all. I won't give any spoilers except to say that there is some tongue-in-cheek exploration of religion and the meaning of existence.
The pack of Skittles that bursts open on the screen when you sit down to watch Space Dandy is just one level of what makes this series so enjoyable. The design work is also quite remarkable, from the character designs to the background details. This one, which often drifts from one style to another in one episode, is experimental while remaining consistent across the entire series. This is not just your average, production line anime series, but one to be reckoned with and remembered for a long time. The adventurous attitude in animating the series continues through this second season, and it is one that is eye-popping at every turn. Season 2 is just as enjoyable, funny, and gorgeous to watch as the season 1.

Video Quality
[Rating:4/5]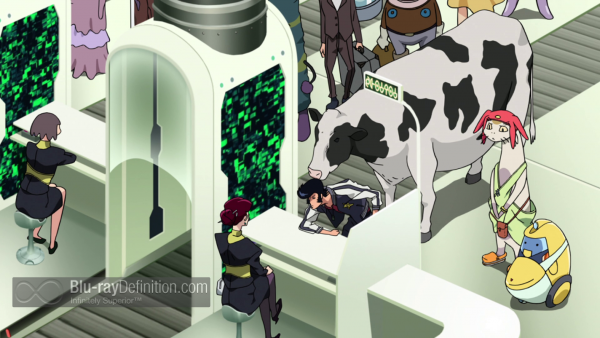 There's a little bit more color banding that can be spotted in this second season than could be spotted in the first on Blu-ray. The series gets another AVC 1080p encodement and looks just as colorful and vibrant, but just a little softer. That said, the overall experience is still enjoyable.

Audio Quality
[Rating:3.5/5]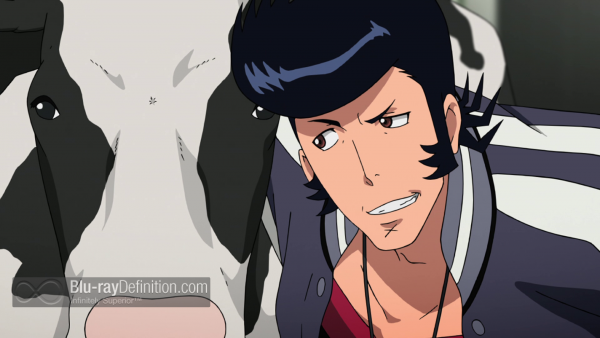 We get the original Japanese-language track in Dolby TrueHD 2.0 stereo and an English dub in Dolby TrueHD 5.1 and the dynamic range is still squeezed as is the case with so many FUNimation releases on Blu-ray. This is a shame, because the 5.1 mix could probably stand out as far as sound quality, even of not for its canned English cast. FUNimation is just not utilizing the lossless audio codecs to their fullest advantage. At least the dialogue is clean.

Supplemental Materials
[Rating:3.5/5]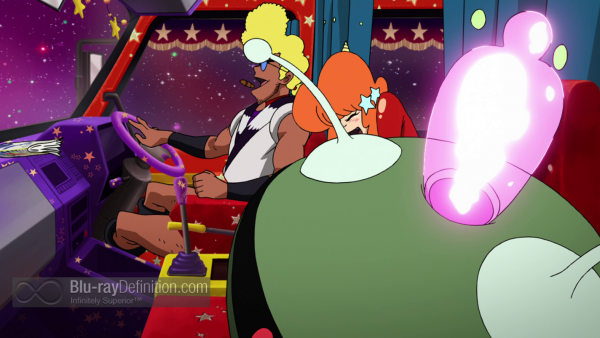 We get a good bit of extras, including two audio commentaries and lots of promotional materials.
Episode 19 Commentary
Episode 26 Commentary
Dandy Guy in Space: Part 02 (1.78:1; 1080p/24; 00:32:43)
Blu-ray & DVD Commercials (1.78:1; 1080p/24; 00:00:51)
TV Commercials (1.78:1; 1080p/24; 00:01:06)
Textless Opening Song "Viva Namida" (V4 Record)
Textless Closing Songs:
"Welcome to the Dimension X"
"Kanchigai Lonely Night"
"White House"
"Space Dandy"
"Seaside Driving"
"All "the thing"s i am…worried"
"Space Fun Club"
U.S. Trailer (1.78:1; 1080p/24; 00:02:03)
FUNimation Trailers

The Definitive Word
Overall:
[Rating:3.5/5]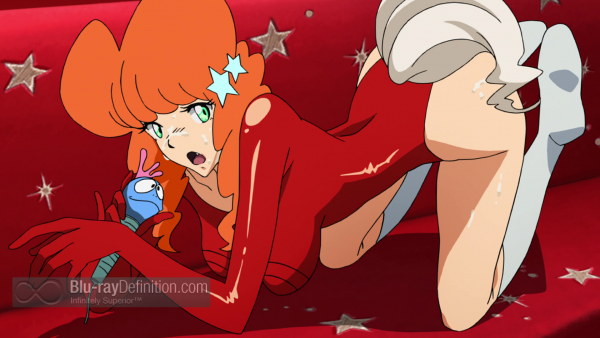 The coolness and hipness continues in the witty and bleeding edge series Space Dandy: Season 2. It sets a new standard for what comedy and sci-fi in anime should be.

Additional Screen Captures