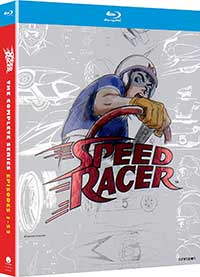 What is there to say about Speed Racer that hasn't been said over the years really? This original Japanese anime series adapted from the 1966 manga was one of the early anime series to reach international success with its American re-edit and English dubbed adaptation by Peter Fernandez. The series, also known as Mach GoGoGo in Japan revolves around automobile racing and a male auto racer named Mifune Toshiro, Americanized to Speed Racer. Long before anyone ever dreamt up Knight Rider, "Speed" was racing around race tracks and other locales in his high-tech super car full of gadgets, the Mach 5, ad taking on other racers like the mysterious Racer X or Fukumen Racer in the original Japanese series (twist identity to be revealed in the 52 episode series) as well as other antagonists like criminals, thugs, gangs, car haters, and even nefarious royals. Speed goes up against these colorful characters and takes to the racetracks with the help of his equally motley collection of friends and family – his girlfriend Trixie (Shimura Michi in Japanese), Sparky (Sabu in Japanese) the mechanic, his dad Pops Racer (Mifune Daisuke in Japanese), a former wrestler-turned racing mechanic, his younger brother Spritle Racer (Mifune Kurio in Japanese) and Spritle's pet chimpanzee Chim-Chim (Sanpei in Japanese).
The animation style seems less in the stylized Japanese anime style that we are accustomed to today and more in a traditional Western style of animation, not unusual of the period and recognizable to anyone familiar with classic early anime such as Astro Boy or Gatchaman – although the latter would be pushing more toward the break toward a unique Japanese style. However the greatness of Speed Racer was less about the animation style and more that its high-speed antics always seemed grounded in reality. It was about grittiness of the streets, the story of a dysfunctional family and a kid trying to make it in the world by racing his heart out.
The American adaptation didn't get everything right, but it suited the era for Television stateside at the time. Unfortunately, this new set from Funimation doesn't rectify a need by otaku and even more casual anime fans to have an American release on Blu-ray of the original Japanese version of the series, despite the mislabeling on the back of the packaging that Japanese audio is available on the set – it isn't. We get the same American version of the series that many people here grew up watching Saturday mornings or, in my case, weekdays as I got ready for school. I was hoping for a Gatchaman-style complete original series, but this isn't it.