– –

The Series
[Rating:4.5/5]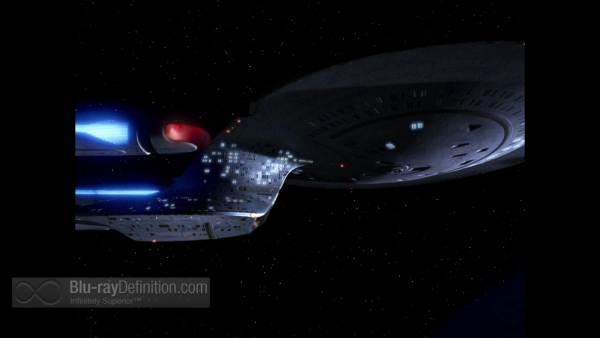 Two decades after Gene Roddenberry's original 1960s space saga hit the airwaves briefly before going off the air and creating a cult following that would eventually lead to a syndicated empire of re-runs, conventions and motion picture franchises, the series was reborn with Star Trek: The Next Generation. While I can't claim to be old enough to have grown up with the original Star Trek's initial run, I was certainly familiar with it from re-runs and did watch it, so I was excited for its return. The Next Generation was indeed Star Trek for my generation; a weekly journey into the 24th century set decades after Captain James Tiberius Kirk and crew boldly went where "no man" had gone before.
A comparison of the new crew of the newly designed Enterprise may be as futile as a showdown with the Borg, but that hasn't stopped Trekkies from getting into heated debates over the years. While The Next Generation crew are an entity to themselves, there are certainly some similarities in keeping with the Star Trek mythos. Commander William T. Riker (Jonathan Frakes) maintains some of the ladies' man swagger that belonged to Captain Kirk in the original series. Lt. Commander Data (Brent Spiner) can be seen as the cool, calculating logician who steps into the role of Mr. Spock. It is Captain Jean-Luc Picard (Patrick Stewart) however, that gives the series its real break from the past, offering up a new take on the Starfleet captain. Rather than a brash, shoot from the hip cowboy like Kirk, Picard is a stern, philosophical renaissance man, equally comfortable sipping a cup of Earl Grey and reading the classics as he is brokering the peace on a strange new world or doling out orders in the heat of battle.
The fourth season of The Next Generation, which was the first season of the syndicated series to start with a full-time, stable working staff of writers went on to also become the series' highest rated to date, taking a sharp turn to focus more on character development and the interactions between the crew of the Enterprise, rather than simply offering up one alien adventure after another. Following through with what started in the season that would kick off with the hotly anticipated second half conclusion to the cliffhanger "The Best of Both Worlds" and now classic episodes such as the controversial "The Host", which introduced us to the species known as the Trill (who would go on to become more prominent in Star Trek: Deep Space Nine), that vaguely touched on same-sex relationships long before it was even in vogue, Season Five didn't drop a beat. It starts off with Part II of the cliffhanger "Redemption", that finds Worf (Michael Dorn) abandoning Starfleet to help restore balance to the Klingon empire and honor to his family name. From there, we get a season filled with some of the most memorable episodes in the series run, the writing team seemingly getting better and better as they go along. "Violations" tackles the subject of rape as a telepathic visitor aboard the Enterprise forces himself on Troi (Marina Sirtis) and invades the minds of Dr. Crusher (Gates McFadden) and Commander Riker. In "The Outcast", Riker falls in love with an androgynous alien from a society where gender-specific relationships are considered deviant, an obvious commentary on the treatment of homosexuality in our own society. Then there is probably one of the most genius episodes in the history of the series, "The Inner Light", in which a probe renders Captain Picard unconscious and causes him to experience an entire lifetime on an alien world in only twenty-five minutes.
Season Five is a magnificent season in The Next Generation. The show had really hit its stride here, after three rocky seasons and a break-out fourth season, Season Five solidified STTNG as a fitting successor to the original – fantastic special effects, a brilliant cast, and magnificent stories.
Video Quality
[Rating:4.5/5]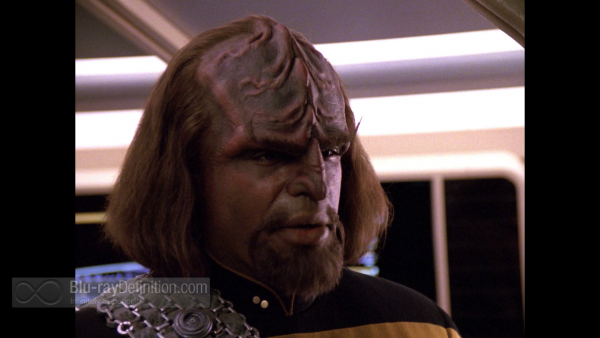 This season's transfer has two minor glitches. Episode 215 "Power Play" contains approximately 1 min 41 seconds of SD footage upconverted to HD and Episode 219 "The First Duty" contains approximately 37 seconds of SD footage upconverted to HD. In the grand scheme, these are truly minor blips in what is an otherwise fantastic AVC/MPEG-4 1080p transfer of the high definition restoration from the original 35mm film elements. The newly restored visual effects are detailed, the overall image is film-like with a fine layer of grain that only jumps on the rare occasion in some darker sequences where blacks can wash out just a little bit sometimes as well. For the most part, however, the black levels remain quite inky, just look at the background of the Enterprise against the stars. The uniforms' colors remain vibrant in season five, popping nicely, and the overall texture and quality is really pleasing to watch.
Audio Quality
[Rating:4.5/5]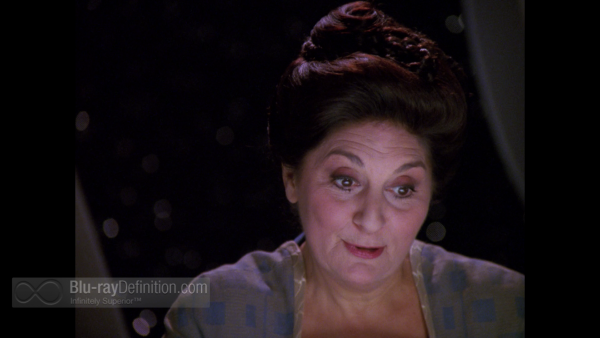 This Blu-ray comes with an English DTS-HD Master Audio 7.1 (48kHz/24-bit) remix and English Dolby Digital 2.0 stereo, plus various dubs in Dolby Digital 2.0. The 7.1 mix still seems to be just a little unnaturally boomy to my ears, but some of the high-end harshness is a little smoothed over in this release, whereas on the season four release, the top end sounded just too tweaked and harsh to my ears. Less crackle is audible in the dialogue as well. The original 2.0 stereo mix still has some boxyness, but it certainly packs enough of a punch and has that authenticity for those wanting to hear the original broadcast mixes.
Supplemental Materials
[Rating:4/5]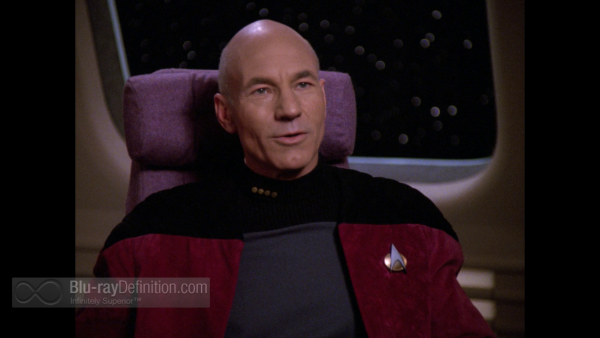 As with all of these The Next Generation sets, Season Five comes with a boatload of supplements, most of it ported-over, but Disc 6 is where you get the new HD features delving into the music and more.
Disc 1:
Episodic Promos (SD)
Archival Mission Log:
Mission Overview Year Five (1.33:1; SD; 00:17:54)
Disc 2:
Episodic Promos (SD)
"New Ground" Deleted Scene (1.33:1; 1080p/24; 00:01:30)
Archival Mission Log:

Departmental Briefing Year Five: Production (1.33:1; SD; 00:15:17)
Disc 3:
Episodic Promos (SD)
Archival Mission Log:

Departmental Briefing Year Five: Visual Effects (1.33:1; SD; 00:17:47)
Disc 4:
Episodic Promos (SD)
"Ethics" Deleted Scene (1.33:1; 1080p/24; 00:01:45)
"The Outcast" Deleted Scene (1.33:1; 1080p/24; 00:01:58)
"Cause and Effect" audio commentary by Brannon Braga and Seth MacFarlane
"The First Duty" audio commentary by Ronald D. Moore and Naren Shankar
"The First Duty" Deleted Scenes (1.33:1; 1080p/24; 00:03:16)
"Cost of Living" Deleted Scenes (1.33:1; 1080p/24; 00:03:45)
Archival Mission Log:

Memorable Missions (1.33:1; SD; 00:18:03)
Disc 5:
Episodic Promos (SD)
"The Perfect Mate" Deleted Scene (1.33:1; 1080p/24; 00:01:56)
"I, Borg" audio commentary by René Echevarria and Mike & Denise Okuda
Archival Mission Logs:

A Tribute to Gene Roddenberry (1.33:1; SD; 00:28:23)
Intergalactic Guest Stars (1.33:1; SD; 00:15:50)
Alien Speak (1.33:1; SD; 00:12:49)
Disc 6:
Episodic Promos (SD)
"The Inner Light" audio commentary by Morgan Gendel and Mike & Denise Okuda
"The Inner Light" Deleted Scenes (1.33:1; 1080p/24; 00:07:00)
Gag Reel (1.33:1; 1080p/24; 00:07:33)
In Conversation: The Music of Star Trek: The Next Generation (1.78:1; 1080p/24; 01:14:21)
Requiem: A Remembrance of Star Trek: The Next Generation:

Part One: The Needs of the Many (1.78:1; 1080p/24; 00:29:58)
Part Two: The Needs of the Few (1.78:1; 1080p/24; 00:28:59)
The Definitive Word
Overall:
[Rating:4.5/5]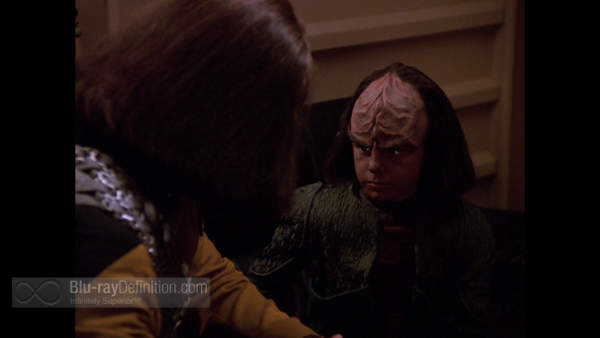 Star Trek: The Next Generation: Season Five is one of the best, middle seasons in the franchise. We see the characters grow in depth, the story arc over the season become tighter, and the social issues come to the fore. The collection on Blu-ray looks and sounds superb. This is a definite must for fans.
Additional Screen Captures
[amazon-product]B00ENFS0F0[/amazon-product]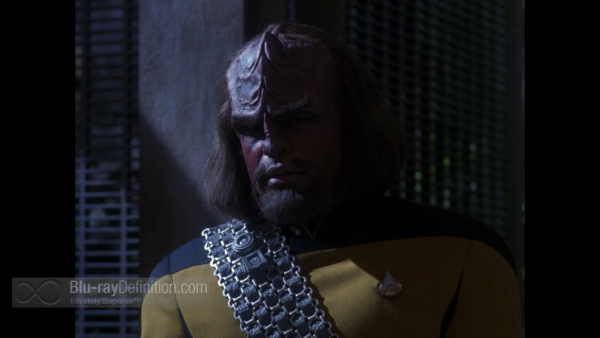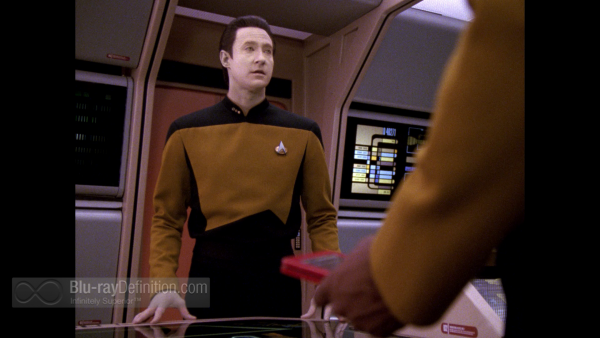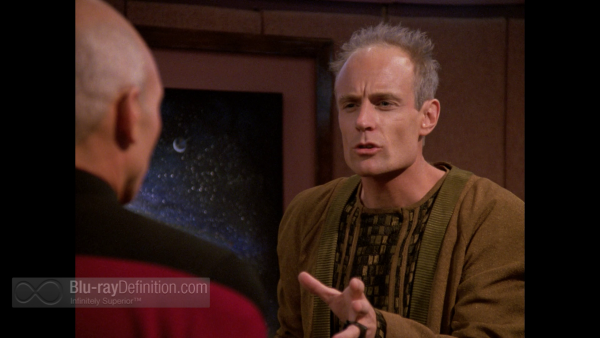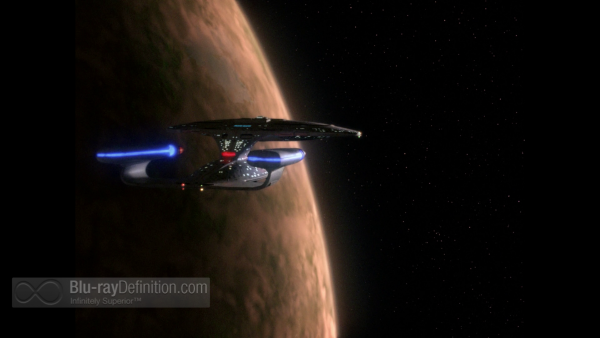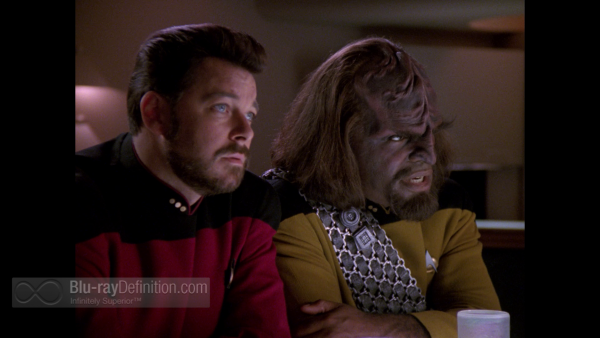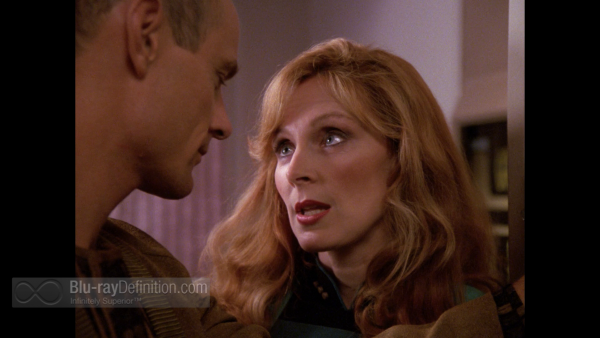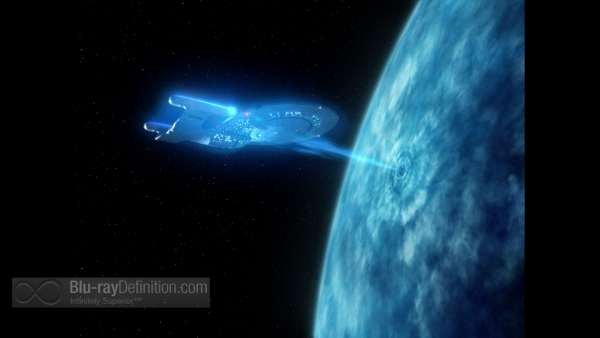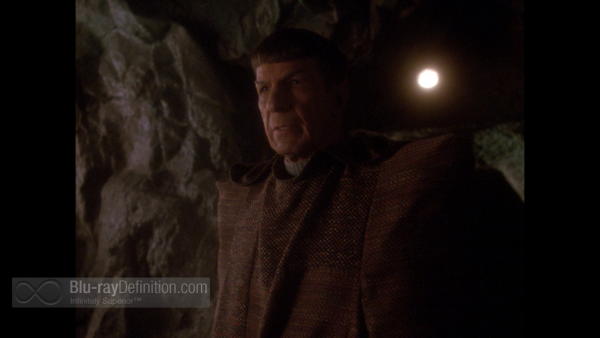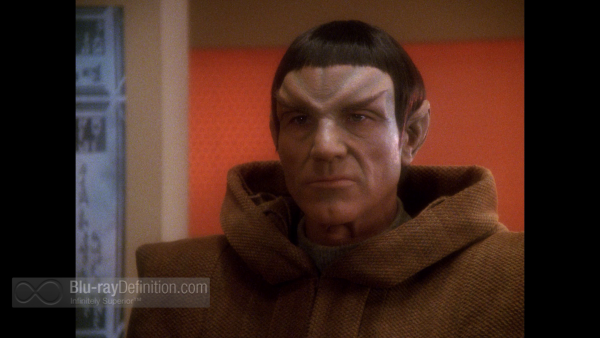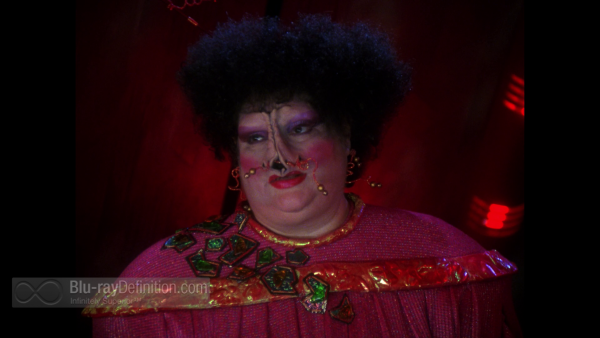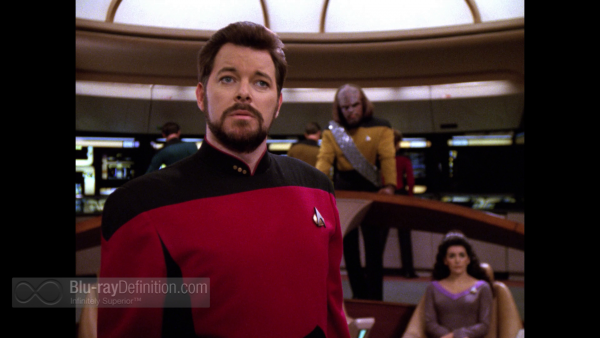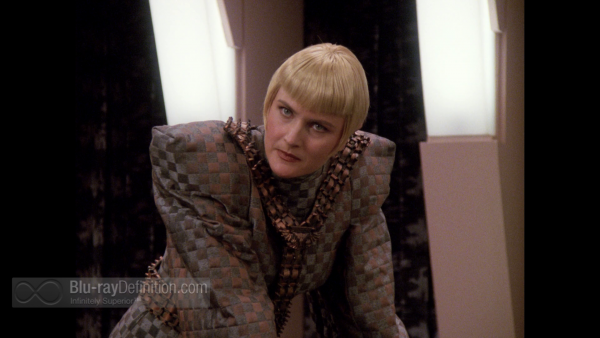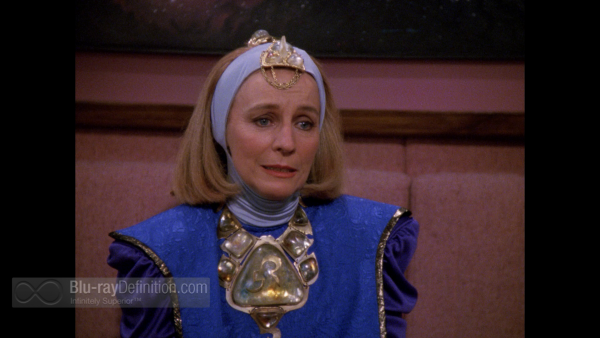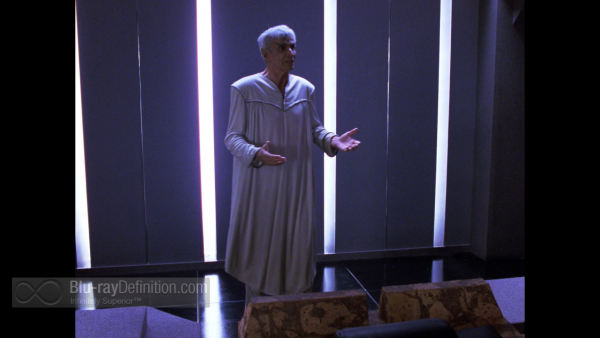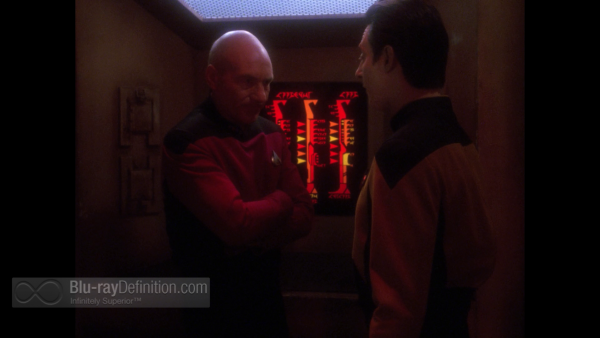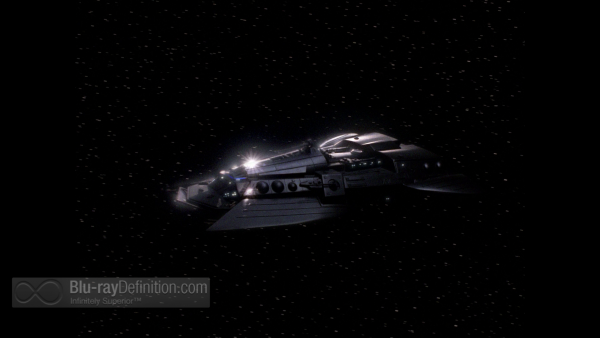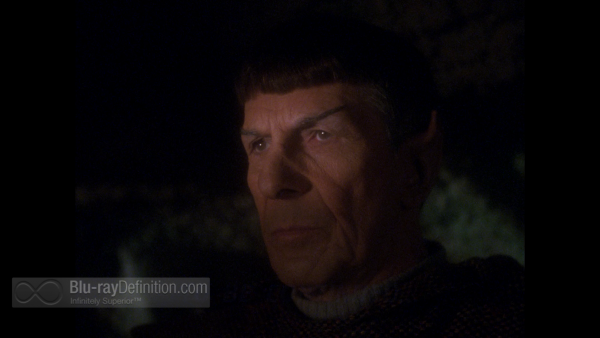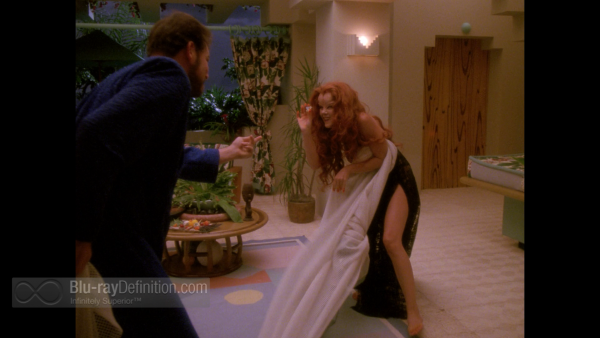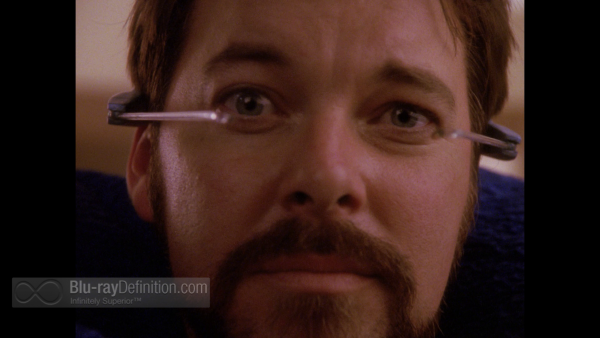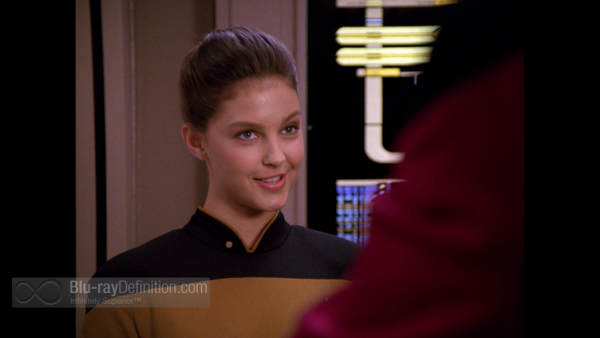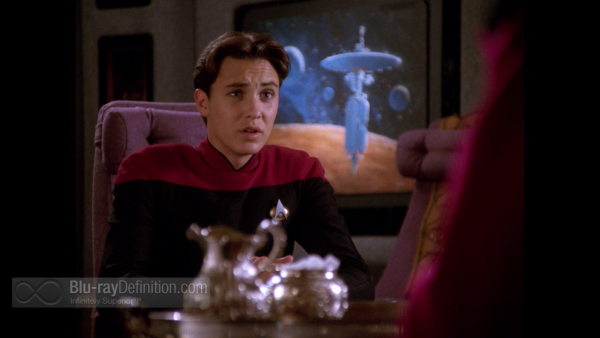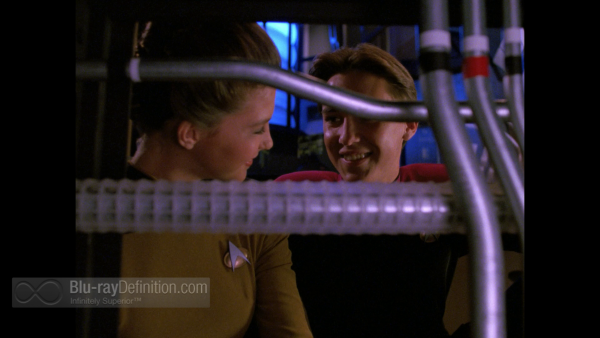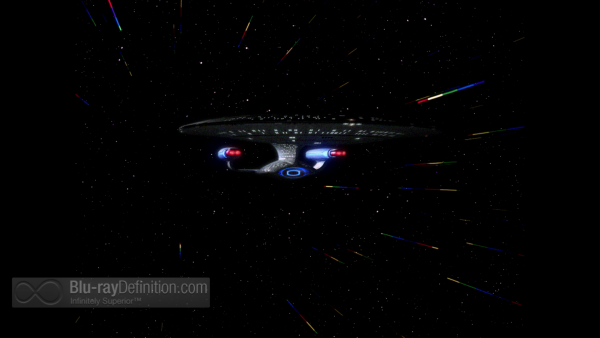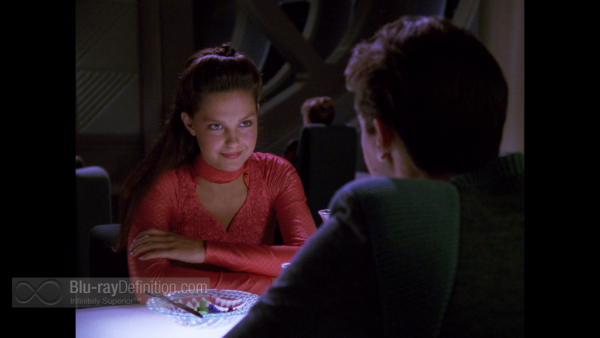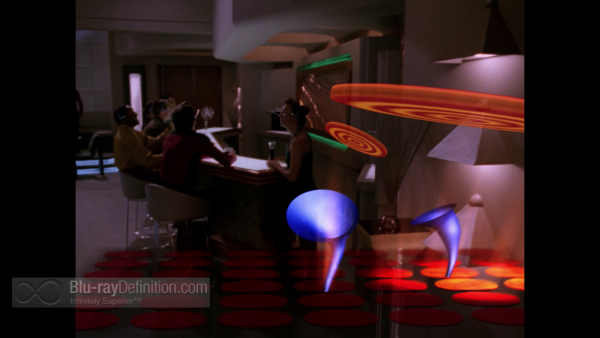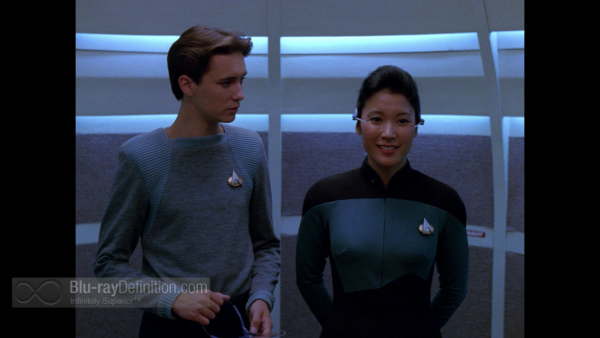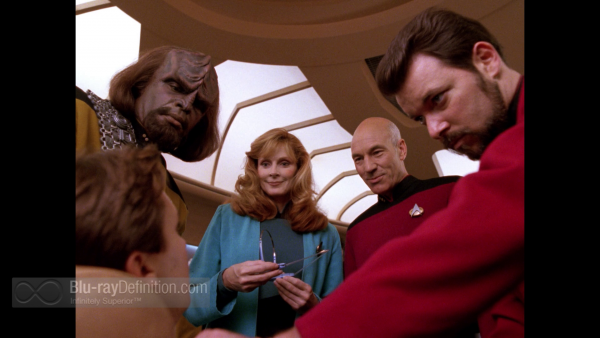 [amazon-product]B00ENFS0F0[/amazon-product]