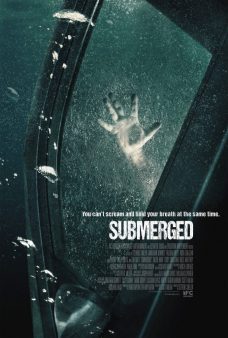 –
The Film
Submerged goes backward to tell the story of how these five young adults managed to find themselves in a very terrifying situation. Jonathan Bennett (Mean Girls) is an ex-soldier turned bodyguard for Jessie (Talulah Riley), the daughter of very wealthy businessman Hank (Tim Daly). Hank has laid off hundreds of employees form his company and is worried that Jessie might be a target for kidnappers. So he hires Jonathan to be her bodyguard and protector, he also sees Jonathan as a surrogate son as well. Jonathan protects Jessie as much as he can. But he's also dealing with his own demons. Both his parents have died, and he's left to take charge and be the provider for his younger brother Dylan (Cody Christian). Dylan, meanwhile, has drug problems, which leads him to make some very bad decisions. Jessie has a whole posse of friends, not just because she's friendly and bubbly and very attractive, also because her father is very rich and they live in a huge house with a nice swimming pool, she's got everything she needs and more. Her father even has his own personal mechanic, played by Mario Van Peebles.
On a night out, Jessie and her friends, the flighty Amanda (Rosa Salazar), the unstable Todd (Giles Matthey), the sensible Eddie (Denzel Whitaker) and the broody Brandon (Caleb Hunt) are all having a good time until there's a fight in a local nightclub. They decide to leave but then on the road Jonathan realizes that they are being followed. And sure enough, they are. Jonathan pulls into a dirt road and stops, and it's men, with masks, who draw their guns. Sure enough these men are kidnappers. Jonathan manages to kill most of them, and they make a hasty retreat. But they are being followed again. Jonathan drives the car faster, but they are sideswiped and their car crashes into a river. It's at this time that the film, and it's characters, break into hysterics. Jessie has passed out, Jonathan has a metal rod right embedded right through his leg, and the others are trapped in the back, shivering, scared, and bickering as they fight for survival. A fight erupts between two of the men and the film then becomes a bit unbelievable and contrived. And the silly and contrived ending ruins what could've been a very good thriller.
It's a film that could've either sunk or swam, unfortunately, it does the former. Scott Milam the screenwriter has some good ideas, but they are not very well executed by director Steven C. Miller. The scenes of the car underwater, however, are realistic and scary, just like the movie poster.
Submerged is now being shown in New York and Los Angeles.
Our Movie Rating
[Rating:2/5]