Video Codec: VC-1
Resolution: 1080p/24
Audio Codec: English DTS-HD Master Audio 5.1; English, French, German, Italian, and Spanish DTS-HD Master Audio 2.0

Subtitles: Danish, Norwegian, Finnish, Japanese, Swedish, Turkish

Region: AB

Discs: 1
Classification: 18

Studio: Optimum Home Entertainment

Blu-ray Disc Release Date: September 28, 2009
List Price: £24.99

 

[amazon-product align="center" region="uk" tracking_id="bluraydefinit-21"]B002BC9Z06[/amazon-product]



Shop With Us for More Blu-ray Titles at Amazon.co.uk

Shop with Us for More Blu-ray Titles at Amazon.com

Overall

The Film

Video Quality

Audio Quality

Supplemental Materials


Click thumbnails for high-resolution 1920X1080p screen captures
More screen captures (25 Total)

(Screen captures are lightly compressed with lossy JPEG and thus are meant as a general representation of the content and do not fully reveal the capabilities of the Blu-ray format)
The Film
The Vietnam War marked one of the most divisive and tumultuous periods in United States history and it has provided filmmakers a wealth of inspiration. There have been numerous films dealing with the war and its veterans from many directors, great and average over the years. It takes a very special film to stand out from the din of Vietnam films and distinguish itself from the crowded arena. Writer/director Michael Cimino's The Deer Hunter is one such film.  Released in 1978, just three years after the nearly twenty-year long conflict had finally come to an unsatisfying end, The Deer Hunter focused on the lives of a group of working class, Russian-Americans in an industrial town outside of Pittsburgh and how the war affected them.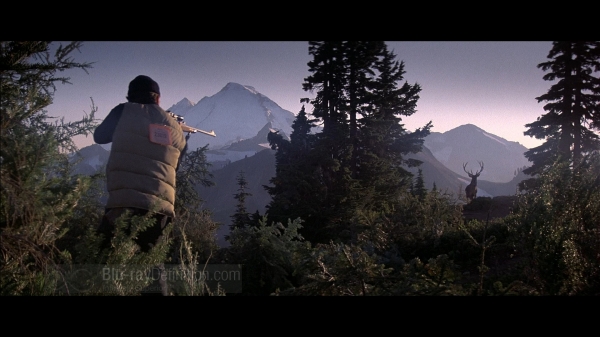 With a cast full of impossibly great actors, with names like DeNiro, Walken, Streep, Cazale, and Savage, The Deer Hunter was firmly a character study. It avoided the divisive politics surrounding the Vietnam War and even the ravaging violence of actual warfare, focusing instead on the smaller things in life that war can affect. For instance, a good portion of the early part of the film is dedicated to one of its central characters, Steven's (John Savage) wedding celebration and a deer hunt that the men all go on before the three friends, Nick (Walken), Michael (DeNiro) and Steven are scheduled to ship out to Vietnam.
After the friends have gone through the psychologically harrowing experience of Vietnam, Nick goes AWOL, choosing to stay in Vietnam and play Russian roulette for money, ironically reliving one of the friends' most horrific shared experiences. Steven is terribly damaged physically and emotionally, choosing to abandon his wife and child to hide away in a Veteran's Association hospital instead. Michael is the only one who returns and tries to resume a normal life, starting an uneasy relationship with Nick's girlfriend Linda (Streep), but even he has problems adjusting. As for the deer hunting, the film's central symbol of bonding, violence and heroism — even that begins to hold no more meaning for Michael.
The Deer Hunter's only moment of overt politics comes at the very end of the film as the group of friends raise a drink after singing "God Bless America," but given its placement in the film, one can't even be sure of its exact meaning. Is it an ironic statement, a subversive bit of anti-Americanism? Or is it in fact meant to be taken at face value, a group of hardworking people, deeply changed forever by the shared experiences that their country has put them through saying, "yes, it's difficult, but it's all worth it?"
Unlike some of the political-strewn, blood pouring Vietnam films of other directors, The Deer Hunter stands as a reminder of the real people and lives that are affected by wars and that is what makes it a classic.
Video Quality

The Deer Hunter arrives on Blu-ray Disc from Optimum Releasing in its original 2.35:1 theatrical aspect ratio with a 1080p/24 VC-1 encoding. Film grain is preserved nicely, though occasionally it does look a bit harsh and start to look more like video noise. Some of the Vietnam sequences in particular show some heavy compression noise and posterization that looks very harsh. The rest of the film, however, looks quite solid. The scenes of the deer hunts look particularly beautiful. The film's muted color palette doesn't allow for colors to pop, but the film is presented as intended and looks quite good overall in this release, free from any noticeable post processing issues such as edge enhancement. Blacks look particularly deep and rich. White levels sometimes seem on the verge of clipping in some portions of clouds in the sky and so on, but overall this is a solid release from Optimum's Studio Canal Collection.
Audio Quality

All audio options are provided in DTS-HD Master Audio for this release of The Deer Hunter. The English 5.1 mix is provides clean dialogue and good dynamic range, but the surround channels are mostly stagnant and even the ambient effects mixed into them or at a very low level, making the mix sound rather dry overall. There is good use of the front three channels, however, for panning of sounding of sound effects giving a relatively wide soundfield.
Supplemental Materials

There are nice behind-the-scenes supplements on the disc offering up a history on the production of the film a the booklet contains an analysis by Ryan Gilbey, film critic of the New Statesman.
The supplements available on this release are:
Presentation by Mickey Rourke (1.78:1; SD; 0:02.37) —  Actor Mickey Rourke talks about his love of the film The Deer Hunter and his past work with Robert DeNiro
Vietnam War: Unknown Images (1.33:1; SD; 0:47.36)
Realising The Deer Hunter (1.78:1; SD; 0:23.31) — An interview from Blue Underground with director Michael Cimino in which he talks about making The Deer Hunter.
Shooting The Deer Hunter (1.78:1; SD; 0:15.31) Another Blue Underground featurette profiles the pre-production and location filming of The Deer Hunter.
Playing The Deer Hunter (1.78:1; SD; 0:15.38) John Savage speaks of his role in The Deer Hunter and his personal experiences with family members who were war veterans.
Audio Commentary by Michael Cimino — Cimino's commentary is very detailed, mentioning specifics of the various location shoots, the fact that no stuntmen were used and details about pitching the film to the studio.
Trailer (1.33:1; SD; 0:03.03)
BD-Live
The Definitive Word
Overall:

The Deer Hunter is one of the most powerful films made about the Vietnam War. With its all star cast and focus on the war's effect on people's lives, rather than politics and violence, it leaves a lasting document that reaches beyond its era and still holds pertinence today.  The Optimum Releasing Blu-ray Disc is handled well and offers a transfer obviously done with care for this classic 1970's film. Recommended.

Shop With Us for More Blu-ray Titles at Amazon.co.uk

Shop with Us for More Blu-ray Titles at Amazon.com