Video Codec: VC-1
Resolution: 1080p/24
Audio Codec: Japanese DTS-HD Master Audio 5.1; Japanese DTS-HD Master Audio 2.0; English DTS-HD Master Audio 2.0; French, German, and Italian DTS-HD Master Audio 5.1; Spanish DTS-HD Master Audio 2.0

Subtitles: English, Danish, Dutch, Finnish, French,German, Italian, Norwegian Spanish (Castilian), Spanish (Latin American), Swedish

Region: AB

Discs: 1
Classification: 12

Studio: Optimum Home Entertainment

Blu-ray Disc Release Date: September 28, 2009
List Price: £24.99

 

[amazon-product align="center" region="uk" tracking_id="bluraydefinit-21"]B002BC9YZW[/amazon-product]



Shop With Us for More Blu-ray Titles at Amazon.co.uk

Shop with Us for More Blu-ray Titles at Amazon.com

Overall

The Film

Video Quality

Audio Quality

Supplemental Materials


Click thumbnails for high-resolution 1920X1080p screen captures
More screen captures (23 Total)

(Screen captures are lightly compressed with lossy JPEG and thus are meant as a general representation of the content and do not fully reveal the capabilities of the Blu-ray format)
The Film

Ran ("chaos" or "revolt") was the great Japanese director Akira Kurosawa's last epic samurai film. With a budget of $12 million it was the costliest Japanese film ever produced at the time. Although the director would go on to direct three more films before his death, none of them would be on the scale of Ran. In Ran, Kurosawa retold Shakespeare's tragedy of King Lear, the mad king whose children would betray him for greed, lust, and power.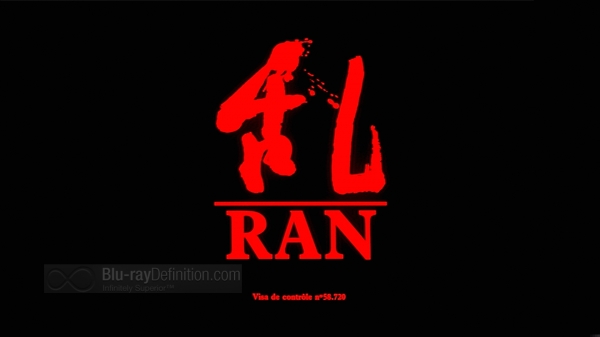 Using all the skills he had learnt in his first endeavor into the world of color, Kagemusha, Kurosawa's Ran was filled with artistic images and a startling, well-implemented use of color and design that would garner costume designer Emi Wada an academy award.
When Lord Hidetora Ichimonji (Tatsuya Nakadai) awakes from a vivid dream he has the idea to split his kingdom into three, divided amongst his three sons. Control and the first castle will go to Taro (Akira Terao) with the remaining assets and two castles going to Jiro (Jinpachi Nezu) and Saburo (Daisuke Ryu) with the understanding that he will come visit them and they will take care of him for the remainder of his days, whilst keeping the peace in his kingdom. Things quickly begin to crumble, however, as his first son Taro becomes drunk with power and when Lord Ichimonji arrives to visit, he is forced to sign a paper relinquishing all his claims to power and sent away. When he goes to his second son, he is again greeted with disrespect and unkindness. His small cadre of traveling soldiers are not allowed to enter the gates of the castle.  He is shunned a third time until finally, his son Taro sends soldiers to takeover one of his castles and kill all of his men and he is cast out, going mad.
Like many of Kurosawa's films, Ran is deliberately paced. It moves slowly, with each moment reliant on the slightest emotion of each character, but it does not take as long to unfold as a film like Kagemusha or The Seven Samurai. It is more precise with its intent, moving along a bit more swiftly. The emotional drama is underscored by beautifully pained music by composer Torū Takemitsu; without his score Ran might seem a completely different film altogether. Takemitsu's music is a perfect fit for the rigid style of Kurosawa's vision. It is clean and otherworldly, but it possesses an emotional depth and sense of longing and space that is uniquely Japanese.
They say Shakespeare was the greatest writer the English language has ever produced. That his stories can translate into many different languages and relate to so many different cultures, even centuries after they were written, is evidence that he may be the greatest writer the world has ever seen. Kurosawa's take on King Lear is one of the greatest triumphs of cinema. Not a direct interpretation, but proof that a great story will always triumph in the end, particularly in the hands of a master craftsman like Akira Kurosawa.
Video Quality

Ran appears in its original 1.85:1 aspect ratio with a 1080p/24 VC-1 encoding. After waiting so long for Ran to make it to Blu-ray Disc, I have to say I am somewhat disappointed in this transfer from Optimum Releasing's new Studio Canal collection. Although colors look good and the transfer essentially retains a film-like quality, there is clear evidence of edge enhancement with some haloing around images and jaggies in spots. The entire transfer shows compression and processing artifacts straight through, making this a well below average catalogue release.
The film's production causes black levels to fluctuate from deep, inky and crushed to washed-out and greyish. Film grain is preserved, although that also fluctuates, at times looking a bit noisy and harsh. On a positive note, the source looks clean, with no abundant source damage present in the transfer.
Audio Quality

The Japanese DTS-HD Master Audio 5.1 soundtrack offers a wide soundstage with a healthy use of the surround channels for ambient sound effects like wind noise and the reverberation of gunfire during the film's epic battle sequences. The score sounds open and smooth, but low frequencies are practically nonexistent, the sound effects are on the thin side and the occasional crackle can be heard in dialogue. Alternatively, the Japanese DTS-HD Master Audio 2.0 track actually sounds fuller, with better low frequency extension and a nice spread of sound effects across the two channels.
Various dubbed options are also available in DTS-HD Master Audio, all in 5.1 except the English and Spanish dubs, which are only available in 2.0.
Supplemental Materials

The booklet for Ran contains an analysis by David Jenkins, writer and critic for Time Out London magazine and excerpts from an interview with Paul Verhoven. Additionally, the disc itself contains many featurettes delving into Ran's production, with glimpses of Akira Kurosawa at work. There are also some interesting featurettes on the history of samurai culture in Japan.
The supplements available on this release are:
AK (1.66:1; SD; 1:11.32) — This French documentary chronicles the making of Ran and Kurosawa's meticulous filmmaking style with extensive archival footage of the actors, crew, and Kurosawa himself.
Akira Kurosawa: The Epic and the Intimate (1.78:1; SD; 0:41.49) — Ran's European investors discuss the problems Kurowsawa faced raising funds to finance the production of Ran.
The Samurai (1.33:1; SD; 0:52.47)  — A short documentary profiles the Samurai culture of feudal Japan and its continued presence in the modern day culture.
Akira Kurosawa by Catharine Cadou (1.33:1; SD; 0:14.04) — Catharine Cadou, Akira Kurosawa's translator in Europe for 14 years, discusses her friendship with Kurosawa.
Art of the Samurai (1.78:1; SD; 0:41.11)
Trailer (1.78:1; SD)
BD-Live
The Definitive Word
Overall:

Ran is undoubtedly one of the great Shakespearean films to grace the screen. Unfortunately, this Studio Canal release from Optimum Releasing does not do the film a great service. The transfer is definitely sub par and not up to the standards that we have come to expect from a Blu-ray catalogue release. Hopefully we will get a better version of this classic film free from the artifacts that are present on this disc. It is still a great film, nonetheless, but this is not a great Blu-ray release.

Shop With Us for More Blu-ray Titles at Amazon.co.uk

Shop with Us for More Blu-ray Titles at Amazon.com