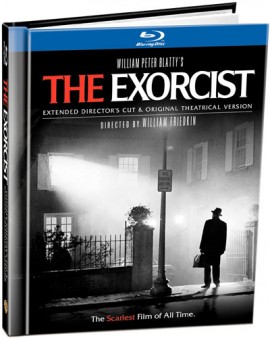 The Film
[Rating:4.5/5]
William Friedkin's 1973 horror film had a far-reaching impact on the genre and the industry that can still be seen today. Based on the bestselling novel by William Peter Blatty, who wrote the screenplay himself, Friedkin's The Exorcist is a classic tale of good versus evil and questioning of one's own faith.
Linda Blair plays Regan, a young girl who begins displaying odd behavior and is suspected as being under demonic possession. Her mother, Chris, played by Oscar-winner Ellen Burstyn (Alice Doesn't Live Here Anymore) turns to doctors at first. They diagnose her as having a neurological disorder, but soon she begins to suspect demonic possession and calls on the aid of a young Jesuit priest, Father Karas (Jason Miller). Father Karas, in midst of a crisis of faith himself, is at first hesitant to call it possession, but he too becomes convinced and turns to the option of the rites of exorcism. A mysterious older Jesuit priest is called in to do the exorcism, Father Lankester Merrin (Max von Sydow). That is when one of the most powerful battles of good versus evil ever captured on screen ensues.
Platty's story itself was taken from true stories of an actual exorcism that supposedly took place on young boy in 1949.  Part of the film's attraction and horror resides in this realism — these are real people, with normal lives, not monsters or aliens like your average horror film or fantasy film. It's a story that forces one to look inside oneself, question the world, and question faith.
One also cannot discount the special effects of  The Exorcist when it comes to the film laying claim to the title "the scariest film of all time." By 1973 standards, the visual effects were downright cutting edge. The site of Linda Blair's head spinning all the way around, or her eyes turning white while she levitated had to be absolutely spellbinding and bone chilling, because it is still rather frightening even in today's CGI world. The sound effects also play a huge role in the film's effectiveness, and that atmosphere has been given an upgrade and made even more eerie on this release, particularly in the Extended Director's Cut's 6.1 mix.
Video Quality
[Rating:4.5/5]
The Exorcist has to be one of the best-looking catalogue releases on Blu-ray I have seen from Warner. The 1973 film has obviously been cleaned up and issues with source damage are extremely minimal, yet the grain structure remains intact. This is a rather grainy film, and grain haters may not like the look of it, but The Exorcist looks extremely sharp, detailed and film-like in this 1.78:1 1080p VC-1 encoding from Warner. Flesh tones are accurate, showing natural, pinkish hues, midtones are warm and rich and blacks are deep and obsidian. Shadow details are sometimes a bit lost due to the depth of the blacks, but overall shadow detail is still solid. This is a superb, reference quality catalogue release from Warner and one of the better looking titles the studio has released in their Blu-ray Book packaging.
Audio Quality
[Rating:4/5]
Both the Extended Director's Cut and the Original Theatrical Version are supplied with DTS-HD Master Audio 5.1 lossless mixes, but they are two entirely different beasts. The Director's Cut uses a far more aggressive mix with the surround channels being more active with discrete effects, atmospheric sounds brought more forward in the mix, and a much wider soundstage. The Theatrical Version's mix narrows the soundstage and is far more moderate in its use of the surround channels, using them only for very low-level atmospheric effects. Otherwise, for both mixes, dialogue is intelligible, but does still have some occasional crackle. Dynamic range also seems wider and low frequencies a bit deeper in the Director's Cut mix.
Supplemental Materials
[Rating:3.5/5]
The Exorcist comes packaged in one of Warner's keepsake "coffee table" Blu-ray Books, with background information on the film, production stills, and actor and filmmaker bios. The on-disc supplements are plenty, spanning both discs and should be of interest to all fans of this classic horror film.
The supplements provided with his release are:
Disc 1 (Extended Director's Cut):
Behind the Story:

Commentary by William Friedkin
Raising Hell: Filming the Exorcist (1.78:1; 1080p/24; 0:30.03) — William Friedkin and the rest of the crew speak of the filming and special effects of The Exorcist in this making-of featurette.
The Exorcist Locations: Georgetown Then and Now (1.78:1; 1080p/24; 0:08.30) — Exorcist writer William Peter Blatty and speaks of his novel and William Friedkin and the filmmakers speak of the film and Georgetown as comparisons of the contemporary and 70's-era Georgetown meander by.
Faces of Evil: The Different Versions of The Exorcist (1.78:1; 1080p/24; 0:09.52) — William Friedkin and William Peter Blatty discuss the differences in the director's cut and the original cut.

Trailers, TV Spots, and Radio Spots:

Theatrical Trailers (1.33:1; 480i/60):

The Version You've Never Seen
Our Deepest Fears

TV Spots (1.33:1; 480i/60):

Most Electrifying
Scariest Ever
Returns
Radio Spots:
The Devil Himself
Our Deepest Fears
Disc 2 (Original Theatrical Version):
Behind the Story:

Introduction by William Friedkin
Commentary by William Friedkin
Commentary by William Peter Blatty with Sound Effects Test
Sketches and Storyboards (1.33:1; 480i/60; 0:02.45) — Played continuously without sound.
Interview Gallery with William Friedkin and William Peter Blatty (1.33:1; 480i/60) — A series of interview segments with the filmmaker and author:

The Original Cut
Stairway to Heaven
The Final Reckoning

Additional Footage:

Original Ending (1.33:1; 480i/60; 0:01.42)

Extras:

The Fear of God (1.33:1; 480i/60; 1:17.09) — This documentary examines the social and artistic impact of The Exorcist.

Trailers and TV Spots:

Theatrical Trailers (1.78:1; 480i/60):

Nobody Expected It
Beyond Comprehension
Flash Image

TV Spots (1.33:1; 480i/60):

Beyond Comprehension
You Too Can See The Exorcist
Between Science & Superstition
The Movie You've Been Waiting For
The Definitive Word
Overall:
[Rating:4/5]
The Exorcist arrives in a marvelously upgraded edition from Warner that allows it to maintain its claim as "the scariest film of all time" and makes it one of the best looking catalogue release horror titles to make it to Blu-ray. This will be a must-have release for all fans of the genre and for the forthcoming holiday season.
Purchase The Exorcist Blu-ray Book at CD Universe
Shop for more Blu-ray titles at Amazon.com
Overall
[Rating:4/5]
The Film
[Rating:4.5/5]
Video Quality
[Rating:4.5/5]
Audio Quality
[Rating:4/5]
Supplemental Materials
[Rating:3.5/5]