– –
The Film
[Rating:4.5/5]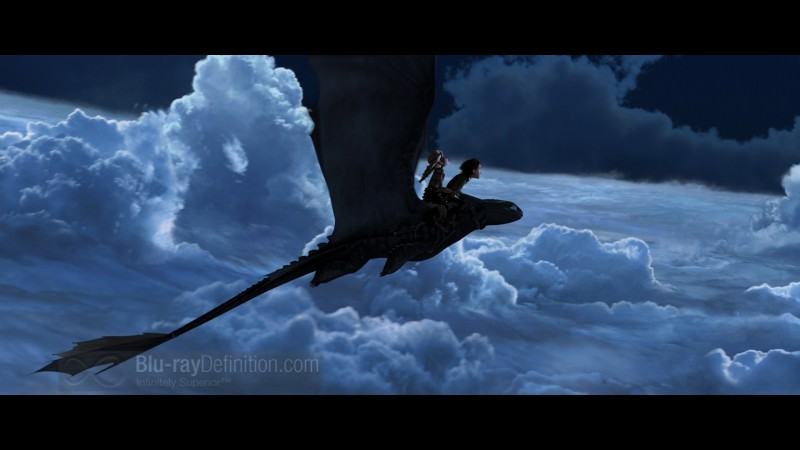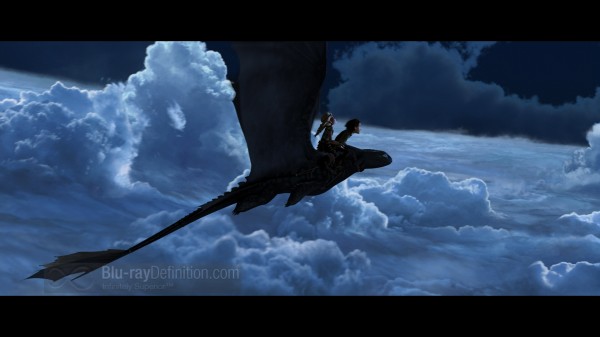 Pixar has, for all practical purposes, ruled the world of CG-animated features alone since the 1990s. Each one of their films, with little exceptions, has gotten successively more complex, not just in its animation, but in its storytelling. Jumping from the first Toy Story to Wall-E or Up is like stepping into another dimension, no pun intended. Other studios over the years have scrambled for a piece of that CG-animated pie's success, with little to show for it. Only one studio has truly given Pixar a challenge, and that studio is DreamWorks.
With the first, and maybe the second, Shrek, DreamWorks has been the only one to come close to Pixar's success. However, DreamWorks has never quite reached the same level of success in storytelling that Pixar has, hence all the Oscars that have gone Pixar's way and passed DreamWorks by. Only with Kung Fu Panda did they start to make strides in that direction and now, with their telling of Cressida Cowell's How to Train your Dragon, they have taken an even bigger leap towards closing that gap.
Writer/directors Dean DeBlois and Chris Sanders, whose last collaboration was the 2002 hand-drawn Disney animated film Lilo & Stitch, have crafted in How to Train Your Dragon a solid animated feature with a strong, family oriented script that hits all the right notes. It's an intelligent, charming, and heartwarming adventure that teaches sometimes brains are better than brawn and we can sometimes overcome anything despite our weaknesses or our differences.
Hiccup is a scrawny and awkward kid who wants to grow up to be a powerful dragon slaying Viking just like his chieftain father, but he's hopelessly clutzy. Instead, he invents devices that help the Vikings kill and defend themselves against the various forms of dragons they are constantly at battle with. One such device allows Hiccup to bring down a rare, never-before-seen Night Fury dragon.
When Hiccup discovers the Night Fury dragon that he downed, he doesn't have the heart to kill it, instead, he releases the dragon and befriends it, even giving it a rather ironic name — Toothless. Through his time spent with toothless, Hiccup learns a lot about dragons and their behavior, something that allows him to excel at his dragon training exercises with the other kids, quickly making him move from bottom of the barrel, to celebrity.
It's not long before one of the other kids becomes suspicious, however. Astrid, the girl Hiccup has a crush on, follows him and discovers Toothless, but an eventful ride with Hiccup on the dragon that uncovers a new, even bigger threat to the Viking village changes her feelings about toothless and the other dragons. A little reserved romance ensues, and Hiccup must go on to help his father and his village against the new threat while protecting his friend, Toothless from their wrath.
The greatest part of How to Train Your Dragon is the wonderful friendship between Hiccup and Toothless, which is marvelosuly developed. The little romance between Hiccup and Astrid is cute and perfectly underplayed given their age. The animation is, as to be expected, superb. This Blu-ray release doesn't contain the 3D version, for that you'd have to purchase the Samsung 3D Starter Kit
, but this version is still unbelievably enjoyable to watch. As some have pointed out, many of the dragon flying sequences are reminiscent of Avatar, probably more so in 3D, but Avatar this is not. This is a family-friendly, action-packed fantasy film that will leave you feeling good inside. A true Oscar-worthy treat.
Video Quality
[Rating:5/5]
How to Train Your Dragon is a solid reference quality release, as one would expect from a feature length, big budget CGI animated release on Blu-ray. The 1080p AVC/MPEG-4 encoding shows strong detail in the animated figures, superb color reproduction, deep inky blacks and no compression or processing issues whatsoever.
Audio Quality
[Rating:4.5/5]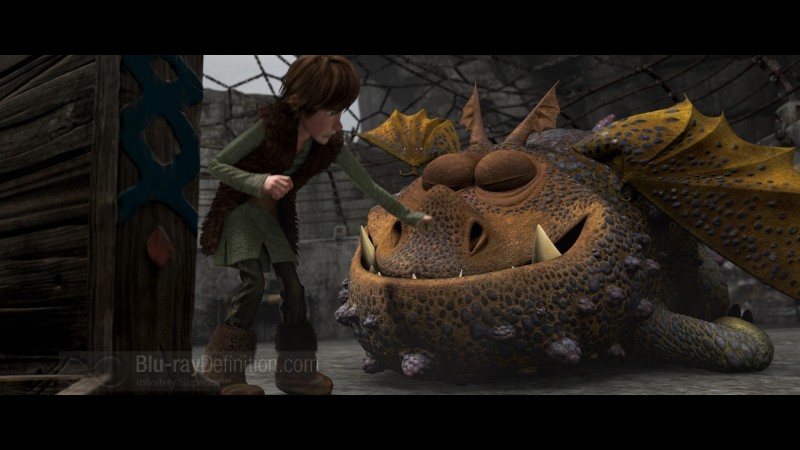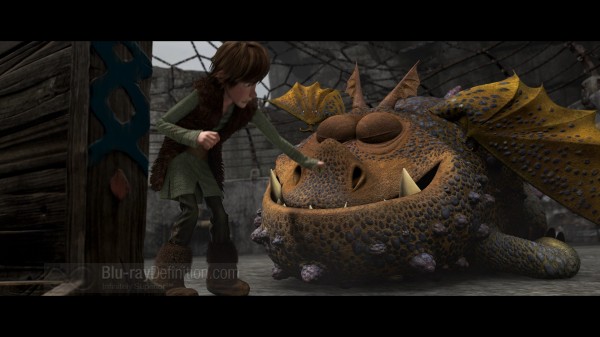 The English Dolby TrueHD 5.1 mix is an aggressive one with discrete sounds mixed all around and big, booming low frequencies. There's hardly a moment where the surround channels aren't engaged with some action and the front channels have wide imaging with lots of directional panning as well. Dialogue is clear and never lost in the wide dynamics of the mix.
Supplemental Materials
[Rating:3.5/5]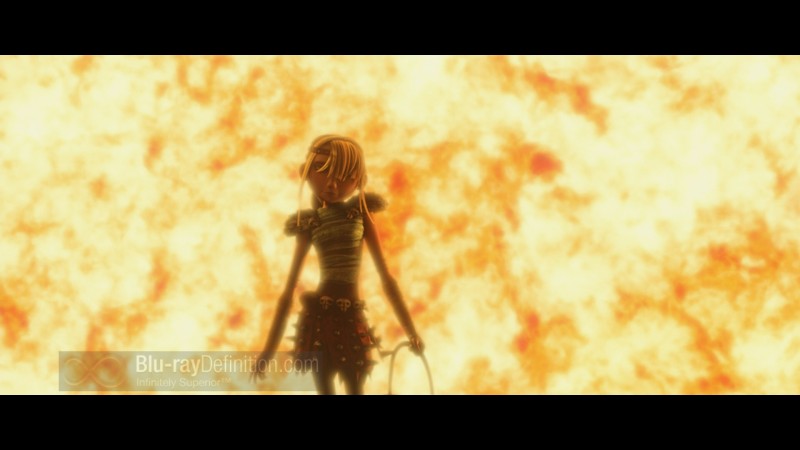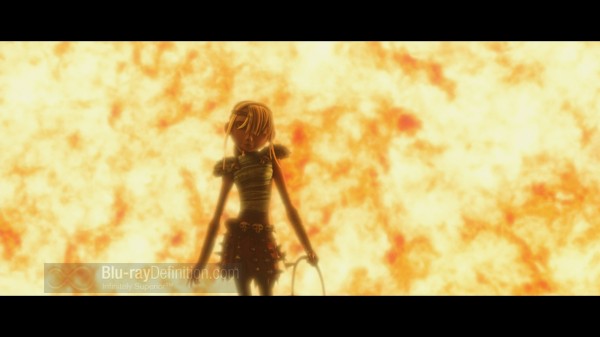 DreamWorks has loaded this release with lots of goodies that will take some time getting through.  Best of all is the new animated short Legend of the BoneKnapper Dragon that brings together Hiccup and his gang of friends for an all-new adventure voiced by the original cast.
The supplements provided with this release are:
Filmmakers' Commentary
Trivia Track
The Animators' Corner — A Picture-in-picture commentary of the animators at work.
Legend of the BoneKnapper Dragon (1.78:1; 1080p/24; Dolby TrueHD 7.1; 0:16.33) — Hiccup and the gang go on a new adventure to track down a scary new dragon covered in bones. This animated short combines hand drawn and CGI animation for a fun new adventure from DreamWorks that nicely extends the word of How to Train Your Dragon.
Viking-Sized Cast (1.78:1; 1080i/60; 0:11.44) — Go behind the scenes wit the voice cast of How to Train Your Dragon.
The Technical Artistry of Dragon (1.78:1; 1080i/60; 0:10.13) — The animators discuss the technical achievements of the film.
Deleted Scenes — Three scenes that didn't make the final cut.
The Story Behind the Story (1.78:1; 1080i/60; 0:07.40) — Author Cressida Cowell discusses her How to Train Your Dragon books.
Racing for the Gold (1.78:1; 1080p/24) — Watch the Viking gang compete in winter sports like snowboarding, speed skating, and bobsledding.
How to Draw a Dragon (1.78:1; 1080i/60; 0:10.52) — Gabe Hordos, supervising animator for Toothless on How to Train Your Dragon, demonstrates how to draw the character.
Your Viking Profile — Fill out a questionnaire to see if you have what it takes to become a Viking.
DreamWorks Animation Video Jukebox — Watch music videos from other DreamWorks animated releases.
The Definitive Word
Overall:
[Rating:4/5]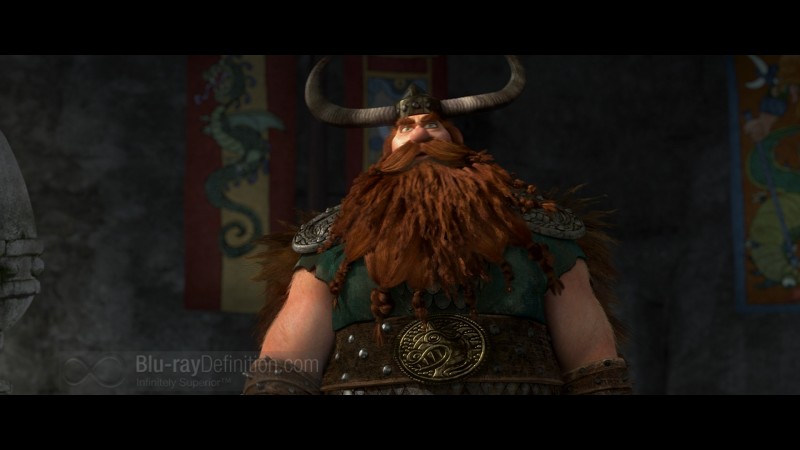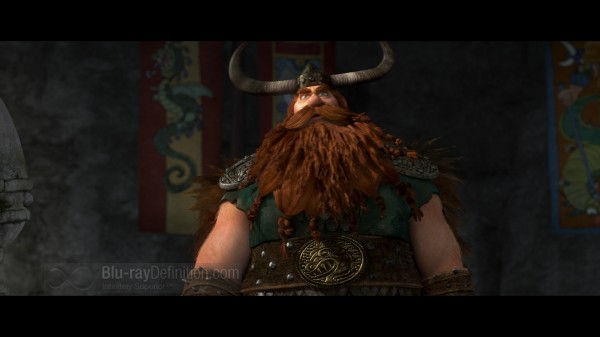 DreamWorks' How to Train Your Dragon is great family fun and an excellent home theatre showcase. Highly recommended!
Additional Screen Captures
[amazon-product align="right"]B002ZG97Z6[/amazon-product]
Purchase How to Train Your Dragon on Blu-ray+DVD Combo Pack at CD Universe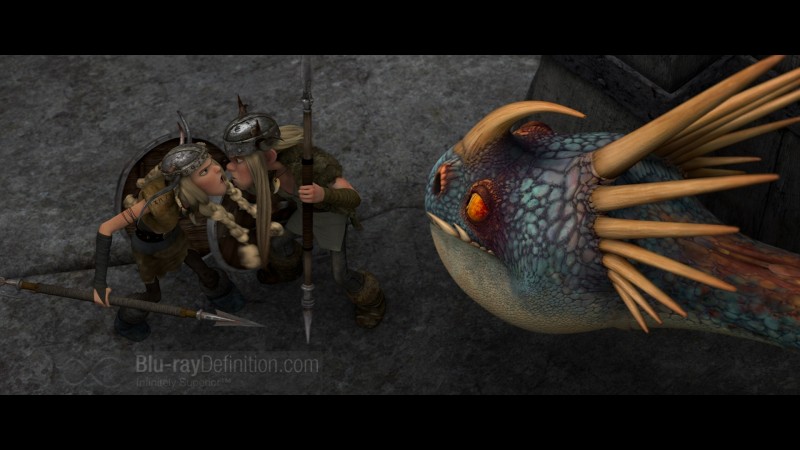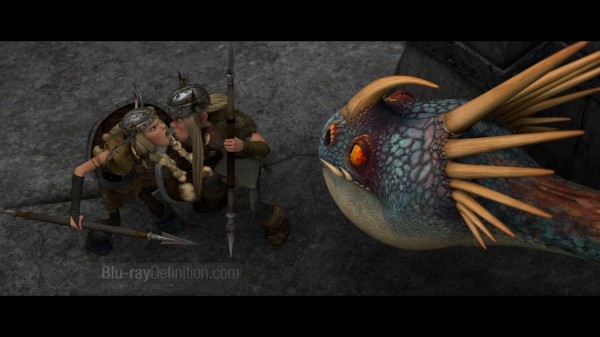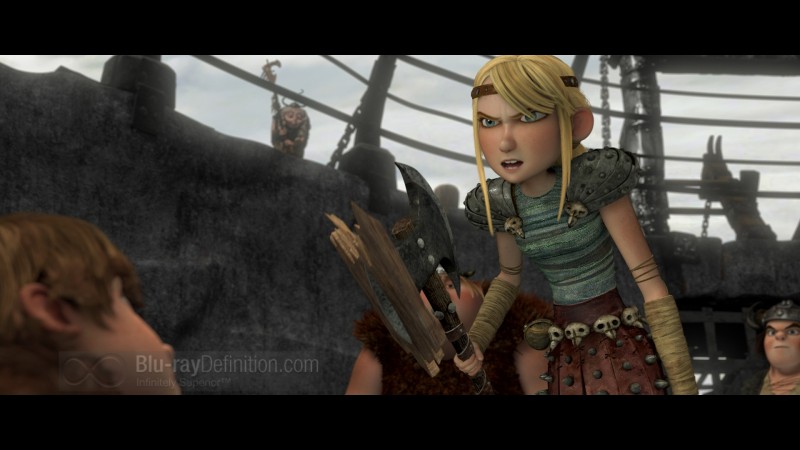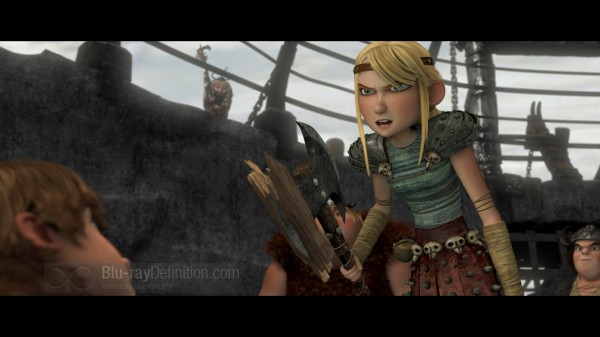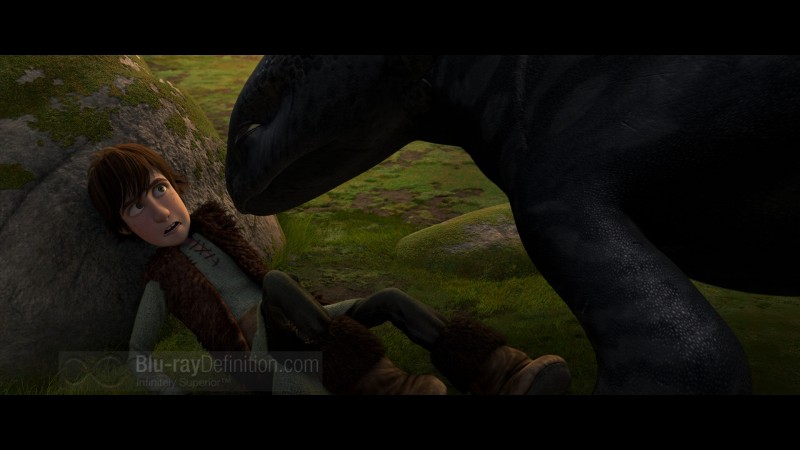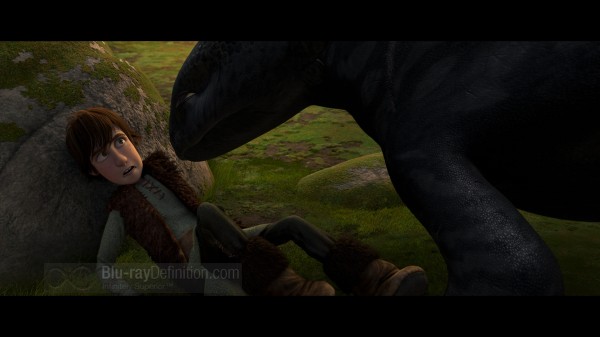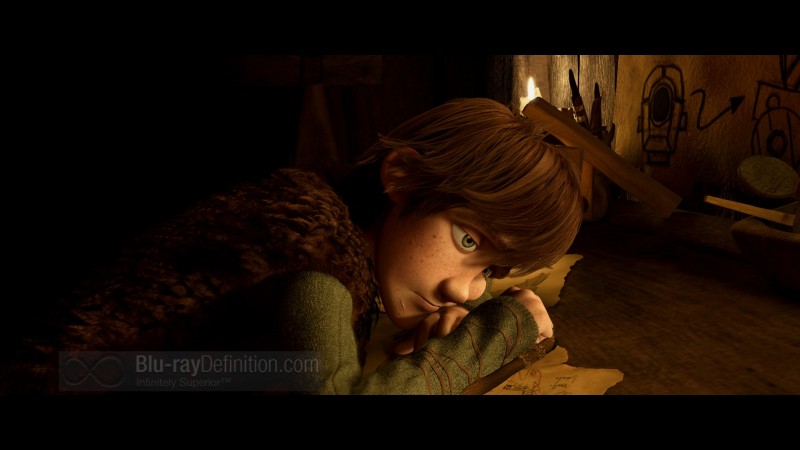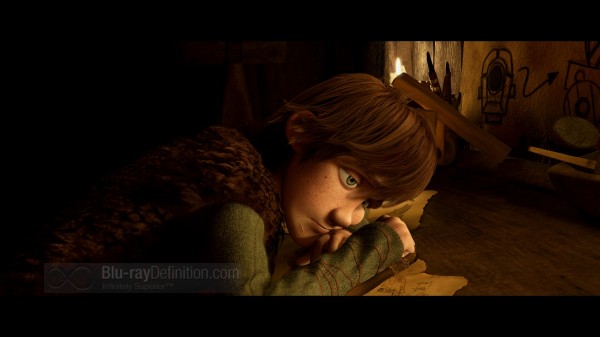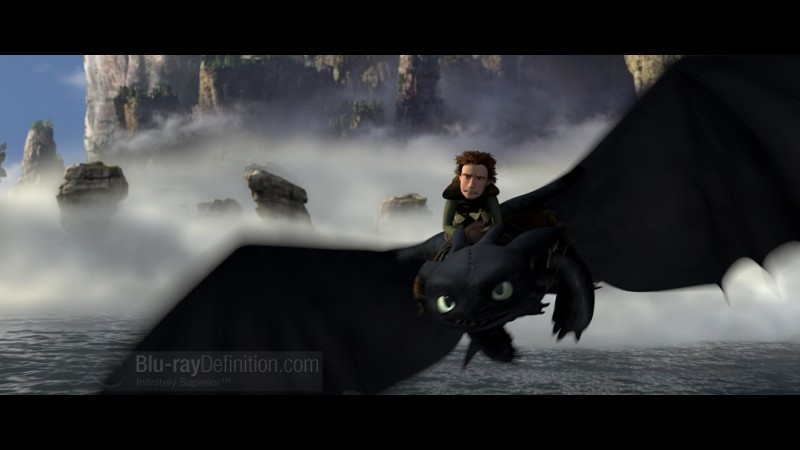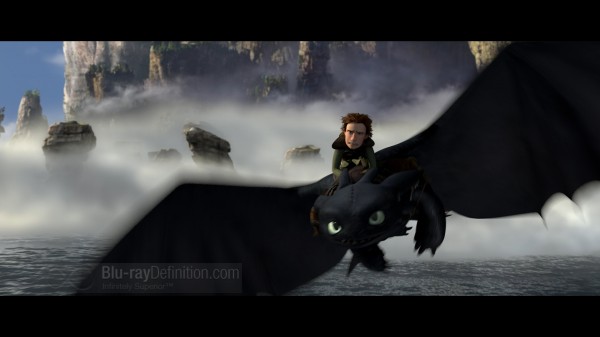 [amazon-product align="right"]B002ZG97Z6[/amazon-product]
Purchase How to Train Your Dragon on Blu-ray+DVD Combo Pack at CD Universe