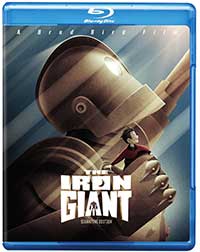 Brad Bird (Ratatouille) had worked in animation for years before breaking through into television with work in The Simpsons and King of the Hill, before finally getting his first feature film at Warner Bros. Animation with The Iron Giant in 1999. This hand drawn, shot on film adventure was unusual even then, since animation was already shifting toward the 3D CGI dominated productions of Pixar and DreamWorks, and Warner hadn't had a major feature film success with their animation department. The budget was small, the timeline was cut, and the pressure was on. When the film was released, however, it was a big success.
Set in 1957, The Iron Giant involves a boy, Hogarth (Eli Marienthal), who befriends a giant alien robot who crash lands in the woods. The Giant (Vin Diesel) is meant to be a weapon, but under the friendship and tutelage of Hogarth, the Giant, who has feelings and a soul, decides it doesn't want to be a weapon anymore. One of the film's most poignant moments comes when the Iron Giant sees a deer for the first time and then, right before his eyes, the animal is killed by a couple of local hunters. It is the first time he truly experiences and understands death and what it means to kill. Hogarth tells him they killed the deer "with that gun" but he doesn't have to be a gun.
As their friendship evolves, it also becomes dangerous, because the government as learned of the Iron Giant's existence and fears him. Believing him to be a deadly alien weapon, a government operative, Kent Mansley (voice of Christopher McDonald) is determined to use Hogarth to find the Ion Giant and send the military after the Giant.
Brad Bird channeled some of his own personal tragedy concerning his sister's death by gun violence (she was shot by her husband) to inject a rather moving allegory into the Iron Giant about what if a weapon had a soul and didn't want to be a weapon used to kill anymore? The story works and it works because of the personal touches and the setting. It's the 1950s and the height of cold war paranoia.
The animation style is also brilliant. The Iron Giant itself is digitally generated, but he fits right into the hand drawn world around him. Kudos also go to the voice actors for doing an excellent job. Harry Connick,, Jr. is a perfect choice for playing the beatnick junk yard owner Dean McCoppin who befriends Hogarth and the Giant, Jennifer Aniston is a perfect, matronly mom, and Vin Diesel's voice loaded with special effects is a perfect Iron Giant.
The Video
This hand drawn animated feature film from 1999 was done on film, a rarity in animation today, but Warner brings it to life on Blu-ray in what is a stunning AVC 1080p transfer on Blu-ray Disc. The 2.40:1 framed picture looks vivid and organic with a thin layer of grain still present, but has been obviously cleaned up. It doesn't look completely scrubbed of all texture, although it could have been just a bit more textured for my tastes.
The Audio
This is an astounding DTS-HD Master Audio 5.1 soundtrack that has good balance between the front and surrounds, and excellent mix of foley effects and the evocative score from Michael Kamen. The surround channels are filled with lots of atmospherics and a good bit of solid effects, and we get a pretty good amount of low-end extension to support the thump of the Giant's footsteps, missile launches and other big sounds in this film.
The Supplements
This disc includes the all-new documentary The Giant's Dream, which chronicles the early days of director Brad Bird's career and the making of The Iron Giant. It's a very interesting watch. We also get two versions of the audio commentary, a special one with new commentaries over the extended Signature Series scenes from Brad Bird. The rest of the extras, save the Signature Series Trailer, are all vintage port-overs.
The Giant's Dream (1.78:1; 1080i/60; 00:55:47)
Commentary with director Brad Bird, head of animation Tony Fucile, story department head Jeff Lynch, and animation supervisor (Giant) Steven Markowski)

Signature Edition Commentary – New Commentary over extended scenes by Brad Bird
Original Edition Commentary

Deleted Scenes with introductions by Brad Bird (vintage 2003) (1.33:1; SD; 00:15:16):

Original Opening Sequence
Campfire
The Drag Race
Tired at Breakfast
Original Introduction of Hogarth and Annie
Classroom

Teddy Newton: The X Factor (vintage 2003) (1.33:1; SD; 00:05:38)
Duck and Cover Sequence (vintage 2003) (1.33:1; SD; 00:02:23)
The Voices of The Iron Giant (vintage 2003) (1.33:1; SD; 00:08:16):

The Voice of the Giant
Hogarth Hughes
Dean McCoppin
Annie Hughes
Kent Mansley

The Score (vintage 2003) (1.33:1; SD; 00:04:49):

Opening Sequence
The Deer
Kent & Hogarth

Behind the Armor (vintage 2003) (1.33:1; SD; 00:17:31):

The Warner Bros. Logo
The Origin of the Giant
The Origin of the Movie
Bringing the Giant to Life
Storyboards and Animatics
The Battle Sequence

Motion Gallery (vintage 2003) (1.33:1; SD; 00:04:22)
"Brad Bird" Trailer (1.33:1; SD; 00:01:29)
Signature Edition Trailer (1.78:1; 1080p/24; 00:02:32)
The Making of The Iron Giant (vintage 1999) (1.33:1; SD; 00:22:05)
Vintage Easter Eggs (vintage 2003)
The Salt Mines (1.78:1; 1080p/24; 00:07:06)
Hand Drawn (1.78:1; 1080i/60; 00:01:40)
The Final Assessment
A timeless classic that lingers with you, The Iron Giant is a touching story of friendship that reminds one of E.T. and the recent Stranger Things. This is one hand drawn animated film that feels like it could have come out of the Disney canon, but actually didn't.
Warner Bros. has released this in two versions on Blu-ray, this single disc Signature Edition, and an Ultimate Collector's Edition. Both editions contain the new Signature Edition extended version of the film that contains an additional four minutes of  scenes plus the theatrical cut. The Ultimate Collector's Edition also contains the Signature Edition on DVD, a hardcover art book on The Iron Giant, collectible Mondo art cards, a 4-inch plastic articulated Iron Giant statue, and a letter from Brad Bird.
The Iron Giant: Signature Edition (TheaterByte Blu-ray Review)
PG (for fantasy action violence, language, some thematic material and smoking)
Rating Certificate
Warner Bros.
Studios & Distributors
Tim McCanlies, Brad Bird
Writer
86 Mins. (Theatrical) 90 Mins. (Signature)
Run Time
$14.97
MSRP
6 September 2016
Release Date
English DTS-HD MA 5.1
Audio
English SDH | French | German SDH | Portuguese| Spanish (Castilian) | Spanish (Latino) | Czech | Romanian | Thai
Subtitles
French DD 5.1 | Spanish (Castilian) DD 5.1 | Spanish (Latino) DD 5.1
Secondary Audio
Summary
The Iron Giant is a heartfelt allegory about how we can overcome our bent toward violence that is filled with beautiful animation and top-notch voice acting performances.
What people say... Login to rate
Be the first to leave a review.
Show more