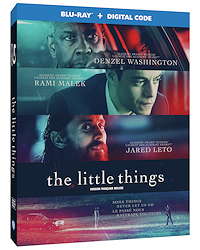 Writer/Director John Lee Hancock, who also gave us the underwhelming screenplay for Chaos Walking and wrote and directed equally underwhelming films The Founder and The Blindside gives us this police crime thriller, The Little Things. On paper, this film should be fantastic, a dark drama with a star-studded cast that includes Denzel Washington, Jared Leto, and Rami Malek, but in function, the film is another one of Hancock's films that doesn't quite reach its potential.
Washington plays troubled veteran deputy sheriff from Kern County named Joe Deacon who teams up with younger Sergeant Jim Baxter (Rami Malek) from the Los Angeles Sheriff Department to catch an elusive serial killer who revels in toying with the police and escaping justice. Deacon has a knack for homing in on the small details of an investigation, "the little things" to help solve a crime.  It doesn't take long before the veteran Deacon, who draws outside the lines, is butting heads with buttoned up Baxter. But the two are soon colluding in a dangerous conspiracy to trap Albert Sparma (Jared Leto) the man they believe to be the killer, and it has terrible consequences for Sergeant Baxter.
The film has a wonderful dark atmosphere, almost like a post-noir from a technical standpoint, and Hancock's direction and screenplay, a slow burner, stays true to the name of focusing on "the little things" and they do factor into the story. That said, the characters do begin to go off the rails a bit by the end of the film and some of the turns the film takes are a little out of character.
Overall, however, this is an effective crime thriller that people who enjoy this genre can appreciate. Anyone who loves psychological thrillers, neo-noirs, or police procedurals will find something to like here.
The Video
The Little Things was shot on the Panavision Millennium DXL2 with Panavision Primo 70 and Sphero 65 lenses and Red Weapon Monstro with Panavision Primo 70 and Sphero 65 lenses in Redcode RAW 8K format and utilizes a 4K DI. We are missing out on a lot with this high-definition Blu-ray release and hopefully one day Warner will release a 4K disc of this film that is currently available digitally in 4K. The film, framed at 2.39:1 and encoded in AVC 1080p, looks brilliant, nonetheless. There are two different palettes that dominate this movie. The dark or nighttime scenes are cool, often with a bluish, greenish tint, and they have nuanced, inky shadows, with pops of color in the highlights. The brighter, daylight scenes are a little warmer and have more earth tones while also revealing a bit more of a filmic veneer to the digital production. This is a reference quality release that is only missing that little extra oomph from the Dolby Vision or HDR10.
The Audio
We get an English DTS-HD Master Audio 5.1 mix on this Blu-ray release from Warner, so, again, like with the Blu-ray release of Judas and the Black Messiah, there is no Atmos track like the one that accompanied the film in theaters and on HBO Max. That said, this is a subtle yet satisfying mix for this crime drama. The dialogue is clear and precise, and we are often presented with lush atmospheric effects, such as sirens as cops arrive at a crime scene, the sound of cars driving off in the distant panned to far left or right utilizing the surrounds and so forth. There isn't a very deep low end, but there is more than enough for the material.
The Supplements
There isn't much included here, but the featurettes are interesting.
Digital Code
The Little Things – Four Shades of Blue (1080p; 00:09:22) – This featurette takes a look at the different roles Denzel Washington has played as law enforcement in Warner Bros. films.
A Contrast in Styles (1080p; 00:07:54) – Take a look at the three powerhouse performances from Denzel Washington, Jared Leto, and Rami Malek in this featurette.
The Final Assessment
A dark if sometimes underwhelming crime thriller that is still enjoyable if nowhere near perfect that is bolstered by three powerful performances. Definitely check this one out on this reference quality Blu-ray Disc.
---
If you found this article useful please consider clicking the button below and donating to help keep TheaterByte funded, which will allow us to continue posting great content.
---
The Little Things is out on Blu-ray May 4, 2021 from Warner Bros.
---
Rating Certificate: R (for violent/disturbing images, language and full nudity)
Studios & Distributors: Gran Via | Warner Bros. | HBO Max | Warner Bros. Home Entertainment
Director: John Lee Hancock
Written By: John Lee Hancock
Run Time: 128 Mins.
Street Date: 4 May 2021
Aspect Ratio: 2.39:1
Video Format: AVC 1080p
Primary Audio: English DTS-HD MA 5.1
Secondary Audio: English Descriptive Audio | French DD 5.1 | Spanish DD 5.1