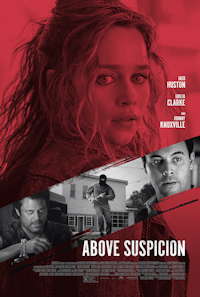 Director Phillip Noyce who is mostly a television director but has helmed theatrical releases like 2010's Salt or the poignant Aussie film Rabbit-proof Fence here helms this crime thriller "based on a true story." Above Suspicion, from a Chris Gerolmo screenplay based upon a book by Joe Sharkey details the explosive story one of the most notorious crimes in FBI history.
Set in the 1980s, married FBI agent Mark Putnam (Jack Huston, "Fargo") is assigned to an economically depressed small Appalachian town in Kentucky where the coal mines and factories have moved out and one of the only opportunities for anyone to make money is to sell drugs or defraud the government on welfare. Emilia Clarke ("Game of Thrones") plays Susan Smith, a young, divorced woman who is forced due to her financial circumstances to live with her violent, drug-dealing ex-husband (Johnny Knoxville) and her sister's bank-robbing boyfriend. Susan is desperate to escape her life of drugs and crime even as she herself is involved in fraudulently cashing welfare checks in both West Virginia, where she doesn't reside, and in Kentucky. As the local bank robberies continue, Agent Putnam recruits Susan to do some spying for him so the Bureau can gather enough information to pin the robberies on the person they know. The problem is the relationship between Putnam and Smith turns personal, and when Putnam no longer needs Susan's help, she begins to get clingy. He tries to protect himself and his family, but things take a bad turn and Putman ends up murdering her. To this Putman is the only known FBI agent to be convicted of murder.

This story had a lot of potential. The ending shows the real Mark Putnam in an interview and he basically shows no remorse for anything he had done. Above Suspicion sure does paint the sort of picture about Putnam that would make you feel he's that sort of person. Unfortunately, Noyce never elevates this film above what feels like Lifetime Movie quality melodrama. I couldn't see ever going to see this in a theater. Emilia Clarke's character is a B-version of Glenn Close in Fatal Attraction here, and it all really begins to breakdown at the halfway point after the first undercover op, so to speak, has ended. If you want to see this one, it's probably better as a rental to waste some time.
---
If you found this article useful please consider clicking the button below and donating to help keep TheaterByte funded, which will allow us to continue posting great content.
---
Lionsgate will release the crime thriller ABOVE SUSPICION in Select Theaters and Everywhere You Rent Movies on May 7th; on Blu-ray and DVD May 18th.
---
Rating Certificate: R (for sexual content and drug use throughout, language and some strong violence)
Studios & Distributors: Sierra / Affinity | Colleen Camp Productions | White Knight | MTAF Productions | Bold Films | Altitude Films (2020) (USA) (video) (On Demand & Digital) | Lionsgate Entertainment (2021) (USA) (Home Video)
Country: USA
Language: English
Run Time: 104 Mins.
Aspect Ratio: 2.40:1
Director: Phillip Noyce
Written By: Chris Gerolmo (screenplay) | Joe Sharkey (based upon the book by)
Release Date: 7 May 2021 (Digital, VOD, & Limited Theatrical) | 18 May 2021 (Blu-ray & DVD)