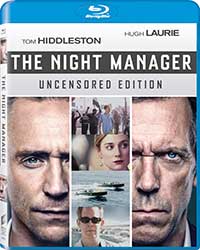 The Night Manager began its six-episode run in April 2016 and is the first televised adaptation of a John Le Carré novel in more than two decades thanks to an across-the-pond collaboration between BBC One and AMC. This two-disc Blu-ray version is the "uncensored edition" for whatever that is worth and is what the British viewers saw earlier this year. The title's night manager is disaffected British Army veteran Jonathan Pine (Tom Hiddleston) working at the Nefertiti, a swanky Cairo hotel during the "Arab Spring" of 2011. Pine engages in a torrid affair with Sophie Alekan (Aure Atika), the mistress of arms dealer Freddie Hamid (David Avery). Sophie gives Jonathan a manifest of weapons intended for Freddie and asks him to deliver it to the Egyptian authorities who will use it to bring down arms magnate Richard Onslow Roper (Hugh Laurie). Pine forwards the document to a friend at MI6 instead where it eventually reaches agent Angela Burr (Olivia Colman), an act that unwittingly triggers Sophie's murder.
Fast forward to 2015. Pine is now the night manager at an exclusive Alpine hotel and has become determined to avenge Sophie's death. Roper checks in with an entourage led by his little "limp-wristed" lieutenant Lance "Corky" Corkoran (Tom Hollander) and his eye-candy, statuesque girlfriend Jed Marshall (Elizabeth Debicki). Jonathan connects with agent Burr who provides him with a phony criminal background so that he can infiltrate Roper's organization and start providing intelligence to MI6. After Pine gets beaten to a pulp during the "rescue" of Roper's son from a staged kidnapping, he recovers in the arms dealer's exclusive Mallorca retreat and eventually gets quite cozy with Jed.
In many of Le Carré's books, there is inter-agency tension between the Brits and their American "cousins." Here, it threatens to derail "Operation Limpet," a joint effort by Burr and and her CIA counterpart Joel Steadman (David Harewood) to incriminate Roper. Burr also discovers that someone in the British secret service has substantial interests in Roper's weapons trade, suspicion that could get her into big trouble. With the reluctant assistance of Roper's attorney Juan Apostol (Antonio de la Torre), the MI6 agent gets wind of a massive arms deal brewing in the Middle East.  Jonathan now assumes a more important role in the hierarchy of Roper's cadre although the latter starts to suspect that there is a mole in his organization. The measured pace of The Night Manager's cat-and-mouse game between Roper and Pine suddenly picks up speed and races through its numerous twists and turns to a suspenseful and surprising conclusion.
The Night Manager meticulously develops its group of complex characters, and the script, co-written by Le Carré and David Farr (Hannah), renders a credible account of the heartless individuals who sell arms to the highest bidders. While the dramatis personae, on-set locations, and timelines in the original novel have been somewhat altered, these changes definitely make The Night Manager more relevant for today's audiences. Hugh Laurie (House, M.D.'s snarky title curmudgeon), Tom Hiddleston (who seems to be everywhere these days), and the strong supporting cast carry the day while much credit also should be given to romance-film director Susanne Bier's (Serena) spot-on take on a cinematic genre that is very different from her usual fare.
 The Video
Having reviewed the original television broadcasts four months ago, I can state unequivocally that getting true 1080p resolution makes a considerable difference in rendering picture quality, capture of details and deeper, more vibrant colors. Michael Snyman (Black Sails) gives viewers seemingly endless panoramas of huge landscapes with entrancing overall cinematography as it sweeps onward to the finish line.
The Audio
Exchanging the broadcast Dolby Digital 5.1 soundtrack for the lossless DTS-HD Master Audio 5.1 version is an upgrade that makes this Blu-ray set very much worth the price of admission, as evidenced by sounds of the epic arms demonstration sequence that light up the surround speakers and Victor Reyes's (Lisboa) haunting, atmospheric score.
 The Supplements
 Sony Pictures gives us only Digital HD UltraViolet.
The Final Assessment
Fans of BBC television programming are well served by a great adaptation of this master spy-novelist's thrilling creation, addressing, as it does, the dark underworld of the international arms trade that has made our world a much more dangerous place.
The Night Manager (TheaterByte Blu-ray Review)
Sony Pictures Home Entertainment
Studios & Distributors
John Le Carre, Stephen Farr
Writer
$29.99
MSRP
DTS-HD Master Audio 5.1
Audio
English | English SDH | French
Subtitles
Summary
A brilliant recreation of Le Carré's thrilling espionage novel that employs a first-rate cast, taut direction, and great cinematography.
What people say... Login to rate
Be the first to leave a review.
Show more