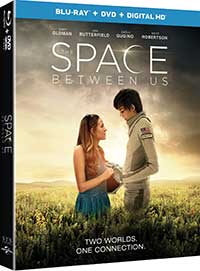 When the suits in Hollywood smell success with a certain genre, they aren't satisfied until they run it into the ground. Since the decommissioning of the Space Shuttle, there has been a growing interest in space exploration beyond earth orbit and colonization of Mars and beyond. We have seen this reflected first in the stunning 3D spectacle Gravity and in the films that followed in its wake such as Interstellar and The Martian among others. You know a trend is starting to wear thin when the films start coming out that cater to some Hollywood boardroom idea of what the teenagers want in a Martian space movie romance.
That is basically how we arrive at The Space Between Us, a story about the 16-year-old boy Gardner Elliot (Asa Butterfield) who becomes the first person born on Mars after his mother, Sarah (Janet Montgomery, Salem) an astronaut working on a Mars colonization mission for aerospace company Genesis, discovers she is pregnant months into the mission. Fearing bad publicity and that the mission might be cancelled, head of the mission and the company back on earth, Nathaniel Shepherd, (Gary Oldman, Dawn of the Planet of the Apes) makes the decision to keep the pregnancy a secret from the public. Sarah dies giving birth and Gardner is raised on Mars by a small group of scientists in the colony where one female scientist, Kendra Wyndham (Carla Gugino, Roadies) becomes a surrogate mother to him. To assuage his loneliness, Gardiner strikes up an online friendship and romance with a girl back on Earth, Tulsa (Britt Robertson, Girlboss) from Colorado – apparently in this unspecified future the communication delay between Earth and Mars has been eliminated. They also seem to have an odd mixture of futuristic tech gear like translucent laptop devices one moment and standard MacBooks and iPhones that you can go down to your local Apple Store and pick up now. Maybe antique tech is a thing in the future?
Gardner, restless to see Earth and to find out who his father is travels to humanity's home planet where he instantly escapes from his medical confines to go find his love Tulsa. The two set off on a road trip across the country trying to find his father, but time is running out for Gardner. His body is not adapted to Earth's atmosphere. His bones are too brittle and his heart to weak to handle the heavier gravity, so his blood is being poisoned. Nathaniel Shepherd and Kendra Wyndham must find him and get him back to Mars before the Earth literally kills him – but what will this do to his romance with Tulsa?
There is so much potential in The Space Between Us that is left unfulfilled in director Peter Chelsom film and Allan Loeb's screenplay that still has me nursing a toothache with its saccharine clichés ("how is it you're even more beautiful now?"). Firstly, we have to endure the terrible casting of Britt Robertson (26) and Asa Butterfield (19) playing a couple of teens in love. Robertson is a fine actress, but she's really pushing it with these roles as teenagers now. These two loom awkward together and their road trip draws on some of the biggest road adventure clichés in movie history. Tulsa steals one car after the next — she even steals an airplane. And the acuity and ease with which she does it really stretches believability. Gary Oldman, a great veteran actor, feels like he is going through the motions and just hamming it up for a paycheck in this outing, Carla Gugino is the only one who comes across as authentic, but her role is underutilized, sadly.
Let's hope that either this trend to space colonization movies is either waning or whatever films come next in this genre return to the high standards of Interstellar and The Martian or Gravity. The Space Between Us may have the tweens riveted, but anyone older than that need not apply.
The Video
The Space Between Us was shot digitally on the Arri Alexa and the Arri Alexa Plus and comes to Blu-ray in an AVC 1080p encodement. While we don't get the stark contrasts and vivid colors we are starting to see in a lot of the Ultra HD releases with HDR or even many of the other films in this genre on standard Blu-ray like The Martian, Interstellar, or Gravity, the picture is a solid one. Detail is good, flesh tones look good if slightly pale, and there is no problem with color banding or posterization.
The Audio
An English DTS-HD Master Audio 7.1 mix that is good, but not the sort of all encompassing, immersive mix one might expect from a sci-fi film. This is more of a lush, atmospheric mix with emphasis on the score, which sounds very natural, airy and dynamic, and the occasional breakout of more aggressive sound effects during the action sequences. Dialogue sounds full and natural and there is an extended low-end when needed such as during the spaceship launches.
The Supplements
The commentary and alternate ending offer the strongest special feature content on disc. The deleted scenes do not add much to an already below average film.
Digital HD UltraViolet + iTunes Digital HD Digital Copy
DVD
Feature commentary with director Peter Chelsom
Alternate Ending (2.40:1; 1080p/24; 00:03:01)
Deleted Scenes (2.40:1; 1080p/24; 00:13:44):

Nathaniel's Full Speech
Manual Capture
Smaller Than a Lima Bean
Gardner Gets Mugged
Kendra's Mission

Love Featurette (1.78:1; 1080p/24; 00:04:28)
The Final Assessment
A saccharine sci-fi romance that blends strong special effects with middling acting and dialogue, The Space Between Us is a 'bandwagonesque' entry that is very forgettable. The Blu-ray set is good, but nothing great, with extras that aren't required viewing.
[amazon_auto_links id="100273"]
PG-13 (for brief sensuality and language)
Rating Certificate
Los Angeles Media Fund (LAMF) | STX Entertainment | Southpaw Entertainment (I) | Universal Studios Home Entertainment
Studios & Distributors
Allan Loeb (screenplay) | Stewart Schill (story) | Richard Barton Lewis (story) | Allan Loeb (story)
Writer
$34.98
MSRP
English DTS-HD MA 7.1
Audio
English SDH | Spanish
Subtitles
Summary
The Space Between Us is a cliché-riddled sci-fi romance that jumps on the recent bandwagon of space travel/colonization films with little success. Tweens and early teens may find its saccharine platitudes entertaining, but everyone else can skip it. The Blu-ray release is competent, but not a standout disc by any means.
What people say... Login to rate
Be the first to leave a review.
Show more