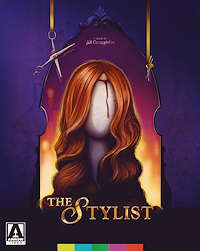 Indie horror film The Stylist got its start as a short film of the same name that made the rounds at film festivals and also streamed on Shudder. Director Jill Gevargizian's first feature film, the (pardon the pun) stylish feminist horror film's story, which she also came up with, came from her own work as a hair stylist and out of her love of horror films, having never seen an iconic hair stylist character in any of the great horror films.
Claire (Najarra Townsend) is an awkward and lonely hairstylist who becomes obsessed with her clients, most of whom come into her hair salon and pour their hearts out to her because they just see her as invisible. Claire feels invisible herself and her feelings escalate into a violent madness, and she stalks and kills her clients, scalping them and wearing their scalps and hair like wigs so she can vicariously live their lives.
Gevargizian's film is very much told from the perspective of the feminine, which in itself is refreshing in the horror genre. It's a subgenre of its own that is criminally underserved. That said, as The Stylist unfolds, we are given less of the blood, gore, and jump scares that we normally see in horror films and instead theirs is a film filled with the anxieties of the serial killer. These anxieties are the product of a society that is dismissive or even hypercritical of females. Claire is herself hypercritical of everything she does, suffers from social anxiety, doesn't seem to feel pretty enough when in fact Najarra Townsend is quite obviously a beautiful woman.
And Gevargizian's handling of the cinematography makes the film very pleasurable to watch. The film sparkles, it is full of crossfades and tight closeups, colorful yet soft lighting. That she pulls off the look of this film on an indie budget is even more of an achievement.

The Video
The Stylist arrives in an AVC 1080p encodement on Blu-ray from Arrow Video. This relatively low budget indie horror film looks about ten times more expensive than it actually is and the visuals present very well in this release with excellent contrast, inky blacks, rich colors, and spot-on flesh tones. The 'pop' of Claire's red hair against her yellow blouse in the opening scene in her hair salon is enough to show just how good this looks. There are some points where it almost looks HDR without HDR.
The Audio
The original 5.1 audio mix is included in DTS-HD Master Audio. This is a fairly subtle mix that isn't great, but also isn't bad. There are some light atmospherics in the surrounds and a bit of stereo panning. The strength is the balance of the score in the mix and the clarity of the dialogue. Low end extension is practically nonexistent so don't listen for any sort of workout for your subwoofers from this mix.
The Supplements
Arrow does what they normally do and load this indie horror film release up with a boatload of bonus features and limited edition exclusives. The audio commentary featuring the director is an interesting listen and the other collectibles make this a really superb set. Kudos to Arrow for also including a CD of the original soundtrack.
Limited Edition Blu-ray and Soundtrack CD collection
Reversible sleeve featuring original and newly commissioned artwork by Sara Deck
Double-sided fold-out poster
Illustrated collector's booklet featuring new writing on the film by Emma Westwood and a gallery of exclusive location scouting photographs
DISC ONE (BLU-RAY) – THE STYLIST

Audio commentary by co-writer/producer/director Jill Gevargizian and actress/producer Najarra Townsend
Exclusive Blu-ray introduction by Jill Gevargizian
NEW The Invisible Woman (00:20:14) — An exclusive visual essay by author and critic Alexandra Heller-Nicholas, exploring the themes of women's labor and female killers in The Stylist and horror cinema
Behind the Scenes Featurettes (1080p; 01:06:04) — A series of eight behind-the-scenes featurettes on different aspects of the film's production, featuring interviews with the cast and crew.

Short to Feature
"WTF Claire?"
"Olivia"
Women in Film
Film Family
Designing The Stylist
Filming in KC
Kansas City Chiefs!

Location scouting featurette (1080p; 00:04:12)
Outtakes (1080p; 00:06:31)
Original Kickstarter Video (1080p; 00:02:30)
The original 2016 The Stylist short film directed by Jill Gevargizian and starring Najarra Townsend, that inspired the main feature
Pity, a 2016 short film directed by The Stylist's editor, John Pata, and executive produced by Jill Gevargizian, with an optional introduction by Pata
Teaser trailer
Theatrical trailer
Image galleries

DISC TWO (CD) – THE STYLIST SOUNDTRACK (LIMITED EDITION EXCLUSIVE) — CD containing the original The Stylist Soundtrack
The Final Assessment
A thriller that acts as a strong feature debut for its director and another top choice Arrow Video Blu-ray release.
---
If you found this article useful please consider clicking the button below and donating to help keep TheaterByte funded, which will allow us to continue posting great content.
---
The Stylist (Limited Edition) is out on Blu-ray June 8, 2021 from Arrow Video
---
Studios & Distributors: Claw Productions | Method Media | Sixx Tape Productions | The Line Film Company | Arrow Video
Director: Jill Gevargizian
Written By: Jill Gevargizian (story by) | Eric Havens | Eric Stolze
Run Time: 105 Mins.
Street Date: 8 June 2021
Aspect Ratio: 2.39:1
Video Format: AVC 1080p
Primary Audio: English DTS-HD MA 5.1
Subtitles: English SDH