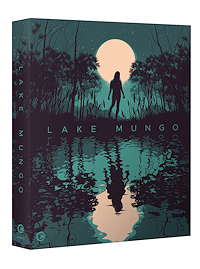 The 2008 Australian horror cult hit Lake Mungo is a film that is probably the best horror film many people have never seen. Set in fake true crime documentary, the movie follows the Palmer family whose 16-year-old daughter Alice tragically drowns swimming in a local dam. After her death the family begins experience strange occurrences in their home as they try to investigate what really happened to Alice, believing they may be recording her ghost. A parapsychologist and investigations into Alice's past reveal their daughter was more troubled than they knew.
Lake Mungo's framing as a faux documentary with some found footage elements is at the crux of what makes this film as truly scary as it is. Writer/director Joel Anderson doesn't insert himself at all into this film, going as far as to only provide broad sketches of dialogue and backgrounds to many of the actors so that their "interview segments" come across as more realistic and improvised as they would in a true documentary. Even the local news video segments of the police investigating the drownings were in fact elaborately staged with a real Australian local news channel and police department investigating as they normally to add an extra element of authenticity. This allows for viewers to engage with the film on a deeper level and even be fooled that it is a real true crime documentary, raising the level of the terror.
And the terror in Lake Mungo is not about cheap jump scare. This is a slow-burning film where much of the horror is about the unease of a family falling apart, the fear of the unknown, empty spaces in the dark, and generational conflicts. Anderson's direction is brilliant here, melding two subgenres and contemporary society's belief in and reliance on the technological interconnectivity into this intense thriller.

The Video
Lake Mungo comes to Blu-ray in this Limited Edition Blu-ray from Second Sight Films in a 1.85:1 AVC 1080p encodement. The 2008 film itself was shot on multiple formats from HDCAM and 16mm to 35mm and phone cameras. The 16mm film negative was mastered from a 2K DI and transferred to HD. Overall, this transfer looks great. There are multiple palettes and looks to the movie, from the cool, hyper realistic colors that accompany the slow panning shots of the home and hospital or outdoor location shots, to the warmer tones of the interview segments and saturation of organic grain. There are also the very lo-fi, posterized phone camera found footage segments and local TV news video segments that are obviously of much lower quality. They look as they are meant to.
The Audio
Lake Mungo comes to Blu-ray with an English DTS-HD Master Audio 5.1 audio mix. It is appropriately atmospheric, when need be, carrying that eerie, tense musical score through the channels with great balance. When there needs to be more activity, it carries good solid sounds in the surrounds, such as during a rainstorm where we hear thunder and rain surrounding us in all the channels. The dialogue in the interview segments is also clear. Low end is a bit anemic overall.
The Supplements
Second Sight loads this release up with numerous interviews and two superb audio commentaries including a brand-new commentary. There are also a number of Limited Edition collectibles.
Archive audio commentary by producer David Rapsey and DoP John Brawley
NEW: Audio commentary by Alexandra Heller-Nicholas and Emma Westwood
Captured Spirits: An interview with John Brawley (1080p; 00:46:09)
Ghosts in the Machine: An interview with David Rapsey (1080p; 00:11:47)
A Cop and a Friend: An Interview with Actors Carole Patullo & James Lawson (1080p; 00:28:33)
Kindred Spirits: Filmmakers Justin Benson & Aaron Moorhead on Lake Mungo (1080p; 00:25:04)
Simulacra and Spirits: A Video Essay by Film Scholar Josh Nelson (1080p; 00:20:44)
Autopsy of a Family Home: A Video Essay by Filmmaker Joseph Wallace (1080p; 00:08:14)
Deleted Scenes (1080p; 00:13:36)
Limited Edition Contents:
Rigid Slipcase
Perfect-bound booklet with essays by Sarah Appleton, Simon Fitzjohn, Rich Johnson, Mary Beth McAndrews, and Shellie McMurdo, interview with actor James Lawson by Alexandra Heller-Nicholas plus rare behind-the-scenes photos
Three collectors' art cards
The Final Assessment
Horror aficionados need to see this truly frightening Aussie cult classic if they haven't already. This Limited Edition Blu-ray release from Second Sight is the perfect way to take it in. Highly recommended.
---
If you found this article useful please consider clicking the button below and donating to help keep TheaterByte funded, which will allow us to continue posting great content.
---
Lake Mungo (Limited Edition) is out in the UK 8 June 2021 from Second Sight Films