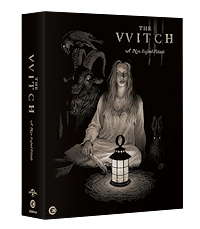 Director Robert Eggers' debut feature The Witch is a folk horror set in 17th century New England that explores both supernatural and psychological horror.
A family of puritans in the 17th century are exiled from their village due to the headstrong beliefs of the patriarch William (Ralph Ineson). On the edge of the forest where they struggle to make their survival, a series of misfortunes begin to befall them, beginning with the sudden disappearance of their youngest child, an infant. Crop failures befall them, and suddenly suspicions of witchcraft fall on the family's eldest daughter Thomasin (Anya Taylor-Joy), as madness, hysteria, and violence permeate the family and the mysterious, dark forest that lay just beyond their small farm.
Eggers' film reaches back to classic folk horror cinema such as Witchfinder General (Michael Reeves, 1968) and The Blood on Satan's Claw (Piers Haggard, 1971), but here he crafts something wholly North American, and contemporary, in the sense that he uses all the resources available to modern filmmakers to place us in the 17th century. His visual style is evident at once – dark, atmospheric, slow paced, close-ups and soft lenses, muted palettes. He took his dialogue from several historical sources noting encounters with the unexplained. This at first can make the film seem a layer removed, but it adds an amount of authenticity not often obtained in the horror genre. The gorgeous folk gothic cinematography of Jarin Blaschke, switching between the eerie expanse of the outdoors or the paranoid claustrophobia of the cramped and still earthen indoors of the family home.
Eggers doesn't concern himself with the usual elements of horror either. You won't find yourself sitting through CGI effects, jump scares, or practical gore. This is a slow-paced, human horror with very little in the way of contemporary horror tropes to get in the way of the storytelling and the film is all the better for it. The actors bring out the story with superb performances from Ines as the patriarch with his stentorian voice and forceful stature, and Anya Taylor-Joy who is wonderful as the daughter caught in the web of suspicions and supernatural phenomena.
The Video
The Witch was originally shot on the Arri Alexa Plus 4:3 at 2.8K resolution with   Panavision Super Speed MKII, Cooke Speed Panchro, and Bausch & Lomb Super Baltar lenses, it uses a 2K digital intermediate and comes with a new HDR color grading on 4K Ultra HD Blu-ray framed at 1.66:1 in an HEVC 2160p (4K UHD) encodement. Any way you look at it, this is an upscaled image and it never really does reach that absolute peak of the finest levels of detail one might get from a production shot on film and scanned in 4K or shot digitally at 4K or higher utilizing a 4K DI. The 4K upscale looks good, and there are moments with this new Dolby Vision grading, we get just a touch more subtlety in the muted palette. This film remains quite dark and shadowy, but there are moments, such when Thomasin and Caleb are walking through the woods together and the dog starts barking – the shadow detail in the trees in the background is very nuanced with a strong sense of separation between the leaves, branches. Specular highlights are very subtle, nothing really giving a strong 'pop,' but in the context of the film's visuals, such as the beam of a light coming through a window or a warm glow of lamplight in dark room, the Dolby Vision's dynamics work. The Dolby Vision is new HDR grading overseen by director Robert Eggers.
The Audio
The Witch's lossless 5.1 mix is presented in DTS-HD Master Audio and it presents a lush, atmospheric soundscape that places the folk-inspired instrumental score throughout the channels and the sounds of the woods like wind in the trees and chirping birds in surrounds. This is a superbly balanced, clean, and subtle mix with excellent dynamics.
The Supplements
Second Sight delivers another superb and must-have collection packed with bonus features in a beautiful set with The Witch.
Rigid slipcase with new artwork by Peter Diamond
150-page hardcover book with new essays by Emerson W. Baker, Daniel Bird, Anton Bitel, Charles Brimesco, Lillian Crawford, Shelagh Rowan-Legg, and Anya Stanley plus stills, costume, and production design gallery.
6 collectors' art cards
Audio Commentary by Director Robert Eggers
Audio Commentary by Film Writer and Broadcaster Bogutskaya
A Puritan Nightmare: An Interview with Robert Eggers (1080p; 00:26:49)
Embracing Darkness: An Interview with Actor Anya Taylor-Joy (1080p; 00:13:49)
Love Thy Father: An Interview with Actor Ralph Ineson (1080p; 00:21:24)
A Pious Wife: An Interview with Actor Kate Dickie (1080p; 00:14:31)
Caleb's Lament: An Interview with Actor Harvey Scrimshaw (1080p; 00:07:00)
A Primal Folktale (1080p; 00:08:32)
BFI Q&A (1080p; 00:10:41)
Brothers – A Short Film by Robert Eggers (1080p; 00:10:40)
The Final Assessment
A gorgeous film, an arthouse folk horror full of beautiful imagery and sounds, comes with a brand-new director overseen Dolby Vision color grading in one of Second Sight's oh-so collectible 4K limited edition sets. This is highly recommended.
The Witch (Limited Edition) is out on 4K Ultra HD Combo in the UK 25 July 2022 from Second Sight Films
---
Rating Certificate: UK-15
Studios & Distributors: Parts and Labor | RT Features | Rooks Nest Entertainment | Maiden Voyage Pictures | Mott Street Pictures | Code Red Productions | Scythia Films | Pulse Films | Very Special Projects (as Special Projects) | Second Sight Films
Director: Robert Eggers
Written By: Robert Eggers
Run Time: 92 Mins.
Street Date: 25 July 2022
Aspect Ratio: 1.66:1
Video Format: HEVC 2160p (4K UHD)
HDR Format: Dolby Vision (HDR10 Compatible)
Primary Audio: English DTS-HD MA 5.1
Subtitles: English SDH