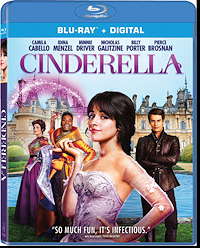 This is the 2021 Amazon Original remake of the fairytale Cinderella that takes the classic tale and turns it into a modern musical filled with contemporary songs and anachronisms.
Cinderella (Camila Cabello) is a poor orphan who is worked to the bone by her evil stepmother (Idina Menzel) and stepsisters (Maddie Baillio and Charlotte Spencer). Fortunately for her, she still has her ambition, which is to become a famous designer dressmaker, but that puts her out of step with the mores of the times. She's a woman and from a respectable family, so she is neither supposed to be working outside the home nor trying to be independent. As she tries to sell one of her creations she causes a spectacle, getting the attention of the prince Robert (Nicholas Galitzine), who happens to be incognito in the area. Robert is under pressure from his father to find a suitable bride. Having spotted Cinderella, he convinces his father to allow him to invite every young woman from the kingdom to a ball, regardless of wealth or status, from which he may choose his bride. Unfortunately for Ella, her stepmother and stepsisters are determined to keep her away. In steps her Fairy Godmother (Billy Porter), to help her dreams become a reality.
Cinderella is manic, full of comedic energy, and the contemporary (if songs like Janet Jackson's "Rhythm Nation" are still considered contemporary) pop song mashups don't always work. Cabello's voice, for my liking, is always a little whiny as well, but for the most part, this is a film that does mix up this often stale and predictable story. Kay Cannon's direction keeps it upbeat and moving at a brisk pace while the performances from Porter and Menzel standout.
The Video
Cinderella was shot on the Red Monstro 8K with Panavision C-Series lenses with some scenes shot on the Arri Alexa SXT also with Panavision C-Series lenses. A 4K digital intermediate was used for the master and the film was brought to Blu-ray in an AVC 1080p encodement framed at 2.39:1. This film streams on Amazon Prime Video as a Prime Original in 4K UHD with HDR, but here we get high definition video SDR that looks more pristine than the Prime Video stream even on my hardwired gigabit connection from any of my devices (Apple TV 4K Gen 2, Nvidia SHIELD TV Pro, Fire TV 4K, Roku Ultra). There is really nothing to complain about or nitpick – well, I might nitpick that the intentional artistic choice makes it look more digital than filmic, but that's really picking nits. The colors look vibrant, the details are crisp, there is superb depth of field, and shadows are very finely nuanced.
The Audio
Cinderella on Blu-ray gets a lossless DTS-HD Master Audio 5.1 mix that is just fantastic. The musical performances really come across with superb dynamics, the low end is big and boisterous while not overwhelming the soundstage or vocals, sounds are spread around throughout the room for really big atmosphere in the numerous productions and during the quieter parts we get clear dialogue and wide stereo panning.
The Supplements
There isn't much included with this release. Sony only includes a brief gag reel and a digital copy code. No DVD is included.
Movies Anywhere Digital Copy Code
Gag Reel (1080p; 00:02:46)
The Final Assessment
A pristine video presentation with reference audio of this manic and often funny reinterpretation of a beloved classic. This may be worth a look for anyone looking to shake up their Cinderella experience.
Cinderella (2021) is out on Blu-ray + Digital June 21, 2022 from Sony Pictures Home Entertainment
---
Rating Certificate: PG (for suggestive material and language)
Studios & Distributors: Columbia Pictures | DMG Entertainment | Fulwell 73 | Sony Pictures Animation (co-production) | Sony Pictures Entertainment (SPE) | Amazon Prime Video | Sony Pictures Home Entertainment (SPHE)
Director: Kay Cannon
Written By: Kay Cannon (written for the screen by)
Run Time: 112 Mins.
Street Date: 21 June 2022
Aspect Ratio: 2.39:1
Video Format: AVC 1080p
Primary Audio: English DTS-HD MA 5.1
Secondary Audio: English Audio Description | French DTS-HD MA 5.1 | Portuguese DTS-HD MA 5.1 | Spanish DD 5.1
Subtitles: English | English SDH | Chinese Simplified | Chinese Traditional | French | Korean | Portuguese | Spanish | Thai