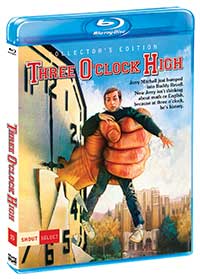 Three O'clock High is a 1987 teen comedy that on the surface looks like any other high school comedy out of the decade that was so dominated by teen movies by John Hughes, but dig a little deeper and you find a much more complex sendup of those John Hughes archetypes and other genres.
The film starts out seeming like it's going to be another Ferris Bueller's Day Off, with a voice over from protagonist Jerry Mitchell (Casey Siemaszko) declaring it's going to be "one of those days." Jerry proceeds to run afoul of the new transfer student in school, infamous transfer student Buddy Revell (Richard Tyson), who's rumored to have a past as violent as Charles Manson. When the school paper's editor assigns' Jerry to get an exclusive from Buddy, Jerry makes the mistake of touching his subject, which raises Buddy's ire and causes him to challenge the withering Jerry to a fight at three o'clock after school. Jerry now spends the day trying everything he can to get out of the fight he knows he can't win, even though it has caused the normally unpopular Jerry to gain the notice of the school's beautiful popular girl.
Directed by Phil Joanou who is better known for his work with rock icons U2 (Rattle & Hum), Three O'clock High is a surprisingly good satire on the teen comedy genre that stands apart from the Hughes-era teen comedies the film is often lumped together with. Joanou builds up the tension of the impending showdown between Jerry and Buddy using tight close-ups on faces and the clock that is central to the story and the title of the film. It's like High Noon and My Bodyguard meets the frenetic pace of Ferris Bueller and After Hours, all done with a sly wink and a tongue-in-cheek repartee.
Tangerine Dream does the score and soundtrack for the film providing a solidly 1980s modern rock sound for the film right in line with Joanou's strengths and the usual soundtracks for the other films of this genre in the era.
The Video
Three O'clock High hits Blu-ray in an AVC 1080p encodement framed at 1.85:1 from Shout! Factory's Shout Select imprint. While it looks organic with a natural layer of grain, there is a lot of apparent source damage and film softness that plagues the image straight through. There doesn't look to have been a major effort put in on restoring this 1987 gem.
The Audio
Three O'clock High comes with a DTS-HD Master Audio 2.0 stereo track that does a great job conveying the musical soundtrack from Tangerine Dream with a lot of dynamics and punch in the midrange and clean, airy high frequencies without any tizziness or ear bleed. The dialogue is clean without any clipping and stereo imaging is relatively wide.
The Supplements
Shout gives Three O'clock High a small but solid collection of special features, number one being the
Commentary by Phil Joanou
Head of the Class – With Director Phil Joanou (1.78:1; 1080p/24; 00:32:31)
Passing the Test – Screenwriters Richard Christian Matheson & Tom Szollosi (1.78:1; 1080p/24; 00:17:59)
School Clothes – Costume Designer Jane Ruhm (1.78:1; 1080p/24; 00:13:43)
Theatrical Trailer (1.33:1; 1080i/60; 00:01:31)
Gallery (1080p/24; 00:07:54)
The Final Assessment
Three O'clock High is a funny suburban high school comedy straight out of the eighties and while it hits all the archetypes of the genre and the era, it translates well to modern audiences thanks to its farcical handling of so many other genres. While the story isn't the strongest, the acting, directing, and editing all come together for a satisfying comedy.
Three O'clock High is available on Blu-ray from Shout! Factory October 17, 2017.
[amazon_auto_links id="105506"]
Universal Pictures | Shout! Factory
Studios & Distributors
Richard Christian Matheson | Tom Szolossi (as Thomas Szollosi)
Writer
$22.97
MSRP
English DTS-HD MA 2.0 Stereo
Audio
Summary
A high school kid (Casey Siemaszko) must try to get out of a fight with a notoriously violent bully (Richard Tyson) in this quick-paced 1980s satire from director Phil Joanou featuring a score and songs from Tangerine Dream.The Shout Select Blu-ray is a solid release even if the image looks a little dated.
What people say... Login to rate
Be the first to leave a review.
Show more