Aspect Ratio: 1.78:1

Video Codec: AVC/MPEG-4
Audio Codec: English DTS-HD Master Audio 5.1 (48kHz/16-bit)

Subtitles: English SDH

Region: A
Discs: 2
Studio: Discovery Channel

Release Date: June 9, 2009
List Price: $34.98

[amazon-product align="right"]B001URA606[/amazon-product]Purchase from CD Universe

Overall

The Documentary

Video Quality

Audio Quality

Supplemental Materials

Click thumbnails for high-resolution 1920X1080p screen captures
More screen captures (12 total)

(Screen captures are lightly compressed with lossy JPEG and thus are meant as a general representation of the content and do not fully reveal the capabilities of the Blu-ray format)
The Series

Upon first inspection Discovery Channel's new series Time Warp seems to offer up a unique and intriguing premise for a show — exploring the physics of the world around us through the use of high-speed cameras. Once one begins to really watch each episode, however, one realizes that the series is actually quite similar to another of Discovery's productions, Myth Busters, only with a different twist.
With that being said, Time Warp is still a good series in its own right, with the added bonus of being somewhat educational. The series' hosts and cameramen Jeff Lieberman and Matt Kearney find places and people with all manner of unique and unusual talents to turn their high-speed cameras on, from a champion college pole-vaulter or an Old West-style sharp shooter to sexy fire breathers and a bull whip expert. Their cameras explore physics and motion and expose what our eyes normally wouldn't see.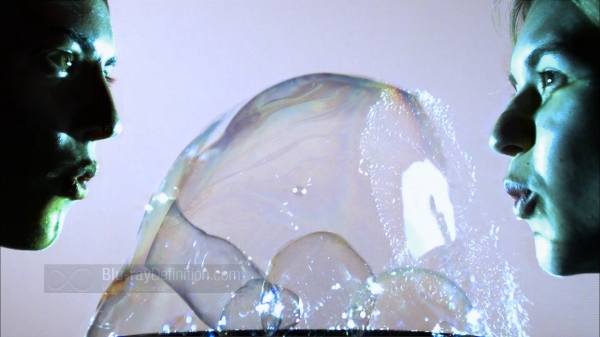 Sometimes they tend to lapse into silliness, like running canned hams through lawn mowers or running cigarette lighters through a blender, but on more than one occasion the images captured are sheer beauty, such as water droplets forming coronets or bubbles bursting.
The episode breakdown for Time Warp: Season 1 is as follows:
Disc 1:
Episode 1: Stone Breaking — In this episode they capture images of the reaction between diet soda and Mentos mints, the physics of people breaking bricks with their bare hands, and how dogs catch Frisbees.
Episode 2: Will it Blend? — Various items are run through a heavy duty blender, a professional juggler is filmed and the bar trick of breaking a beer bottle with one's bare hands is explored.
Episode 3: Dry Ice Bomb — This episode captures the imagery of grease fires, explosions from dry ice bottle bombs and bubbles.
Episode 4: Fuel Girls — Sexy fire breathers perform their stunts, urban skateboarders do their tricks and a world champion stone skipper's form is captured.
Episode 5: Tasers — A man being tasered is filmed, a champion  pole-vaulter is shown in motion and the effects of operating a jackhammer on the human body are all given the high-speed camera treatment.
Episode 6: Human Crash Test — This episode shows a manknow as the "Human crash test dummy" as the effects of a car crash on the automobiles and human body are captured. Junior Olympian archers are captured hitting apples, soda cans and water balloons with their arrows.
Episode 7: Samurai Sword Master — Samurai sword master's katana skills are on display in this episode along with a professional pool player's trick shots and the ever-classic high-speed photography subject the hummingbird.
Episode 8: Free Runner — Episode 8 examines the motion of free runners the physics of non-Newtonian liquids and water droplets.
Episode 10: Liquid Nitrogen  — This episode looks at quick-freezing items in liquid nitrogen and breaking them, like roses, gummy bears; new, ceramic-based bullet-resistant vests and fireworks.
Episode 11: Bull Whip — A bull whip artist breaking the sound barrier with his whips; the motion of wet dogs shaking water off their fur and the mechanics of the slap shot in hockey with wooden sticks vs. graphite composite sticks is what this episode is all about.
Episode 12: Paintball — Plate glass, tempered glass, glass covered with PET; paintball impacts; professional stunt bartenders; yo-yos.
Episode 13: Breakdancing — Breakdancers in motion and a table saw that stops when it comes into contact with a finger are the highlights of this episode that also includes ballistics and shooting items with a nail gun.
Episode 14: Trail Bikes — Observed Trials bikers show how they maneuver their bikes, a man turns playing cards into deadly weapon and an ice skater's motion is observed.
Disc 2:
Episode 15: Cheerleading — In Episode 15  an Olympic skeet shooter demonstrates the art of skeet shooting,  the Boston College cheerleaders show their moves as their bodies in motion are captured, and the physics of breaking baseball bats is explained.
Episode 16: Sharpshooter — An old west-style sharpshooter does some amazing stunt shots, frying foods, and three-bladed boomerang in flight.
Episode 17: Barefooter — A barefoot water skier; katana sword expert cuts through various foodstuffs, and drummer Michael Mangini s brought in to show the effects of the impact of the drumsticks on the various pieces of the drum set.
Episode 18: Stuntmen — Choreographed fights with stuntmen; rattlesnakes; bowling.
Episode 19: Body Modification — Using slow-motion images of tattoos, ear piercing, and body waxing, this episode explores the time it takes the pain to register from various points on the body. Additionally, there are segments on martial arts and tap dancing.
Episode 20: Traps — This episode shows one crazy performance artist who triggers animal traps with his own appendages plus Hollywood special effects explosions, fires, and more.
Episode 21: Lawn Tools  — Putting various items through a lawn mower and wood chipper; Cirque Du Soleil rehearsal.
Video Quality

Time Warp's subject matter lends itself to high definition quite nicely and this 1.78:1 1080i AVC/MPEG-4 encoding from Discovery Channel looks quite strong given the varied quality of the sources. The straight high definition footage looks the strongest with clear, detailed imagery and natural flesh tones. The high-speed footage, though of varying quality, manages more often than not to display a great amount of detail. There is also some upscaled standard definition footage used in a few scenes, but it is rare and does not detract from the quality of the rest of the series.
Audio Quality

Time Warp will not wow anyone with its DTS-HD Master Audio 5.1 (48kHz/16-bit) lossless mix, but what is provided is sufficient for the material at hand. Dialogue is clear and the series' discrete sound effects are often panned around through all channels during some of the "warp" segments, which helps to liven things up a bit. There's not much in the way of low frequency extension here, but it is not really missed.
Supplemental Materials

The sole supplement offered up on this release is the pilot episode for Time Warp, which is exclusive to this Blu-ray Disc release. It's nice to have an exclusive Blu-ray extra made available, but the set is sparse and one pilot episode is hardly a windfall of extra value.
The Definitive Word
Overall:

Time Warp is certainly a series with an interesting premise and it is filled with many awe inspiring images that make you say, "wow!" But, it can become very repetitive if not watched in small doses. Unfortunately, for the purposes of this review, I had to watch it all in one go, which I would not recomend. I'd would recommend this series to anyone who is interested in the way the world works and I hope this series stays around for a few more seasons on Discovery Channel.