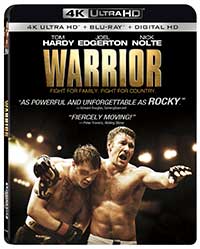 In the great cinematic tradition of films like Raging Bull and Rocky comes what is arguably the first outstanding drama focusing on the ever more popular sport of mixed martial arts, Warrior now heading to 4K Ultra HD Blu-ray for the first time from Lionsgate. There have been many direct-to-video MMA movies over the years, but none of them were memorable. This cinematic release was good enough to earn an Oscar nomination for Nick Nolte (Best Actor in a Supporting Role).
From director Gavin O'Connor (The Accountant, Pride and Glory), Warrior follows two estranged Pennsylvania brothers and mixed martial arts fighters, Tommy (Tom Hardy) and Brendan (Joel Edgerton) Conlon. When Tommy returns home to Pittsburgh from war in Middle East after years away to their alcoholic father Paddy (Nick Nolte), whom he hasn't seen in years, Paddy starts training him to enter an upcoming MMA tournament with a prize of $5 million. Meanwhile, older brother Brendan, now working in Philadelphia as a teacher and living with his wife Tess (Jennifer Morrison) and children is struggling to pay his mortgage and risks losing his house. While the three Conlon men cannot find a way to put aside the differences from their past that have kept them apart, Brendan decides to enter the MMA contents on his own — against the wishes of his wife – and train under an old buddy. It sets up an unlikely showdown and biter feud between the brothers that may finally force them to literally fight out their differences in the ring.
The last Gavin O'Connor film I had the pleasure of viewing was The Accountant and I thought it was probably overrated, a bit melodramatic at worst, if artfully captured at best. Warrior has a lot of heart and grit getting right to the crux of family dysfunction, feelings of hopelessness in a down economy, and all the little things we often let fester that keep us apart from another for years. The fighting in the movie is more symbolic of these larger issues — fighting one's personal demons, fighting against all odd, and fighting to get somewhere, anywhere but where you are.
Nick Nolte, as mentioned scored a well-earned Oscar nomination for his role as the grizzled absentee father trying to make up for his alcoholic and, as intimated, often violent past with his sons their deceased mother, but Hardy and Edgerton are not chump change in this film either. Hardy puts in a brilliant turn as the proverbial angry young man, or the troubled war veteran with a secret in his past and Edgerton's older brother with mixed feelings is so nuanced. It is Jennifer Morrison who is sadly underused in this testosterone-driven parable.
The Video
Warrior was shot on various Arri and Panavision cameras in the Super 35 (3-perf) format on 35 mm Kodak Vision3 500T 5219, Vision2 Expression 500T 5229, Vision2 500T 5260 and Fuji Reala 500D 8592 high-speed film stock. It's a gritty looking film with lots of sharp, crisp film grain and color palette that is often desaturatted in the outdoor scenes meant to capture that "steal town" working class environment. Grain haters may hate it, but the 4K Ultra HD Blu-ray encoded in HEVC 2160p (4K) with HDR10 high dynamic range pretty authentic to not only the original artistic intent, but to the various film formats utilized. The wider dynamic range of the HDR10 does help in this dark, gloomy looking film with shadow details and it brings more 'pop' to the boardwalk and fighting scenes set in Atlantic City in comparison to the Blu-ray. Colors also look more vivid during the fight sequences – that included the blood.
The Audio
This 4K Ultra HD Blu-ray of Warrior comes with an English Dolby Atmos mix that is mostly atmospheric and it is more effective in that regard compared to the Dolby TrueHD 7.1 mix available on the Blu-ray. More discrete overhead and surround sounds appear during the fight sequences in Atlantic City when some PA announcements using the so-called "voice of God" effect place them right over you with lots of arena reverberation.
The Supplements
We get a very strong selection of behind-the-scenes making of featurettes with this 4K Ultra HD Blu-ray release.
Digital HD UltraViolet
Blu-ray
Audio Commentary with Filmmakers and Joel Edgerton
Redemption: Bringing Warrior to Life (1.78:1; 1080p/24; 00:31:57)
Philosophy in Combat (1.78:1; 1080p/24; 00:21:07)
Brother vs. Brother: Anatomy of the Fight (1.78:1; 1080p/24; 00:11:55) – The pre-viz, storyboard, and pre-training with stunt doubles of the climactic brother vs. brother fight.
Simply Believe: A Tribute to Charles "Mask" Lewis, Jr. (1.78:1; 1080p/24; 000:13:58)
Cheap Shots: Gag Reel (1.78:1; 1080p/24; 00:03:59)
The Diner: Deleted Scene (with optional commentary) (2.40:1; 1080p/24; 00:03:02)
The Final Assessment
Gritty, engaging, and as riveting as any sort of fight film since the original Rocky – maybe even better – Warrior is one fans of this genre of films should definitely see. The 4K Ultra HD Blu-ray disc from Lionsgate will make a pleasing addition to growing UHD libraries.
Warrior is out on 4K Ultra HD Blu-ray from Lionsgate October 24, 2017.
[amazon_auto_links id="105563"]
PG-13 (for sequences of intense mixed martial arts fighting, some language and thematic)
Rating Certificate
Lionsgate | Mimran Schur Pictures | Solaris | Filmtribe
Studios & Distributors
Gavin O'Connor (screenplay & story) | Anthony Tambakis (screenplay) | Cliff Dorfman (screenplay & story)
Writer
$22.99
MSRP
HEVC (H.265) 2160p (4K) | AVC 1080p (Blu-ray)
Video
1000 Nits
Maximum Luminance
English Dolby Atmos
Primary Audio
English DD 2.0 Optimized for Late-Night Listening | English DTS-HD MA 7.1 and 5.1 (BD Only) | French DD 5.1
Secondary Audio
English | Spanish
Subtitles
HDR Effect (If Applicable)
Summary
Two estranged brothers square off for a coveted purse in a brutal MMA tournament in director Gavin O'Connor's Warrior, one of the first great MMA films and one of the best fighting films since Rocky.
What people say... Login to rate
Be the first to leave a review.
Show more