– –
The Series
[Rating:4/5]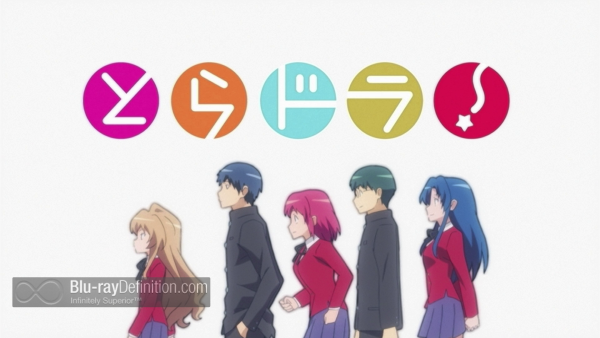 Toradora! (とらドラ!) is based on the Japanese light novel series by Takemiya Yuyuko, with illustrations by Yasu. A high school-based comedy/romance in the shōnen genre.
The story follows the male protagonist Takasu Ryūji as he enters his second year in high school. Because of the scowl he inherited from his late father, Ryūji has trouble making friends. People mistake him for a dangerous delinquent and he laments his inability to get a girlfriend, especially one girl in particular he's had a crush on for a full year, the perpetually good spirited Kushieda Minori. On his first day back at school, Ryūji is relieved to find that he's still in the same class with his best friend Kitamura Yūsaku, one of the only people who knows his true nature. He's also still in the same class with Minori, another plus. But also on his first day back, he has an unfortunate incident when he bumps into Minori's friend, the diminutive Aisaka Taiga. The fiery girl, known throughout the school as "The Palm-Top Tiger" both because of her name and because of her tendency to lose her temper, whacks him. Later in the day, after school, he runs into her again when she tries to take his schoolbag from him. It isn't until he's at home that he realizes why – she mistakenly put a love letter to his friend Kitamura in his bag. She shows up in the middle of the night with her wooden kitana to threaten him about it as well, but that's when he reveals to her that he also has crush – on Minori. A truce is called, and the two decide to work together to help win over each other's crushes. But it's a strange relationship between Ryūji and Taiga indeed. Ryūji becomes almost like a big brother or father figure to the lonely and helpless Taiga. She lives alone apart from her very dysfunctional family, can't cook, and his a sloppy housekeeper. Meanwhile, Ryūji loves to clean up and cook so Taiga becomes a regular fixture at the Takasu household, regularly dining with Ryūji and his single mother.
As their unlikely friendship grows, what Ryūji and Taiga do not realize is that the person each is really in love with is the one right next to them, meaning, each other. It's not a novel concept, but one that is rare to see in anime. The way the series' arc resolves itself is refreshing, given that Ryūji is surrounded by a number of girls, including an additional character added a little later on, Kawashima Ami, a model with a double-personality who's out to make Ryūji her boyfriend. Many anime series would turn this into a harem setup and leave Ryūji quite clueless as to most of the girls' feelings, and the girls somehow accepting of the fact that he 'likes' all of these different girls. Instead, Toradora! sets up a more reasonable romantic conflict, one where the person one thinks they desire and the one they've really loved all along may be two different people, and the ending is mature, conflicted, and not completely a happy one.
Unfortunately, although the series does develop the characters rather well, it's difficult to understand why Ryūji would be drawn to Taiga in the first place. Her personality changes the least of all the characters in the series. She's violent, bratty, self-centered, and insecure. She calls Ryūji 'her dog' and pretty much continues to do so for the entire length of the series. Why would anyone put up with this? While the Taiga archetype is not without precedent in anime (see Shana from Shakugan no Shana as one example), most of them eventually have their edges softened. Taiga pretty much remains the "Palm-Top Tiger", though perhaps the writers felt that some of the incidents involving her clumsiness and obvious loneliness were enough to garner sympathy.
Video Quality
[Rating:3/5]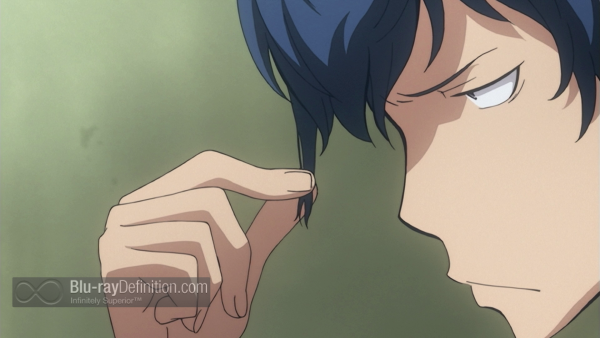 An obviously upscaled production, Toradora! arrives on Blu-ray in an AVC/MPEG-4 1080p/24 encodement from NIS America that show a lot of video noise, motion artifacts in the form of aliasing/stairstepping around line art, and looks a bit soft. The image actually looks better in the stills than it does in full motion, but that being said, it's not the worst up-scaled anime production to hit Blu-ray either.
Audio Quality
[Rating:4/5]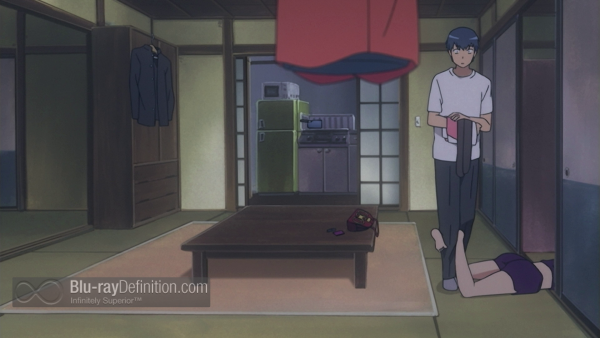 Toradora! comes to Blu-ray as one of the first release from NIS America to sport both the original Japanese-language soundtrack and an original English dub from the distributor. The English dub is provided with the option of partial or full English subtitles, or none, and the Japanese track gets full English subtitles. Both are provided in LPCM 2.0 (48kHz/16-bit) and they sound just fine. The English voice cast is actually pretty good with the material and the English script isn't too far off from the Japanese. That being said, I always give the nod to the original language, and here is no exception, but you won't be missing out with either.
Supplemental Materials
[Rating:3.5/5]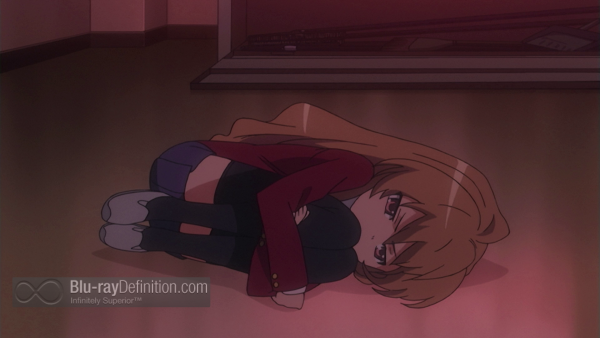 Art Book contains character designs and interviews with Nagai Tastuyuki (director) & Tanaka Masayochi (character design/animation supervisor) and Takemiya Yuyuko (original novel) & Okada Mari (series compositions).
Blu-ray Disc 1:
Toradora SOS! Hurray for Foodies:

#1 (1.78:1; 1080p/24; 00:05:04)
#2 (1.78:1; 1080p/24; 00:05:37)

Clean Opening (1080p/24; 00:01:31)
Clean Ending (1080p/24; 00:01:31)
Japanese TV Spots (1.78:1; 1080p/24; 00:06:39)
NISA Trailers
Blu-ray Disc 2:
Toradora SOS! Hurray for Foodies:

#4 (1.78:1; 1080p/24; 00:06:18)
#5 (1.78:1; 1080p/24; 00:05:03)

Clean Opening (1.78:1; 1080p/24; 00:01:31)
Clean Ending (1.78:1; 1080p/24; 00:01:45)
Ami's Impersonations (1.78:1; 1080p/24; 00:02:16)
NISA Trailers
The Definitive Word
Overall:
[Rating:3.5/5]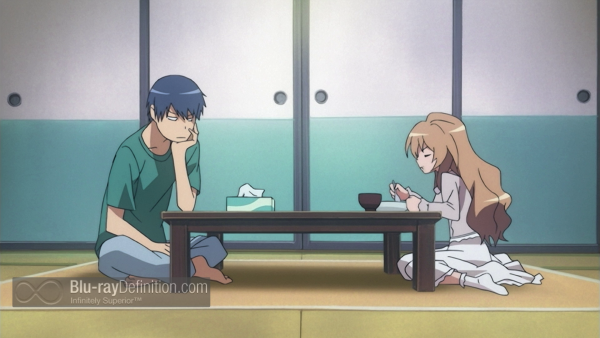 Toradora! Is a heartfelt series that avoids the cliché pitfalls of most series in this genre and provides an almost perfect story arc with engaging characters. The Complete Series Premium Edition from NIS America is a bit pricey, but worth it for collectors.
Additional Screen Captures
[amazon-product]B00LACZY08[/amazon-product]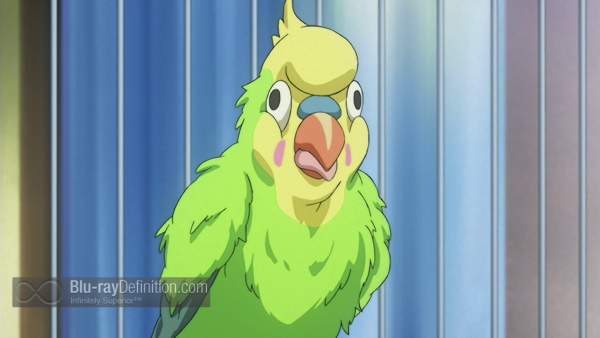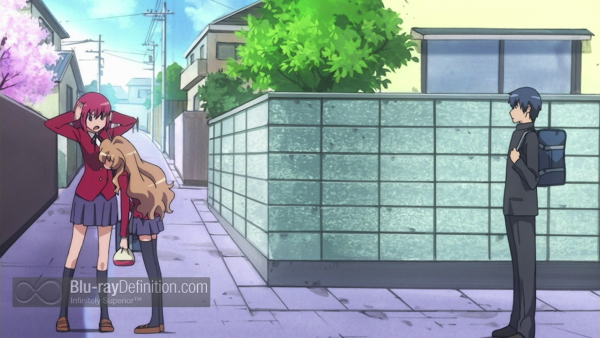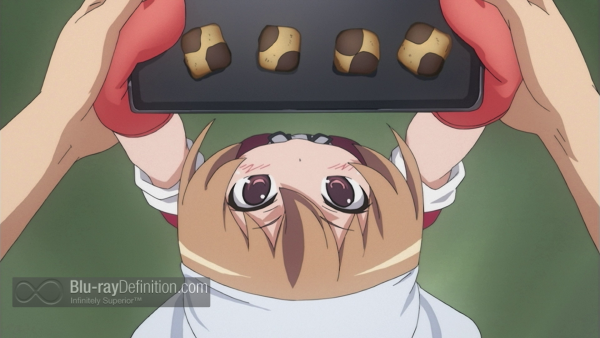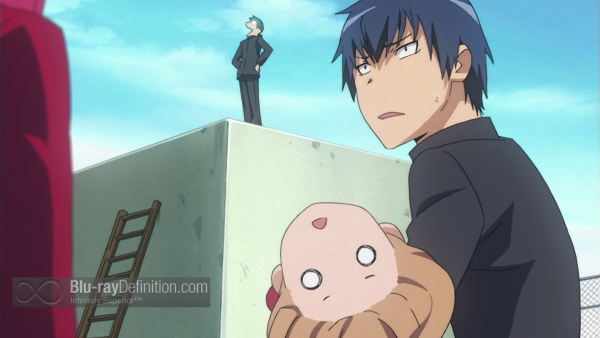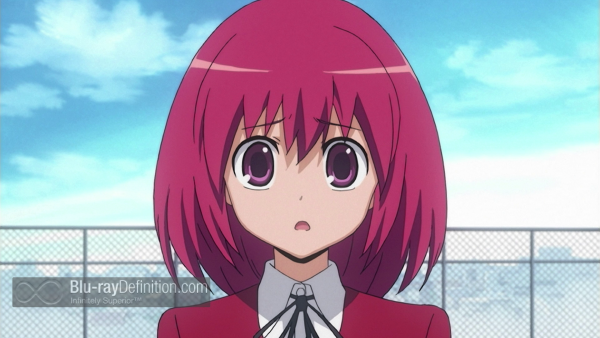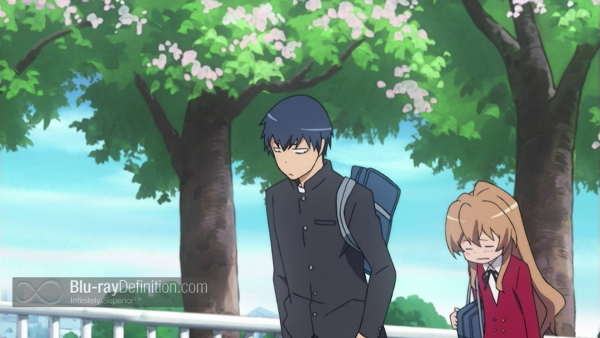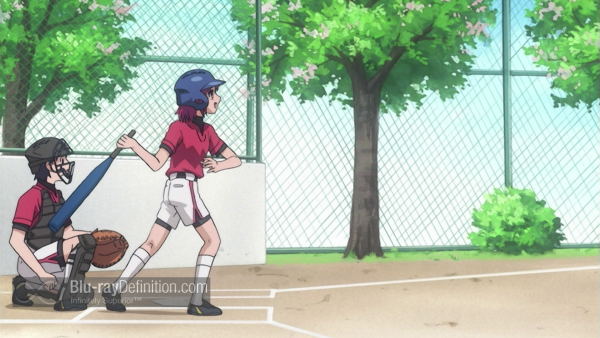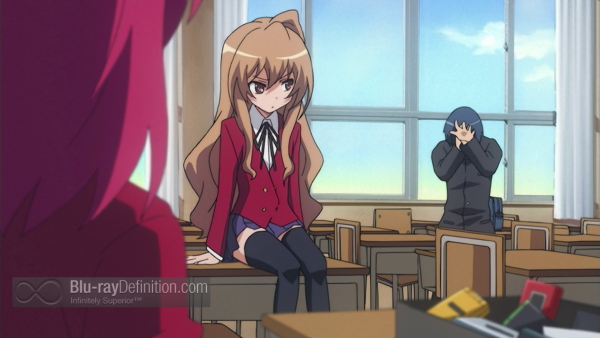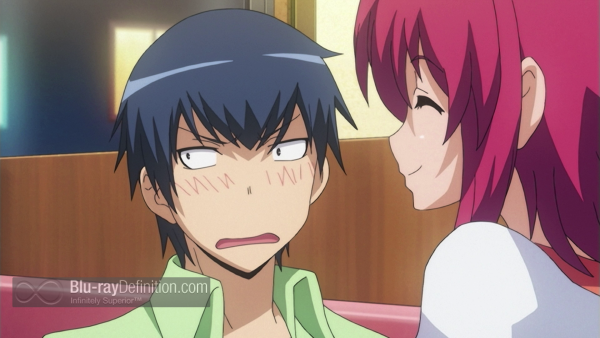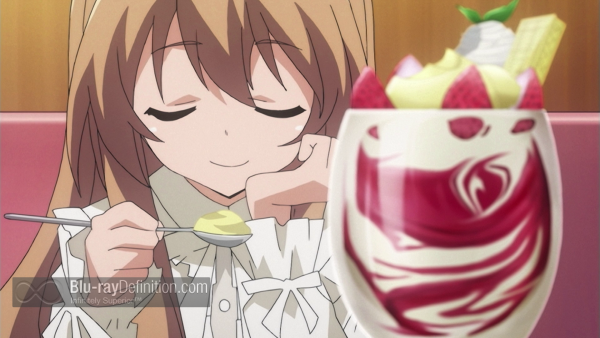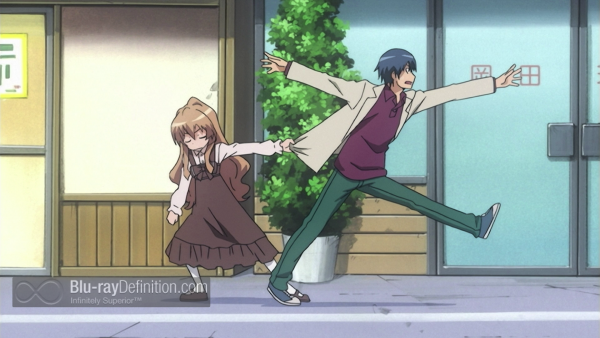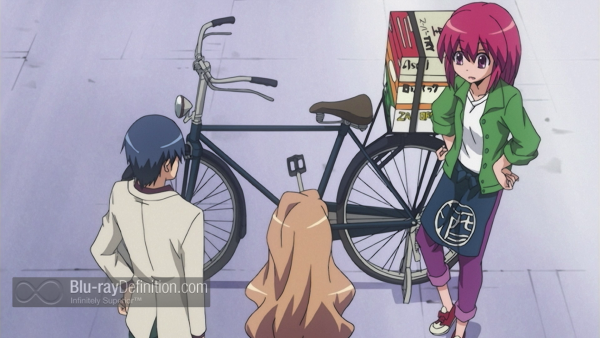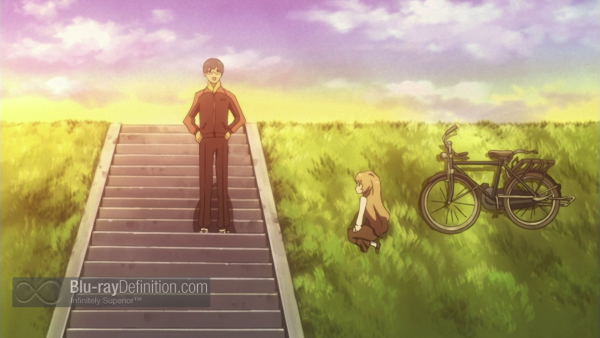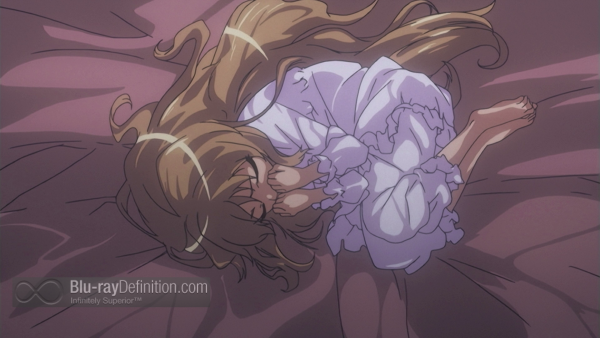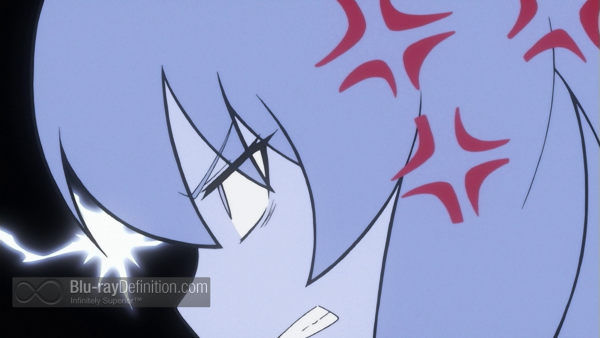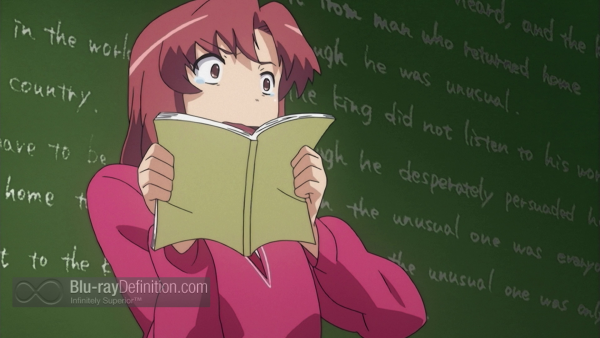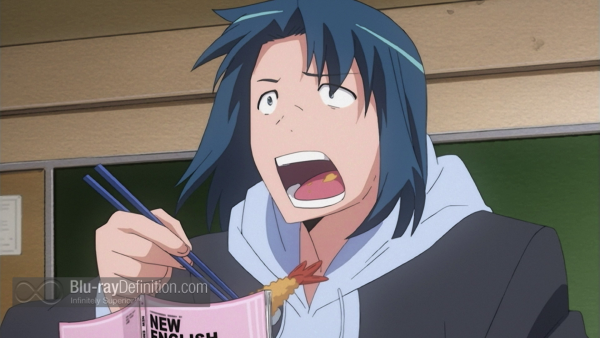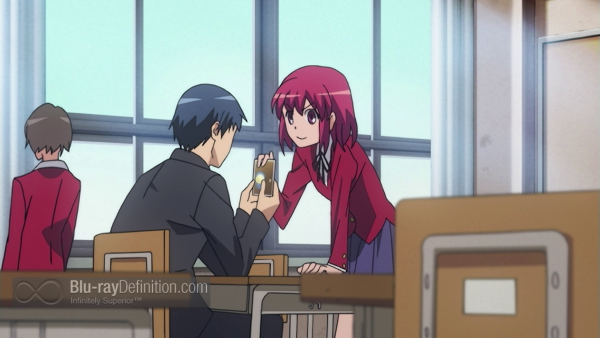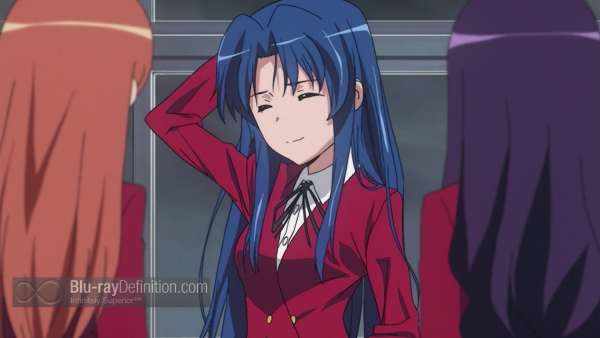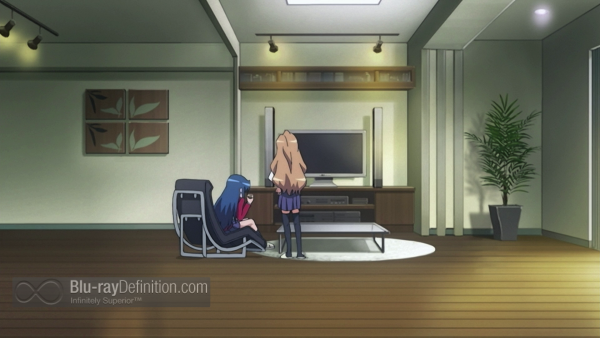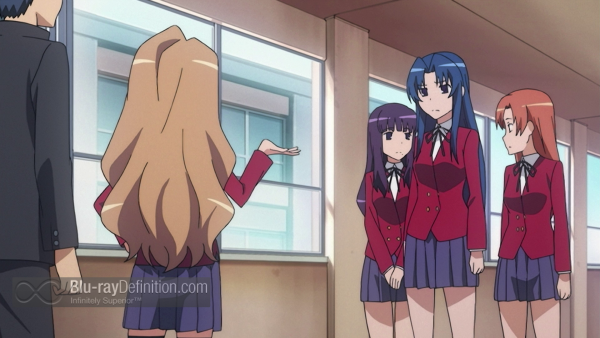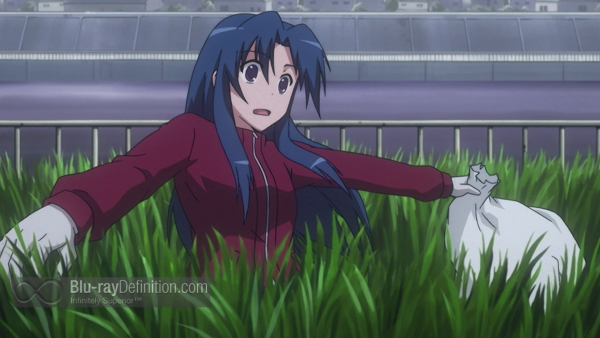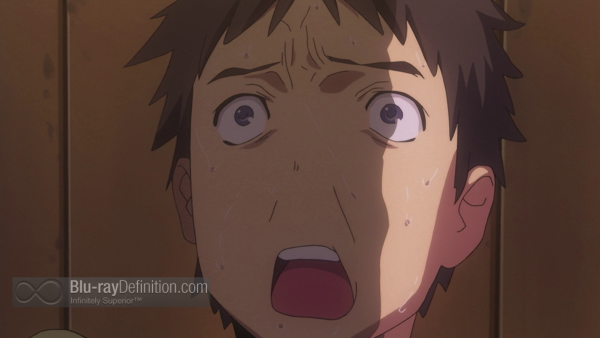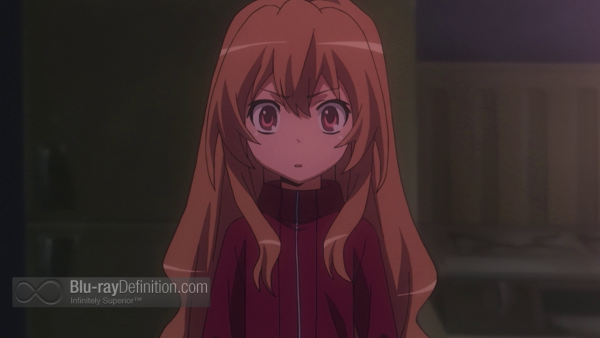 [amazon-product]B00LACZY08[/amazon-product]