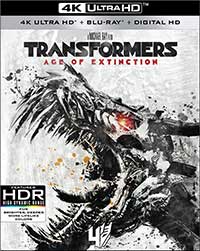 The Bay-Kruger team fires a dud with Transformers: Age of Extinction, the longest Transformers installment to date that feels even longer than its actual run-time.
It has been five years since downtown Chicago was destroyed during an epic Autobot-Decepticon showdown. A few Autobots have been granted sanctuary while the remaining Decepticons are on the run. Besides a new human cast, we get a bunch of new Transformers, including Hound (John Goodman), Drift (Ken Watanabe), Crosshairs (John DiMaggio), Lockdown (Mark Ryan), and Brains (Reno Wilson).
Arctic mining site supervisor (Glenn Keogh) shows KSI geologist Darcey Tirell (Sophia Myles) the frozen remains of a dinosaur, actually a Dinobot, covered in Transformium an element essential for Transformer drones. The scene abruptly shifts to the Yeager Farm in Paris, Texas. Overprotective widower Cade Yeager (Mark Wahlberg), a proprietor of a failing robotics company, is about to lose his house. His daughter Tessa (Nicola Peltz) nears high school graduation and will leave home forever. Family friend Lucas Flannery (T.J. Miller) brings back a rusting truck, bought at a sale, that turns out to be good old Optimus Prime (Peter Cullen).
CIA director (Charles Parnell) and veteran agent Harold Attinger (Kelsey Grammer) plan to eliminate all the Transformers, Autobots included, aided by Lockdown. When news of Optimus's sighting reaches Attinger, he dispatches a team led by James Savoy (Titus Welliver) to Texas. The agent team arrests the Yeagers but Irishman Shane Dyson (Jack Reynor), Tessa's boyfriend and rally-car driver, spirits everyone away; unfortunately, during the chase, Lucas gets incinerated. Now fully restored and looking good, Optimus begins to rally his remaining forces no longer allied with the humans.
KSI director Joshua Joyce (Stanley Tucci) conspires with Attinger to melt down the remaining Transformers to make drones, resurrect Galvatron, and use the "Seed"  a device that contains Transformium, to "improve" humanity. Yeager infiltrates the company lab and discovers an overarching plan at work: Galvatron will use the KSI drones and the Seed to gain control of Earth. Cade informs Joyce who then agrees to turn over the Seed and moves his manufacturing to Sue Yueming's (Li Bingbing) Chinese factory. There is the now much-anticipated fight to the death between the evil robots Megatron, Lockdown, Galvatron and the good Optimus. The outcome might be in doubt, but there is every sign that another Transformers installment waits in the wings.
In spite of improvements in sights and sounds, the lame script allows few opportunities for a good cast to get this film off the ground. The fireworks display at the end credits are a welcome sign that this one is finally over.
The Video
The 35 mm source for Transformers: Age of Extinction was captured by Arri Alexa cameras and Panavision lenses that received its HEVC 2160p (4K) HDR10 encodement from the 2K digital intermediate (DI). This is the best-looking 4K Ultra HD picture in the series to date with sensational colors and details. The Blu-ray is also first-rate, not surprising considering the 2K provenance of the original source. CGI effects are also as good as it gets.
The Audio
Another Dolby Atmos soundtrack (defaults to a Dolby TrueHD 7.1) gives any object-oriented system a workout and uses this audio medium very effectively.
The Supplements
There are three discs and Digital HD UltraViolet.
Disc One: 4K Ultra HD
Disc Two: Blu-ray
Disc Three: Special Features
Bay on Action (10:45) (English Dolby Digital 5.1): Director Bay describes the creative process of his action scenes in the film
Evolution with Extinction (2:02:50) (English Dolby Digital 5.1). A feature-length seven episode in-depth examination of the making of this film.
Just Another Giant Effin' Movie (10:03) (English Dolby Digital 5.1). A faster-than-speed-of light collection of location shots.
A Spark of Design (15:24) (English Dolby Digital 5.1). A visit to the Hasbro Transformer factory.
J. Miller: Farm Hippie (19:43) (English Dolby Digital 5.1). Actor Miller does a comedic visit to Mark Walberg's secluded farm.
Trailers
The Final Assessment
From the standpoint of viewer interest, the supplements readily surpass the film content on Transformers: Age of Extinction and are probably the only reason to give this one a tumble. Transformers: The Last Knight may breathe life into a tired formulaic film franchise when it gets its inevitable 4K Ultra HD disc release, but I would not hold my breath.
Transformers: Age of Extinction is out now on 4K Ultra HD Combo Pack from Paramount.
[amazon_auto_links id="106919"]
PG-13 (intense sci-fi violence, destruction, language, brief inuendo)
Rating Certificate
Paramount Pictures | Hasbro | Di Bonaventura Pictures
Studios & Distributors
HEVC (H.265) 2160p (4K) | AVC 1080p (Blu-ray)
Video
1000 Nits
Maximum Luminance
0.001 Nits
Minimum Luminance
English Dolby Atmos ( Compatible with Dolby TrueHD 7.1)
Primary Audio
English Dolby TrueHD (Blu-ray) | English Dolby Digita DD 5.1 | English DD 2.0 | French/Spanish/Portuguese DD 5.1
Secondary Audio
English | English SDH | Spanish | French | Portuguese
Subtitles
HDR Effect (If Applicable)
Summary
Autobots try to elude a bounty hunter whilst turning to a mechanic (Mark Whalberg making his debut as the lead in the franchise) and his girlfriend (Nicola Peltz) for help in this faltering fourth installment in this franchise that has a tired plot, lackluster script and a new cast that can do little with which it is given. The 4K Ultra HD release is magnificent, despite the unimpressive quality of the film itself.
What people say... Login to rate
Be the first to leave a review.
Show more