Aspect Ratio: 2.35:1/1.78:1

Video Codec: Tron Legacy: AVC/MPEG-4 (2D) MVC (3D); Tron: AVC/MPEG-4

Resolution: 1080p/24

Audio Codec:

Tron Legacy (3D)

English DTS-HD Master Audio 7.1, English Dolby Digital 2.0, English Descriptive Video Services Dolby Digital 2.0, French, Portuguese, Spanish, and Thai Dolby Digital 5.1;

Tron: Legacy (2D)

English DTS-HD Master Audio 7.1, English Dolby Digital 2.0, English Descriptive Video Services Dolby 2.0, French and Spanish Dolby Digital 5.1;

Tron:

English DTS-HD Master Audio 5.1, French, Portuguese, and Spanish Dolby Digital 5.1

Subtitles:

Tron Legacy (3D)

English SDH, Bahasa, Chinese, French, Malay, Portuguese, Spanish, Thai;

Tron Legacy (2D)

English SDH, French, Spanish

Region: ABC (Region-Free)

Rating: PG

Discs: 5 (1 x Blu-ray 3D, 2 x Blu-ray, 1 x DVD, 1 x Digital Copy)
Studio: Walt Disney Studios Home Entertainment

Blu-ray Release Date: April 5, 2011

List Price: $79.99
[amazon-product align="right"]B004K4N64E[/amazon-product]
Purchase Tron Legacy/Tron on 5-Disc Blu-ray 3D Combo Pack at CD Universe
Also available:
Shop for more Blu-ray titles at Amazon.com
Overall
[Rating:4.5/5]
The Film(s)
Tron: The Original Classic:
[Rating:4/5]
Tron: Legacy:
[Rating:3.5/5]
Video Quality
Tron: The Original Classic:
[Rating:4.5/5]
Tron: Legacy:
HD: [Rating:4.5/5]
3D Effect: [Rating:3.5/5]
Audio Quality
Tron: The Original Classic:
[Rating:4.5/5]
Tron: Legacy:
[Rating:4.5/5]
Supplemental Materials
[Rating:4.5/5]
Click thumbnails for high-resolution 1920X1080p screen captures
(Screen captures are lightly compressed with lossy JPEG  thus are meant as a general representation of the content and do not fully reveal the capabilities of the Blu-ray format)
The Film(s)
Tron: The Original Classic
[Rating:4/5]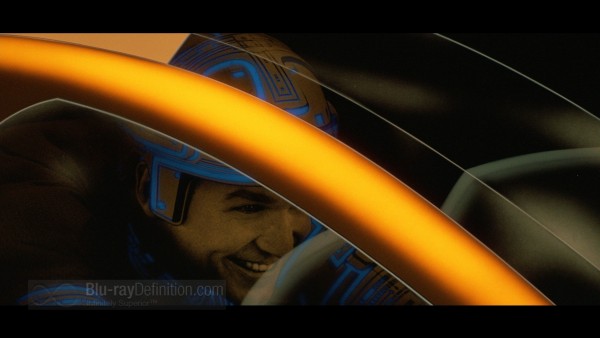 First off, let me give my thanks to Disney for providing the reviewers with the big fat 2-Movie Collection 5-Disc Combo Pack of Tron:Legacy/Tron: The Original Classic. This set is loaded with everything a geek could want from a Tron release, the 3D disc, the 2D Blu-ray, a DVD and Digital Copy of Legacy, and the Blu-ray of the original Tron.
First up for me was refreshing my memory with the classic film, which I hadn't seen in its entirety for many, many years, probably not since the VHS era. I've seen bits and pieces of it over the years, but nothing beats sitting down and watching a film from start to finish. I was ten when Tron first hit theatres. I was hardly a nerd, but I did have the privilege of attending a pretty good private school for a for a couple of years already where I had been taking "computer lab" on Apple II and Apple Iie computers, so a lot of the tech speak in Tron was familiar to me, although a lot of it was still over my head. The beauty of Tron, however, was that, if you were a gamer, and what kid wasn't in 1982, you definitely understood at least the aesthetic and the adventure.
The story is deceptively simple, a computer programmer, Kevin Flynn (Jeff Bridges) is trying to hack into the supercomputer of his former employers, the software giant ENCOM to prove that its CEO stole their biggest selling video game from him. When he breaks into their offices one evening to get direct access to their mainframe, he is attacked by the system's all-knowing Master Control Program (David Warner), which uses a new laser the company has been working on, to turn him into computer bits and trap him in the computer. There, he meets his friend Alan's (Bruce Boxleitner) program Tron (also Boxleinter) and together with a beautiful program named Yori (Cindy Morgan) the three take on the Master Control Program, his slave program Sark (also Warner) to bring down the repressive regime and save the world of "the grid" where unwilling programs who believe in the users (the people outside the computers who use the computers) are treated as religious zealots and made to play deadly games.
To this day, nothing looks like the original Tron, even with its rudimentary visual effects, which were very groundbreaking and cutting edge back in the day. If you put on the film, you know immediately what you are watching. Day-glo imagery matched to computer age existentialism make Tron a classic sci-fi film whose themes are only now fully coming to their fruition, as ridiculous as the film seemed then and as silly as it still seems today.
Tron: Legacy:
[Rating:3.5/5]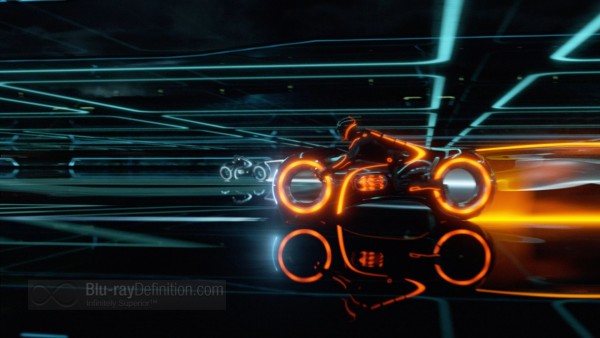 Bringing Steven Lisberger, the director of the original film on to produce Tron: Legacy was probably a good move. It was probably also a good thing that this film was so far removed from the original. They've managed to preserve the recognizable visual aspects of the original Tron as well as some of its themes, but played down the extreme technalogical aspects of the original script, which is rather ironic considering how much more computres and electronic devices have inflitrated our lives nearly 30-years after the original film was released.
Legacy definitely looks like the elaborate, involved, first-person video games we are used to from gaming consoles and PCs today, and, my, oh, my, how far visual effects have come. They can even make Jeff Bridges look like he's still in the 1980's. What's lacking from Legacy, however, is an originality in its appearance. It looks absolutely beautiful, but were it not for the light-cycles and day-glo outfits, we wouldn't know it was Tron, it could be just about any film. Maybe we;ve had too many years of leaps and bounds of technology and so many amazing visual spectacles on the screen that it is nearly impossible to be wholly original anymore.
Still, there is much more to wonder at when watching Legacy. The space looks cavernous and atmospheric, there are more signs of activity, much more texture and realism – never mind questions about how the world developed so spectacularly on late-80's hardware cut off from the internet no less, which lead me to the story.
It's many years after the ending of Tron. The filmmakers do a good job of cluing viewers in on what has happened in the intervening years, so even if you haven't seen the original, you won't be too lost, and I'd rather not say to spoil anything. Kevin Flynn (Jeff Bridges) has disappeared leaving his son Sam (Garrett Hedlund) as the largest stockholder of his software company ENCOM. When Kevin's old friend Alan (Bruce Boxleitner, reprising his role) receives a mysterious page from Kevin's old telephone number at his long shutdown arcade, Sam goes to his father's old office there to investigate. Soon he realizes that his father figured out a way to back onto the grid, but he accidentally activates the laser program that zaps him into the virtual world where his father has been trapped for decades.
A renegade program created by Kevin named Clu (also Bridges) has taken over the Grid and is destroying all programs he deems imperfect so that he can create the perfect world, a directive he was given by Kevin Flynn. He has also been responsible for the genocide of isomorphic virtual organisms – spontaneously formed lifeforms sprung from the grid.
Sam is forced to game to the death, but is broken out by a program named Quorra (Olivia Wilde) who leads him to his real father. Together, the three of them must fight Clu's forces to save grid and stop Clu's plan to take himself and his army from the virtual world into the real one.
Tron: Legacy may be the perfect sequel to its predecessor; it serves up a thrilling ride with a ludicrous amount of eye-candy and makes you forget about all of its silly plot holes for 2-hours.
Video Quality
Tron: The Original Classic
[Rating:4.5/5]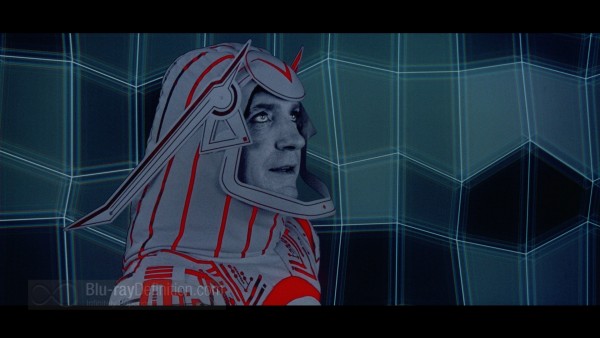 Disney has proven time and again that they know how to bring films to Blu-ray, with hardly any misses in their repertoire. Tron is no exception; when one watches this 2.35:1 AVC/MPEG-4 1080p transfer it is nearly impossible to believe this film is from 1982, yet it still looks film-like and detailed. There's hardly any evidence of source damage, grain structure is fine, detail is sharp, blacks inky, and flesh tones natural.
Tron: Legacy
HD: [Rating:4.5/5]
3D Effect: [Rating:3.5/5]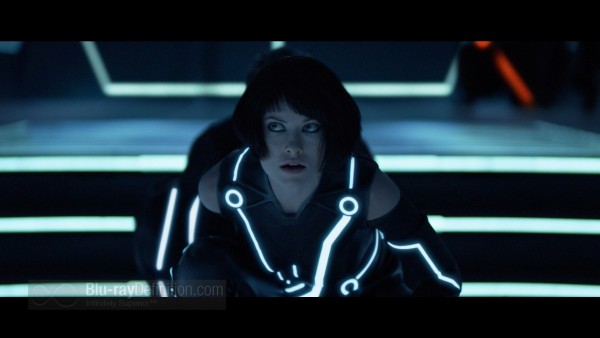 Legacy also arrives with an AVC/MPEG-4 encodement from Disney, but its aspect ratio varies between 2.35:1 and 1.78:1 depending on the scenes. Oddly enough, the 2D release has more shifts in aspect ratio than does the 3D disc, which sticks to 1.78:1 straight through the "grid" sequences. On the 2D disc, this is not the case.
Anyway, the 3D presentation of Legacy is average at best. In the actual 3D scenes (some scenes, such as the beginning and ending of the film are straight 2D) depth is slight, and there is no pop-out to speak of. I will say this, that the crosstalk/ghosting in Legacy was extremely minimal, probably the slightest I have seen to date. If that has something to do with the lack of 3D aggressiveness, I couldn't say. The film's bright colors, day-glo outfits and lens flare still play well in 3D.
The 2D presentation is strong, with great color reproduction and good detail, but it does show some softness in a lot of spots and I noticed quite a bit of video noise that distracted from the otherwise pristine looking world of Legacy.
Audio Quality
Tron: The Original Classic
[Rating:4.5/5]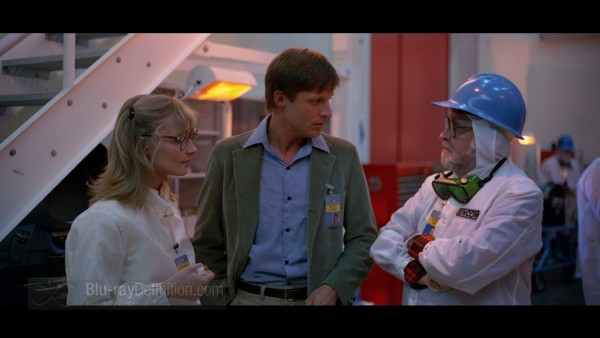 I wasn't expecting much from this old film, but Disney went the extra mile and offered up a pretty aggressive 5.1 lossless mix for Tron rather than just going for a reprocessed soundtrack. The surrounds are filled with discrete sounds from music to sound effects and the front channels are used pretty aggressively as well to follow action across the screen The low frequency extension is pretty deep and resounding.
For those looking for a more authentic sound experience, Disney was also thoughtful enough to provide a Dolby Digital 2.0 mix.
Tron Legacy
[Rating:4.5/5]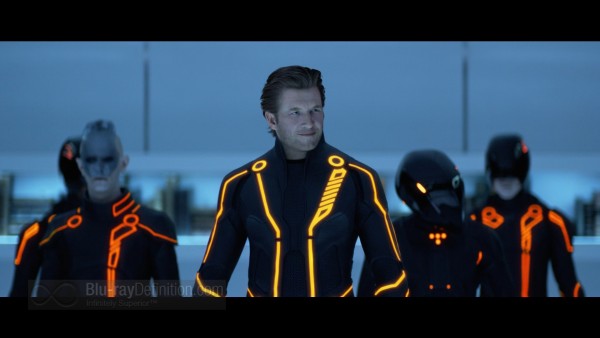 With a 7.1 DTS-HD Master Audio lossless mix I was expecting something pretty involving and aggressive, and this mix is. You get pretty much what you'd expect for a film like this, a constant barrage of sound effects, hefty low frequencies, lots of ambience and atmospherics, and sounds from all over the room. The high frequencies sound just right and dynamic range is extremely wide. I was a little disappointed that the back channels weren't used more discretely and there were just a couple of moments where dialogue dipped just a little too low for all of the sound effects.
Supplemental Materials
[Rating:4.5/5]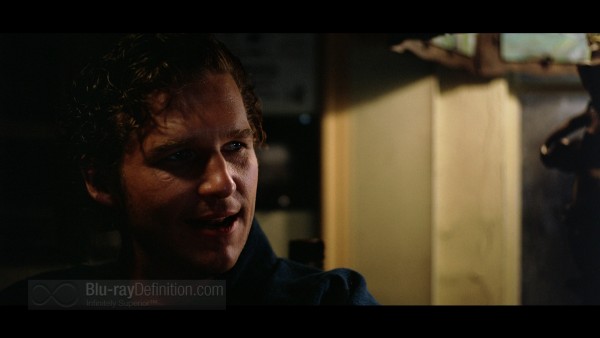 This set is loaded with extras, including support for Disney's Second Screen app on the 2D Blu-ray of Legacy and a cool audio commentary on the original movie Blu-ray.
The supplements provided with this release are:
Tron Legacy (3D):
Sneak Peeks:

Pirates of the Caribbean: On Stranger Tides (3D)
Cars 2 (3D)
Tron Legacy (2D):
The Next Day: Flynn Lives Revealed (1.78:1; 1080p/24)
Play Movie with Disney Second Screen
First Look at Tron: Uprising, the Disney XD Animated Series (1.78:1; 1080p/24; 0:01.15)
Launching the Legacy (1.78:1; 1080p/24; 0:10.20) – The filmmakers and Jeff Bridges discuss convincing Disney to finance the sequel. The featurette also features the Tron Legacy presentation trailer, which played at Comic-Con.
Visualizing Tron (1.78:1; 1080p/24; 0:11.46) – The visual effects of Tron Legacy in comparison to the original film.
Installing the Cast (1.78:1; 1080p/24; 0:12.04) – The actors discuss their roles in the new film.
Disc Roars (1.78:1; 1080p/24; 0:03.00) – The filmmakers and Skywalker Sound use the crowd at Comic Con 2010 to record chants that would later appear in the film, Tron Legacy.
Music Video "Derezzed" by Daft Punk (1.78:1; 1080p/24; Dolby Digital 5.1)
Discover Blu-ray 3D with Timon & Pumbaa
Tron: The Original Classic:
The Tron Phenomenon (1.78:1; 1080p/24; 0:09.45)
Photo Tronology (1.78:1; 1080p/24; 0:16.37) – Steven Lisberger and his son Karl travel to the Disney archives to view the production stills of the original film.
Audio Commentary – With director Steven Lisberger, producer Donald Kushner, associate producer and visual effects supervisor Harrison Ellenshaw, and visual effects supervisor Richard Taylor
Original DVD Features:

Development
Digital Imagery
The Making of Tron
Music
Publicity
Deleted Scenes
Design
Storyboarding

Galleries
DVD — Standard DVD of Tron: Legacy
Digital Copy — Digital Copy of Tron: Legacy
The Definitive Word
Overall:
[Rating:4.5/5]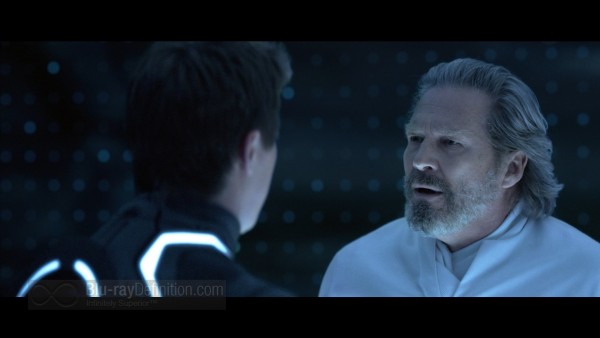 This set from Disney may be the ultimate sci-fi dream, at least until Star Wars hits store shelves. If you want satiate your inner geek and show off your home theatre system, then get it.
Additional Screen Captures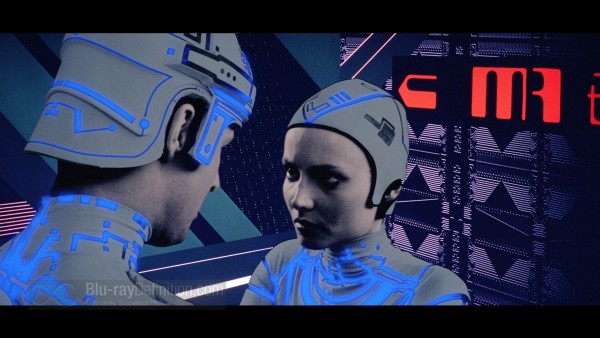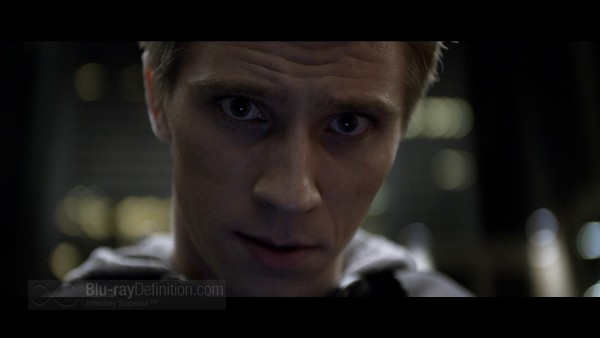 –
[amazon-product align="right"]B004K4N64E[/amazon-product]
Purchase Tron Legacy/Tron on 5-Disc Blu-ray 3D Combo Pack at CD Universe
Also available:
Shop for more Blu-ray titles at Amazon.com
Overall
[Rating:4.5/5]
The Film(s)
Tron: The Original Classic:
[Rating:4/5]
Tron: Legacy:
[Rating:3.5/5]
Video Quality
Tron: The Original Classic:
[Rating:4.5/5]
Tron: Legacy:
HD: [Rating:4/5]
3D Effect: [Rating:3.5/5]
Audio Quality
Tron: The Original Classic:
[Rating:4.5/5]
Tron: Legacy:
[Rating:4.5/5]
Supplemental Materials
[Rating:4.5/5]