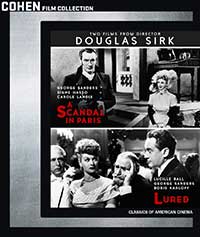 Cohen Film Collection releases this double feature on two Blu-ray Discs, Two Films by Douglas Sirk, featuring two minor '40s films by the iconic filmmaker whose reputation has grown through the years after his retirment in 1959, starting with the fondness for his work by the members of Nouvelle vague.
A Scandal in Paris is a display of Sirk's German roots (Hans Detlef Sierck fled the Nazi regime to reunite with his banished Jewish wife in Italy before eventually making his way to the United States) with its many instances of German expressionist cinematography, mostly thanks to the uncredited Eugen Schüfftan who shoots high angles, high contrast, angular shots, with lots geometric patterns in the set designs. The story is based on the memoirs of François-Eugène Vidocq, the Napoleonic era Parisian chief of Police who rose from being a criminal to the highest crime fighting position. The character is portrayed by George Sanders who would go on to work with Sirk in the companion feature offered here, Lured. Vidocq's plans to rob a bank while pretending to be the forthright chief of police become complicated by his romantic entanglements with two women and a shocking crime perpetrated by his predecessor whose life he ruined. Though not a perfect film by any means, there is much to enjoy in this film, from the stunning visual elements, to Sanders' cool as a cucumber portrayal of the rapscallion Vidocq. Sirk does fall flat in the directing the film's one action set piece, a scene that takes place on a carousel, and it is one that cries out for the more adept vision of an Alfred Hitchcock, but the one scene where Sirk's more familiar melodrama peeks through, a stunning murder sequence, is the highlight of the film both for its dramatic tension and visual symbolism.
A year later, Sirk would once again direct George Sanders in Lured, a who done it film noir thriller that also starred Lucille Ball in the less familiar role as a dance hall girl turned undercover detective. A more straight, pulp film with the familiar visual aesthetic of the noir genre than the inventive expressionism of A Scandal in Paris, Lured follows Sandra Carpenter (Ball) through a seedy world of men with dubious scruples and moral fiber as she tries to lure out the man who murdered her roommate after she responded to an ad in the personal columns. Love interest turned prime suspect Robert Fleming (Sanders) could be the key to solving the case, but nothing and no one is truly what they seem to be in this twisting mystery. Sanders puts on a fine performance, but it is Ball who is surprisingly adept at handling the glamour, romance, and the wit she would eventually become most noted for. Boris Karloff also appears in a typically bone chilling role as a deranged fashion designer.
The Video
We get two fine transfers of these 1940s black and white vintage pieces, both framed in their original 1.37:1 framings and encoded in AVC at 1080p. The transfers for both films are generally strong, especially taking into account their mid-1940s vintages. The grain structure looks natural and is not overwhelming; we get lots of fine detail and only occasional film softness in some of the background and midrange shots. The image is generally clean and crisp with excellent contrast, but Lured does have a lot more frames where tramlines and scratches are more apparent, giving the edge to A Scandal in Paris for overall picture quality. The rating given is for an average of the two.
The Audio
Each film is given a LPCM 2.0 track of its monaural mix. They both sound alike, with little dynamic range but clear enough dialogue and score, but A Scandal in Paris sounds a little better, although it has a slightly higher level of hiss. Some louder pops can be heard in spots on the soundtrack of Lured, and that is the difference. The rating given is for an average of the two.
The Supplements
Each film, provided on its own disc in this set, is provided with an audio commentary and the 2016 re-release trailer. The audio commentary by Wade Major for A Scandal in Paris is more conversational where Jeremy Arnold's commentary is more like an essay, but both provide a lot of insight into Sirk, their cinematographers, and the films' production and casts. There is also a thin booklet with credits and stills.
A Scandal in Paris

Audio Commentary by Film Critic Wade Major
2016 Re-Release Trailer (1.37:1; 1080p/24; 00:00:58)

Lured

Audio Commentary by Film Historian Jeremy Arnold
2016 Re-Release Trailer (1.37:1; 1080p/24; 00:01:11)
The Final Assessment
For those cinephiles looking for some Douglas Sirk films outside of the big melodramas like Imitation of Life that he would eventually become most known for, these two films together are a good starting place to see just what sort of command and range the director had. While neither film is perfect, they are both gems in their own right, and they look fantastic in this release from Cohen Film Collection.
Two Films by Douglas Sirk (TheaterByte Blu-ray Review)
Cohen Media Group
Studios & Distributors
Leo Rosten, Jacques Companéez (from a story by), Ernst Neubach (from a story by), Simon Gantillon (from a story by) (Lured) | François-Eugène Vidocq (memoirs) (A Scandal in Paris)
Writer
99 Mins. (A Scandal in Paris) | 103 Mins. (Lured)
Run Time
$55.99
MSRP
English LPCM 2.0 Mono (48kHz/24-bit)
Audio
Summary
These two minor Sirk films from the '40s show many flashes of brilliance and also include excellent performances by George Sanders and Lucille Ball in a rare dramatic role.
What people say... Login to rate
Be the first to leave a review.
Show more