– –
The Series
[Rating:3/5]
Upotte!! (うぽって!!), based on a manga series by Tennouji Kitsune, is an ONA (Original Net Animation) that mixes comedy and action in a fresh take on the high school genre. A series with a naughty sesne of humor that gun fetishists can love, it follows the students of all-girl school Seishou Academy who welcome a new teacher into their midst. Only, this is not a normal school, at this school, these students all carry firearms and are ready to shoot at a moment's notice. Well, actually, not only do they carry firearms, they are the firearms. They are the anthropomorphized versions of the weapons themselves, able to pull out the weapon they are based on at a moment's notice from nowhere. They also suffer the physical problems of the weapon they are. The school is divided into three parts, the elementary school (sub-machine guns), middle-school (assault rifles), and high school (battle rifles/sniper rifles). The main protagonist is Funco, a middle-school student who is a Belgian FN FNC who has been named Efenseee. She has a crush on the new teacher, who spotted her in a thong on his first day at school, and she has a tendency to overreact and shoot him whenever he embarrasses her. Thankfully, because they are all guns, humans can't be killed by them and they can't kill each other, they can only kill or be killed if they are used by humans to kill.
This series is odd, to say the least, and while the comedic air is often enjoyable, the overused gags of shooting people becomes monotonous and tedious at best. It is best when it is using sexual metaphors to describe the guns/girls and some of the issues they face. For those who are not gun nuts, it might become a little to technical at times as well with all the details about each specific weapon, the variations, and mechanical issues, and nationality of each gun. Uppotte!! also decides to take an odd turn toward the end of the series and after 10 episodes of violent gun battles and gun worship, preach about the dangers of using weapons and how they kill. It feels strange.
Video Quality
[Rating:4.5/5]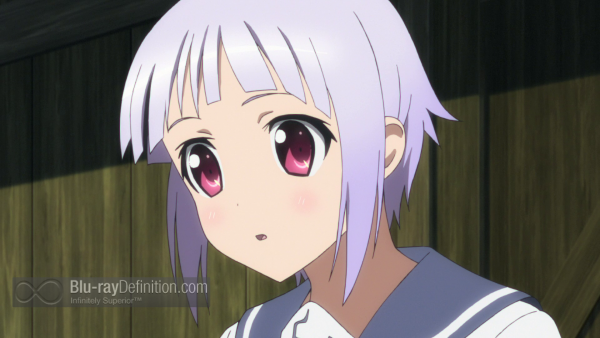 Upotte!! looks good overall and free from issues that normally crop up in most anime releases, meaning we don't get any color banding or aliasing, and softness isn't much of an issue. The color palette is full of softer primaries and pastels, so the series doesn't necessarily pop, but it looks good nevertheless. The series arrives on Blu-ray in a 1080p AVC encodement.
Audio Quality
[Rating:4/5]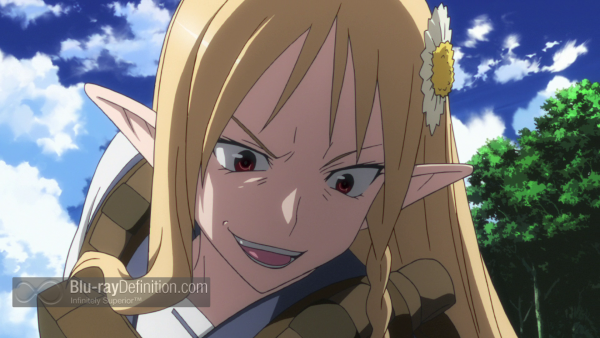 The original Japanese-language track and English dub are provided in DTS-HD Master Audio 2.0 stereo mixes. The sound is clean, full and natural, with an airy and reserved high end. This is a good thing, because with the constant gunfire this series includes, it could easily have become fatiguing if it were too tweaked. The Japanese voice cast sounds more believable in their roles here, but the English dub is one of the more tolerable ones.
Supplemental Materials
[Rating:2/5]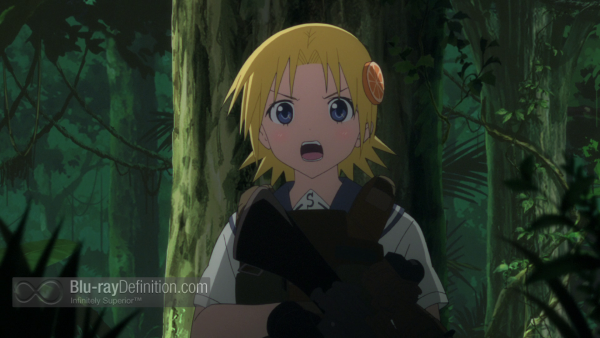 OVA
Clean Opening Animation
Clean Closing Animation
Disc Credits
The Definitive Word
Overall:
[Rating:3.5/5]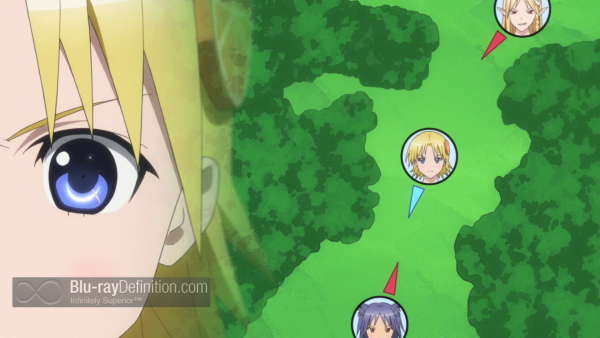 About the best that can be said about Upotte!! is it is definitely different. If you like cute girls and guns, then this series might appeal to you, but it is definitely not strong on logic. The OVA may be the strongest episode included, but it also looks slightly different from the ONA's.
Additional Screen Captures
[amazon-product]B00GY3S586[/amazon-product]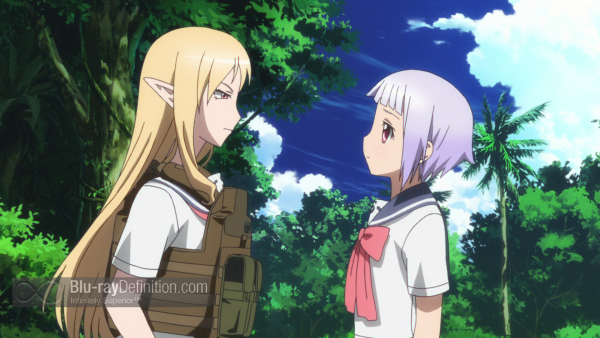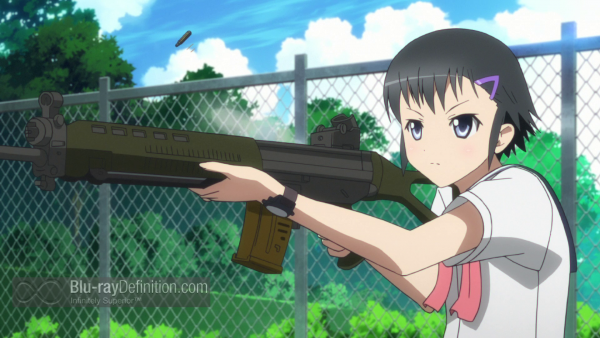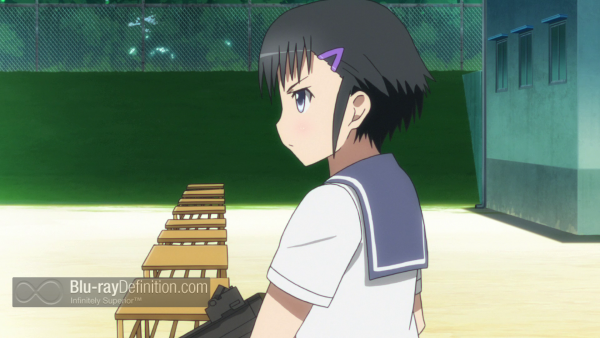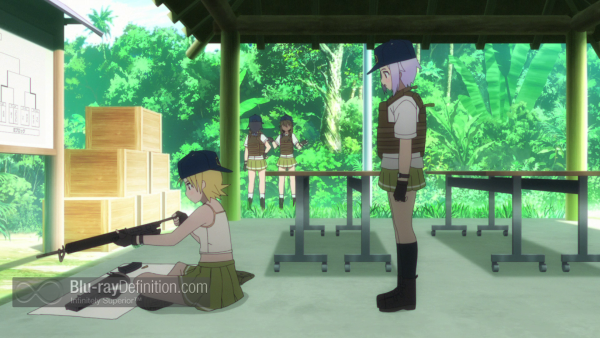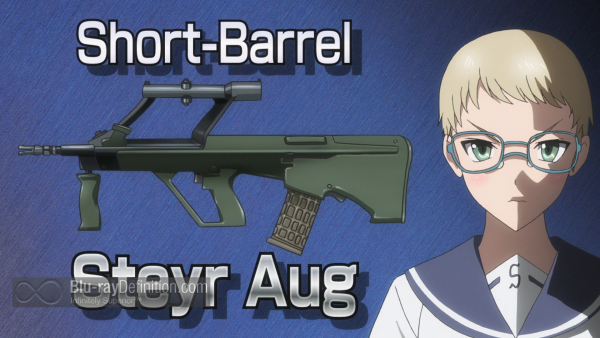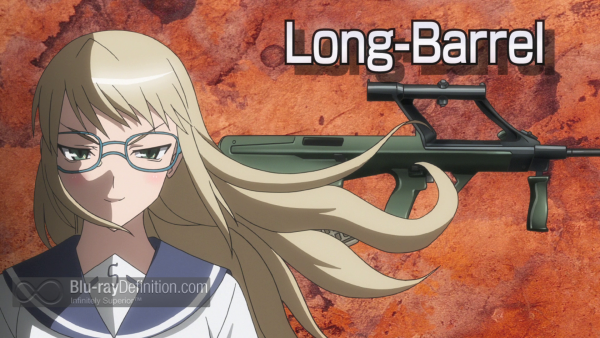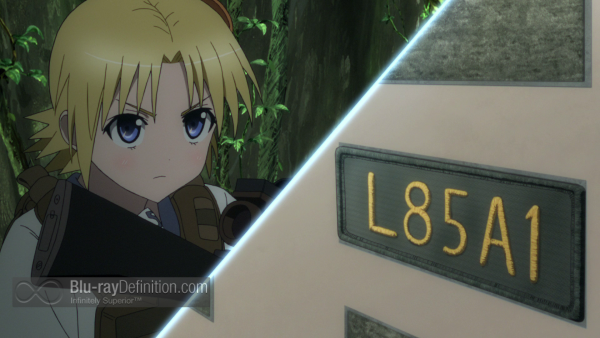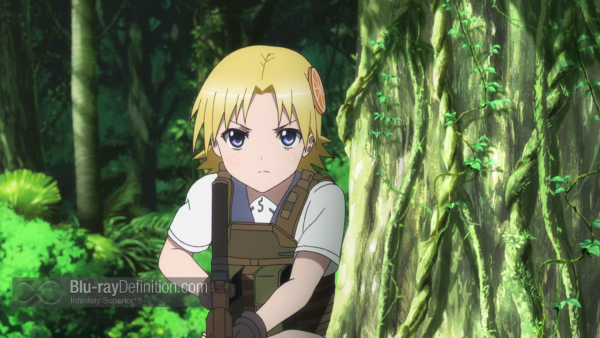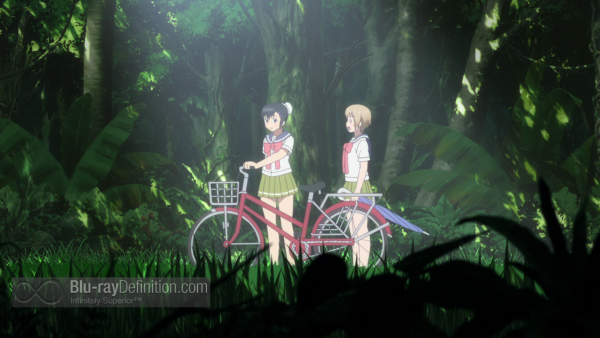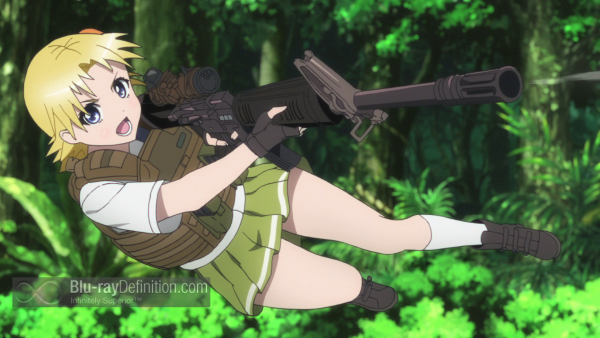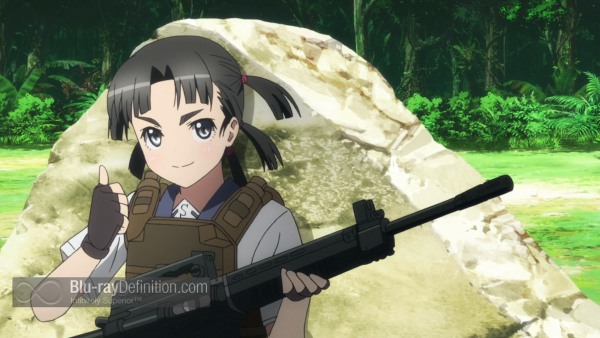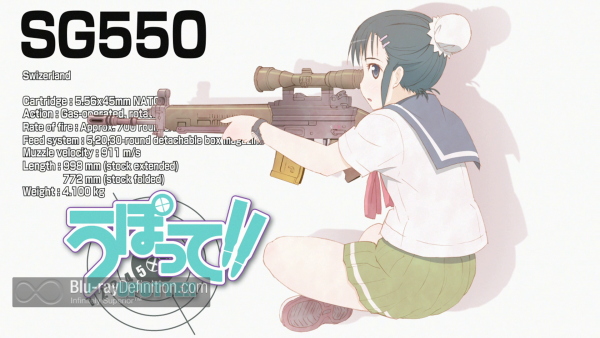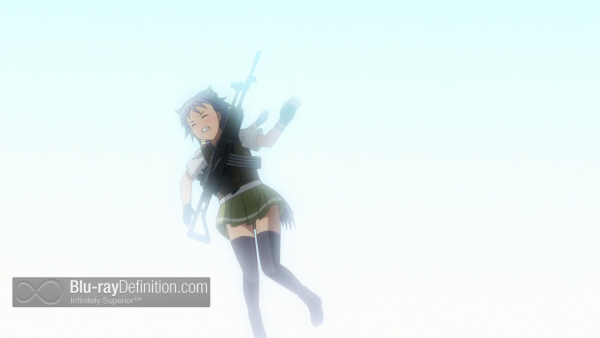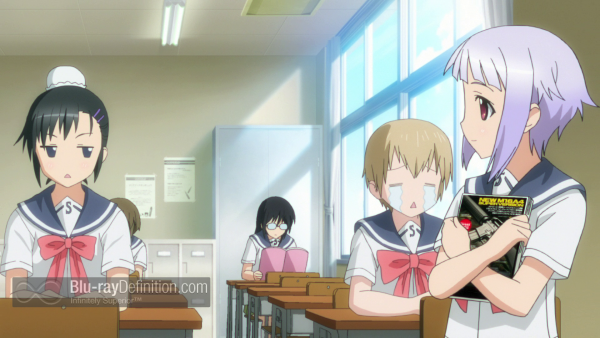 [amazon-product]B00GY3S586[/amazon-product]