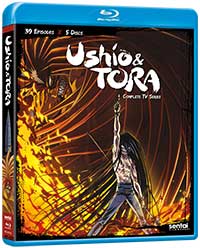 Ushio and Tora the TV series is based on the supernatural manga by Fujita Kazuhiro. It follows male protagonist, middle school student Aotsuki Ushio who is the son of a Shinto priest. One day Ushio discovers a secret cellar in his house where a yokai or demon has been pinned to the wall for centuries by a legendary spear called the Demon Spear. When Ushio opened the door to the cellar, the yokai essence called many other supernatural creatures to the area, forcing Ushio to come to a deal with the creature. Ushio removes the Demon Spear in order to gain the yokai's help fighting off the other creatures. Once freed, however, the yokai, whom Ushio has named "Tora" wants to eat him, but Ushio who has gained a great power from his possession of the Demon Sword stunts Tora. Instead, Tora decides to haunt Ushio and wait for a chance to eat him. Ushio's possession of the sword leads to many creatures and a lot of trouble heading his way, however, and the awakening of a deadly yokai, Hakumen no Mono whose power is so immensely destructive.
While the story arc of Ushio no Tora could use some work – it lacks a tightly woven narrative and leans too heavily on its action and comedic gags to move its story forward – the beautiful artwork and character designs of the series and the interactions between the characters is compelling enough to warrant siting through the entire series. Ushio's relationship with his two female childhood friends, the sweet Inoue Mayuko and the tempestuous, tomboyish Nakamura Asako, who loves him the most, his a sweet addition to the series that tempers the testosterone levels just a tad and, but also adds in a touch of that obligatory harem element that seems to always make its way into an anime series. Here is just seems to work, however.
The animation is breathtaking, to say the least. The characters look more sketch-like and have a lot of, well, character and nuance and the background art carries a lot of detail as well. The action sequences often show some yokai that could have come right out of someone's nightmare as well brilliant use of color and implied motion.
Although the plot can seem to get lost in Ushio and Tora – something about a boy coming of age and being tested for his worthiness to wield a powerful weapon while simultaneously having to save the world from a voracious demon — it's a brilliant piece of animation with good enough characters to keep it afloat.
The Video
Ushio and Tora arrives on Blu-ray in an AVC 1080p encodement from Sentai Filmworks. The digital animation has a lot of artificial grain applied to it – some scenes, particularly flashback scenes – more than others. This gives the series a gritty, textured look, but one that works well. Detail is strong and colors and contrast are both strong. There are no issues with motion artifacts or banding.
The Audio
Ushio and Tora comes with the original Japanese-language stereo mix in DTS-HD Master Audio 2.0 and an English dub in DTS-HD Master Audio 2.0 stereo as well. The sound is excellent given the limited channels. Dynamic range is wide and stereo imaging is wide as well. Dialogue is full and clean and sound effects have a lot of 'punch'.
The Supplements
This standard edition of Ushio and Tora: Complete TV Series on Blu-ray only comes with the usual clean opening and closing animations, Japanese promo videos and additional Sentai Filmworks trailers. However, there is a Limited Edition available that comes with all sorts of swag like art cards and more.
The Final Assessment
This action-heavy supernatural comedy is often wickedly dazzling with its artwork and the characters are well crafted. Sentai Filmworks provides a solid release on Blu-ray in both standard and Limited Edition versions.
Ushio and Tora: Complete TV Series out on Blu-ray & DVD August 29, 2017 from Sentai Filmworks
[amazon_auto_links id="105388"]
MAPPA | Studio VOLN
Animation Studio
Sentai Filmworks
Distributor
Nishimura Satoshi
Director
Inoue Toshiki | Fujita Kazuhiro
Writer
Japanese DTS-HD MA 2.0 Stereo
Audio
English DTS-HD MA 2.0 Stereo
Secondary Audio
Summary
A middle school student obtains an ancient spear called the Demon Spear after freeing a demon who wants to eat him and had been pinned by the spear in his cellar for centuries and now must partner with the same demon to fight off other demons. The animation is beautiful, edgy and looks like detailed sketches with detailed backgrounds.
What people say... Login to rate
Be the first to leave a review.
Show more