– –

(The below TheaterByte screen captures were taken directly from the Blu-ray Disc and losslessly compressed in the PNG format. There should be no loss of picture quality with this format. All screen captures should be regarded only as an approximation of the full capabilities of the Blu-ray format.)
The Series
[Rating:4/5]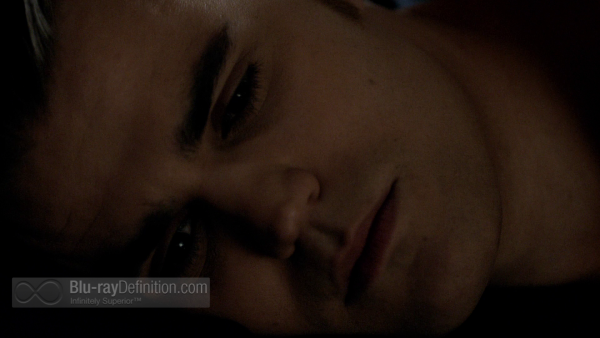 Every series set around high school kids must eventually reach that transitional season where the "kids" are no longer kids; when graduation approaches and choices have to be made, both by the characters and the writers writing them. The chronologically appropriate season 4 is that season for The Vampire Diaries. A series I once wrote off as "True Blood for Vegetarians" (courtesy of an unknown source), has certainly grown into its own over the years, and managed to shake off some of the Twilight melodrama that obviously inspired it. The fourth season completely throws off the shackles of previous seasons and aims right at a now older audience that has aged along with it. More mature, sexier, darker, but still not quite as edgy as its premium cable brethren.
The season kicks off with much-beloved heroine Elena Gilbert (Nina Dobrev) struggling to transition from human to vampire under the tutelage of ever attentive boyfriend and vamp Stefan (Paul Wesley), but it's not going so well, and she secretly turns to bad boy Salvatore vamp brother Damon (Ian Somerhalder). Not satisfied to let his innocent human girlfriend live life out as a vampire, Stefan launches a quest to find a cure, which leads to the central conflict of the season. "The Original", Klaus (Joseph Morgan) learns of the possible cure, which is supposedly buried with the world's original supernatural being, a powerful creature named Silas, and Klaus wants it for himself. The cure has the potential to destroy all supernatural beings, vampires and werewolves alike. Klaus is worried about himself and the hybrid family he wants to build. Meanwhile, Elena's brother Jeremy (Steven R. McQueen) has learned he may be supernatural himself. He may be one in a long line of powerful vampire hunters with an uncontrollable urge to kill supernatural beings. Not a good thing, considering his sister is a newly turned vamp.
Those are just some of the changes in season 4 that have taken The Vampire Diaries off in whole new directions. The dynamic has completely changed now, with Elena turning vamp, and the love triangle between her, Stefan, and Damon, has been kicked up to 11. Will fans who have been rooting for Damon finally get their wish? Maybe. You'll have to watch season 4 to find out. But here's a tiny clue, Elena feeds from Damon, a very intimate act in the vampire world.
With these new developments, plus a shocking twist involving Bonnie (Kat Graham) and her use of black magic, it gives the series many more places to go in the future. It also gives an excuse for Elena to not stray too far from Mystic Falls. We already know that we'll not be seeing The Originals Klaus, Rebekah (Claire Holt) and Elijah (Daniel Gillies) anymore, or at least not much, since they'll be getting their own spinoff series on The CW.
Video Quality
[Rating:4/5]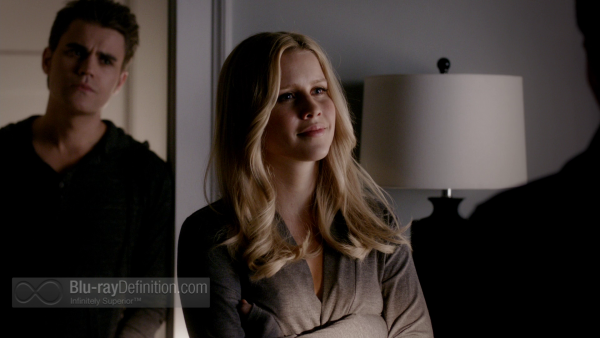 From season 3 on, The Vampire Diaries has been shot on the Arri Alexa high definition camera. The AVC/MPEG-4 1080p encodement from Warner provides an elevated level of clarity over broadcasts, just as one should expect from Blu-ray, with close-ups revealing lots of detail in faces. Where The Vampire Diaries has always had some issues, and it continues to fall down, is the issue of black crush. The series, which often takes place at the night and in shadowy rooms, tends towards some really deep, dark, obsidian blacks, which are good, but it is at the sacrifice of nuance. Try making out individual strands of hair or buttons and stitching on clothes or what's in the background in some of these scenes and it is almost impossible.
Audio Quality
[Rating:4.5/5]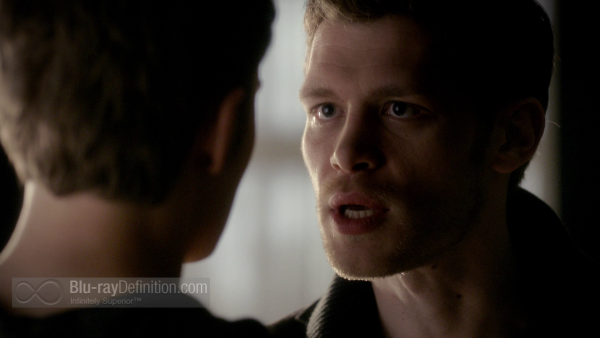 I can occasionally still be surprised by Blu-ray releases, even after reviewing so many. Watching this series as it is broadcast with its broadcast-quality Dolby Digital 5.1 sound, usually reprocessed by my sound system to THX 7.1 no less, I never found it to be anything special. The added clarity of the DTS-HD Master Audio 5.1 (48kHz/16-bit) changed my mind, however. While it is still not as engaging as the best cinematic mixes, I found myself noticing some of the little atmospheric sounds in the surround channels more and the low end was just a bit more robust. Only the slightest hint of crackle could be heard in some dialogue during some of the loudest passages, but for the most part it is clear and intelligible.
Supplemental Materials
[Rating:3.5/5]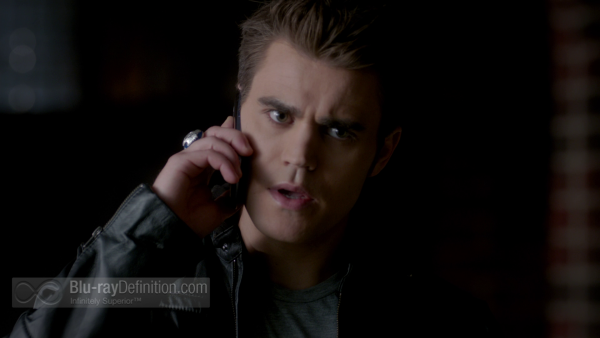 Most of the discs offer up some brief deleted scenes in HD, but the final Blu-ray includes some featurettes that explore season 4, and the evolution of Elena as a character. They are interesting inclusions for fans.
5 DVDs
UltraViolet Digital Copy
Disc 1:
Deleted Scenes (1.78:1; 1080p/24):

Memorial
The Five
We All Go a Little Mad Sometimes
Disc 2:
Deleted Scenes (1.78:1; 1080p/24):

My Brother's Keeper
O Come, All Ye Faithful
After School Special
Disc 3:
Deleted Scenes (1.78:1; 1080p/24):

Into the Wild
Down the Rabbit Hole
Disc 4:
Inking the Brotherhood: The Hunter's Mark (1.78:1; 1080p/24; 00:06:38) – Uncover the mystery behind superhuman muscles and supernatural tattoos.
Creating Silas's Island (1.78:1; 1080p/24; 00:05:44) – Discover how the search for Silas took the show on new adventures, both in the storyline and with the actual production through shooting on location.
Blood, Boys, and Bad Behavior: Becoming a Vampire (1.78:1; 1080p/24; 00:05:26) – Bite deeper into the juicy gossip surrounding the new dynamics caused by Elena's transformation into a vampire, and hear the cast and creators decide if they are Team Damon or Team Stefan.
The Evolution of Elena Gilbert (1.78:1; 1080p/24; 00:08:36) – Cast and creators' favorite moments of Elena in transition form human to vampire.
The Vampire Diaries: The Ultimate Prop Master (1.78:1; 1080p/24; 00:04:38) – Piece together how prop master Joe Connolly creates the various stakes, swords, and stuff of vampires the actors handle.
Second Bite (1.78:1; 1080p/24; 00:03:24) – Blooper reel.
Deleted Scenes (1.78:1; 1080p/24):

Pictures of You
The Originals
She's Come Undone
The Walking Dead
Graduation

The Impact of a Single Show: The Vampire Diaries – Fan Video (SD; 00:03:07) – A heartfelt fan video
Fan Gallery (1.78:1; 1080p/24; 00:00:48)
The Definitive Word
Overall:
[Rating:4/5]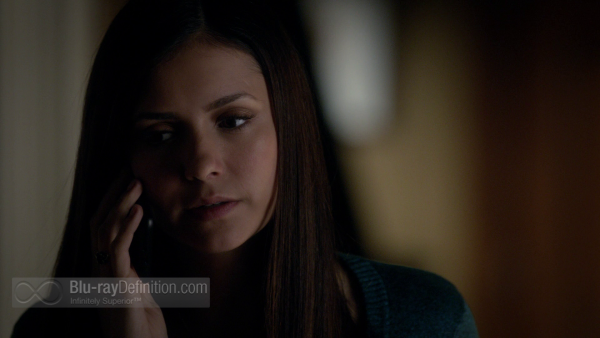 A season with shocking twists and a whole new dynamic finally sets The Vampire Diaries apart, once and for all, from the vampire/werewolf teen melodramas of Twilight and its ilk. This is perhaps the best season of the series to date. Hopefully the next season continues the trend.
Additional Screen Captures
[amazon-product]B009PI8CIU[/amazon-product]
[amazon-product]B009LDCX1Q[/amazon-product]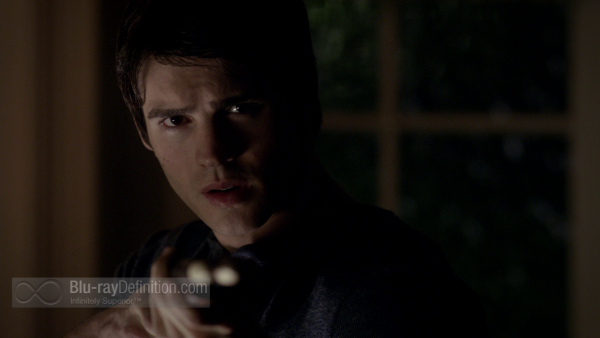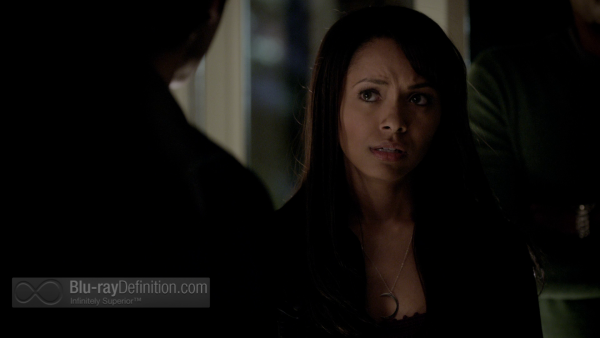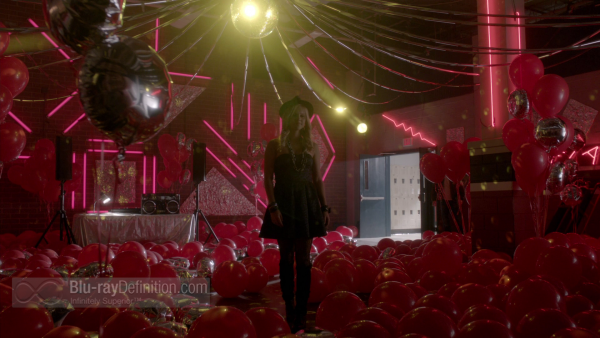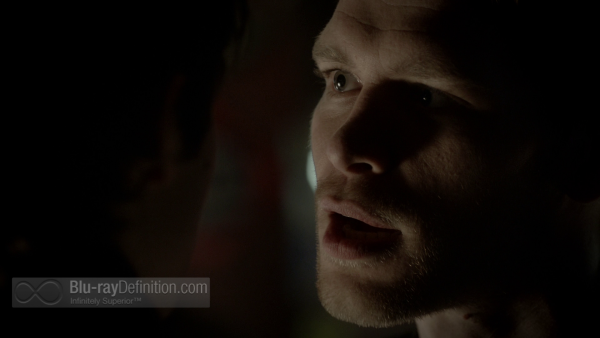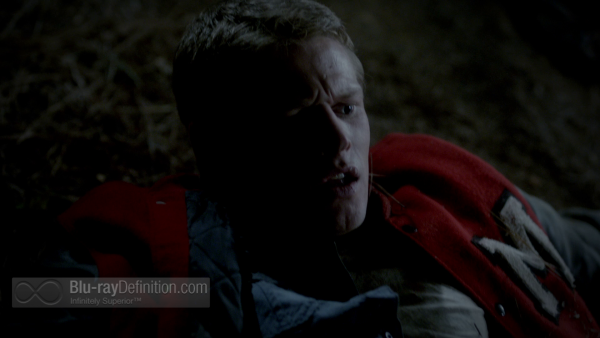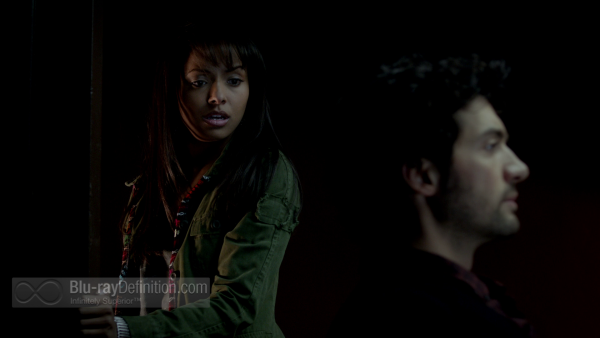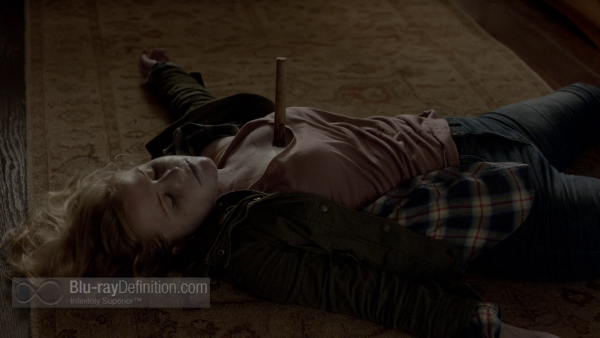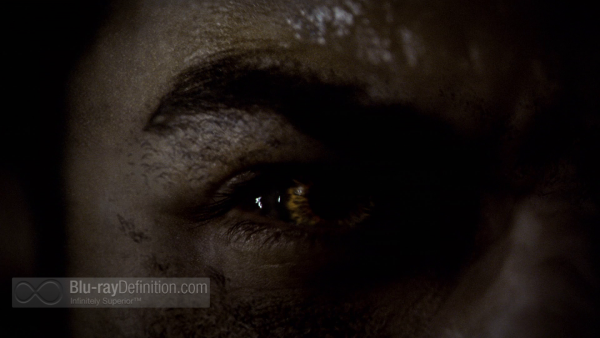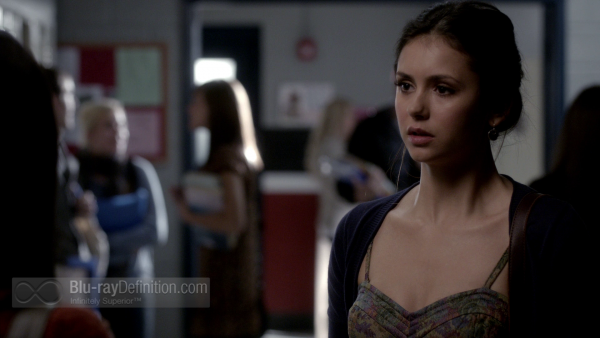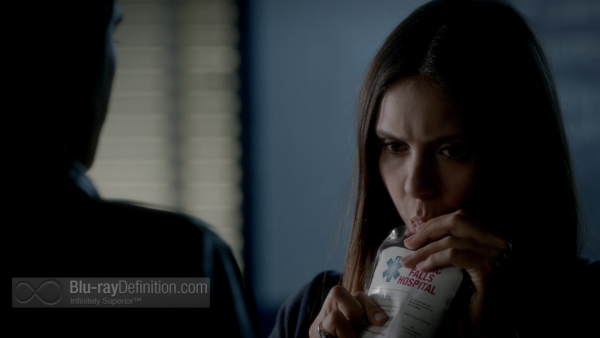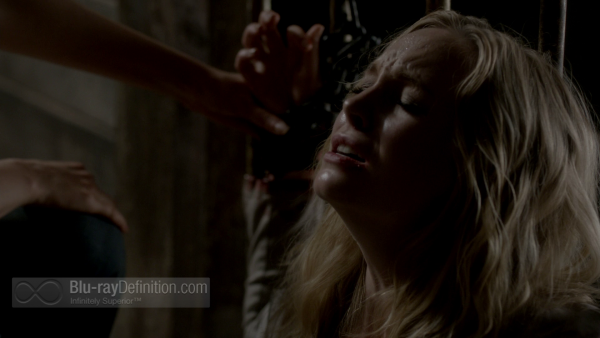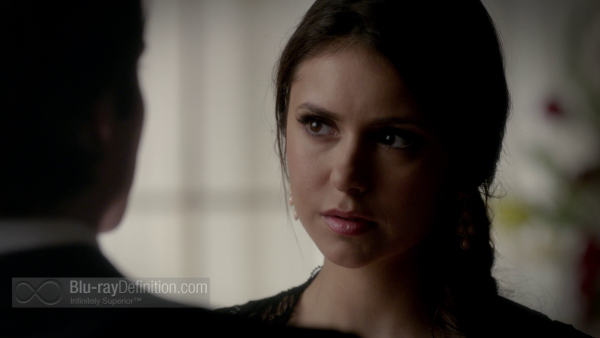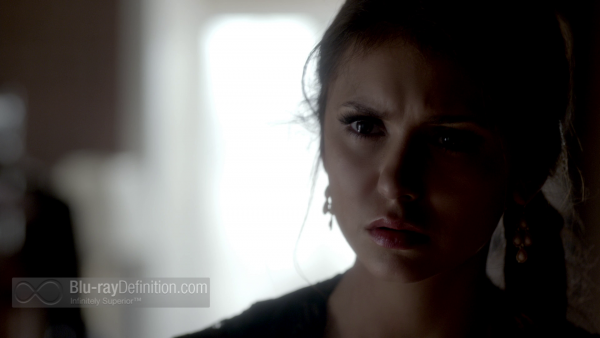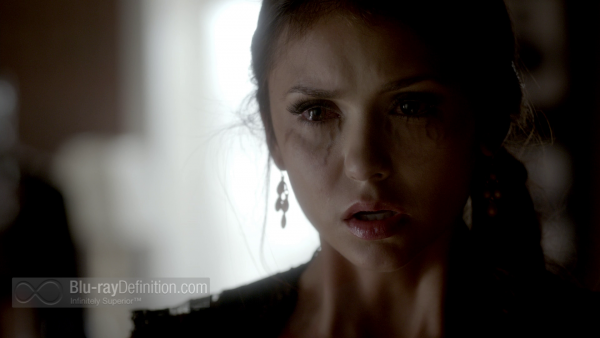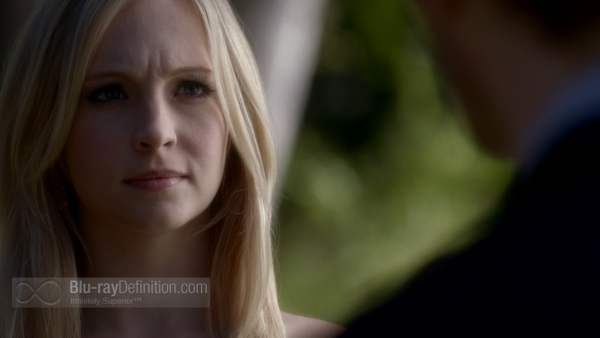 [amazon-product]B009PI8CIU[/amazon-product]
[amazon-product]B009LDCX1Q[/amazon-product]