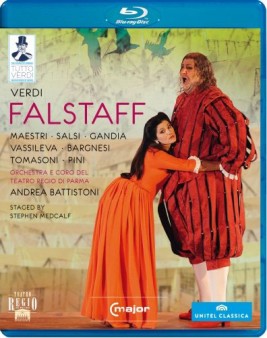 –
Click thumbnails for high-resolution 1920X1080p screen captures
(The below TheaterByte screen captures were taken directly from the Blu-ray Disc and losslessly compressed in the PNG format. There should be no loss of picture quality with this format. All screen captures should be regarded only as an approximation of the full capabilities of the Blu-ray format.)
The Film
[Rating:3/5]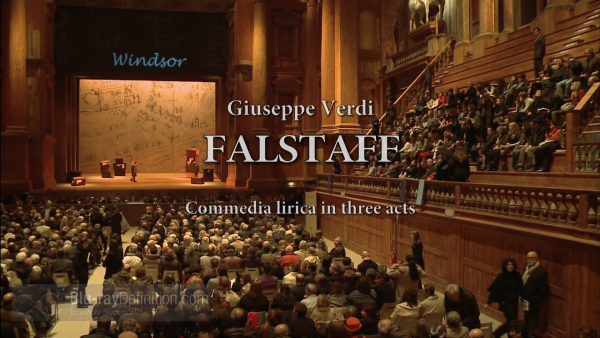 This opera was Giuseppe Verdi's 26th and final work, written at the age of 80. Falstaff  has the distinction of being only one of two comic operas that Verdi composed, the first being Un Giorno di Regno.  Falstaff is not only my favorite opera, but one of the most perfectly constructed of all operas: three acts each with two scenes, each act lasting about forty minutes, all without a wasted moment. The economy of musical expression with a brilliant libretto by Arrigo Boito takes Shakespeare's Merry Wives of Windsor and spins it into the equivalent of a sitcom moving along at the speed of light.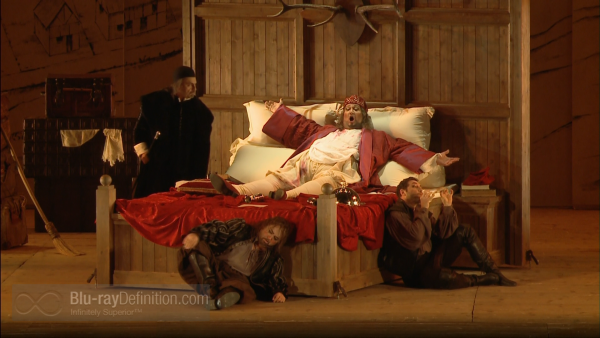 The storyline concerns the fat knight, Sir John Falstaff (Ambrogio Maestri) who pursues two married women, Alice Ford (Svetla Vassileva) and Meg Page (Daniela Pini). Falstaff writes the same love letter to each wife but his sidekicks, Bardolfo (Patrizio Saudelli) and Pistola (Mattia Denti) refuse to deliver them, so Sir John gets his page to do the honors. When the wives realize that they have received the same billet doux, they plot their revenge.  Meanwhile, Alice's daughter, Nannetta (Barbara Bargnesi) is in love with Fenton (Antonio Gandia) but her father, Ford (Luca Salsi) has promised her to the elderly Dr. Caius (Luca Casalin). Falstaff fails in his efforts to win Alice and ends up getting dumped in the Thames River.  Mistress Quickly (Romina Tomasoni) acts the intermediary, getting Falstaff to dress up as a horned version of Jove to meet Meg Page in Windsor Forest. Of course, it is all an act, and the villagers disguised as spirits, torture SIr John until the ruse is revealed. At the opera's conclusion, Fenton and Nanetta get their marital blessing while Dr. Caius ends up with Bardolfo.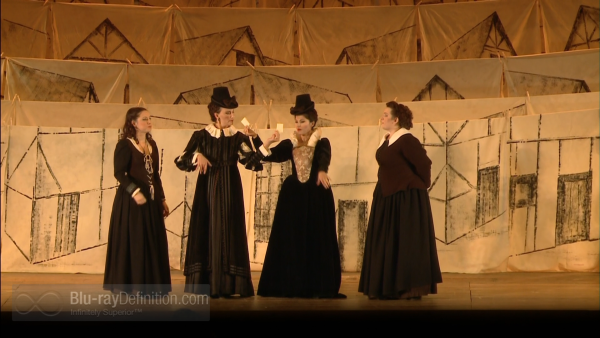 This 2011 Teatro Regio di Parma production, staged by Stephen Medcalf, features the musical direction of a young star in the making, Andrea Battistoni, who gets the pit orchestra literally up and dancing. This is Ambrogio Maestri's third attempt at Sir John, including a marvelously cast DVD (led by Ricardo Muti) and a recently reviewed Zurich Opera Blu-ray Disc! However, there are some production issues (to be addressed later) that seriously undermine the current performance.
Video Quality
[Rating:3.5/5]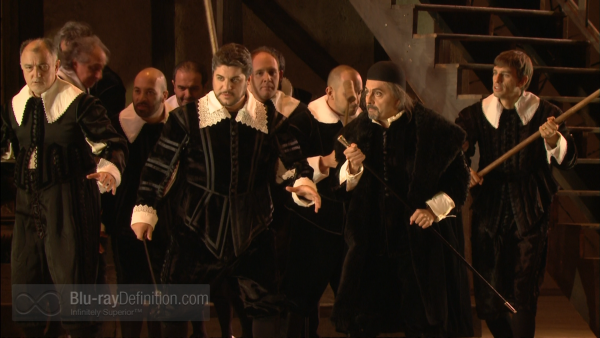 Tiziano Mancini's direction is second to none when it comes to working around this small stage with sets that are line drawings of the village. These sets prove to be not only a distraction but a major liability that reduces this opera to cartoon status. While the Elizabethan era costumes are adequate, close up views make them appear homemade. The color palette is muted, possibly a lighting issue, definitely not an asset here. Details are less than what we expect from today's high definition cameras.
Audio Quality
[Rating:3.5/5]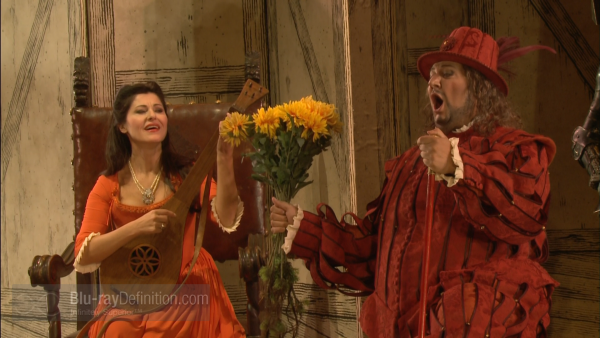 Body mikes are a blessing and a curse. Here, the singers are often much louder than the orchestra, not exactly what would be heard in the opera house. The overall ambience in DTS-HD Master Audio 5.1 format is pretty flat (I checked my surround speakers to be certain that they were working). The stereo version is almost as good.
Supplemental Materials
[Rating:2/5]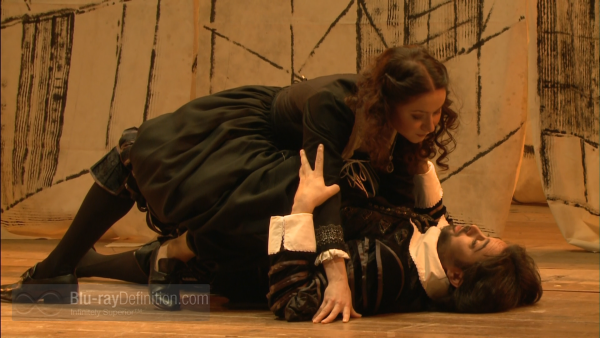 There is the usual Tutto Verdi synopsis and background of the opera, using live scenes from this production. The enclosed booklet gives some nice background material and musical tracks.
The Definitive Word
Overall:
[Rating:3/5]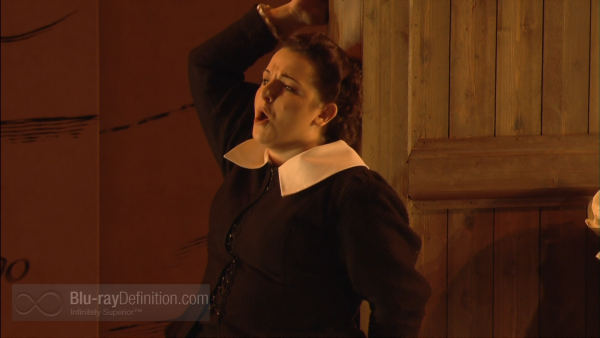 Bottom line, it is very hard to recommend this production on any number of grounds. Among the issues are the balances between voices and orchestra, the lackluster supporting cast (nearly amateurish in the case of Luca Salsi, the two lovers Bargnesi and Gandia, Falstaff's posse Saudelli and Denti and the least accomplished Mistress Quickly that I have ever seen or heard. The main reason to consider this Blu-ray Disc at all is the inspired conducting of maestro Battistoni, a performer to watch. Falstaff requires ten strong singers as the comprimario parts are quite important, and here we get possibly one, Maestri, and even he is not at his best. For those seeking a Blu-ray version, I would suggest the previously mentioned Zurich Opera production with a better Maestri performance and overall cast.
Additional Screen Captures
[amazon-product region="uk" tracking_id="bluraydefinit-21″]B0094AH3MA[/amazon-product]
[amazon-product region="ca" tracking_id="bluraydefinit-20″]B0094AH3MA[/amazon-product]
[amazon-product]B0094AH3MA[/amazon-product]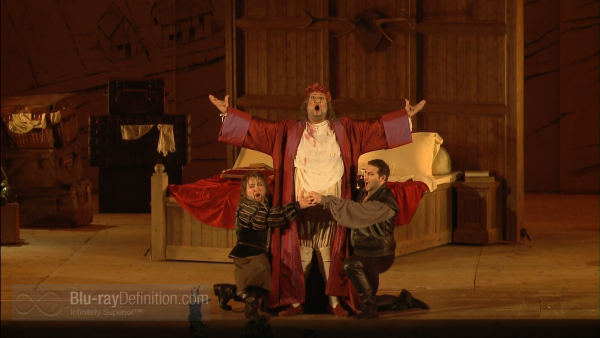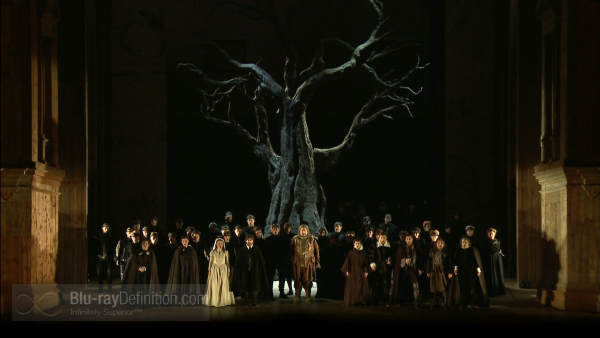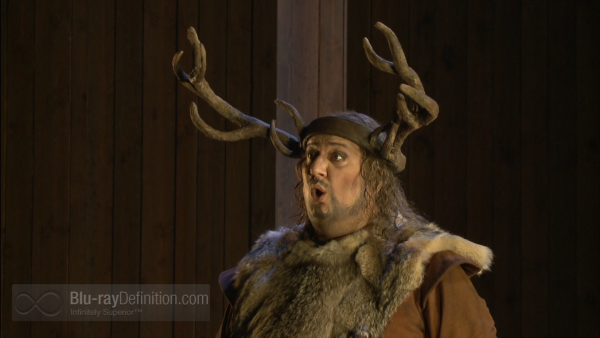 [amazon-product region="uk" tracking_id="bluraydefinit-21″]B0094AH3MA[/amazon-product]
[amazon-product region="ca" tracking_id="bluraydefinit-20″]B0094AH3MA[/amazon-product]
[amazon-product]B0094AH3MA[/amazon-product]