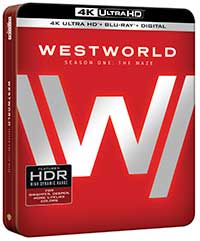 Westworld Season 1, subtitled "The Maze", takes writer/director Michael Crichton's 1973 sci-fi action/thriller about a robot Disneyland for adults gone haywire starring Yul Brynner as a robot gunslinger with his wires crossed who turns on park guests James Brolin and Richard Benjamin, hunting them down relentlessly and turns it into a sleek and philosophical exploration of what is means to be human.
Set in an unspecified near-future where much of the action takes place in a fantasy world set in an alternate reality version of the Wild West, Civil War era past, West World Season 1 tracks roughly three separate story arcs about a high-tech amusement park for adults populated by lifelike "hosts" – androids so human that it is hard to tell they aren't living creatures. A corporation named Delos operates the Westworld park that has as its selling point these hosts and its "narratives" where adults can indulge their fantasies way from the real world. For instance, there's a Wild West brothel run by the host Maeve Millay (Thandie Newton), or the seemingly innocent farmer's daughter Dolores Abernathy (Evan Rachel Wood) – one host who, it seems, begins having memories of some of the past stories she's been used in – who one visitor to the park or "newcomer", Billy (Jimmi Simpson) is drawn to and believes to be sentient. Then there's The Man in Black (Ed Harris), a rich and powerful businessman in the real world who has been coming to the park for years seeking some meaning in his life. Playing the typical villain, he is now own a quest to find the center of a mythical maze he believes will unlock the hosts and give them free will and give him that meaning he has searched for. His journey always makes him cross paths with Dolores.
Another thread Westworld Season 1 follows is inside the control center of the park with one of its founders, Dr. Robert Ford (Anthony Hopkins) and his assistant Bernard (Jeffrey Wright). As the hosts begin to exhibit some odd behavior – Maeve asserting what seems like off script actions, Dolores' father having a "breakdown" over a photograph left by a guest to the park, another host smashing a rock over his head – Bernard and to a certain extend Dr. Ford begin to investigate and it leads to supervising revelations about the host program, a strange voice the hosts are all hearing, and the co-founder of the company.
To call this series brilliant drama and science fiction is an understatement. The co-mingling of both alternate history, parallel stories (there's a big reveal at the end where you'll find that, what you thought was going on and what is the present isn't really) is deftly handled. In fact, there are two big revelations in this first season one may be more obvious than the next. The final episode leaves this series with so many places to go, and I'm ready to take the ride. This could be the perfect replacement for Game of Thrones HBO is looking for – fingers firmly crossed.
The Video
Westworld Season 1 was shot on Arricam LT, Arricam ST, and Arriflex 235 cameras utilizing Cooke S4, Canon K35, Fujinon Premier and Angenieux Optimo lenses and various slow, mid, and fast speed Kodak Vision3 250D 5207, Vision3 500T 5219, and Eastman EXR 50D 5245 film stocks in Super 35 (3-perf) format. A 2K DI was used in post processing.
This Ultra HD release arrives in a 2160p (4K) HEVC encodement with Dolby Vision HDR (High Dynamic Range) framed in its original 1.78:1 broadcast aspect ratio. I expected to be blown away by this sci-fi series' imagery in 4K, but I wasn't really. The 2K source looked okay and filmic, but there were also some spots where I saw some clear softening of features in facial characteristics, almost like over-eager DNR going on. That would be odd considering that the image looks somewhat gritty, as one would expect this Super 35-sourced series to look on 4K, especially compared to the Blu-ray, where the grain is a little less upfront. Don't get the impression that I'm a grain hater, because I'm not, but I do think this is one that may have looked better if a 4K DI had been used.
Now, on to the Dolby Vision – it definitely adds a bit more 'pop' to some highlights, but it is subtle in some places and in some places, perhaps because of the visual effects and the upscaled resolution on top of it, it looks a little gimmicky. Fires certainly look wonderful in most spots, but there were some places where they looked a little unnatural. The colors in the park control center really standout, especially the red-lit background. The Westworld outdoor scenes look just a little more natural, but I don't see as many additional gradations in coloring I normally see with the wider color gamut. I also see a lot of black crush in the darkest scenes — Man in Black and Dr. Ford suffer the most. The Blu-ray, which is a very fine presentation seems to be the more even presentation than the 4K release here.
The Audio
Westworld: Season 1 on 4K Ultra HD comes with an Atmos mix that is more atmospheric than it is aggressive or discrete, but this sort of mix works for this type of material. What you will notice compared to the DTS-HD Master Audio 5.1 mix on the Blu-ray is that the piano in the opening theme is a little more spacious and gets more height ambience, this carries on throughout the episodes for the score and other sound effects that are nicely balanced. The dialogue sounds equally full and mostly centered in both mixes. There are some moments in the series, such as when the character Elsie Hughes heads down into the lower levels of the park control center to investigate that the ambient effects really turn up a notch, I have heard more aggressive and perhaps more effective Atmos mixes in the reissued Game of Thrones SteelBooks, for instance, but this is a very fine effort nonetheless and, as mentioned, more well suited to this sort of series.
The Supplements
These are a solid slate of extras included with Westworld Season 1. I would have liked to see something a little more robust and interactive like a trivia track or a character connections map.
Digital HD UltraViolet
Blu-ray
Episode Guide
Delos Corporate Guide Book
Packaged in Limited Edition Tin
About the Series (HD; 02:11) – Executive producers J.J. Abrams, Jonathan Nolan and Lisa Joy with actors Thandie Newton, Evan Rachel Wood and James Marsden ask "What if Westworld really existed?"
An Invitation to the Set (HD; 02:14) – Executive producers J.J. Abrams, Jonathan Nolan, and Lisa Joy with actors Jeffrey Wright and Evan Rachel Wood discuss living without limits.
The Big Moment (HD) – Dive deep into pivotal scenes of intrigue, drama, and revelation.
Welcome to Westworld (HD; 07:41) – Executive producers Jonathan Nolan, Lisa Joy, J.J. Abrams and actors Thandie Newton, James Marsden, and Evan Rachel Wood consider immersive fantasy in terms of reality, humanity, and technology.
Realizing the Dream: First Week on the Set of Westworld (HD; 11:20) – Filmmakers Jonathan Nolan and Lisa Joy provide their unique perspective on the set of Westworld Season 1 in this intimate diary.
Imagining the Main Title (HD; 14:06) – The show runners discuss he use of iconic imagery and a haunting score as building blocks to create an iconic opening sequence.
Reality of A.I.: Westworld (HD; 04:29) – Executive producers Jonathan Nolan, Lisa Joy, and J.J. Abrams and actors Thandie Newton and Evan Rachel Wood investigate A.I.'s existential threats.
Gag Reel (HD; 01:38)
The Key to the Chords (HD; 08:03) – An exploration of he player piano, as a metaphor in he series and a tool for composer Ramin Djawadi to echo the outside world.
Crafting the Narrative (HD; 29:15) – Executive producers Jonathan Nolan and Lisa Joy watch the final episode of Westworld and provide commentary on integral scenes, discussing the roles of memory, inner monologues, and mythology, along with the cast and crew that brought the episode to life.
The Final Assessment
Westworld Season 1 is brilliant sci-fi drama that explores the human experience, what it means to be alive, and mines the depths of the human soul. The imagery is brilliant and the characters are all ones that we want to follow. The 4K Ultra HD is a mixed bag when it comes to video quality, but it is still a big step above any broadcasts or streaming versions as is the more consistent included Blu-ray version.
Own Westworld Season 1 — The Maze on 4K Ultra HD & Blu-ray November 7, 2017
[amazon_auto_links id="106018"]
Bad Robot | Jerry Weintraub Productions | Kilter Films | Warner Bros. Television | Home Box Office (HBO) | Warner Bros. Home Entertainment
Studios & Distributors
Jonathan Nolan | Frederick E.O. Toye | Jonny Campbell | et. al.
Director
Gina Atwater | Ed Brubaker | Michael Crichton | et. al.
Writer
$64.99
MSRP
HEVC (H.265) 2160p (4K) | AVC 1080p (Blu-ray)
Video
Dolby Vision (HDR10 Compatible)
HDR Format
English Dolby Atmos (Dolby TrueHD 7.1 Compatible)
Primary Audio
English DTS-HD MA 5.1 (Blu-ray Only) | French DD 5.1 | Spanish DD 5.1
Secondary Audio
English SDH | French | German SDH | Italian SDH | Spanish (Castilian) | Dutch | Chinese | Korean | Spanish (Latino) | Portuguese | Czech | Danish | Finnish | Norwegian | Polish | Swedish
Subtitles
HDR Effect (If Applicable)
Summary
In a near future amusement park world where artificial humans known as hosts that may or may not be sentient, visitors arrive to indulge their every base desire as one Man in Black (Ed Harris) seeks meaning living out his fantasy as a murderous cowboy, one host (Evan Rachel Wood) begins having dreams of past lives, another (Thandie Newton) dreams of freedom, and their creator (Anthony Hopkins) has a plan. Westworld Season 1 is dense with symbolism, deftly interwoven, and beautifully visualized. Jeffrey Wright also stars.
What people say... Login to rate
Be the first to leave a review.
Show more