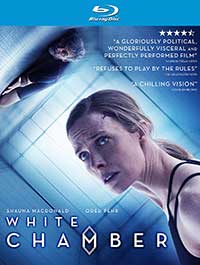 White Chamber is a low-budget indie dystopian sci-fi thriller from writer/director Paul Raschid (Winterstoke House). Set in a near-future, post-Brexit UK in the throes of a civil war where martial law has been declared by a military government desperately trying to maintain order and trying to crush its opposition, we are thrust into a scenario where a woman (Shauna Macdonald)  is imprisoned in a strange, white-walled room and questioned about her allegiances and for information she claims not to have as she faces increasingly cruel methods of torture.
White Chamber is meant as a political statement on the chaotic socio-political world we find ourselves in today, but the premise of the film falls apart rather quickly. Raschid's screenplay does not know what target he wants to hit – the increase in nationalism and racism? The bend towards fascism?  The resurgence of autocrats? The film touches on all of these flashpoints at lightspeed. And then shoehorns cliché sci-fi elements like a high-tech torture chamber into the story to make sure we know we are sometime in the future.
Were it not for the zealous performances from Shauna Macdonald and Oded Fehr –who also stars as leader of the resistance forces – White Chamber would have little else to offer. It quickly breaks down into a convoluted, pompous, snoozefest that is difficult to get through despite its relatively brief 89 minutes running time.
The Video
White Chamber comes to Blu-ray in an AVC 1080p encodement framed at 2.39:1. The low budget production doesn't have much going on visually and the digital video source is basically clean with good detail, although some banding does show. The color palette is limited to cool greys, blues, and greens with an artistic desaturation. This doesn't quite "pop" but works well enough for the material.
The Audio
White Chamber arrives with a DTS-HD Master Audio 5.1 mix. The audio is front-heavy and dialogue-driven without much of anything going on in the surround channels besides some atmospherics.
The Supplements
This is a barebones release with no special features.
The Final Assessment
There's potential in the story of White Chamber, but the way its handled here leaves much to be desired.
White Chamber is out on Blu-ray & DVD May 21, 2019 from Dark Sky Films
---
Aviary Films | Dark Sky Films
Studios & Distributors
$29.98
MSRP
English DTS-HD MA 5.1
Audio
Summary
In a post-Brexit UK where civil war is raging and martial law has been imposed by a military government, a woman (Shauna Macdonald), wakes up in a high-tech torture chamber and is questioned for information she claims she doesn't have. White Chamber is meant as a statement on the increasingly chaotic politcal times we find ourselves in, but the vision of writer/director Paul Raschid falls apart quickly and the film turns into a boring and directionless snoozefest.
What people say... Login to rate
Be the first to leave a review.
Show more