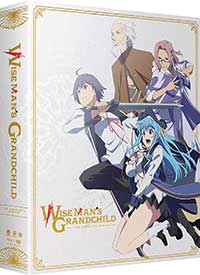 Wise Man's Grandchild is a comedy fantasy anime series based on the Japanese light novel series written by Yoshioka Tsuyoshi and illustrated by Kikuchi Seiji.
The story revolves around the male protagonist Shin Wolford. Shin is born in our normal world and living a very mundane life until he meets an untimely death. He is then reborn in a magical, alternate world where a powerful wizard, Merlin Wolford. finds him as an infant and adopts him. Merlin raises shin as his own and trains him in powerful wizardry, something that Shin takes to in an almost savant-like way, becoming the most powerful magician in the land, but he has no social skills or knowledge of the world. Shin is sent off to the Magic Academy at the age of 15 where he meets up with a group of elite magical students and forms a study group who want to learn his powerful magic – but there are also forces in the kingdom who deem Shin a threat.
There isn't much depth to the story in Wise Man's Grandchild, but there is enough of a mixture of the usual elements from the various anime subgenres to keep the series interesting, be it fantasy, maho shojo, high school, or romance. The blue-haired Sizilien "Sicily" von Claude offers an interesting love interest for Shin and she's drawn in a gorgeous moe style with just enough fanservice for those who like that sort of thing.
While the series squanders a lot of potential, particularly for a fantasy series that could draw so much from RPG and other big non-anime franchises like Game of Thrones, it's a solid escapist fantasy that neither takes itself too seriously nor devolves too far into self-parody.
The Video
Wise Man's Grandchild comes to Blu-ray in a strong AVC 1080p encodement framed at 1.78:1 with clean imagery and only the occasional hint of softness or color banding.
The Audio
Wise Man's Grandchild hits Blu-ray with the original Japanese-language mix in Dolby TrueHD 2.0 stereo and an English dub in Dolby TrueHD 5.1. The mixing is good whether you go for the English or the Japanese 2.0. The stereo has good imaging and dynamics although range is a bit limited. The 5.1 is more atmospheric than discrete but the low end is beefier and dialogue clear. I did enjoy the Japanese cast more than the English cast, but the English cast were better than usual for a dub – haters can go on and hate.
The Supplements
For collectors, this limited edition (there is also a standard edition release) is the one to get. It comes with a lot of collectible swag including a 120-page art book, six art cards, four bookmarks, and a fabric poster featuring specially commissioned artwork. Standard bonus features across both releases include an episode 8 audio commentary, promo videos, and the usual textless opening & closing songs.
The Final Assessment
An awesome collector's set of a solid fantasy series for those who enjoy this sort of genre. Though multiple seasons for anime series are hard to come by, I could see a second for this one.
Wise Man's Grandchild: The Complete Series is out March 31, 2020 from Funimation
Merchant:

Right Stuf, Inc.

Price:

$44.86

Retail Price:

$84.98
Merchant:

Right Stuf, Inc.

Price:

$34.30

Retail Price:

$64.98
---
The Story: 3.0/5
The Animation: 4.0/5
The Video: 4.5/5
The Audio: 4.0/5
The Dub: 3.5/5
The Supplements: 4.0/5
TV Rating: TV-14
Animation Studio: Silver Link
Distributor: Funimation Entertainment
Director: Tamura Masafumi
Writer: Takahashi Tatsuya
Run Time: 300 Mins.
Street Date: 31 March 2020
Aspect Ratio: 1.78:1
Video Format: AVC 1080p
Primary Audio: Japanese Dolby TrueHD 2.0 Stereo
Secondary Audio: Japanese Dolby TrueHD 5.1
Subtitles: English