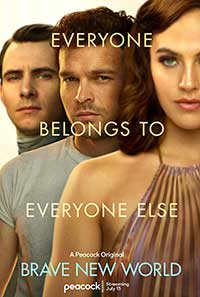 The brand-new streaming service Peacock presents a new version of Aldous Huxley's 1932 literary classic Brave New World as a nine-episode series. Set in 2540 A.D. "New London," this dystopian society has only three rules: no privacy, no family, no monogamy. Indra, the artificial intelligence program connected to a collective consciousness, determines every citizen's behavior and is curated by the ageless "Control" Mustafa Mond (Nina Sosanya). New Londoners are stratified on the basis of innate intelligence from Alpha to Epsilon which predetermines their social status and occupations. The world is perfect for the Alphas and Betas who wear status-symbol lapel pins and"optics" to see through others' eyes and pop little colored pills of Soma to blunt or enhance their feelings. The Gammas are middle-class functionaries; Deltas and Epsilons are the robot-like menial classes.
Pretty Lenina Crowne (Jessica Brown Findlay) works in a "hatchery" or in vitro fertilization laboratory. Young Betas like her and best friend co-worker Frannie (Kylie Bunbury) are conditioned to please others and, to that end,  they engage in orgies nearly every night. Lenina gets called into the office of Councilman Bernard Marx (Harry Lloyd) and watches holographs of her having exclusive sex with Councilman Henry Foster (Sen Mitsuji)—a relationship that violates the "no-monogamy" rule and must stop.
In stark contrast to New London's clean futuristic skyline and beautiful people is The Savage Lands, the New Londoners' off-world amusement park where the descendants of those who originally fled New London and stage daily "shows" for the Outsiders' enjoyment. John the Savage (Alden Ehrenreich) is a prop man for the shows and will later become the disruptive force in New London's "perfect" society. His mother Linda (Demi Moore) is an Alpha+ who was impregnated by the Bureau Director (Ed Stoppard), forcing her into exile, as pregnancy is taboo.
[envira-album id="124035″]
The crux of storyline occurs when The Director orders Bernard to vacation in the Savage Lands and Lenina accompanies him.  During a staged "monogamy" ceremony, i.e., traditional wedding, a mass shooting organized by the Savage rebel leader Sheila (Kate Fleetwood) kills most of the Outsiders in attendance. John rescues Lenina and a wounded Bernard whom Linda patches up. Pursued by Sheila's gang, the group reaches the safety barrier, but Linda is fatally shot and dies on the return flight to New London.
Bernard recovers and vainly tries to become John's docent. This task becomes impossible as John does not want to adapt to the New London norms. The Director decides to send his son away but before John can leave, the two men struggle, and The Director falls to his death. John the Savage next becomes the inspiration for Wilhelmina "Helm" Watson (Hannah John-Kamen) who makes holographic "feelies." He enjoys his fifteen seconds of fame and constant sex-on-demand before falling for lovely Lenina.
Later, John enters a bar filled with Epsilons and incites them to rise up against the social structure that put them at the bottom of the ladder. What follows is the outbreak of a brutal caste system war that threatens to destroy the "perfect" society.
Huxley's novel has been considerably updated and some of its characters altered but most of the basic themes are conserved.  Alden Ehrenreich's glowering alpha-male is pretty one-dimensional, while Jessica Brown Findlay is the eye-candy that this gloomy tale sorely needs. Kudos go to Harry Lloyd's effete Bernard, Hannah John-Kamen's provocative Helm, and Nina Sosanya's earth-mother Mond.  The show's stunning visuals mitigate some but not all of the script's many vagaries–just who are those red-clad folks that lie around the hub of the AI wheel of fortune?–and will help keep eyes focused on the small screen instead of listening to the pretty tired dialogue.  I was also disappointed by the series' superficial treatment of Huxley's social diatribe and his far-sighted view of a future in which many of the technologic advances–in vitro fertilization, massive use of tranquilizers, and behavioral conditioning—have since come to pass.  This Brave New World will not fare well with fans of the original work and only gets a lukewarm recommendation.
Brave New World is now available for streaming in its entirety on Peacock
[youtube https://www.youtube.com/watch?v=As2sMgm0Szo&w=864&h=486]
---
The Creative Content: 3.0/5
Show Creators: Grant Morgan | Brian Taylor | David Wiener
Release Date: 15 July 2020
Streaming Service: Peacock
Ep. Run Time: 40-55 Minutes
No. Eps.: 9
Studios & Distributors: Amblin Television | NBCUniversal Content Studios | Universal Content Productions | Peacock TV
Rating Certificate: TV-MA