– –

The Film
[Rating:4/5]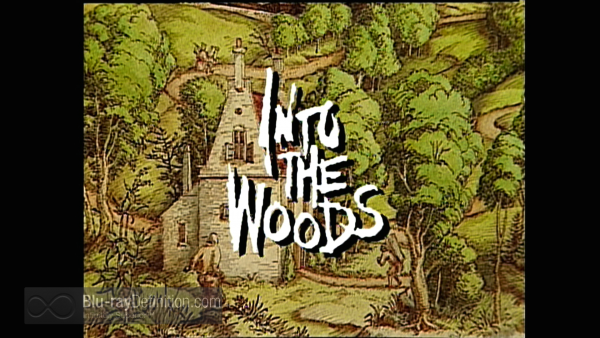 A 1986 retelling of some Brothers Grimm fairytales via Stephen Sondheim's score and James Lapine's  book, Into The Woods was a multiple Tony Winner in 1987. Beginning with Tom Aldredge's "once upon a time" narration, this is a special 1989 performance film that featured the original cast and was aired on public television in 1991.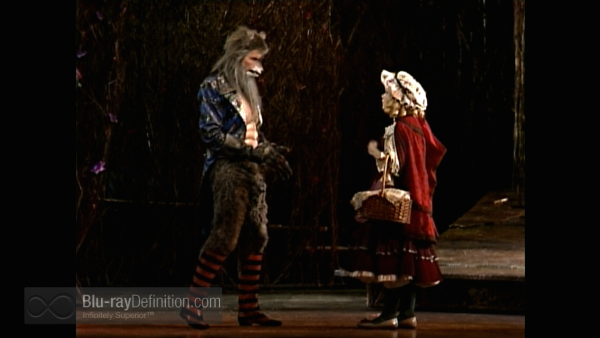 We are introduced to four characters with wishes: Cinderella (Kim Crosby) to attend the royal festival; Jack (Ben Wright) to have a cow that gives milk; the Baker (Chip Zien) and his wife (Joanna Gleason) to have a child.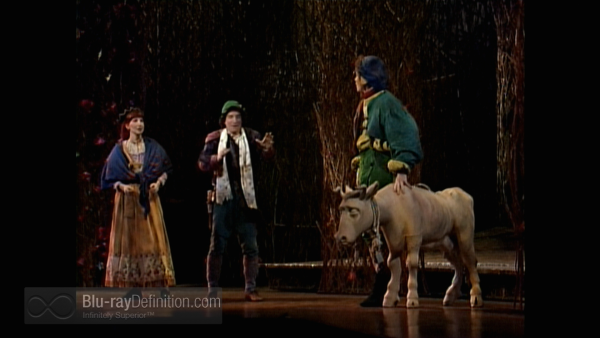 The Baker and his wife get a surprise visit from the Witch (Bernadette Peters) who explains the cause of their infertility that can only be cured by bringing her four items: a white cow, a red cape, some yellow hair, and a golden slipper.  Little Red Riding Hood meets the Wolf (Robert Westenberg) on her way to Grandmother's house while the Baker and his wife enter the woods in search of the needed ingredients. Also in the woods, Cinderella visits her mother's grave and receives a gorgeous gown and golden slippers. In the woods, as well, we meet Rapunzel (Pamela Winslow) who is the Witch's captive ward, accessible only by climbing her long blonde hair, and who besots a Prince (Chuck Wagner).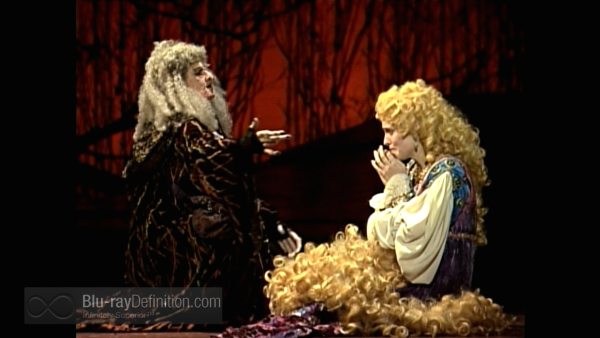 As in the story, the Wolf devours Red but the Baker cuts her and her Grandmother out of the beast, and gets the red cape as his reward. The Baker's wife runs into the begowned and beslippered Cinderella and discovers another of the needed ingredients but lets the cow (and Cinderella) both run off. Jack has his beanstalk adventure with the giants and tries to buy back his cow.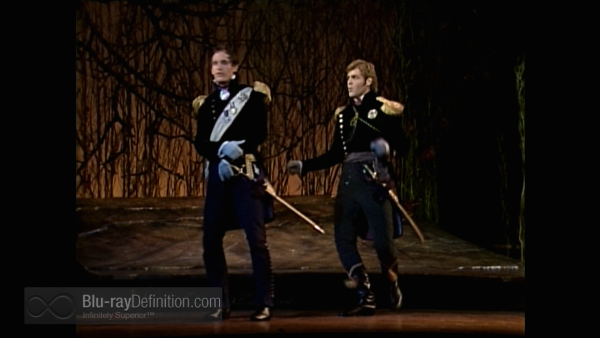 Eventually the Baker and his wife get all four ingredients and feeds them to the cow who produces a potion that the Witch drinks and is transformed into a beautiful woman. Cinderella marries her Prince Charming (Robert Westerberg), the Baker and his wife get their child, and it seems that everything will end happily ever after. But in Act II (spoiler alert!), we find that the characters' happiness is elusive, we lose a number of them along the way, and finally get a moralistic ending: "Careful the things you say, 'Children Will Listen'."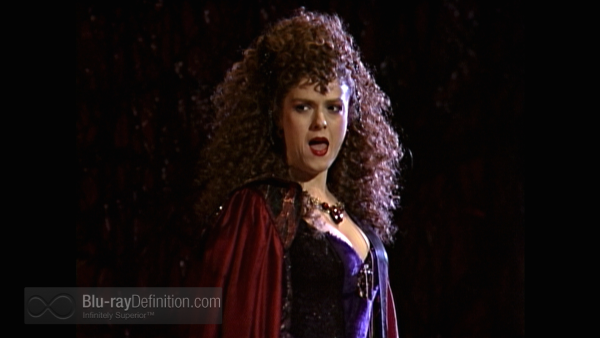 The score is filled with many memorable songs as only Sondheim can write including "Hello, Little Girl," "Agony," "Giants in the Sky," "On the Steps of the Palace,"and "Children Must Listen," to name but a few. We also get a large dose of the Sondheim syncopated speech patterns that are a trademark of many of his other shows. Into the Woods transmutes its fairytales into a serious examination about the relationships of parents and children, love and loss, all inspired by Sondheim's own unhappy childhood.
Video Quality
[Rating:1.5/5]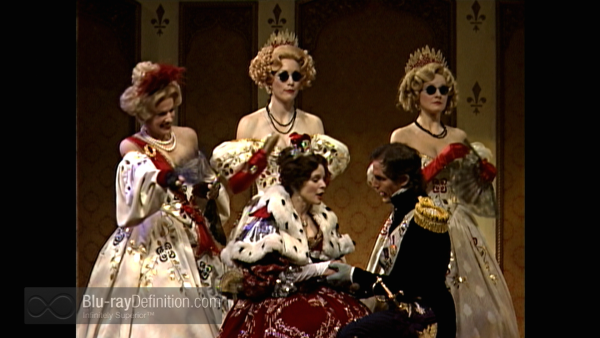 In spite of being less than three decades old, this video is, to put it bluntly, quite murky looking more like 240-line VHS resolution than what we used to get on our old cathode-ray tubed televisions. The color palette has obvious saturation issues. Unfortunately, matters get worse as there are occasional "stutters" in the image.
Audio Quality
[Rating:2.5/5]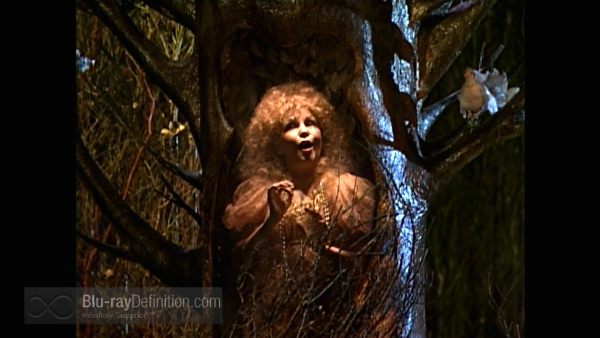 There is a single soundtrack billed as DTS-HD Master Audio 2.0 but sounds more like highly compressed mono to my ears. The soundstage was rendered more listenable by changing my processor's mode to Dolby Digital PL II. A pity since the brilliant score deserves much better than this.
Supplemental Materials
[Rating:0/5]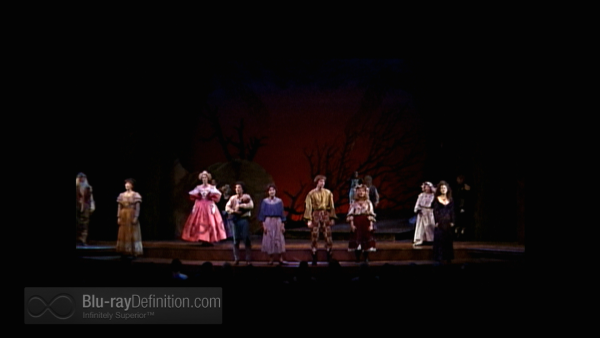 No extras are included.
The Definitive Word
Overall:
[Rating:3/5]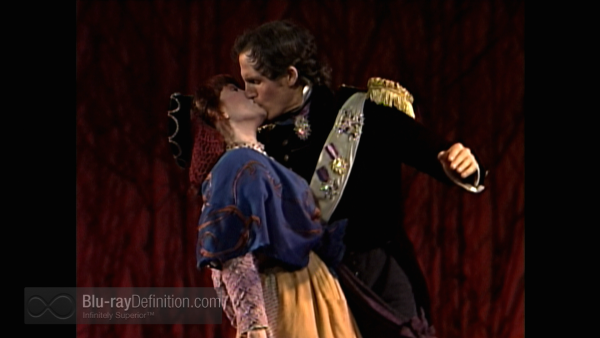 Into The Woods was a high-water mark in the very successful partnership between Stephen Sondheim and James Lapine (Passion, Sunday in the Park with George, Merrily We Roll Along). It was a delight to see once again the reworking of stories that we all know so well told by the original cast.  While I was disappointed in the sight and sound properties of this Blu-ray, far from what we are now accustomed to, this film is the only account that we have of this marvelous work. So rather than fussing about what it is not, we should be at least thankful for what it is and that this show has been brought back to us after a long absence. For ITW fans, there will be a new film version coming to theaters on December 25, 2014, directed by Rob Marshall with an all-star cast that includes Meryl Streep, Emily Blunt, Johnny Depp, Chris Pine, Anna Kendrcik and Tracey Ullmann.
Additional Screen Captures
[amazon-product]B00NC9TU16[/amazon-product]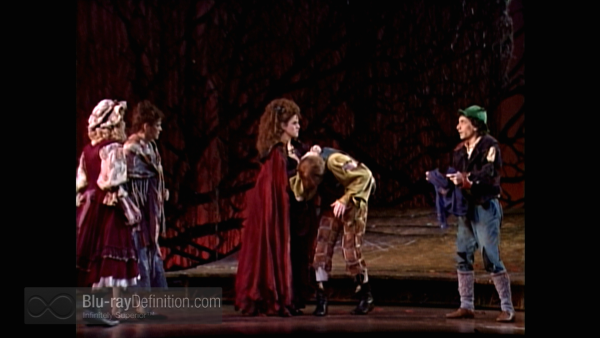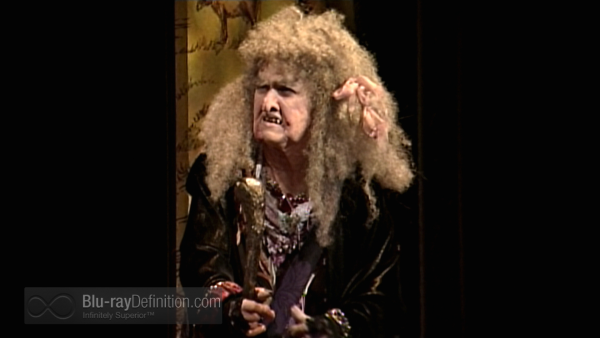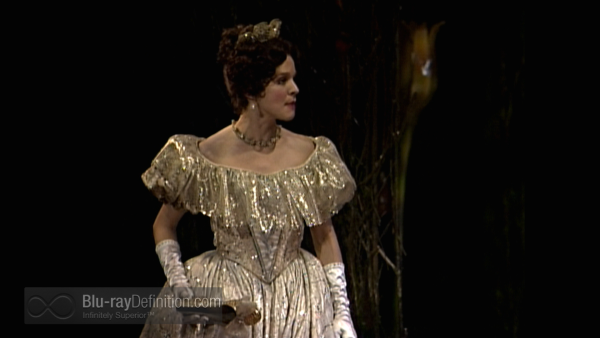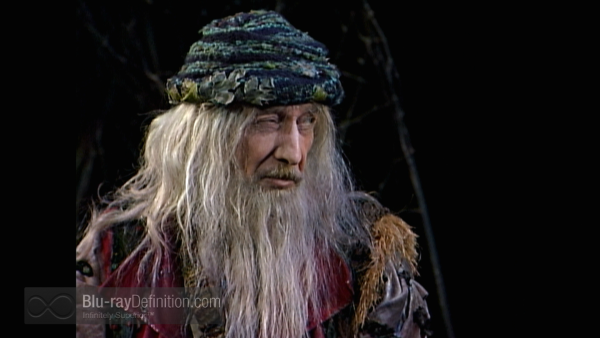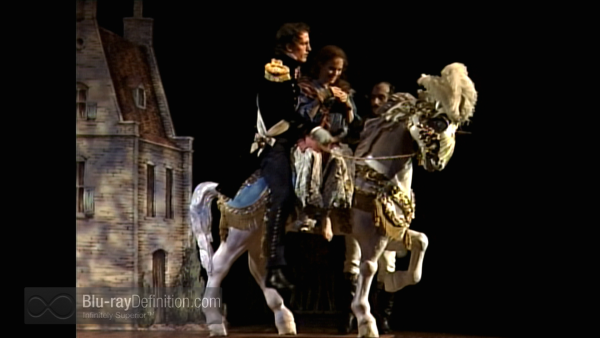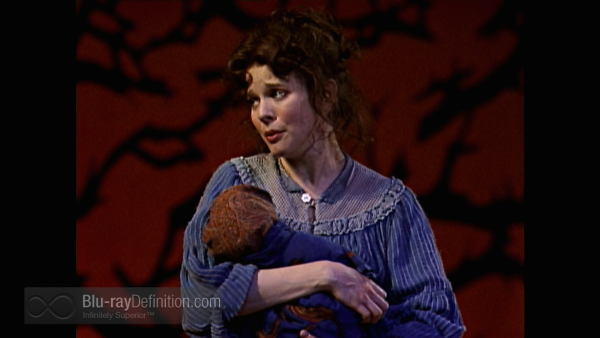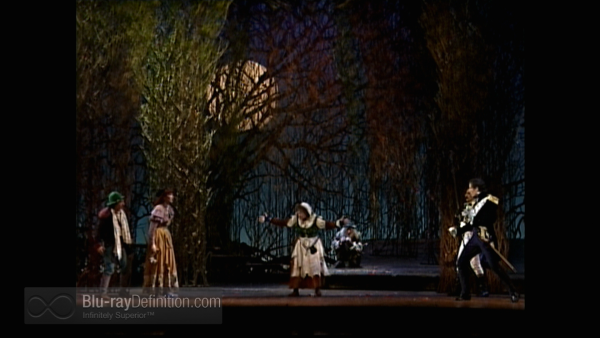 [amazon-product]B00NC9TU16[/amazon-product]