– –

The Film
[Rating:4/5]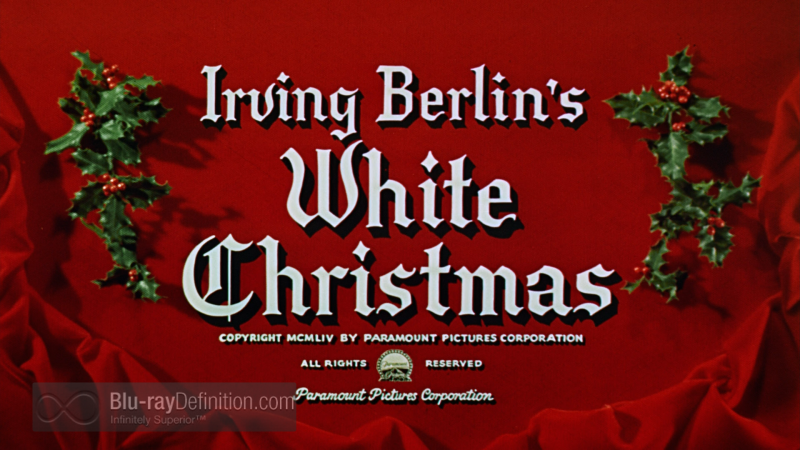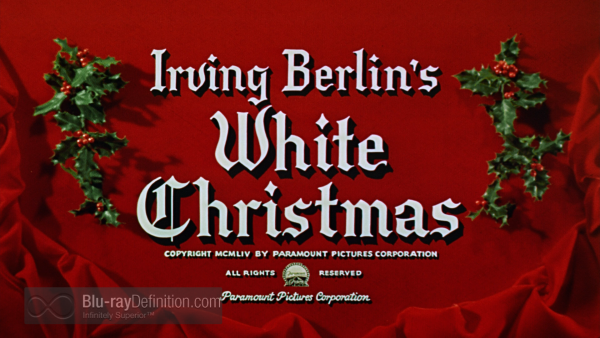 Hollywood filmmakers usually go gaga during the holiday season (and who could blame them). White Christmas is one of the granddaddies of all holiday flicks and this "Diamond Anniversary" edition (actually only 60 years old) returns in a Blu-ray/DVD combo pack. White Christmas broke new ground as the first Paramount Pictures release in VistaVision, giving audiences a vivid widescreen color picture. With a hit-laden Irving Berlin songbook and en pointe direction by Michael Curtiz (Casablanca), this was another can't-miss hit and, by far, the biggest moneymaker of 1954.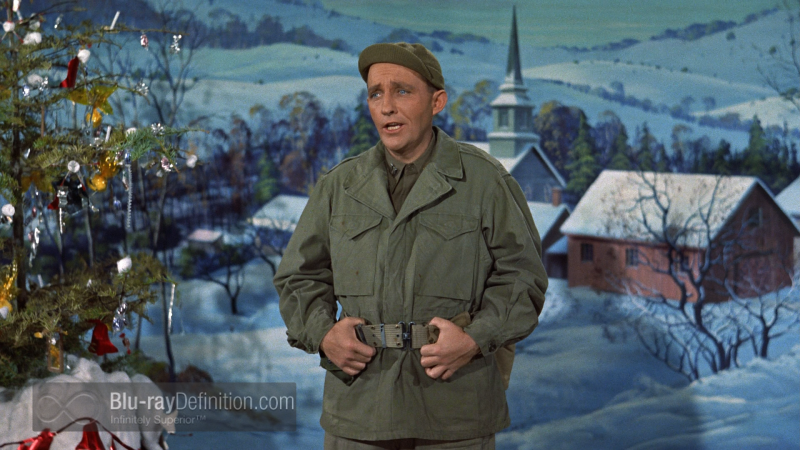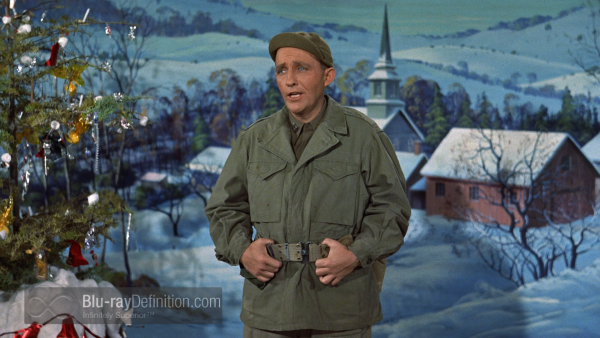 White Christmas begins on the European war front (obvious Hollywood sets notwithstanding) as a holiday variety act features Captain Bob Wallace (Bing Crosby) crooning the iconic "White Christmas" to the troops and their departing Major General Thomas Waverly (Dean Jagger).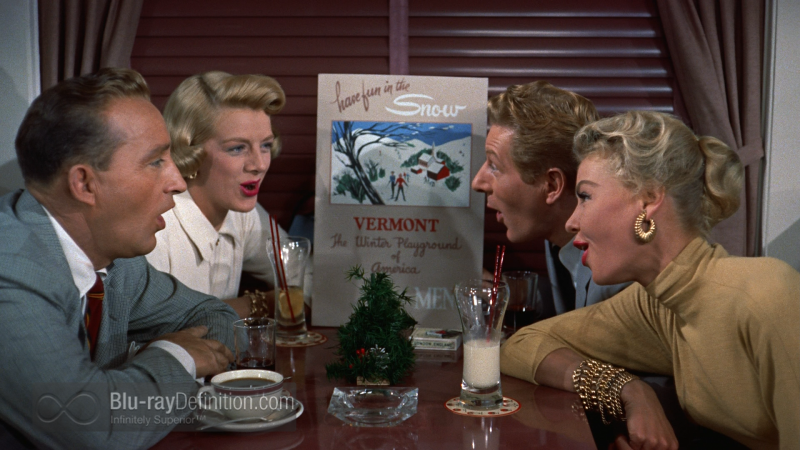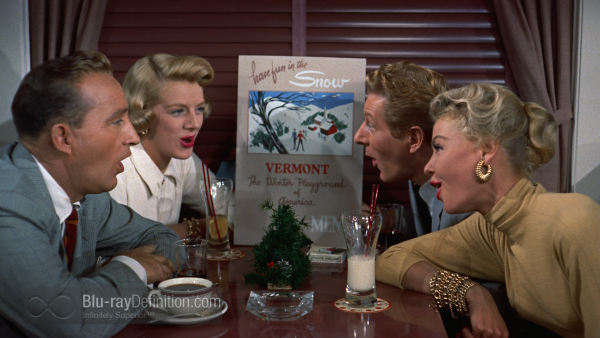 Aspiring song-and-dance man Private Phil Davis (Danny Kaye) protects Wallace from falling debris and lands in the hospital with a wounded arm. After the war is over, Wallace and Davis join forces and become a very successful showbiz duo.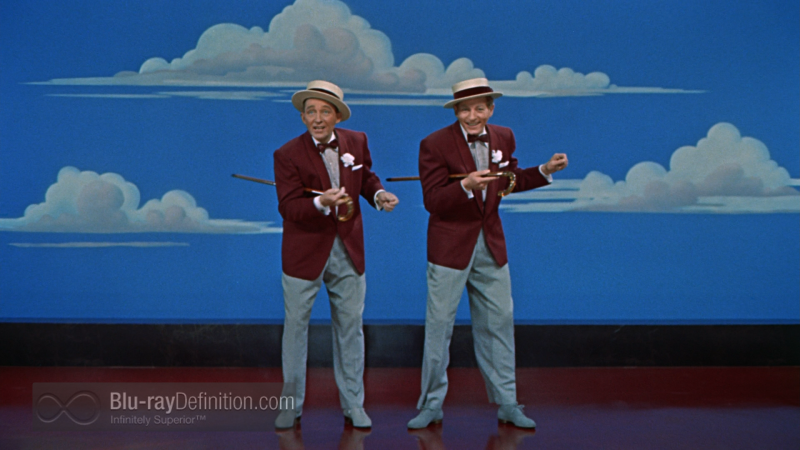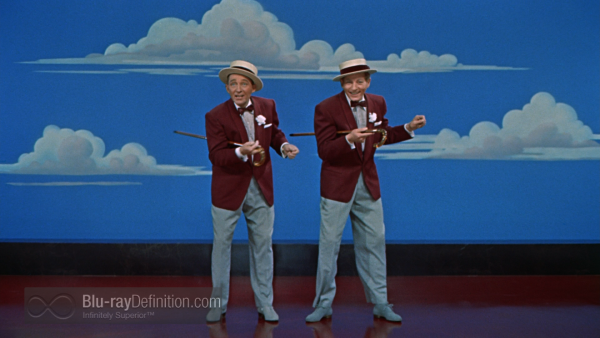 Before going to New York for a big TV date, the pair auditions the Haynes sisters, Betty (Rosemary Clooney) and Judy (Vera Ellen). The sisters' opening duet blows the boys away as Phil falls for Judy and Bob for Betty.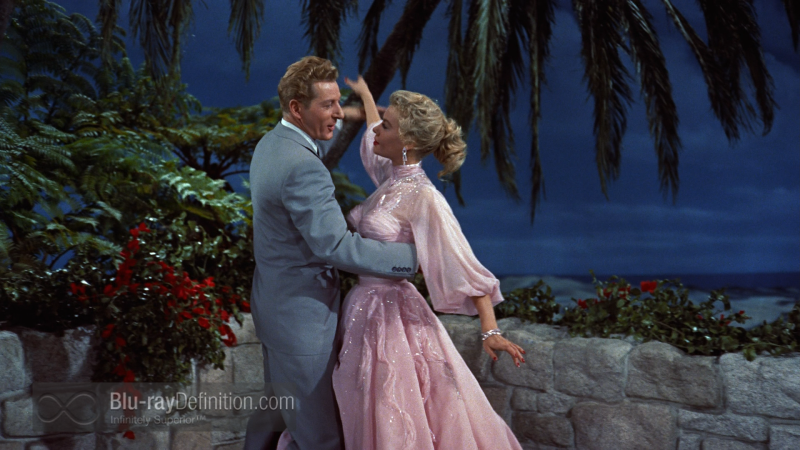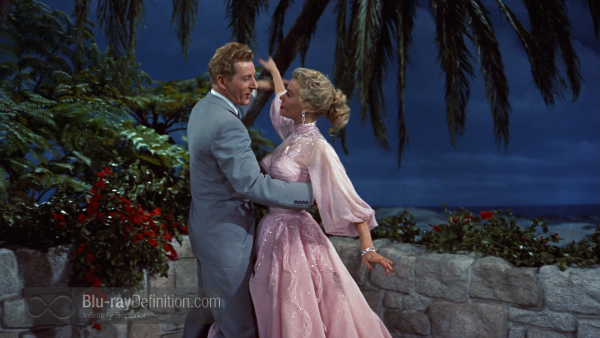 In the meet-cute tradition, the sisters end up on the same train with Bob and Phil. All agree to continue on to Vermont where Betty and Judy are contracted to perform at a local ski resort. When the four arrive, they find no snow, no guests, and no show. Ex-General Waverly owns the lodge that is gradually going broke, and, to brighten things up, Bob and Phil decide to bring their show here "to rehearse."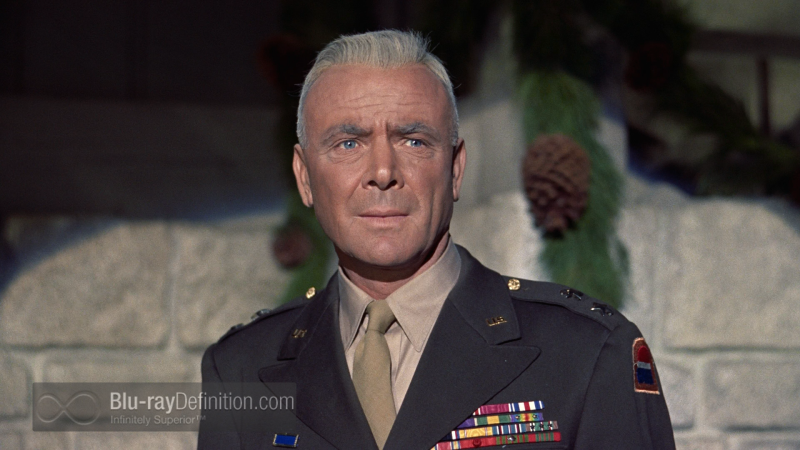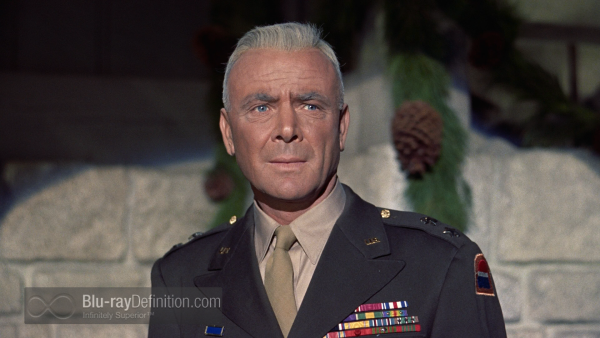 Bob rejects an offer by an old army pal, television show host Ed Harrison (Johnny Grant), to broadcast from the ski lodge and to highlight a reunion with Waverly and his troops but there is a misunderstanding on the parts of Betty and nosy housekeeper Emma Allen (Mary Wickes) that the television program will take place and make the General look pitiful.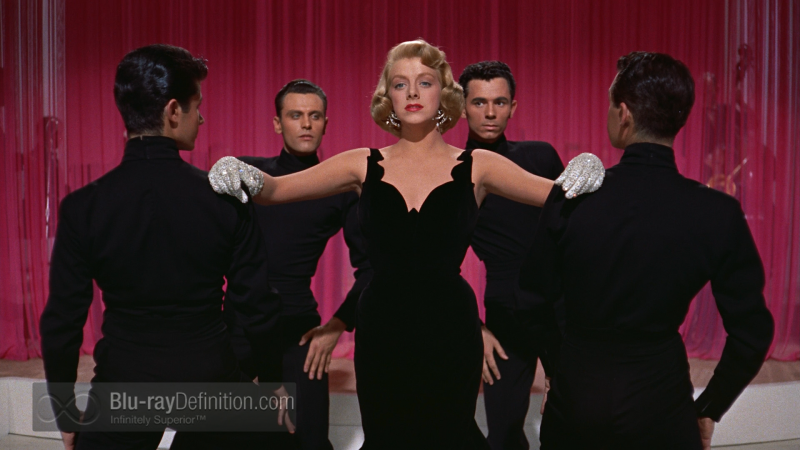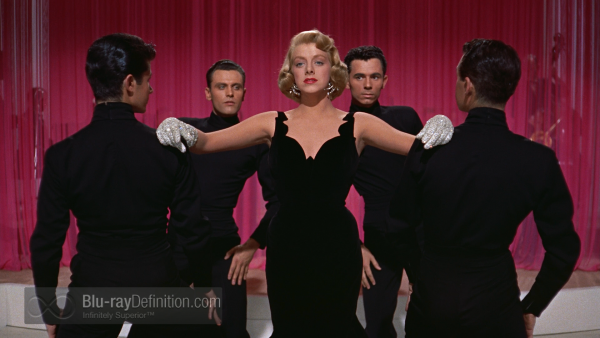 Betty takes off for New York after Phil and Judy announce their phony engagement. The course of true romance often hits some bumps along the way, and this is certainly the case in White Christmas. However, not to worry, everyone will love this film's happy ending.
Video Quality
[Rating:3.5/5]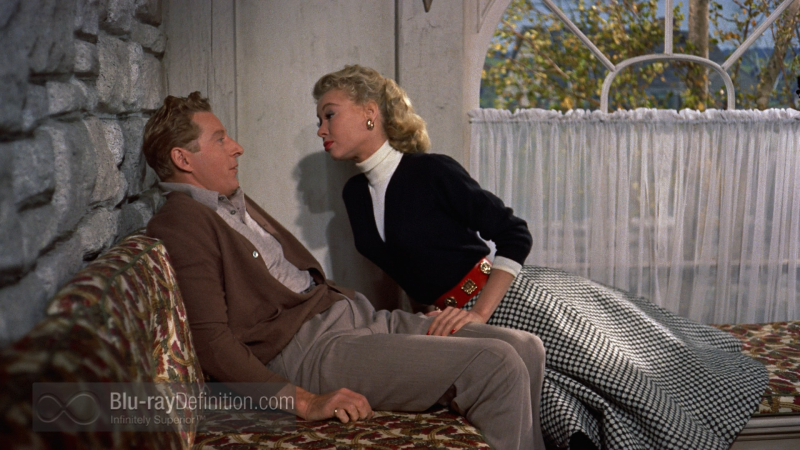 This sixty-year old film has received a terrific restoration with great colors and details. In fact, the recovery of detail is so good that the Hollywood painted background sets become quite apparent.  There are noticeable edge enhancements and occasional blur, but very little extraneous noise or streaks.
Audio Quality
[Rating:3.5/5]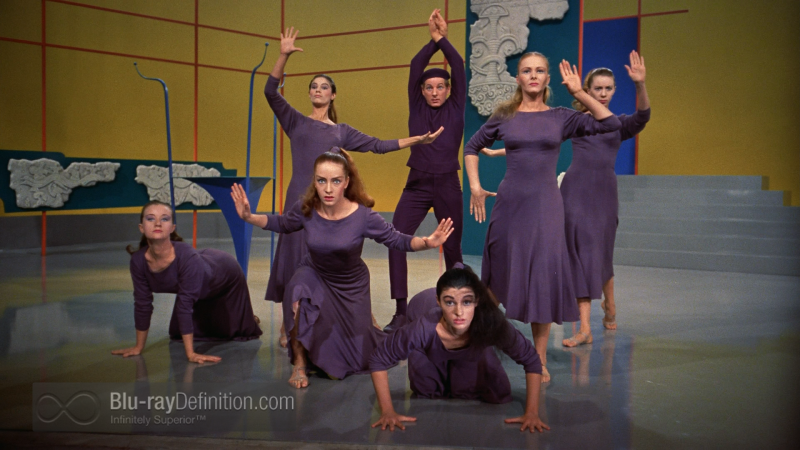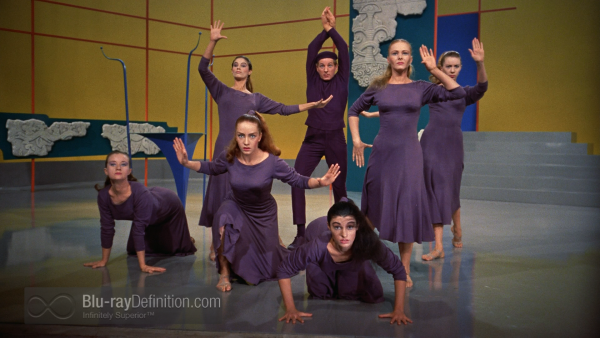 There were two original sound mixes: Mono (Western Electric Recording) and Perspecta Stereo (optical prints with three synched mono tracks). The DTS-HD Master Audio 5.1 soundtrack sounds like it was based on the latter and is fairly spacious, but during the musical numbers, the vocal tracks are pushed forward while in the DTS-HD Master Audio 1.0 version keeps everything in the same sound plane. In both cases, there is relatively little boxiness or distortion at the musical climaxes.
Supplemental Materials
[Rating:4/5]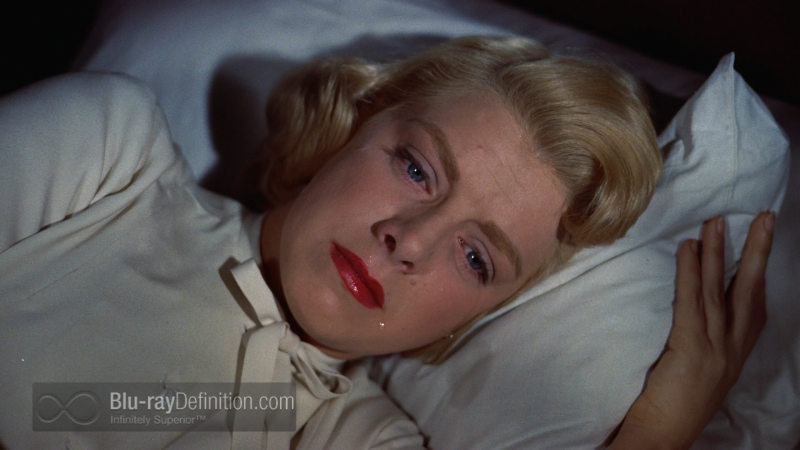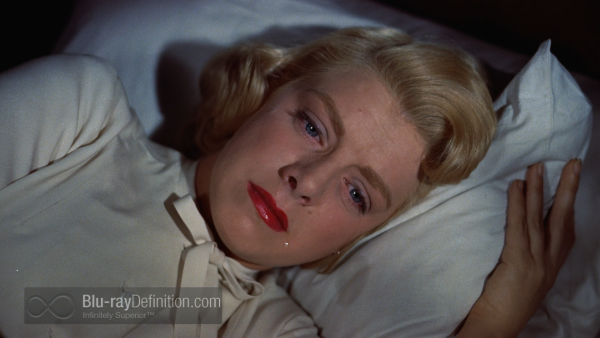 This Blu-ray and its two companion DVDs are chock-full of extras, beginning with a Sing-Along Track. Additional bonuses are as follows:
Commentary by Rosemary Clooney
Classic Holiday Moments

"White Christmas" by Bing Crosby (December 1, 1976) (English Dolby Digital Stereo 48k/16b) (2:02)
"White Christmas" by Bing Crosby featuring Michael Buble (December 10, 2012) (English Dolby Digital 5.1 48k/16b) (4:21)
"Silent Night" by Bing Crosby (December 12, 1948) (English Dolby Digital Stereo 48k/16b) (2:37)
"Jingle Bells" by Danny Kaye and Nat King Cole (December 25, 1963) (English Dolby Digital Stereo 48k/16b) (3:39)
Danny Kaye reads from A Christmas Carol (December 22, 1965) (English Dolby Digital Stereo 48k/16b) (7:23)

Assignment Children with introduction by Michael Buble (English Dolby Digital Stereo 48k/16b): (18:36) A feature on UNICEF and Danny Kaye's role as Goodwill Ambassador
Backstage Stories from  White Christmas (English Dolby Digital Stereo 48k/16b) (11:57) reminiscences about the making of this film.
Bing Crosby: Christmas Crooner: (English Dolby Digital Stereo 48k/16b) (14:17): personal recollections of the film by Crosby family members and stories shared by film historians about Crosby, the film, and a visit to Spokane, Washington (Crosby's home town).
Danny Kaye: Joy to the World:  (English Dolby Digital Stereo 48k/16b)  (13:12): a tribute to this humanitarian actor who was a UNICEF Goodwill Ambassador
Irving Berlin's White Christmas: (English Dolby Digital Stereo 48k/16b) (7:25): a background piece on the creation of this iconic song.
Rosemary's Old Kentucky Home: (English Dolby Digital Stereo 48k/16b)  (13:28 ): a visual tour of Rosemary Clooney's home in Augusta, Kentucky
White Christmas: From Page to Stage: (English Dolby Digital Stereo 48k/16b)  (4:23): The Broadway musical that garnered two Tony nominations.
White Christmas: A Look Back with Rosemary Clooney (English Dolby Digital Stereo 48k/16b)  (16:46):  Clooney offers a retrospective on her association with this fil.
White Christmas: Photo Galleries
Two Theatrical Trailers
A Music CD with Christmas songs by Rosemary Clooney, Bing Crosby, Danny Kaye, Ella Fitzgerald, Peggy Lee, and Judy Garland.
The Definitive Word
Overall:
[Rating:4/5]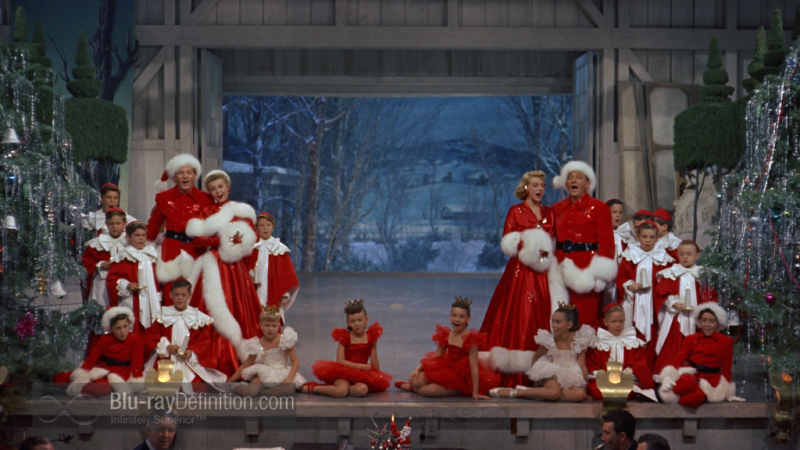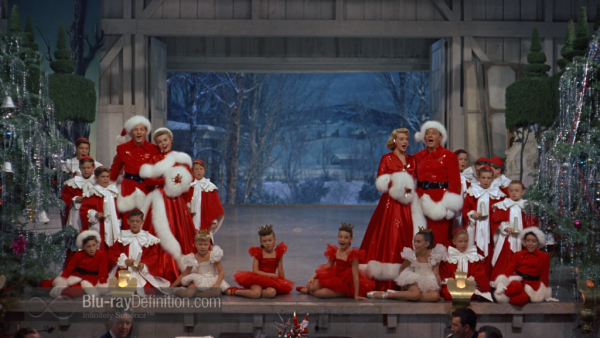 White Christmas is one of those self-recommending films that should be in everyone's home film library. The Paramount restoration wizards deserve many accolades for sprucing up this chestnut and making it look freshly minted. With a heart-warming storyline and Irving Berlin's timeless holiday songs, a picture-perfect cast makes this one Blu-ray disc that will delight audiences of all ages and one that will get repeated plays during the Christmas season, or at any other time of year for that matter.
Additional Screen Captures
[amazon-product]B00MMPB45Q[/amazon-product]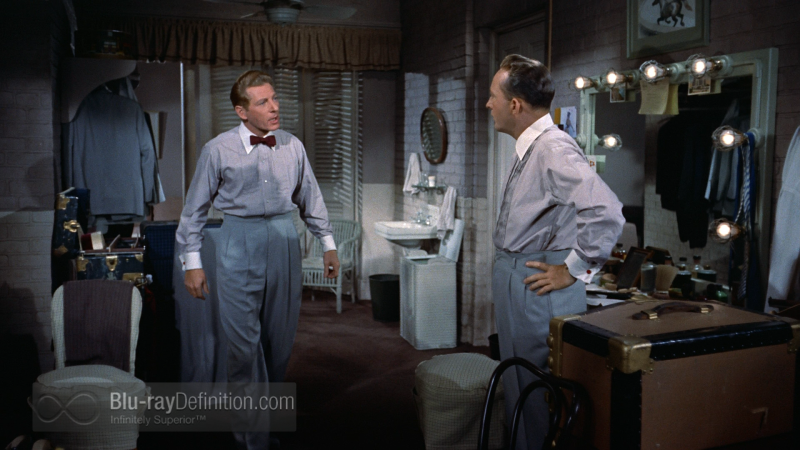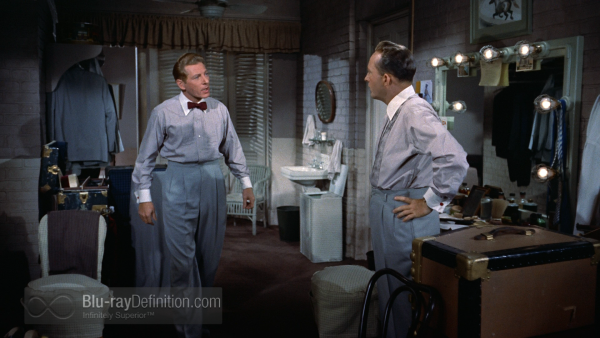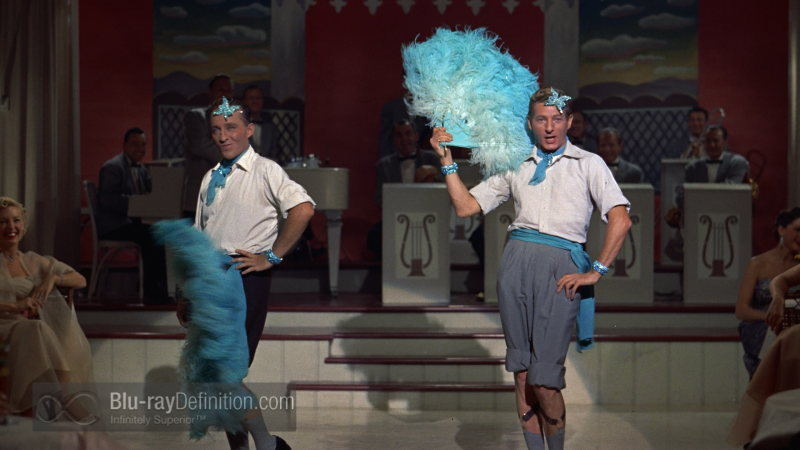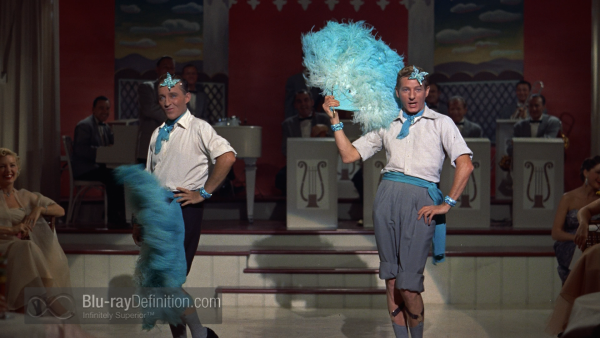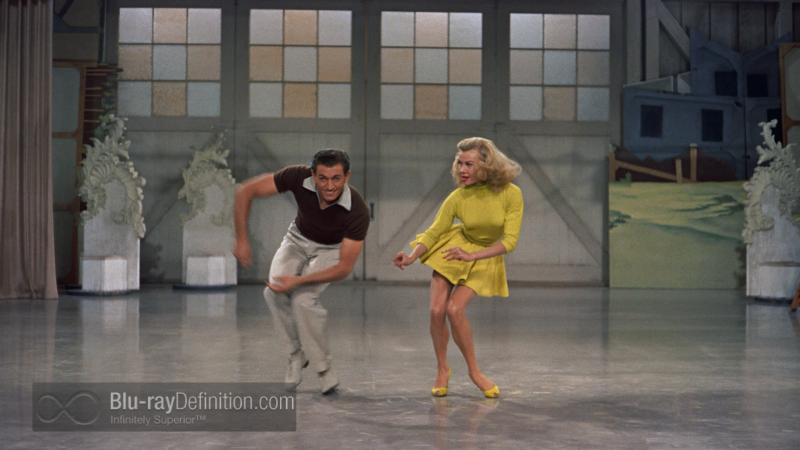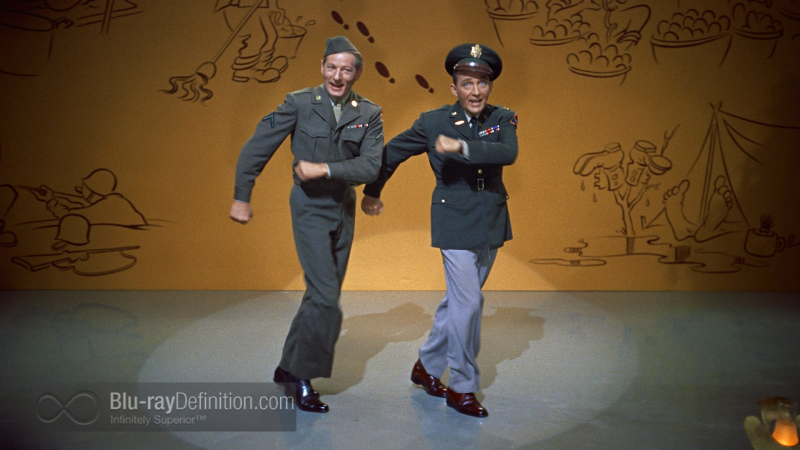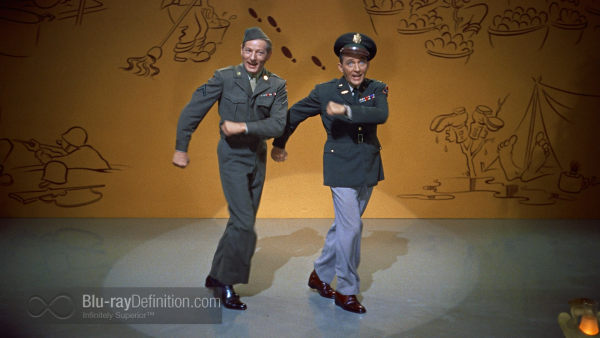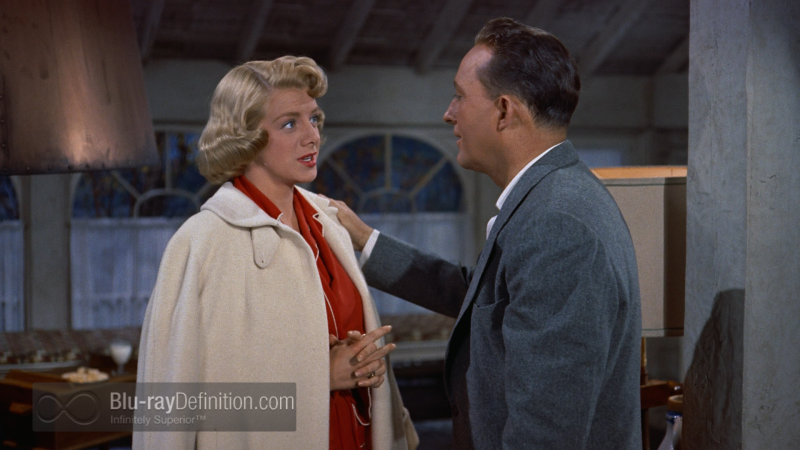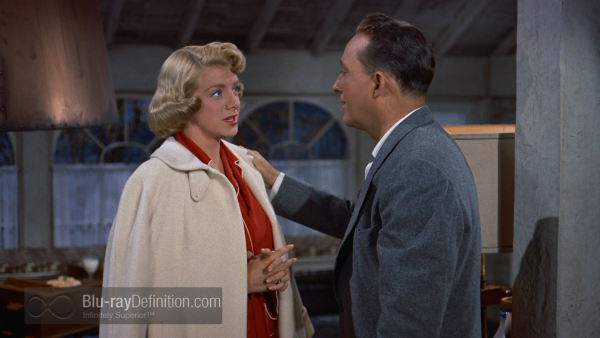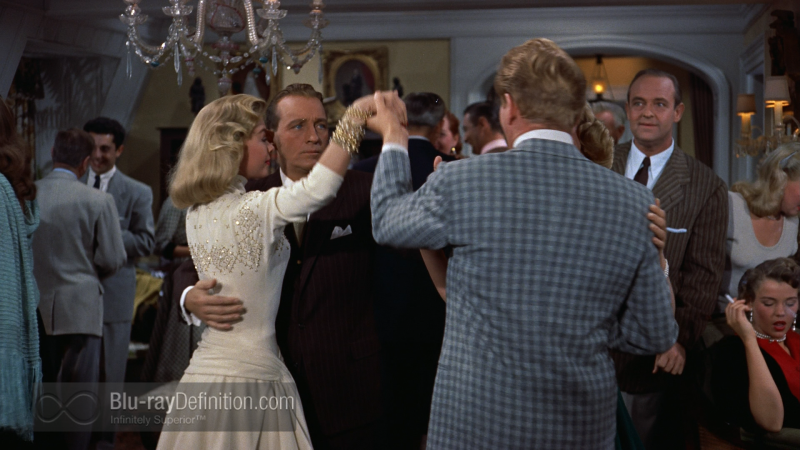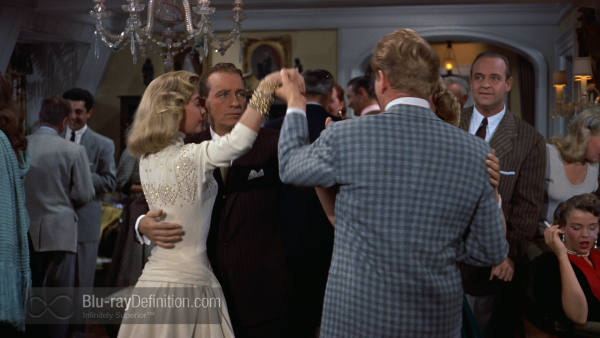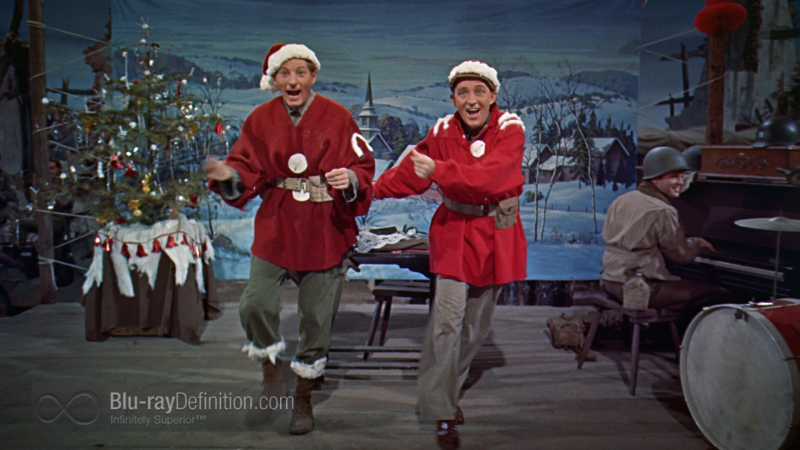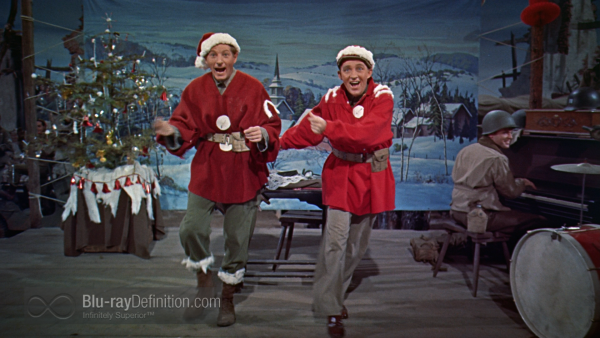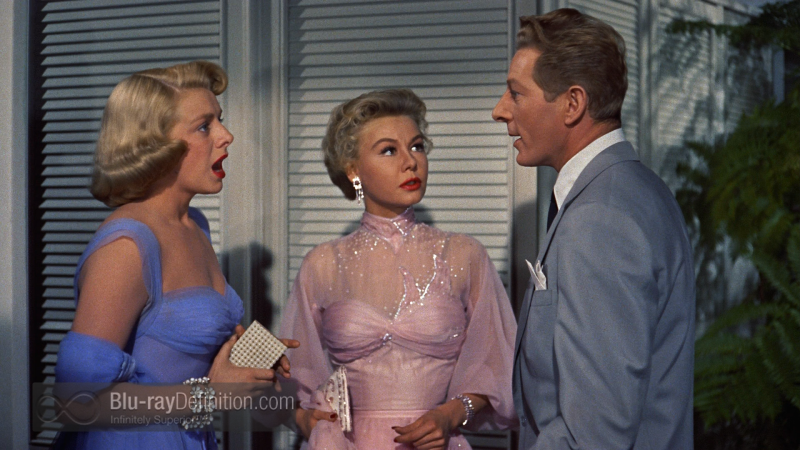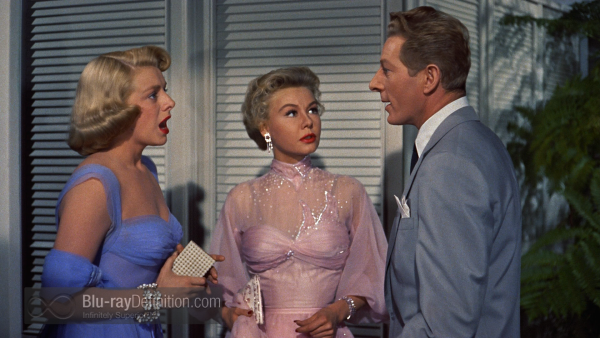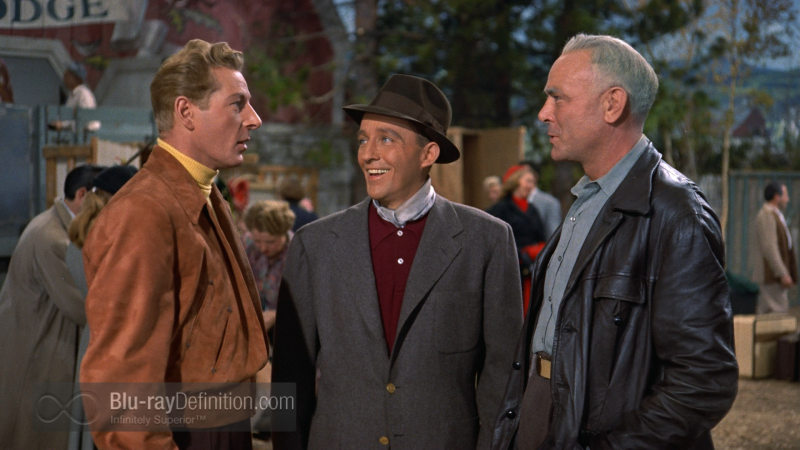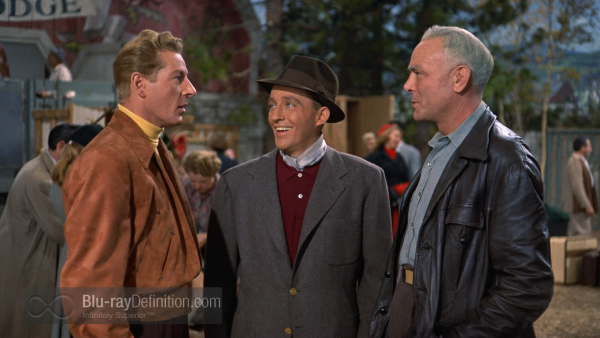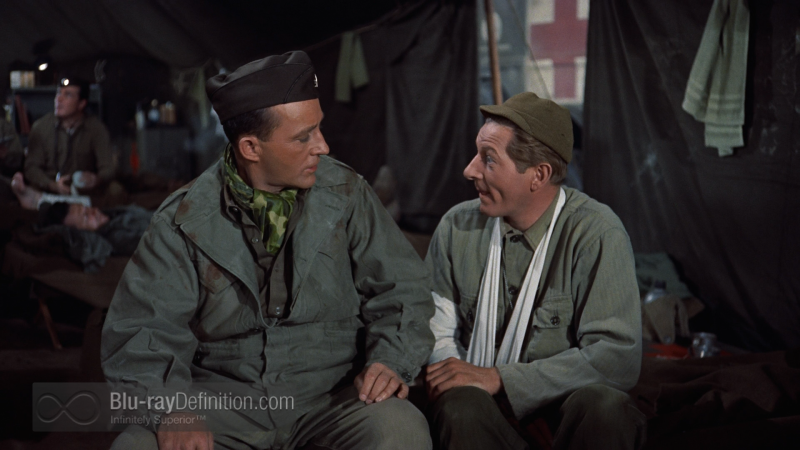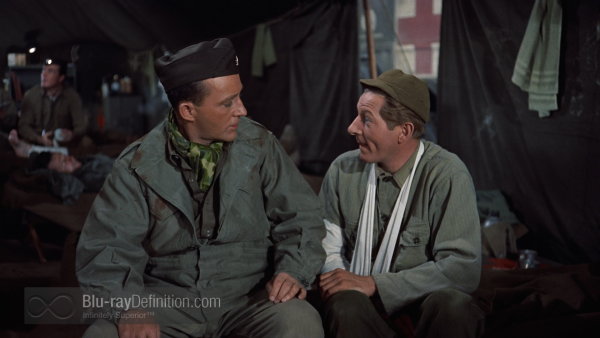 [amazon-product]B00MMPB45Q[/amazon-product]