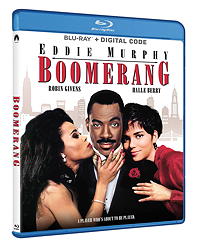 In the 1992 comedy Boomerang Eddie Murphy plays womanizing ad executive Marcus Graham who has the tables turned on him when his company is taken over and his new boss Jacqueline, played by Robin Givens, turns out to be a female version of himself. Marcus finds himself unable to deal with being treated by a powerful woman the way he has been treating them all along.
This film feels like the beginning of the end for the brilliant Eddie Murphy cinematic run where he was edgy, funny, and unafraid of comedy without a net and instead transitioning to milquetoast, family friendly comedy like The Nutty Professor. There's nothing really enjoyable about this film other than the standout performances from the perfectly cast Grace Jones playing the perfectly named fashion model Strange (pronounced Strahn-JAY) and Eartha Kitt doing her perfect purring as Lady Eloise. Murphy himself is thoroughly unlikeable, which is the point, but it's not in a good way. The film features a cast of notables including David Alan Grier, Martin Lawrence, Chris Rock, Halle Berry, and Lela Rochon.
The Video
Originally shot on 35mm with the Panavision Panaflex Gold II camera and Panavision Primo lenses, Boomerang arrives on Blu-ray framed at 1.78:1 in an AVC 1080p encodement that just does not hold up very well, particularly not when compared to other much older catalogue films released by Paramount or even to the other Eddie Murphy films they have reissued. This looks like they have put in the minimum effort to nudge it into shape for a Blu-ray release. The image is soft, grain is coarse, at times detail soft, there is some minimal source damage that shows itself throughout in the form of minor scratches, and shadows can at times look a bit washed out or noisy.
The Audio
The English DTS-HD Master Audio 5.1 mix for Boomerang surpasses the quality of the video portion of this Blu-ray providing an engaging and dynamic aural landscape with extended low-end frequencies, solid use of the surround channels, and an energetic sound offered up to the contemporary R&B-infused musical soundtrack.
The Supplements
The best bonus on offer is the audio commentary. The brief deleted scenes don't bring much to the table and are very poor visual quality.
Digital Copy Code
Commentary by Director Reginald Hudlin
Extended and Deleted Scenes with Optional Director's Commentary (SD; 00:04:51):

Thanksgiving at Marcus' Place
Strangé's Arrival at the Dinner
Bony T Asks Marcus About Sex with Jackie
First Dinner Between Jackie & Marcus
Dinner Between Gerard and Angela
The Final Assessment
Boomerang is not one of Murphy's better films and frankly the surprisingly middling transfer to Blu-ray from Paramount is probably indicative of this as well. It's probably best to rent this one first on VOD or digital.
Boomerang is out on Blu-ray June 28th, 2022 from Paramount
---
Rating Certificate: R (for language and sexuality)
Studios & Distributors: Paramount Pictures | Imagine Films Entertainment | Eddie Murphy Productions | Paramount Pictures Home Entertainment
Director: Reginald Hudlin
Written By: Barry W. Blaustein (screenplay by) David Sheffield (screenplay by) | Eddie Murphy (story by)
Run Time: 117 Mins.
Street Date: 28 June 2022
Aspect Ratio: 1.78:1
Video Format: AVC 1080p
Primary Audio: English DTS-HD MA 5.1
Secondary Audio: German DD 2.0 Stereo | French DD 2.0 Stereo | Japanese DD 2.0 Stereo
Subtitles: English | English SDH | German | French | Japanese