Bowers & Wilkins 686 Speakers
Bowers & Wilkins has made fabulous loudspeakers for nearly half a century, ranging in size from relatively large floor-standers (like the recently reviewed CM10s) to the current baby of the new breed, the model 686 S2 (or Series 2). The B&W 600 series has actually been around for quite a while but this current offering represents a complete makeover in terms of design, as will become obvious later.
Out of the Box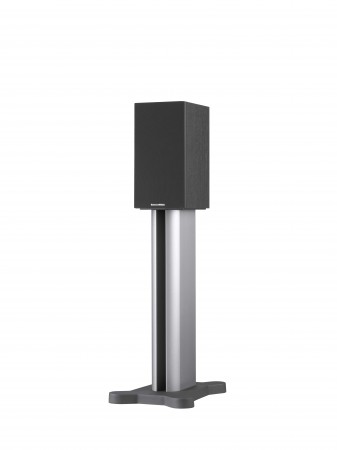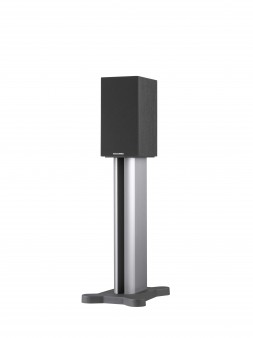 Today's living spaces, like those occupied by urban cliff dwellers, are often limited in square footage, necessitating the installation of smaller speakers for two-channel (or multichannel) systems. Ideally, smaller speaker size should not substantially short change listeners on dynamic range, frequency response or imaging. The 686s are small enough (12 x 6 x 9 inches, H x W x D) to fit on a conventional bookshelf (they also have mounting brackets).  There are attractive black metallic stands supplied by B&W (they do require some assembly) that elevate the drive units to optimal height for listeners seated about eight feet away (the distance that I chose for their evaluation). One can attach the speakers "permanently" with the supplied accessories or do what  I did, use Blu-Tack, a proprietary material that augments speaker isolation and takes a firm grip on the stands.
The two-way design features a decoupled double dome aluminum tweeter with Nautilus™ tube loading (a feature of their much more expensive speaker lines) that handles the high frequencies, crossing over at 4kHz to a woven Kevlar® cone bass/midrange resembling the midrange unit used in the CM10. This speaker is ported with a Flowport™ vent in the front below the midrange/bass driver, an approach that teases more low frequencies out of small speakers than would be the case with completely sealed boxes. Further, this port can be damped with a foam insert (supplied) to tailor bass response for your room. After experimenting with the insert, I found the bass response best in my room with the port completely open. The 686 also has bi-wiring capability, another feature that I like for getting the most out of discrete high and lower frequency drive units. An important starting point is that this speaker has relatively low sensitivity (84 dB at 2.83V, 1m) and a nominal 8-Ohm impedance, making amplifier choice quite important.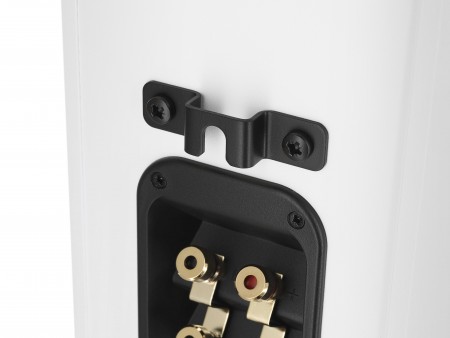 These speakers have attractive, apparently acoustically transparent grilles but I always like to listen to dynamic speakers in their naked mode for their best dispersion and this was how they were used for the majority of listening sessions. The 686s were placed about 8 feet apart, 4 feet from the rear wall and 8 feet from my listening chair, with minimal toe-in. Over the time that I had these speakers in my room, I found that this set up yielded the best imaging and tonal balance.
I also decided after extensive break-in that the bi-wired mode sounded better than single-wired mode that used jumpers between the two pairs of terminals on the rear of their chassis.  Associated hardware alternated a Pass INT-30A integrated amp (30 w/ch) and a Pass X-150.5 (150 w/ch) stereo amplifier driven by the INT-30A's preamp section.
Little Speaker, Big Sound
The B&W 686 speakers were presented with a wide variety of music during my several weeks' sojourn with them.  Evaluation began with some intimate small ensemble recordings, starting with Inscape's Sprung Rhythm (192kHz/24-bit Pure Audio Blu-ray Disc, Sono Luminus). One of its selections, Chopin Syndrome features a piano, flute, clarinet, violin, and cello with a detailed, occasionally percussive quality that is nicely brought to the fore by these speakers.
Piano recordings present major challenges for recording studios, as well as for loudspeakers, and Nojima Plays Liszt (176.4kHz/24-bit DVD-R Reference Recordings) is certainly no exception. These Liszt works are real knuckle busters and the "Mephisto Waltz" features a huge soundstage that would overwhelm lesser transducers. While the 686s lack the ultimate oomph of the lowest octaves on this full-range recording, the recreation of Nojima's instrument was quite palpable and three-dimensional.
A favorite live concert recording, the Eagles' "Hell Freezes Over," (44.1kHz/16-bit; Asylum CD) features a pulse-pounding drumbeat intro and some very snappy guitar work, nicely projected and with a surprisingly atmospheric capture of the performers all seated upfront on the concert stage.
Solo voice is one of the tests that separates the merely "hi-fi" speakers from those that reproduce the natural warmth of a live singer. The late Eva Cassidy's "Songbird" from Simply Eva (Blix Street Records 96kHz/24-bit, HDTracks) is a very simply miked voice and guitar cut elicited beautifully by the 686s.
The MJQ's Blues on Bach (192kHz/24-bit FLAC) is a stunning example of what a good small ensemble recording (keyboards, drums, vibes, and bass) should be. "Regret," the opening number, was spacious with pinpoint location of each instrument.
Getting to Red Book CDs, I started with "Inutil Pasaijem" from Esperanza Spalding's Chamber Music Society. This deceptively simple track features Spalding's voice and acoustic bass alternating with Gretchen Parlato in a hypnotic Brazilian samba. The bass was taut and well defined as was the slide of Spalding's fingers along the strings. Eiji Oue and the Minnesota Symphony Orchestra have made several outstanding classical recitals caught by Prof. Keith Johnson and the Reference Recordings team. His Stravinsky HRx (176.4kHz/24-bit) disc has a potent presentation of the Firebird Suite with a wide dynamic range and explosive transients. While the 686s are clearly pushed by the demands of this recording, with the exception of the thunder of the lowest octave and the absolute size of the soundstage itself, I never felt cheated out of the essence of this large orchestral recording.
Regarding the 686s' appetite for power, B&W suggests amplifiers ranging from 25 to 100 watts/channel. My 30 w/ch Class A integrated proved satisfactory at normal listening levels, but the extra headroom supplied by the X-150.5 amplifier really enabled these babies to open up and sing at higher levels.
The Baby B&Ws are a very special delivery
Reviewing dynamic loudspeakers is always an exercise in delayed gratification. With previous B&W speakers, I have found that the drivers, particularly the woven Kevlar mid or bass units are quite stiff on arrival and require a minimum 100 – 150 hours of break-in before serious listening can start. In this respect the 686s proved no exception and, patience, being a virtue, was amply rewarded. As more and more music is presented to these little fellows, they give the sonic illusion of continuing to grow in size. I know that the specs show a nominal low-end roll-off at 62Hz. However, in listening to sources with low-end information, the 686s did not sound skimpy or wimpy, just not quite as room-filling as full-range floor-standers.
The Good
Excellent build quality
Compact footprint
Good integration of drivers
Great imaging
The Bad
Limited very low frequency response
May require more amplifier power than larger floor standers to sound their best
The Scorecard:
Design/Ergonomics:
[Rating:4/5]
Performance:
[Rating:3.5/5]
Value:
[Rating:4/5]
Overall:
[Rating:4/5]
The Definitive Word
For those seeking excellent coverage of the sound spectrum (with some concession at the lower end), great imaging that belies their small size, and superb musicality, all at a reasonable price, the B&W 686s offer one terrific package. These speakers will certainly fill the bill for music lovers living in small spaces and/or with limited budgets, provided that they are willing to ante up sufficient amplifier power.
Specifications :
Recommended Amplifier Power: 25 Watts (minimum) – 100 Watts (maximum)
Response

+

 3dB                    :  62 Hz-28 kHz
Sensitivity                               :  84 dB spl (2.83V, 1m)
Harmonic distortion               :  2nd  and 3rd harmonics (110db, 1m) <1% 66Hz-28kHz
<0.5% 180Hz-20kHz
SPL Anechoic 1w/1m          :  85 dB
Crossover points                  :  4 kHz
Tweeter                               :  Single 1"  double dome aluminum dome
Midrange/Bass                    :  Single 5" woven Kevlar® cone
Nominal Impendance          : 8 Ohms (minimum 5.2 Ohms)
Dimensions (H x W x D)    :  12.4  x 6.3 x 9.0 (in); 315 x 160 x 229 (mm)
(with stands) 42.8×14.4 x14.3 (in); 1087 x 366 x 384 (mm)
Weight                                     :  10.1 lbs; 4.6 kg
More Information:
Bowers & Wilkins 686 S2 (SRP $480 USD)