Bowers & Wilkins P3 Headphones
When I was a young apartment dweller, headphones were essential for late-night listening, and believe me, there was plenty of that in the day! Fast-forward through three decades of earbuds, earplugs and the like, and then I scored a pair of Bose "isolating" headphones. Great for airplanes and cars, these phones effectively banished the outside world but lacked my desired dynamic, full-frequency sound experience and heated up my ears with prolonged listening.  I was beginning to give up hope of finding phones that sounded good and were comfortable to wear when along comes the Bowers & Wilkins P3. B&W, a legendary audio company, are best known for their outstanding loudspeakers.  Recently, B&W have diversified their product line with iPod docks (such as the recently reviewed B&W Zeppelin Air) and high quality headphones of which the P3 is their newest entry.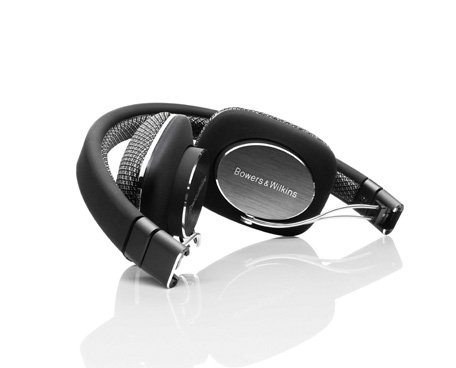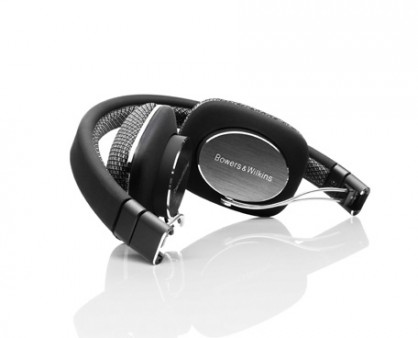 Headphones Up!
When the small shipping carton arrived, I was unprepared for the luxury packaging given the P3 headphones. After opening the protective plastic container, labelled "Lawrence Devoe's Concert for One," I unclamped the clamshell case and unfolded the P3. I inspected "QuickStart Manual," a nearly wordless illustrated fold-out. Diagrams showed how to adapt the P3 for i-device use (Pod, Pad, Phone) or, by switching cables (with a different miniplug) for computer usage. Cable swapping is easy. Just remove the acoustically transparent fabric ear pads that cover each speaker system, unplug the current cables and plug in the new ones. Speaking of speaker systems, the P3 features ground-floor up design that has neodymium magnets and a mylar damped laminate diaphragm. Unlike typical dynamic headphone speakers, this speaker's reduced mass means faster response times.  The P3's nominal impedance of 34 ohms is optimal for use with typically low-powered portable sound devices. While this impedance value is at the higher end for i-device headphones, usually in the 16 to 32 Ohm range, it should still allow plenty of volume from an iPod.
I'm All Ears
All of my i-devices have used either earbuds or earplugs, certainly okay for on-the-go listening like running, but none of these transducers is satisfactory for long-term listening due to their limited dynamics and frequency response.  The obvious advantage of supra-aural headphones like the P3  is their ability to house speakers with larger surface area so that more music reaches your ears.
What became obvious during my extensive evaluation sessions, usually ranging from one to three hours, was the comfort of wearing these phones.  Unlike circumaural phones that are clamped by foam mounts to surround the ear, the P3's earspeakers rest freely on the external ear.  The minimalist design of the headpiece, coupled with the very compact ear enclosures permit adjustment for a good fit. For the best performance, I shifted the earpieces back and forth until they were centered around my ears.   I did note differences in both perceived frequency response and imaging occurred if I shifted the phones' position forward or back from their central position.
While most of my iPod/iPhone music consists of mp3 files (usually with compressed bitrates of ranging from 128 kbps to 320 kbps), I do have a number of Apple lossless selections. I sampled a mixed bag of tunes, including among others,  Train's "Hey, Soul Sister," (128 kbps),  Spice Girls' "Saturday Night Divas," (128 kbps), Respighi's Feste Romane (320 kbps), and Esperanza Spalding's "Inutil Pasaijem" (Apple Lossless). The sound coming from the P3 improved dramatically with increasing bitrates. Although these are not isolating headphones, normal room ambient noise did not noticeably interfere with the P3 listening experience.  The most impressive performance aspect of the P3 phones was their ability to generate a large soundstage with good instrument and voice placement. The P3 also produced some pretty punchy dynamics, a very visceral bass, and a squeaky clean midrange.  If not the equal of freestanding loudspeakers, the P3 phones still meted out a great deal of justice to any and all of the music that they encountered.
The Good
Compact size
Comfortable
Excellent coverage of frequency spectrum
Wide dynamic range at normal listening levels
High quality drivers
Superior build quality
The Bad
Design limited to portable devices
The Scorecard:
Design/Ergonomics:
[Rating:4.5/5]
Performance:
[Rating:4.5/5]
Value:
[Rating:3.5/5]
Overall:
[Rating:4.5/5]
The Definitive Word
The $199.00 price point for headphones lies well above that usually tagged to iPod listening aids. This higher cost of admission moves the P3 into the territory of some of the better conventional phones intended for major stereo systems. The catch here is that the P3 phones are specifically designed for portable devices so potential buyers really do need to love their iPods or iPhones as their go-to music sources.  B&W also makes a bigger brother, the P5, going for $299.00. For the extra c-note, you get noise isolation and a remote track control switch for the iPod and an extra cable with microphone and remote mic volume control switch for those pesky calls. But headphone fanciers should know that the noise isolation system puts extra weight on the earpieces, making the P5s heavier on the head and warmer on the ears.  To help with purchasing decisions, if noise cancellation is not a major priority (and it is not for most of us) and, if you appreciate lower weight and more compact size, and if i-devices are the way you get most of your music, then the Bowers and Wilkins P3 becomes a most serious contender for your ears.
–
Specifications
Distortion (THD)                                           1 mW < 1% (20 Hz – 20 kHz), <0.1% for 1 kHz
Maximum input power                                   50 mW
Sensitivity                                                       111 dB/V @ 1 kHz
Inputs                                                             3.5 mm Stereo mini-jack (on cable)
2.5 mm mini-jack (on headphone)
Drive Units                                                     2 x 30 mm
Height                                                             165 mm folded out, 105 mm folded in
Width                                                              150 mm
Depth                                                              48 mm
Impedance                                                       34 ohms
Frequency range                                              10 Hz to 20k Hz
Cable length                                                    1.2 m
Weight                                                             130 g
More Information:
Bowers & Wilkins P3 Headphones (SRP $199)
–