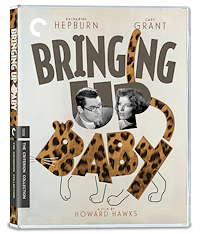 1938's Bringing Up Baby by director Howard Hawks landed in theaters during the Great Depression if not quite a thud, a whimper. This witty romantic comedy starring Katherine Hepburn and Cary Grant didn't quite do well in most markets although there were some spots where it did, mostly the metro areas. The comedy was probably a little too elite and too fast for most people at the time.
Cary Grant plays a beleaguered paleontologist trying to secure a $1 million grant for his museum who keeps running into a flighty heiress, played by Katherine Hepburn, whose aunt happens to be the woman offering the grant. Hepburn's cousin also happens to send her a pet leopard named Baby that goes missing wreaking all sorts of nighttime havoc for Grant, Hepburn, a group of circus trainers, and an attorney.
The dialogue in Bringing Up Baby is fast-paced and full of innuendo that you may miss if you don't play close attention and Hepburn is playing against type, almost a ditzy stalker in this film, a role than many didn't quite like her in at the time, but she was certainly capable of showing off her comedic chops as was Grant. The pair, who would go on to appear together in a few films, just have an innate chemistry.
Notably, Bringing Up Baby used some of the most advanced visual effects at the time to bring Baby to the big screen alongside the stars. While there are a couple of scenes where they are right there with the big cat in the room, many of the scenes are using advanced rear projection and optical printing among other techniques.

The Video
Bringing Up Baby is brought to Blu-ray in its original 1.37:1 aspect ratio. The new 16-bit 4K resolution restoration is taken from two problematic sources found by the Warner Bros. archive preservationist Craig Johnson, who identified them as the best pieces of film: a 35mm nitrate duplicate negative from the British Film Institute and a 35mm safety fine-grain positive. The nitrate duplicate was riddled with mold and the fine-grain positive was a fourth generation with an image that did not look as good. The archive scanned the elements at Motion Picture Imaging in Burbank, California and Criterion Collection restorers pieced them together. It was then digitally restored at Criterion Post. Given the extensive work done and the provenance of the source, it's almost amazing how watchable the film looks in this release. Still, there is a coarseness to the grain and lack of dynamic range that we might see if better original source such as the original camera negative or something closer to it were available. The Criterion Collection restorers have done miracles here so that, even if this isn't quite reference tier visual quality, it looks way better than it has any business looking for a film that wasn't even that well received in 1938.
The Audio
The original monaural audio was remastered from the 35mm optical tracks found on the same picture elements using Avid's Pro Tools and iZotope RX. We get decently clear dialogue bit a somewhat thin and shrill sound overall, not unusual for films from this era, but overall satisfying and in keeping with what to expect.
The Supplements
Peter Bogdanovich, whose film What's Up, Doc? Was influenced in a big way by Bringing Up Baby, gives a low-key, yet very knowing audio commentary, and the rest of the bonus features and extras are all high quality.
Audio commentary recorded in 2005 featuring filmmaker Peter Bogdanovich.
Scott Eyman (1080p; 00:18:32) – In this video essay, created by the Criterion Collection in 2021, Scott Eyman, author of Cary Grant: A Brilliant Disguise, discusses the actor's early career.
John Bailey (1080p; 00:11:20) – This interview with cinematographer John Bailey was recorded by the Criterion Collection in March 2021. In it, Bailey discusses Bringing Up Baby director of photography Russell Metty, along with several scenes from the film.
Craig Barron (1080p; 00:12:40) – This interview with film historian Craig Barron was recorded by the Criterion Collection in March 2021. In it, Barron discusses the career of visual-effects pioneer Linwood Dunn, including his work on Bringing Up Baby.
Howard Hawks: A Hell of a Good Life (1080i; 00:56:37) – In November 1977, filmmaker Hans-Christoph Blumenberg shot the last interview with director Howard Hawks, who died the following month. An intimate visit with Hawks at his home Palm Springs, California, the resulting film premiered at the Berlin Film Festival in February 1978 before airing on West German television later that year.
Selected-Scene Commentary (1080p; 00:22:21) – In this program, created for the Criterion Collection in 2021, costume historian Shelly Foote discusses the career of designer Howard Greer and examines some of the garments he created for Bringing Up Baby.
Cary Grant (1080p; 00:35:57) – This audio interview with actor Cary Grant was recorded on October 6, 1969, after a screening of Bringing Up Baby as part of a Hollywood in the Thirties film series presented by the Academy of Motion Picture Arts and Sciences. In it, Grant answers questions from the audience about the film and his career.
Howard Hawks and Peter Bogdanovich (1080p; 00:15:01) – This audio excerpt is from a conversation between filmmakers Howard Hawks and Peter Bogdanovich that was recorded in Palm Springs, California, in 1972.
Booklet: This substantial booklet contains an essay on the film by critic Sheila O'Malley and as a special treat, the 1937 short story by Hagar Wild upon which the film was based.
The Final Assessment
A funny, witty, romantic comedy that has become a cinematic classic over the years. Criterion Collection have done a brilliant restoration given the sources available for this. Highly recommended.
Bringing Up Baby is out on Blu-ray July 6, 2021 from Criterion Collection
---
Rating Certificate: Not Rated
Studios & Distributors: RKO Radio Pictures | The Criterion Collection
Director: Howard Hawks
Written By: Dudley Nichols (screenplay) | Hagar Wilde (screenplay)
Run Time: 102 Mins.
Street Date: 6 July 2021
Aspect Ratio: 1.37:1
Video Format: AVC 1080p
Primary Audio: English LPCM 1.0
Subtitles: English SDH