Bryston BDA-2 Digital-Analog Converter
A reviewer's lot is not always an easy one. Just when you think that the celestial elevator has let you off at audio heaven's floor, a new product comes along that makes you wonder if you might have exited one stop shy of the divine penthouse.  Two years ago, I reviewed (and eventually bought) the revolutionary Bryston BDP-1 digital player and, shortly thereafter, added the matching BDA-1 DAC to my system. This Canadian combo quickly proved to be a "sonic marriage made in heaven." The Bryston crew, not content to rest on its corporate laurels, returned to the drawing board and has come up with a new DAC, the BDA-2.


Getting the newcomer into my system
The BDA-2 is a veritable snap to install. All critical connections are on the rear panel that, from port to starboard, offers balanced and unbalanced audio outputs, an SPDIF direct digital output, an array of digital inputs (2 BNC and 2 RCA SPDIFs, 2 Toslinks, and an XLR AES/EBU), a RS-232 hook up, a remote trigger, and a power cord receptacle. The front panel is elegantly understated and comes in choices of either 17″ or 19″ widths and silver or black facades. This panel features the Bryston logo, an IR sensor, a bank of lights indicating the incoming sampling frequency and the upsampling frequency (when engaged), and a row of buttons that light up for the the input selected, and power on/off status.  You will have to keep track of which input is associated with which device as there is no display to keep you informed. A solid optional aluminum remote, the BR-2, duplicates most of the front panel functions and works with other digital and analog equipment in the Bryston product line.


Building a Better DAC
Over the past few years, more DACs capable of  longer word lengths have appeared. While the BDA-2 looks identical to the BDA-1, it differs in a number of important respects. This DAC now offers two 32-bit AKM DACs, a discrete Class A analog output stage, independent analog and digital signal paths, independent dual power supplies, synchronous up-sampling to 192 kHz and word lengths up to 32 bits. Remember that today's consumer audio sources are limited to word lengths of 16 bits (CD) and 24 bits (high-resolution downloads and DVD-As).
How these new DACs actually improve what we hear has touched off much online discussion. Not being an audio engineer, I went straight to the source, James Tanner, Bryston's VP of sales and marketing, for my answer. James put it quite simply: using greater work lengths improves signal-to-noise by about 5 dB, probably enough of a difference to account for what I heard consistently during my review. The BDA-2 also addresses the BDA-1's only real Achilles' heel, its USB synchronous port that could not manage sampling frequencies above 48kHz. According to Tanner, the BDA-2's USB port is now asynchronous and handles the clocking and sound decoding. This makes it possible to bypass completely the computer's own sound card and DAC, thus enabling the passage of a full 192kHz/32-bit signal.
So What's Not to Like?
For the past two years, the Bryston BDA-1 has been my reference DAC. Since it was already hooked up, I was able perform numerous A/B comparisons with the BDA-2. A Bryston BDP-1 player and Meridian Sooloos server were the digital sources, hooked up via the BNC/SPDIF inputs.
Listening started with hi-res files playing through the BDP-1, specifically a 96/24 version of  "Mercy Street," from Christy Baron's Retrospective. With bass lines and background details galore, Ms. B's smoky voice just drops this one in your lap. But that was just the beginning.  Diana Krall's "Peel Me A Grape" from her album Love Scenes is aural sex personified, delivering all of the wonderful breathiness that is la Krall herself. Can this DAC manage big orchestral recordings? You betcha! I played the sensational Reference Recordings hi-res (176.4 kHz/24-bit) file of Eiji Oue and his Minnesota Orchestra playing Rachmaninoff's Symphonic Dances. This is one powerhouse piece with huge orchestral passages mixing with much more intimate ones. Within seconds, I was put in the very best seat in the recording venue and got the full Rachmaninoff monty!
Listening to the BDA-2 can become quite addictive, and I got hooked pretty quickly. And it went beyond the high-resolution tracks and downloads.  My Meridian Sooloos has thousands of CDs stored as FLAC files.  A personal favorite is "Inutil Paisagem" from Chamber Music Society, the Grammy winner by jazz vocalist and bassist, Esperanza Spalding. Here we get overlapping female voices in English and Portuguese with a taut background bass line. I was simply stunned by the presence and delineation of each voice, and the rhythmic slap on the bass's big body. Going back to the well, I selected a choral gem, the "Gaelic Blessing" from John Rutter's Requiem disc. The Turtle Creek men's chorale literally filled the room with the overwhelming sound of the human voice. An uplifting experience to say the least.
But here's the best news yet. The BDA-2 will accept high resolution files from either a Mac or PC. The PC needs software drivers supplied on a USB "key" to be downloaded to while connected to the BDA-2. To select the BDA-2 rather than internal speakers as the output source requires a trip through the "Control Panel> Sound & Audio Devices > Audio> Select BDA-2."  This entire process took all of 10 minutes!  Once done, I bathed in the sheer bliss of my Cat Stevens' Tea for the Tillerman 192/24 album in all of its native high-resolution glory. During my listening to many computer-stored files, I never felt that I was getting sonically short changed, when compared to the same files on the external hard drives attached to the BDP-1. After adjusting volume levels, and, while switching back and forth, I was often hard pressed to tell the differences between the two sources.
The Best Gets Better
If you keep up with developments in digital audio, you already know that today's best will eventually give way to tomorrow's better. Okay, but this is not just a case of next year's new Chevy model. Bryston has taken advantage of newer technologies to produce an audibly improved DAC.  How does it differ sonically from the already highly regarded BDA-1 (which thankfully will remain in the product line)? To my veteran ears, the BDA-2 provides a greater sense of space, better exposure of inner details, and, man, oh man, tighter, more palpable bass. Regardless of the provenance of the sound source, I got an honest presentation of what was already there in a way that I do not typically associate with digital music files. Dare I mention that the BDA-2 gave me more than a hint of the analog world that audiophiles worship?
The Good
Easy installation
Excellent build quality
Compatible with all standard and high-resolution music files
Does not need a network for basic operation
Improved USB interface
Outstanding sound performance
The Bad
No front panel display to indicate digital source
The Scorecard:
Design/Ergonomics:
[Rating:4.5/5]
Performance:
[Rating:5/5]
Value:
[Rating:4.5/5]
Overall:
[Rating:5/5]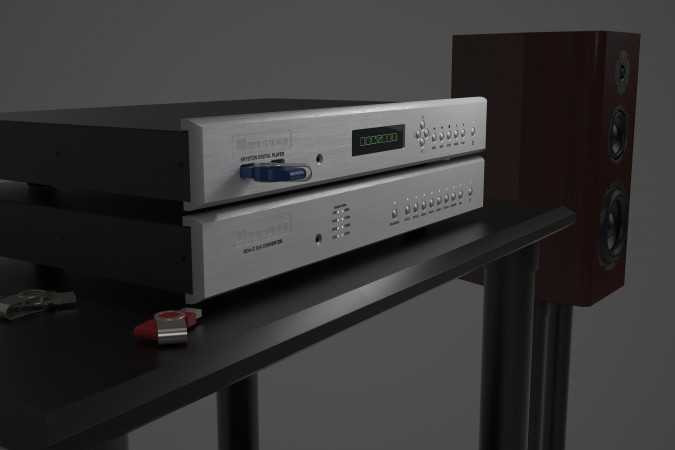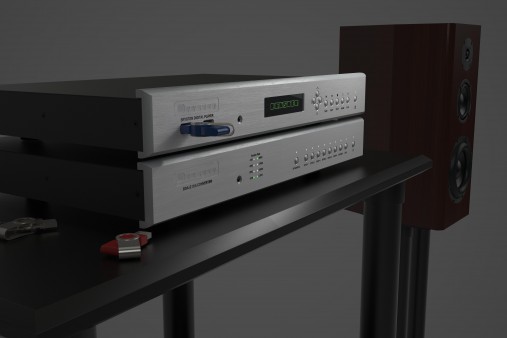 The Definitive Word
What is great sound worth?  In today's audio world, you could drop many thousands of dollars on components touted as the last word in sound performance, only to find that, in a year or two, that they are so yesterday's news.  Bryston, a conservative Canadian firm, brings out new designs only when they are absolutely ready for prime time and offer significant improvements over their predecessors. The BDA-2 DAC exemplifies this corporate philosophy and more than justifies the time spent on its design. There are DACs out there that cost much more; I have heard and owned some of them. The BDA-2 has gotten it so right that you could take the money that you will save with its purchase, deposit it into your 401k, pay down your mortgage or just save it for a rainy day.  Your ears will not regret it and you will get many hours of pure listening pleasure.  Hey, is that the start of a big smile that I am beginning to see on your face?
–
Specifications :
Inputs:
1 x USB Class 2.0 asynchronous
4 x SPDIF (2 BNC, 2 RCA)
2 x Optical (TOSLINK)
1 x AES/EBU
Outputs:
RCA Single Ended
XLR Balanced
SPDIF Bypass (RCA)
Control: RS-232 (DB9): Firmware upgrades only
Features:
Dual 32Bit AKM DAC's
Discrete Class A analog output stage
Independent analog and digital signal paths
Independent dual power supplies
Oversampling
Synchronous upsampling (176.4K/192K)
Resolutions: 16-24bit, 44kHz-192kHz: PCM and USB
44.1, 48, 88, 96, 176, 192K Sampling
Frequency Response: 20-200 kHz (

+

0.1 dB)
Noise: -140 dB (unweighted)
Jitter: negligible
THD + N: 0.002%
IMD: 0.0003%
Dimensions: W(17 or 19) x D (11) x H (2.75) inches
Weight: 18 lbs  (8.2 kg)
More Information:
Bryston Digital Analog Convertor (BDA-2) (SRP $2395 USD)
–