Bryston Mini T Speakers
Bryston has earned a reputation for building great audio components with long shelf lives and super performance for their respective price points.  Now, our north-of-the-border neighbors have plunged into the highly competitive world of loudspeaker design and manufacture.  Given my past experience with Bryston components, I have found that this company never brings out a new product until it is fully capable of making a strong statement.  But loudspeakers?  Hear me out on this one.  A good sound system requires that you select worthy electronics and cables, and then, cross your fingers and hope that the speakers will somehow blend in.  Speaker designers will often tell you that their models are voiced to sound best with certain reference electronics. Well, Bryston already has the reference electronics covered, so it follows that their speakers should work well with their strong suit, preamplifiers and amplifiers.  But suppose that you are not a lucky Bryston equipment owner. Not to worry, a well-designed speaker should sound great with other manufacturers' offerings provided that that they are good quality stuff. The Bryston speaker line currently now offers a wide range of loudspeakers starting with the floor-standing Model T, a Middle T, and ending with the Mini T, the subject of this review.
Speakers, Stands, Action
Four identical boxes arrived from Canada containing the two Mini Ts and their stands. After getting the Minis out of their custom bags, it took five minutes to bolt each speaker to its respective stand.  Although the Minis are billed as "bookshelf," given their size (HWD: 22.5" x 10.5" x 9.8") and weight (42 lbs), the accompanying stands will be required for many, if not most, installations. By the way, these stands are solid metal with a choice of isolation discs or spikes on their bottoms. Standing about 25" high, each stand will place the center of the tweeter 45" from the floor. For listening purposes, this means that your chair or couch may need to move a bit further back to compensate for this added height. However, the listening window on the Bryston speakers is really wide both vertically and horizontally so height will not prove to be a large concern. The Bryston developers made 200 anechoic measurements both vertically and horizontally to make sure the polar response was wide and even – so stands ranging from 18 inches to 24 inches are recommended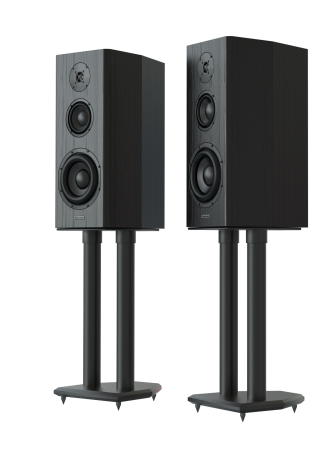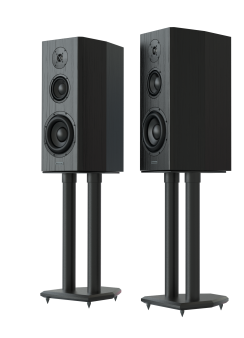 Axiom manufactures the Mini T's three dynamic drivers, each using FEA optimized motor systems. Bryston's VP James Tanner told me that the decision to use multiple drivers was to increase the speaker's power handling capability, and its ability to generate ample sound pressure levels without dynamic compression. The 1" tweeter is a pure titanium dome with ferro-fluid damping/cooling and temperature-stable ferrite magnets. The 5.25" midrange and 8" woofer use ceramic-coated composite aluminum cones, and die-cast aluminum frames. The Mini T is bi-wireable with a 4 Ohm nominal impedance.  Recommended amplifier power ranges from 10 to 250 watts.  The rear ports have concave/convex walls and curved edges to reduce friction and port noise. My review sample came with a black ash vinyl finish. Cherry and Boston cherry vinyl are available; hardwood veneers will cost you extra. Separate matching black cloth grilles protect upper/mid-range drivers and woofers and attach via magnets to the front baffle.
Parenthetically, before I started serious listening sessions, I noticed a "dimple" on one of the tweeters. A call to James Tanner, and a new tweeter arrived posthaste. Replacement was a simple matter of removing four screws, detaching two clearly marked leads and completing these steps in reverse order. I call attention to this point, not because I am concerned about build quality control, but to indicate that, if need be, these speakers can be readily repaired in the home by non-technicians. This exercise also gave me a look at the interior bracing which is quite extensive and yields the solid-sounding rap when the cabinet is struck with your knuckles.
A Pass INT-30A integrated amplifier served as a stand-alone front end, and later as a preamplifier for a Pass X-3 amplifier. The INT-30A puts out 30-watts per side of Class A power, while the X-3 offers 150 Class A/B watts per channel.  Nordost Frey bi-wire cable connected the speakers to the amps.  An Oppo BDP-95 delivered the musical goods via CD and SACD. High resolution downloads were played through a Bryston BDP-1/BDA-1 digital player/DAC combination.
Typical dynamic drivers will require at least a good 100 hours to "loosen up," thereby enhancing signal response times.  After the requisite  break-in period, I sat down in my 16' x 12' listening room with the speakers placed in front of the short wall, 8' apart and aimed straight ahead. Seated distance from the center of each speaker was 12'. When I did "grilles on/grilles off" comparative listening, I found that "grilles/off" sounded slightly better.
Mini T is no Mini to Me
I have an aversion to characterizing speakers as sounding "good" for a single musical genre. This suggests that there are potential issues with the recreation of musical detail (classical music, jazz) or the unstrained production of high sound pressure level (rock music).  To do full justice to the Mini Ts, I made certain that they got a varied musical diet with an ear toward detail recovery, recreation of air and space, and generation of high sound levels without audible distortion.
Testing for detail and imaging started with "Sheila," a CD featuring the throaty vocals of Sheila Jordan and Arild Andersen's bass notes (SteepleChase).  Properly reproduced you should hear Sheila take her obligatory breaths and Arildsen pluck his upright bass placed slightly further back. This is exactly what I got from the Mini Ts. In fact, the bass was quite ample without being bloated or monotonous.  "A Gaelic Blessing" from John Rutter's Requiem CD (Reference Recordings), performed by the Turtle Creek Men's Chorale, features a spacious yet articulate recording of voices in a large performing venue. This "hall" effect was well recreated as were this piece's subterranean organ pedal notes.
Frederick Fennell's debut CD on the Telarc label features the Cleveland Symphonic Winds playing Gustav Holst's Suites for Band. I was particularly impressed by how the Mini Ts recreated the bite of the brass section in Suite No.1's first movement and the delicacy of the woodwinds in its second movement..
Do the Mini Ts rock? Oh yes, they do.  Track after track of the recent HDtracks 192kHz/24-bit download collection of the Van Halen Studio Albums 1978-1984 hit the beaches. Van Halen can deal out loud, and I mean loud, head-banging metallic rock.  Similarly, Prince's 1999 , another 192kHz/24-bit download,  chucks out some funky low end stuff and a number of pretty loud syntho-pop tracks. Cranking up the volume as high as I could stand it never caused the slightest complaint from the Mini Ts. In fact, I got the distinct sense that they were looking straight at me, in effect saying, "bring it on!"
Over the weeks that I spent with the Mini Ts, I did not find a single track or musical category that did not sound absolutely right.  During this review, these speakers continued to sound better and better, a clear sign that they will be good performers for the long haul.
Mini in size, Maxi in sound
For a first expedition into the monitor speaker jungle, the Bryston folks seem to have found an awfully good native guide. I have owned (and still own) a number of smaller two-way "bookshelf" and stand-mounted speakers, and some darned good ones at that. However, the incorporation of a mid-range driver, provided it is well designed and blessed by a good crossover, can reap substantial sonic benefits.  If you are an antique audio aficionado like me, you will remember one of the breakthrough products of all time: the 3-way Acoustic Research AR-3 bookshelf speaker that fooled many listeners in the "live vs recorded" demonstrations.  In the case of the Mini T, this 3-way design allows the woofer to enter the picture at much lower frequency, aiding bass and mid-range articulation.  Newer metals like titanium enhance the speed and dispersion of the tweeter, improving its imaging and recovery of detail.   Throughout extensive listening, I found the Mini T speakers to have a sonic rightness that did not overemphasize any range of the audible sound spectrum. The spatial integration of the drivers was also excellent.  Most well designed smaller speakers have a virtue lacking in their larger counterparts: they simply "disappear" in the listening room.  In this regard, the Mini T performed a great vanishing act.
The Good
Excellent build quality
Capable of producing clean high volume levels
Great imaging and detail recovery
The Bad
Stands are needed for best performance
The Scorecard:
Design:
[Rating:4.5/5]
Performance:
[Rating:4.5/5]
Value:
[Rating:4.5/5]
Overall:
[Rating:4.5/5]
The Definitive Word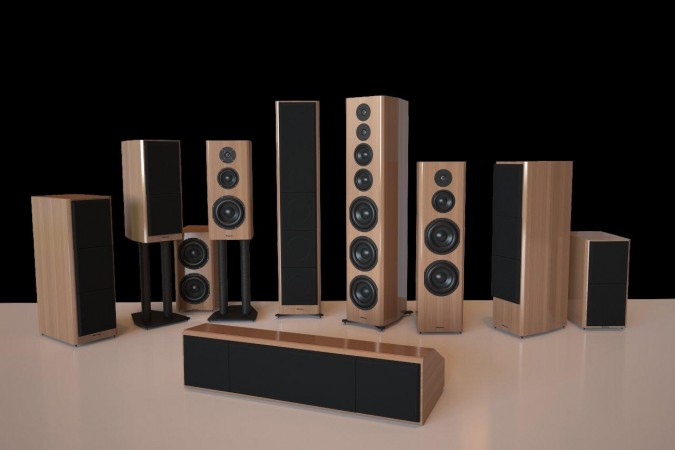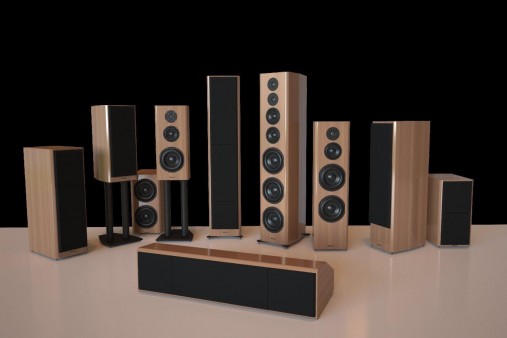 The maiden voyages of new products are often bumpy, signaling a new design's learning curve. In the case of the Mini Ts, Bryston took advantage of Canada's legendary anechoic facilities that give speaker designers the best possible start and avoid the sound anomalies that typical listening rooms generate. The result is a speaker that sounded great in a normal sized listening room and was equally at home with all varieties of music.  From my perspective, the best news is that these speakers can be adequately driven with amplifiers at the lower end of their recommended power range. Finally, their $2695 (USD) asking price should not be a budget-buster for those who want great sound in a compact package.  Nice beginning, Bryston.
Specifications :
Recommended Power            10 Watts (minimum) – 250 Watts (maximum)
Response

+

 3dB                      37 Hz-22 kHz
Impedance                                4 Ohms
Maximum SPL                         118 dB
SPL Anechoic 1w/1m             85 dB
Crossover points                     160 Hz & 2.3 kHz
Tweeter                                      Single 1"
Midrange                                  Single 5.25"
Woofer                                       Single 8"
Dimensions (H x W x D)     22.5 x 10.5 x 9.8 (inches); 571 x 267 x 250 (mm)
Weight                                       42 lbs; 19 kg
More Information:
Bryston Mini T Bookshelf Speaker  (SRP $2695 USD)