Aspect Ratio: 1.37:1
Video Codec: AVC/MPEG-4
Resolution: 1080p/24
Audio Codec: DTS-HD Master Audio 1.0; Dolby Digital Mono
Subtitles: English, Spanish, French, Portuguese, Italian
Region: ABC (Region-Free)

Rating: Not Rated
Discs: 3
Studio: Warner Brothers
Blu-ray Release Date: March 27, 2011
List Price: $64.99
[amazon-product]B006BG7RI0[/amazon-product]
Purchase Casablanca: 70th Anniversary Collector's Edition on Blu-ray at CD Universe
Shop for more Blu-ray titles at Amazon.com
Overall
[Rating:5/5]
The Film
[Rating:5/5]
Video Quality
[Rating:4/5]
Audio Quality
[Rating:2.5/5]
Supplemental Materials
[Rating:5/5]
Click thumbnails for high-resolution 1920X1080p screen captures
(All TheaterByte screen captures are lightly compressed with lossy JPEG at 100% quality setting and are meant as a general representation of the content. They do not fully reveal the capabilities of the Blu-ray format)
–
The Film
[Rating:5/5]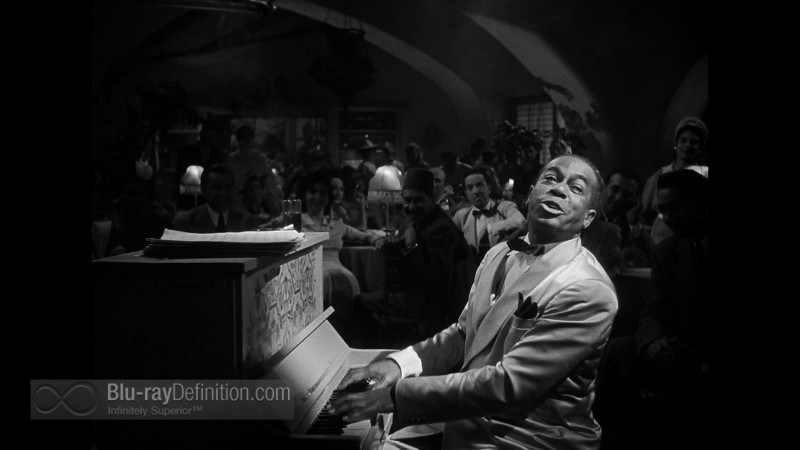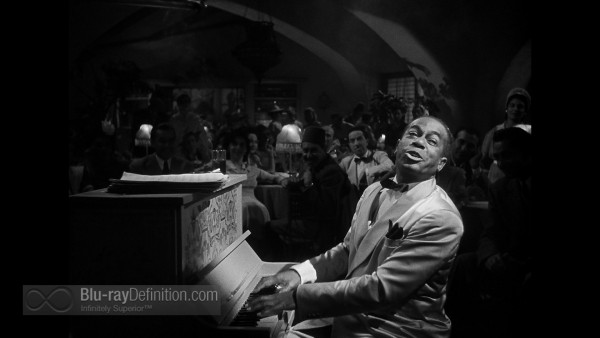 Just for your information, the so-called famous line, "Play it again, Sam," was never uttered in Casablanca, the most romantic movie of all time and now appearing in a 70th (!) anniversary deluxe edition from Warner Brothers. A self-recommending film if there ever was one, Casablanca, was a trail-blazing effort, given its November 1942 release date, after the United States entered the war in the Pacific and nearly two years before D-Day.
The story is set in Casablanca during the early days of World War II. Rick Blaine (Humphrey Bogart), an American expatriate with a shady past, operates his "Café American," a nightclub-casino. Ugarte (Peter Lorre), a local thief, entrusts stolen "travel letters" to Rick before being arrested. These letters would enable any of the many refugees in Casablanca to travel safely to Portugal by the crooked Vichy French Police Captain, Louis Renault (Claude Rains).  A secret from Rick's past is revealed when ex-lover Ilsa Lund (Ingrid Bergmann) enters the café with her husband, Czech freedom fighter, Victor Laszlo (Paul Henreid). The couple is seeking travel documents so that they can flee to the United States. Signor Ferrari (Sydney Greenstreet), Rick's chief competitor for the "black market" trade, hints to Laszlo that Rick may have these letters. When questioned by Laszlo, Rick refuses to sell them. A melee breaks out between singing German soldiers and the rest of the club's patrons, leading Nazi Major Strasser (Conrad Veidt) to clear the premises.
Rick and Ilsa, left alone in the café, recap their love affair in Paris, in the process of falling to the Germans. Ilsa, believing her husband to be dead, receives  news that he has escaped from a concentration camp. She left Rick abruptly but now confesses that she has continued to love him. Rick agrees to provide the letters, thinking that Ilsa will remain with him. Laszlo returns, informing Rick that he is aware of Ilsa's relationship with him; he wants Rick to take her to safety. Captain Renault appears and arrests Laszlo. Rick convinces Renault to release him for now so that he may re-arrest him on more serious charges. Later, when Renault attempts to do so, Rick forces him to release Laszlo who, with Ilsa, boards the plane to Portugal and freedom. In a vain effort to halt the proceedings, Major Strasser arrives at the airport only to be shot by Rick. At the film's end, Renault tells his men to "round up the usual suspects," and he and Rick walk off into the future.
This is a cast without a weak link and the directorial pace by Michael Curtiz is as good as it gets. The dialogue is filled with clever repartee: Captain Renault: "In 1935, you ran guns to Ethiopia. In 1936, you fought in Spain, on the Loyalist side." Rick: "I got well paid for it on both occasions. Captain Renault: The "winning" side would have paid you "much better." In the end, it is the human chemistry ("here's looking at you kid") that elevates Casablanca well above most of its cinematic successors.
The current generation of film watchers accustomed to high definition films and special effects may not appreciate how good this reissue looks. It takes only a few minutes to figure out that you are watching something special, even better than the 2008 initial BD release. Besides, being an anniversary edition, there are lots of extras, but more about that later. Anyone who loves the world of romantic movies will appreciate that the American Film Institute has placed Casablanca at the top of the all-time most "romantic" films.
Video Quality
[Rating:4/5]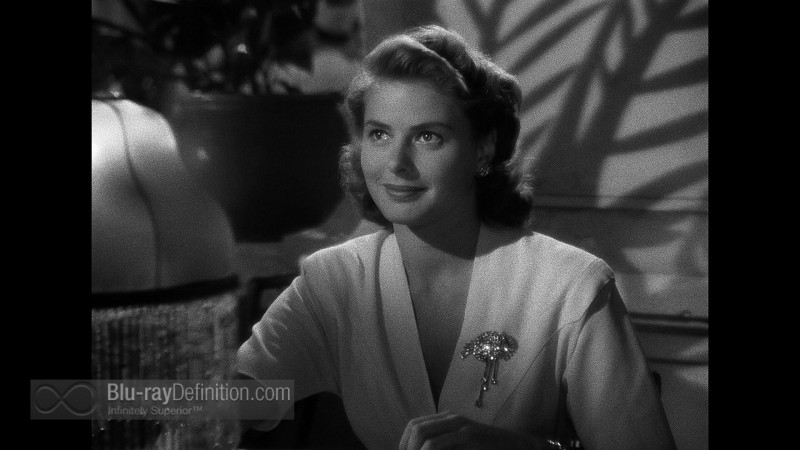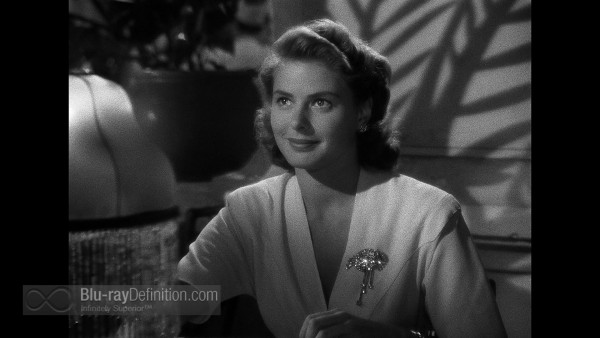 As a film noir of 1942 provenance, the 4K re-mastering effort has rendered an overall image quite extraordinary for its age. This can best be appreciated in any one of the many close-ups that drive the emotional aspect of the film. Casablanca is essentially a very intimate and personal film in a style that has largely disappeared from today's movies. Under director Curtiz's knowing hand, this essence is realized to the last degree.
Audio Quality
[Rating:2.5/5]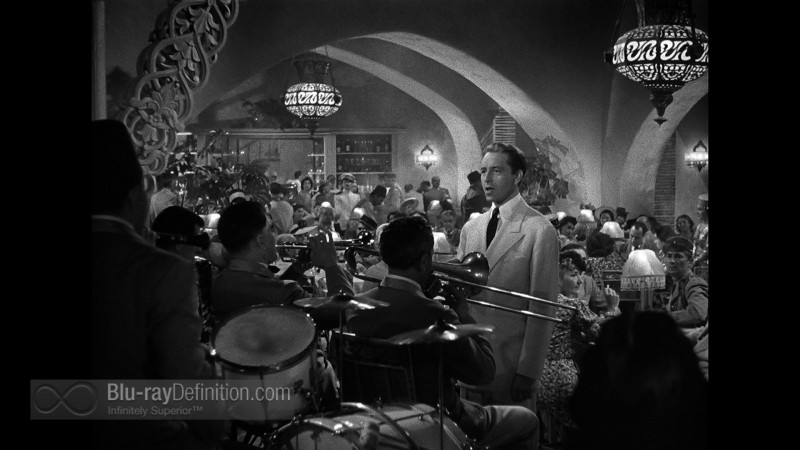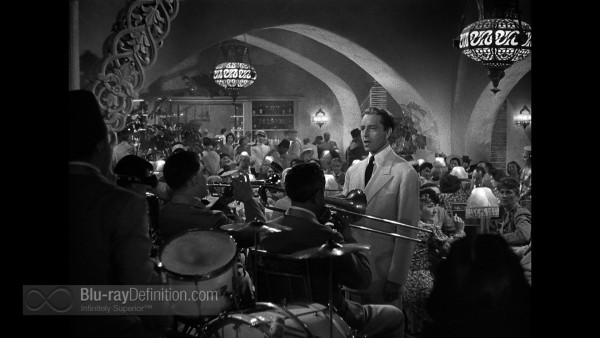 Knowing that film soundtracks are limited by the era in which they were recorded, then the somewhat boxy version here, even in DTS-HD Master Audio 1.0 version gives it its best shot. Dialogue capture is excellent. The unforgettable music track is clear if not as dynamic as modern recordings would have made it.
Supplemental Materials
[Rating:5/5]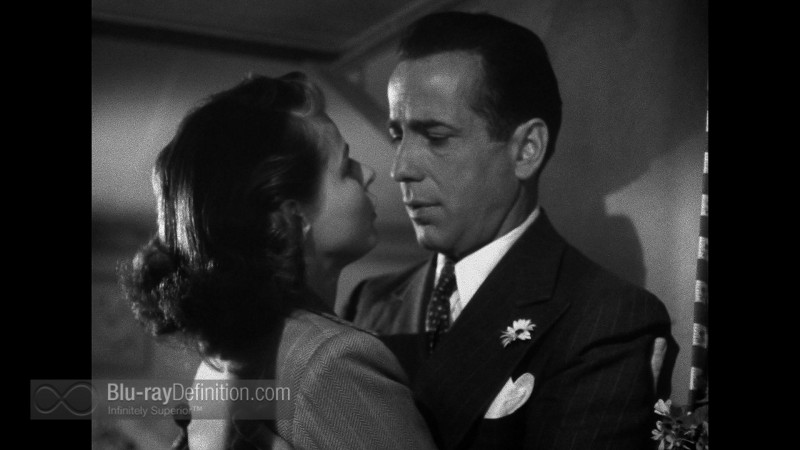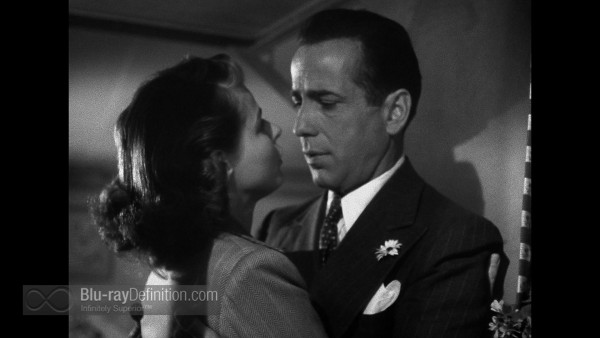 As befits an anniversary special release, there are copious worthwhile extras, including two new documentaries: "Michael Curtiz: The Greatest Director You Never Heard Of" and "Casablanca: An Unlikely Classic."  As with its earlier (2008) The Ultimate Collector's Edition, there are three feature length documentaries: "You Must Remember This: The Warner Brothers Story," "The Brothers Warner," and "Jack L. Warner: The Last Mogul." Sixteen other items are included which were also in the 2008 set, including trailers, deleted scenes and outtakes, and Lauren Bacall's remembrance of Bogey. If you do not have the previous collection and love this film, you will luxuriate in these features that will keep you up for many hours (at least 14!).
The box also contains a standard DVD of the film, a theatrical poster reproduction (which you had to send away for in 2008), a much better illustrated souvenir booklet, and coasters from Rick's Café Americain to get you in the mood.
The Definitive Word
Overall:
[Rating:5/5]
Casablanca has been recognized, from the beginning, as an exceptional film. In 1943, Casablanca received 3 Academy Awards: Best Picture, Best Director, Best Screenplay. The American Film Institute has placed this film at or near the top of several AFI top 100 lists. As a Harvard college freshman in 1963, I first saw Casablanca at the Brattle Theater's spring Bogart film festival and sat in amazement as nearly everyone seated around gave a line-by-line recitation of its dialogue. Few films have had such an impact on our daily language then and still do.  While there may be some moviegoers who have yet to see Casablanca, I can tell the many that have  that this restoration is as good as this beloved film is likely to get. Scene after scene popped out of the screen like I have never seen them, particularly considering that the 2008 Warner release was already pretty good. The soundtrack will never fool you into believing that it was just recorded but the re-mastering gives it a major boost.  In the end, this is a film that must be in every one's home theater library, period. Just break out the souvenir coasters, make a libation of your choice, dim the lights, and hum "As Time Goes By," with piano-vocalist Dooley Wilson.
Additional Screen Captures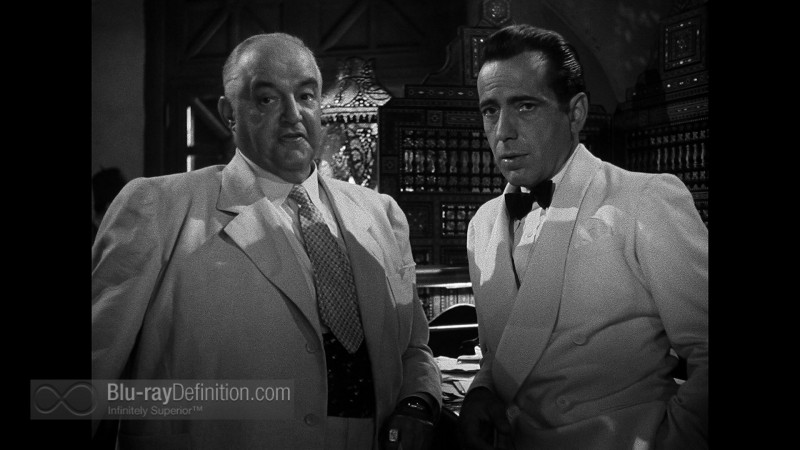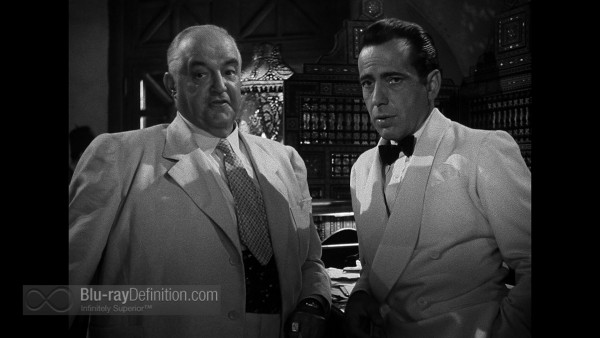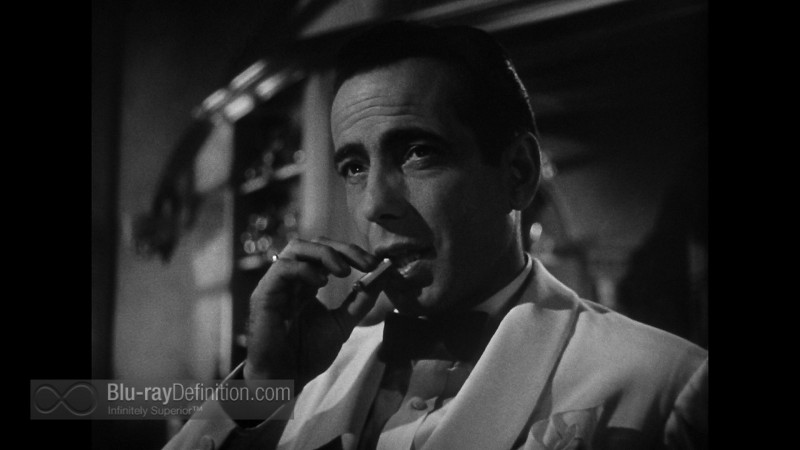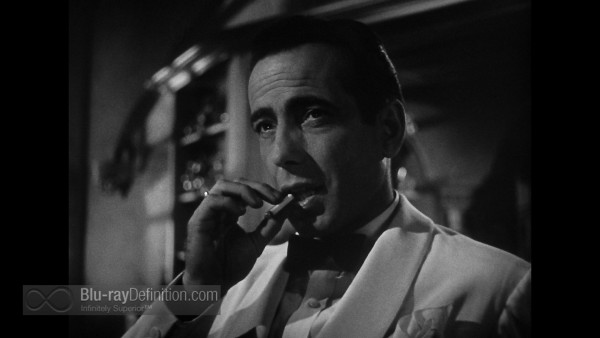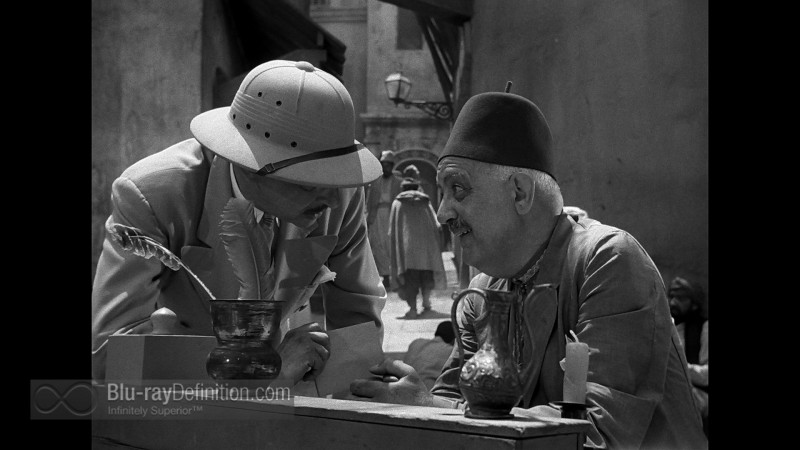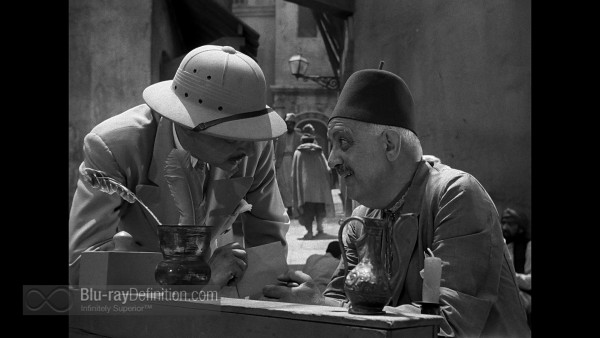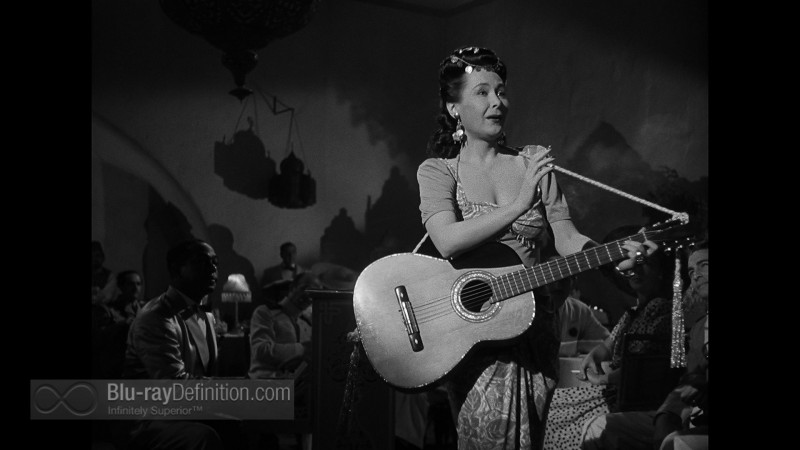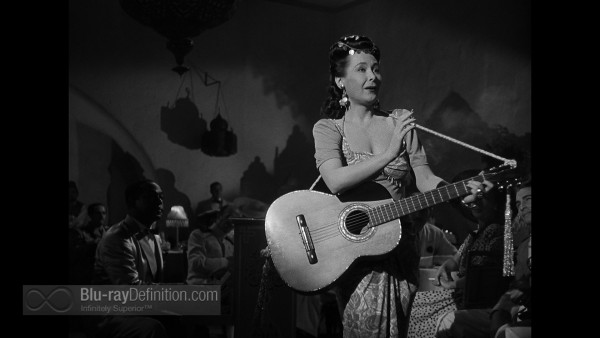 –
[amazon-product]B006BG7RI0[/amazon-product]
Purchase Casablanca: 70th Anniversary Collector's Edition on Blu-ray at CD Universe
Shop for more Blu-ray titles at Amazon.com
Overall
[Rating:5/5]
The Film
[Rating:5/5]
Video Quality
[Rating:4/5]
Audio Quality
[Rating:2.5/5]
Supplemental Materials
[Rating:5/5]
–